BILLINGS — During a weekend sandwiched between two holidays, Montana State University's play-by-play broadcaster Jay Sanderson announced he was leaving his position as "the voice of the Bobcats" to attend to family matters.
But documents provided to 406mtsports.com show that he was under investigation for sexual misconduct and harassment, and that a preliminary report written by the university's Office of Institutional Equity believed there was credible evidence to substantiate those claims.
The "final draft report" said Sanderson more likely than not "committed multiple acts of sexual misconduct and harassment" against a Missoulian sports reporter in February and again in July at the Big Sky Conference football meetings.
Sanderson vehemently denies the report, saying he has submitted his response, and resignation has nothing to do with the ongoing investigation.
Amie Just, now a sports reporter for the New Orleans Times-Picayune, filed a formal complaint in September alleging repeated "intentional and unwanted" contact by Sanderson during her tenure covering University of Montana football. Just said Sanderson touched her buttocks. He also sent her suggestive texts, according to the report.
Typically, newspapers do no not name victims of sexual harassment or assault. However, in this case, Just asked to be identified. Because of ethical conflicts of interest, staff at The Missoulian asked colleagues at The Billings Gazette and 406mtsports.com to cover this story.
Sanderson resigned Dec. 29 and moved his wife and children to Wichita, Kansas, his hometown, citing "family health issues." In an email exchange with 406mtsports.com Wednesday, he said his father had undergone surgery for a brain tumor last week.
Asked why he thought Just would make up the allegations, Sanderson responded: "I wouldn't dare try to guess that."
MSU's Office of Institutional Equity received Just's complaint on Sept. 25, 2018, and conducted its investigation through October, interviewing 15 witnesses in the process. According to the report, authored by Victor Maxson and submitted to MSU Title IX coordinator Emily Stark on Nov. 27, the investigation determined that "more likely than not" Sanderson engaged in "unwanted conduct of a sexual nature which was sufficiently severe enough to limit Ms. Just's participation (in) university programs, services, opportunities, activities and unreasonably interfered with her employment."
That report gave Just and Sanderson until Jan. 1 to respond to the "final draft" finding. Sanderson said he filed his response Wednesday. A source confirms the university received it, and a final findings of fact report may be issued as soon as next week.
The report includes interviews with 15 people and makes several conclusions, specifically:
Sanderson sent multiple sexually harassing text messages to Just.
Sanderson made sexually explicit statements that cause concerns for the safety of others.
Sanderson engaged in unwanted sexual contact with Just.
"The assaults and harassment are why I decided to pursue a new opportunity and leave Montana," Just said. "I was prepared to leave the journalism industry altogether had I not found another job."
In a phone interview Thursday, Sanderson said Just's allegations are "completely false — 100 percent made up."
"I think that's going to bear out when all is said and done. My wife knows that it's not true, those closest to me know it's not true, I've got a lot of really good people supporting me. It's not true. I didn't do what she said I did," Sanderson said.
Though "The Voice of the Bobcats," Sanderson technically was employed by Learfield Bobcat Sports Properties, which distributed the release announcing the resignation. MSU has a third-party agreement with Learfield for its play-by-play announcer.
In a farewell tweet Dec. 29, Sanderson cited "devastating health issues" that are "quite overwhelming" and "have required the attention of all members of the Sanderson family. Things have deteriorated to the point where it requires more than what can currently be offered by those immediately surrounding the situation."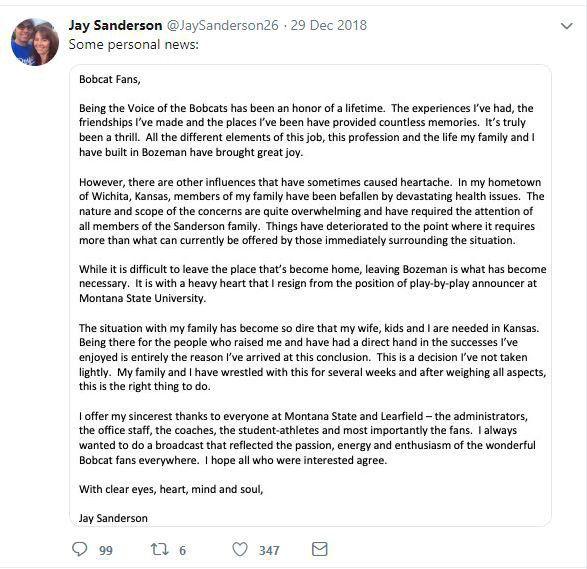 Sanderson denied the investigation played a part in his departure.
"Not one bit. I would've resigned if there had not been any of this going on," Sanderson said, noting his father's condition.
Just and Sanderson met in July 2017 and "appeared to have a cordial professional relationship" in their first interactions, according to the report. Just alleges that Sanderson touched her buttocks twice in the same evening at the Big Sky football kickoff event in July 2018. Sanderson contends he didn't do it and no eyewitnesses saw the event. However, the report said several people saw them in the same area and room, and witnesses said she told them about the event almost immediately after she alleged it happened. Those witnesses said she appeared shaken, and reported that she told them he had touched her buttocks.
Just also provided text messages she received from Sanderson to Maxson from Feb. 24, 2018. Because Sanderson told the investigator he was attempting to obtain copies of his texts with Just directly from Verizon Wireless to confirm what was sent and received, Maxson concluded that the text message string "more likely than not" was authentic.
The texts Just provided to investigators include ones Sanderson wrote to her during the early morning of Feb. 24, including:
"Come down here. We can get drunk and make bad decisions! Lol!!!"
"Looks like we have a love connection!!"
"Don't fight it…"
Just responded to the last text with, "Considering I'm not interested…"
"Got someone else you're interested in? Hmmmmmmmmmmm? I'm nosey!" Sanderson replied.
"I f--king hate you," Just replied.
"No you don't. You LOVE me… And you know it! Hahahaha It's ok, I won't tell!" Sanderson replied.
A couple hours later, at 3:19 a.m., Sanderson sent another text to Just.
"We have a shoot around at 9. If you wanna get together at like 10:30, I'd love to see more of you Lol…I'm trying SO hard not to say something inappropriately flirty. Haha. I don't care really. Where would you want to go?"
Sanderson said the texts have been taken out context.
"If somebody wants to read them as sexually suggestive that's fine," Sanderson said. "They were not intended that way. I viewed her as friend and it was just one friend ribbing another, me giving her a hard time. That's it."
In his interview with Maxson, "Mr. Sanderson became visibly angry and denied sending any texts to Ms. Just," the report said.
In her initial complaint, Just said Sanderson made two other comments that helped persuade her to come forward.
Sanderson told Just that she had "Amazing tits." Sanderson denied he ever said that, but a witness corroborated Just's assertion, the report said.
Just also said Sanderson had made the comment that the hardest part of his job was "not f--king the players." When asked about this statement, he said he only covered male athletes. Further questioning pointed out that Sanderson covered female athletes at New Mexico State, and Sanderson replied that he "never said" the second comment alleged by Just. Another witness said Sanderson did actually make that comment.
Sanderson also denied that he touched Just's buttocks, saying the report doesn't cite any eyewitnesses.
"I went through it point by point, and I said what I thought," Sanderson said of his response. "I thought it was very incomplete, not thorough and a sloppy investigation."
Quinn Pacini, the general manager of Learfield's Bobcat Sports Properties, declined to comment on the investigation when reached by phone Wednesday. He said Learfield has "no tolerance" for sexual harassment and that the company has policies to protect people who are harassed or assaulted.
"My only statement would be that he released on Twitter that he had some family issues, health issues, that he's dealing with, and that's why he resigned," Pacini said.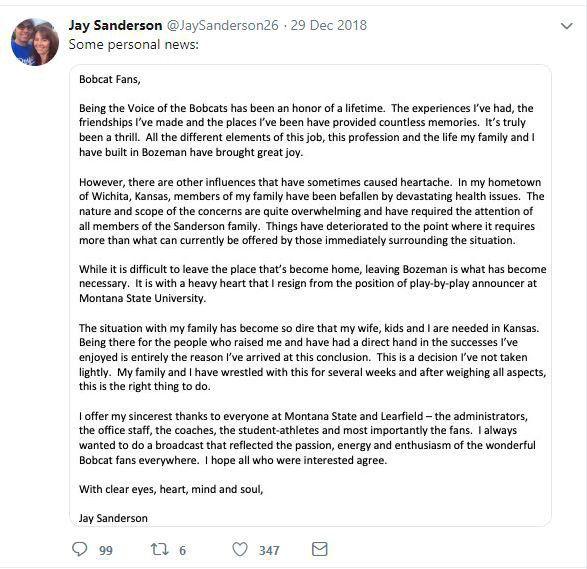 At the time of Sanderson's resignation, Pacini said in his release: "We want to thank Jay not only for his dedication to the Bobcats the last five years, but his steady preparation before each and every game. We certainly wish him and his family all the best back home in Kansas."
Shortly after Sanderson's tweet on Dec. 29, Pacini responded and offered support.
"Scoring a touchdown won't be heard the same way without the call, "TOUCHDOWN MONTANA STATE!" Thank you @MSUBobcatsVoice and best of luck with your family back in Kansas," Pacini tweeted.
On Wednesday, Pacini elaborated on his tweet and said that his kind words to Sanderson did not conflict with Learfield's zero tolerance policy.
"It has nothing to do with his personal character or anything else," Pacini said. "It has to do with the quality of work that he did when he was on the air."
On Wednesday, Sanderson changed his Twitter handle from @MSUBobcatsVoice to @JaySanderson26, changed his photos and deleted his biography, which included mention of being the voice of the Bobcats and being "#grateful." His previous Twitter photos were a headshot and a Bobcat logo.
On Friday, the Twitter account had been deleted. 
Also on Friday, Sanderson via his Facebook page said that he was logging "off Facebook for good."
He said his Facebook page would be active for a couple of days to collect the name, email and phone numbers of friends, but then it would disappear for several reasons.
"I'm just ready to step away from social media. There's too much rancor, arguing, bickering and foolishness all over the place," he said. "In addition to that, recent studies of Facebook give me cause to be concerned about privacy."
MSU Athletic Director Leon Costello said Wednesday he hadn't seen the final report and couldn't comment, deferring instead to the school's Office of Institutional Equity. Costello said any complaints similar to Just's are immediately reported to the office.
"Our big thing is if we get a report we've got to get it to the proper people, and in this case it's that office," he said. "If it's somebody under my supervision in the athletic department, if do we get information like this, we are as supervisors and directors of an area responsible for getting it to the right channels."
Asked if the information contained in the report generally would lead to the dismissal of an employee, MSU vice president of university communications Tracy Ellig noted that he can't speak to the specifics of any case and that each case is handled on an individual basis.
"The question you're asking is one I can't answer because, one, I can't speak to a specific case, and two, the case you're asking about is not finalized, and three, it's entirely speculative because he no longer works here, and four, the majority of his employment was with Learfield," Ellig said.
Ellig said that when MSU receives a complaint under Title IX and it determines that it has jurisdiction, "its obligation is to make sure that harassment ceases and doesn't continue."
"The remedies can be quite a range, depending on the circumstances," he added. "They can go from the extreme of basically dismissing an employee to other things that might involve training, or making sure that the two parties are separated. So there's not a one-size-fits-all conclusion to all these kinds of cases."
Ellig also said that when MSU begins any investigation, it continues until completion regardless of whether the person or persons involved remain connected to the university.
Sanderson was hired by MSU in 2014 after working at New Mexico State. He also hosted the weekly Cat Chat radio program, produced the Bobcat Insider podcast and hosted the Bobcat Insider coaches television show.
Just, a native of Nebraska, was hired by the Missoulian out of the University of Kansas in the summer of 2017 and covered Montana football for a season and a half before accepting a job covering Louisiana State University athletics for the Times-Picayune.
"I wouldn't wish this on anyone," she said. "I want to move forward with my life. I hope everyone involved can do the same."