GLENDIVE — Dawson Community College softball coach Jim LeProwse has resigned after 10 seasons in the position, the Buccaneers announced Monday.
LeProwse chose to step down for personal reasons, according to DCC. He and his wife, Lynette, will move to Butte to be closer to family.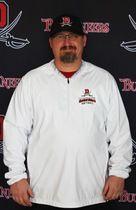 "I will always be thankful of and cherish my time here," LeProwse said in a press release. "I have been very fortunate to create lifelong memories over the past 11 years. I would like to thank everyone at Dawson for their support and I wish DCC and all of its employees nothing but the best in the coming years."
LeProwse compiled a 263-143 record (112-23 in Mon-Dak Athletic Conference play) during his 10 years as DCC softball coach. The Bucs won eight conference championships and six Region XIII titles under LeProwse, who also earned eight Mon-Dak and six Region XIII coach of the year honors.
DCC went 32-11 this past season, and its 21-1 conference record led to another Mon-Dak title.
"Jim built this program into a conference and regional powerhouse during his time here and put DCC softball on the map nationally," DCC athletic director Joe Peterson said in the press release. "More than all of the wins, championships and awards, Jim impacted his players' lives and the entire DCC community in a positive way. His athletes achieved great things on the field and in the classroom. They graduated and he helped them to move on to four-year schools. He will be dearly missed by his players, his co-workers and within the community."