BILLINGS — The holidays weren't exactly a time of leisure or relaxation for Matt Miller, though he welcomed the distraction from the lingering uncertainty he faced as the hamster wheel of the college football coaching world spun around him.
Miller spent the 2020 season as the wide receivers coach at Boise State, his beloved alma mater, but when head coach Bryan Harsin was hired away by Auburn on Dec. 22 the former Helena Capital star found himself wondering about job security.
"Naturally I felt like I was in a little bit of limbo," admitted Miller, who served on Jeff Choate's staff at Montana State from 2016-19. "But I was trying to keep a positive mindset through the entire thing. I had a lot of conversations with my wife about a lot of plans. You know, Plans A, B and all the way to Z. We were going to figure it out."
Twenty-five days after Harsin's departure it was finally settled and Miller knew he would be retained at Boise State by new head coach Andy Avalos, who was previously the defensive coordinator at Oregon.
A Boise State alum himself, Avalos noted Miller's affection for BSU's program and his understanding of its culture as reasons why he wanted Miller to stick around.
"Matt is about as blue collar as they come, a Montana boy that loves this program and this community as much as anyone that has put on the jersey," Avalos was quoted in a Boise State press release. "He was an outstanding wide receiver, and he's also an outstanding coach.
"Our student-athletes are fortunate to be able to learn from him."
Previously, Harsin called Miller one of the top up-and-coming coaches in the country.
At Helena Capital, Miller became one of the best and most decorated high school football players the state of Montana has seen. That led to a highly productive stint as a receiver at Boise State, where he established a school record with 244 career receptions from 2011-14 even though an injury put a premature halt to his senior season.
Miller, now 29, began his coaching career as an offensive quality control analyst at Boise State in 2015. The following year he joined Choate's first staff at Montana State as receivers coach. By midseason in 2018 he had been promoted to offensive coordinator, and in 2019 Choate, Miller and the Bobcats won 11 games and advanced to the semifinal round of the FCS playoffs.
"Looking back on it, it was a special four years. It was a hard four years — it didn't happen overnight," Miller said. "It was so awesome that our last year we hit our stride. We were in a good rhythm as a program. We knew we could get there, and it just took a lot of determination and guys buying in to the blueprint that coach Choate laid out for us."
Still, jumping to Boise State was an opportunity he couldn't pass up. Practically speaking, it's home for Miller. It's where he met his wife Sarah (née Baugh), who was a standout setter for the volleyball team. It's where he grew into adulthood.
Boise is where Miller says he wants to be.
"There are a lot of opportunities that will come and go in this profession, but the opportunity at Boise State has always been the one for my wife and myself," he said. "It's the passion we have for this place. This is a place where we're going to do really everything we can to stick around as long as we can.
"Really, the whole plan the entire time was how can we figure this thing out to stay in Boise, just with how much we love this place and how much I love the guys in that locker room and in the receiving group in particular. They're a great group of guys to be around."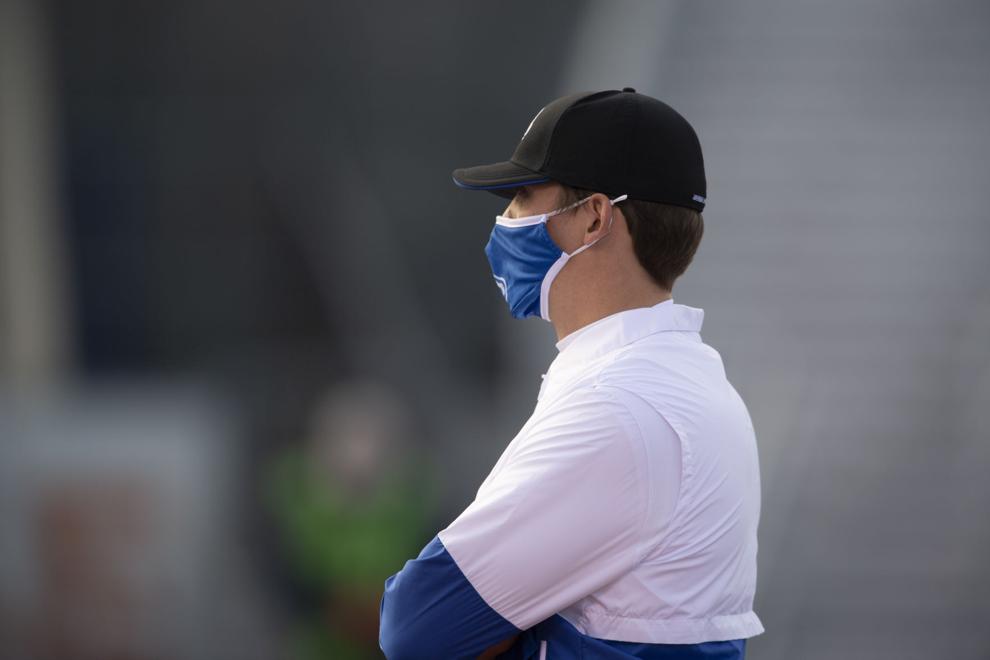 As Boise State narrowed its coaching search in the wake of Harsin's departure, Choate was on the shortlist of candidates. Choate coached on the Broncos' staff from 2006-11, part of a dizzying era of success when they went a combined 92-12 under Chris Petersen.
Throughout the process Miller steered clear of any notion of linking up with Choate again, keeping in mind that nothing is as it seems in the coaching ecosystem.
"I removed myself from those thoughts because there's so much you can't control. I tried to stay neutral the best I could," Miller said. "But (Choate) has been a great mentor for me in terms of my young career. We have a lot of love for each other, and I wish him the world because of all the opportunities he presented me."
It ended up being a moot point, because the BSU job eventually went to Avalos and Choate, in a big development, is now poised to be named co-defensive coordinator and inside linebackers coach at Texas.
Avalos was an assistant with the Broncos from 2012-18 and overlapped with Miller's playing career there. Miller said that's when his relationship with Avalos kicked off.
Boise State went 5-2 in Miller's first season with the Broncos, which, of course, was a pandemic-altered campaign. The program had two games canceled and opted out of playing in a bowl game.
One of Miller's top protégés is wideout Khalil Shakir, one of only two players in the country to produce at least 700 receiving yards and 100 rushing yards in 2020. But Miller said there's a lot more to be accomplished for his position group.
For the 2021 season, Miller will help shape the offense with a familiar face and a contemporary from the Big Sky Conference — former UC Davis offensive coordinator Tim Plough, who will serve in the same capacity under Avalos at Boise State.
"There's just a lot of good juice and positive vibes," Miller said. "It makes it a heck of a lot of fun to show up to the office every day."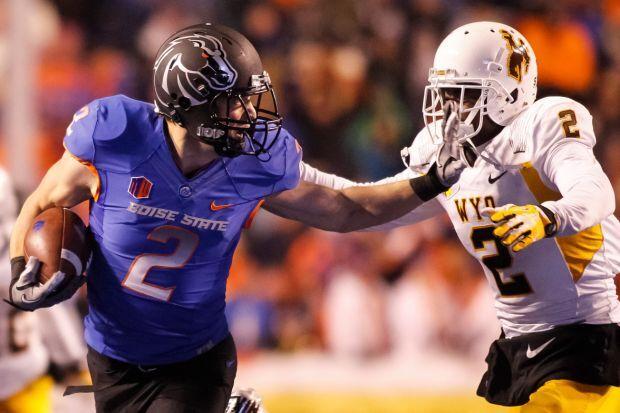 But first things first: Miller said the entire coaching staff, led by Avalos, will maintain a culture that revolves around team unity. That, Miller said, will continue to produce positive outcomes for the program as it begins a new era.
They call it the Brotherhood Standard.
"Broncos take care of Broncos," Miller said. "That's something that's very near and dear to our hearts, and we take a great deal of pride in that. That brotherhood is something we preach every single day, and our guys are totally bought into it.
"We just make it part of their DNA, part of their souls. If we can do that it will lead to success."
His job security intact, Miller can finally relax. But only for a moment, because the work is just beginning.