While most of the thrilling action of the NAIA Division I women's basketball championship goes on up and down the floor of Rimrock Auto Arena at MetraPark, what occurs in the seats above the action is fun, too — even educational.
"I love the game — and the color of their shirts," Washington Elementary School kindergarten student Jayden Silvia said of the team her school had adopted, Benedictine College of Atchison, Kansas.
"I love to play basketball at the Y," said her schoolmate, Emmy McGillis. "I play because I like to run a lot."
Seventy-eight K-2 and Learning Center students from the Billings school attended Friday's tournament matchup in which Menlo College of Atherton, California, defeated Benedictine, 88-78. In all, more than 1,000 area students were expected Friday, courtesy of Scheels, which joined with Cooper Tires/Tire-Rama to pay for about 2,900 students from Billings schools and surrounding districts to enjoy a first- or second-round game and the vastness of an arena some had never entered.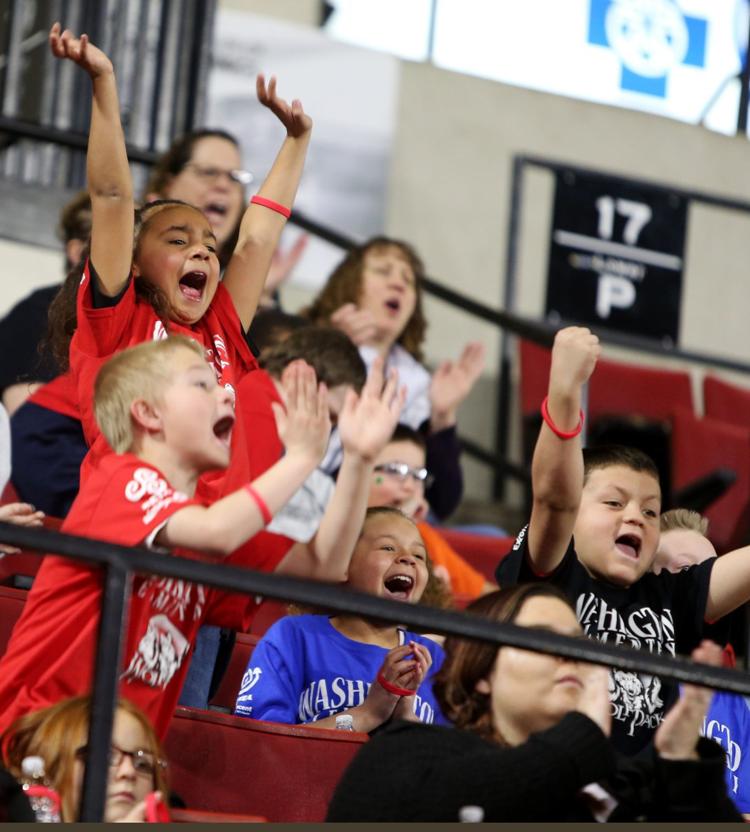 Washington Elementary kindergarten teacher Melissa Soucy was working math and life lessons into the field trip, asking her students to calculate the difference in scores and encouraging them to play a sport and, if they want to, give college a try.
"Who has more right now?" she called to her students early in the second half, pointing at the scoreboard.
"We do!" the kindergartners replied.
Cooper Tires District Manager Mike Noland, who's also a tournament committee member, said his company sponsored 1,900 or so students "because we're high on anything to do with young people. These young kids look up to the players, and they need role models."
While Friday's fun event "isn't about selling tires," Noland said, "if their parents think of Cooper Tires and Tire-Rama when the time comes, that'll be OK."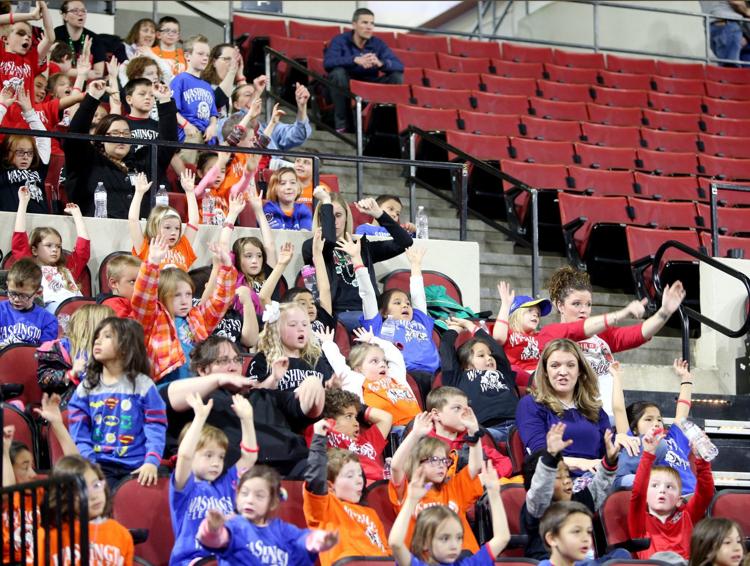 Ellyn Bumgarner, who handles marketing for the Billings Scheels store, said the store "loves getting involved with kids in the community" and will "definitely" participate in helping sponsor their attendance during next year's national championship, the third Billings will host.
Visit Billings Executive Director Alex Tyson said while it's too soon to calculate the tournament's impact on Billings economy, she's heard anecdotally that most hotels are full and restaurants are doing plenty of extra business.
"The restaurants that are doing well are team-friendly," she said. "Teams call them and ask, 'Can you seat 20 of us?' and the manager will say, 'Absolutely. Give us 30 minutes.' They know they're coming, and they set aside sections" to accommodate hungry players and their coaches.
With an appreciative nod toward MetraPark staff — which in two days after three consecutive high school tournaments transformed a messy Rimrock Auto Arena into one that gleamed in time for Wednesday's opening tournament game — Tyson called Billings' second go-round hosting the championship "smooth and seamless."
"It's amazing what a second year does to our confidence level," she said. "So far the tournament has been phenomenal — but the highlight," she said, pointing at loud, full sections inside the arena — "has been these kids."