HELENA — Steve Jones has never enjoyed a typical vacation. Being on-call constantly as Carroll College's Director of Athletic Operations and Facilities filled his time and limited him to backyard vacations with family and friends.
After Wednesday, however, a career spanning three and a half decades will come to an end. It was a decision made months prior, one that does away with Jones' position when he was still a year or two away from retirement.
"It's mixed emotions," Jones said. "It's been coming down the pipe for a few months now that this was going to happen. Obviously the methodology behind this taking place isn't pleasing. At the same time, you start mentally preparing yourself to not have to work seven days a week, 16 hours a day."
Jones has been the pivot man at Carroll for longer than many of the school's current athletes have been alive. His career began back in the 1980s, and while he started out as a strength coach and trainer, Jones slowly began racking up responsibilities. He won three national championships as a defensive assistant on the football team, staying on staff into the 2000s even after taking on facility operations full-time.
"You couldn't have come to an athletic event and not seen Steve," Carroll Athletic Director Charlie Gross said. "Not only was Steve at the event, but the event operations and management was all a result of Steve's work behind the scenes. The number of Carroll fans and spectators that have been impacted by his work over the years is immense."
It would be shorter to list the things Jones has not done during his time at Carroll. Everything that went on behind the scenes for a Saints game day over the last two-plus decades — no matter the sport — was covered in Jones' fingerprints.
He bought the cannon that is fired when the football team scores; he even hand makes the black powder packets that are used. He designed the purple and gold checkerboard pattern in the end zone and knows all the necessary steps for the set-up and teardown of every sport Carroll sponsors.
That is just the on-field portion of his job. Jones also waded into the administrative side, handling a slew of responsibilities that few would know how to tackle. It was all done, Jones said, to keep Carroll moving forward, changing and adapting.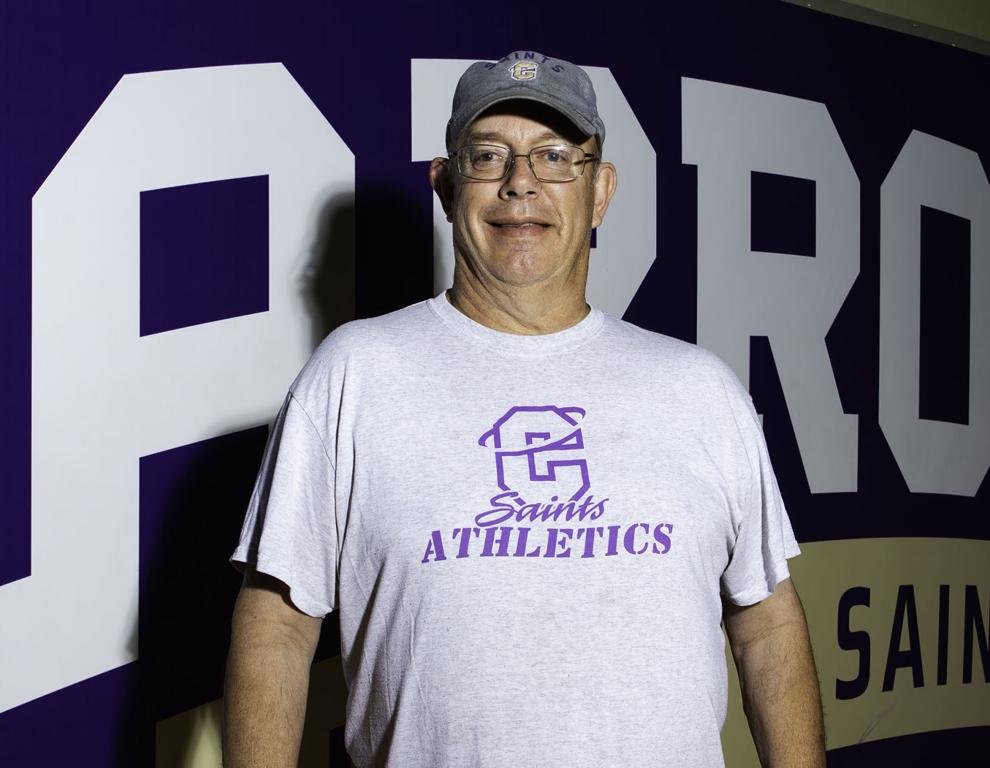 "The institutional knowledge, the knowledge that may not be down on paper that he just knew how to get things done and what needed to be done. How to replace that will be difficult," Gross said. "Steve's availability 24/7 was reassuring for everybody in this department...That dependability of being able to ask for his help is going to be missed."
Jones never intended to stay at Carroll for 36 years and over the years has had good reasons to leave. Just last year, he went through some health problems and missed less than a week of work. That is not to mention the struggles his wife Pam has endured in her battle with cancer.
Even when Jones found out his position was being eliminated he continued showing up to work, putting in 16-hour days making sure every sport ran smoothly and living one event to another like he had the previous 35 and a half years. He did it all for one big reason: the student-athlete.
"That's the motivation that keeps you going," Jones said. "I have a saying, 'I swear to God that every year the kids keep getting better.' I don't know how that can happen over 36 years because they were good in the first place...By far and away, they're the determining factor that makes that worthwhile."
Jones said he saw it as his and his department's job to make every event good for the student-athlete, saying he felt the need to take care of those young people and help them in any way possible during their tenure at Carroll. He said the best way to have a positive impact on someone is to do what you say you will do and be dependable.
That is why Jones strived so hard for so many years to be the guy that was always there and had all the answers or knew where to find them. In time, Jones built relationships with student-athletes, many of which he stays in contact with regularly.
"The most rewarding thing is to see an athlete or a student that you've had contact with — that you've been part of their life in some aspects 10 or 15 years — after they're out of college and in a lot of cases they've chosen a traditional path; they've got a job or a career, they've gotten married and they have children," Jones said. "When you see them at that point in their lives and they're happy, they're adjusted and they're doing well, that's like the icing on the cake."
Some of those former student-athletes found their way back to Carroll and worked alongside Jones in the athletic department. Head football coach Troy Purcell played and worked for Jones before graduating from Carroll in 1990.
"Coach Jonesy and his family — Pam and the kids — it was kind of a second father figure when you're not around your dad," Purcell said. "When you wanted suggestions and opportunities to find a few things out, coach Jones was always there to help you and on-call 24/7. Very family-oriented person and a tremendous person for Carroll College and the football program."
Jones has been an important part of moving Carroll athletics forward thanks to his willingness to accept change. Much was added in the way of pregame festivities while Jones was at Carroll, an aspect of game day preparation that kept him busy searching for new ways to elevate the student-athlete.
That often meant spending more time at work than at home, but even so, it was a family affair for the Joneses. One of their sons won a national championship at Carroll as a member of the football team and their daughter was on the cheer squad. Pam coached that cheer squad for better than a decade and has held roles from bookkeeper to ticket seller.
"My family grew up here," Jones said. "My kids grew up here...All the birthday parties for the kids, all the celebrations we did here at Carroll College. This has been a family adventure for us. They say it's a family, well this was our family and we made it a family."
Jones will now get to make up some of that time away from home. He is looking forward to enjoying a Montana fall for the first time in years and being around his wife to take care of her. He wants to take some time away from working, perhaps clean out the garage, and figure out what comes next.
That does not mean Jones will stop attending Carroll athletic events or stop cheering on the students and athletes he has spent a career helping.
"What an opportunity to be around young people at their best," Jones said of his time at Carroll. "The opportunity to be around young inspired people at a great turning point in their lives — the transition from being kids to adults. Getting the opportunity to share that journey with them, to be a small part of that process, to help them get where they're trying to go."