Carroll's seniors led the team in a victorious signing of the Fight Song Saturday afternoon moments after the Saints entered victory formation to seal a 21-6 season-ending win over College of Idaho.
For Kyle Pierce, Jordan Martin, Brigham Baker, Dawson Zebarth, TJ Abraham, Cyle Watts, Ryan Olson, Jack Peed, Tyler Smith and Thomas Robitaille, Saturday was the final game of their careers. Their collective time as Saints ended in appropriate fashion, with a win, and one that secured Carroll's third-straight winning season under head coach Troy Purcell.
"I think the best word is bittersweet," senior Kyle Pierce said post game. "It's awesome to go out on a win. I wouldn't have traded this experience for anything. I'm just gonna miss being with my brothers and being out here playing ball.
"This senior class, we've been through a lot. We've been through coaching changes, COVID pandemic, you name it. To be able to say that we stuck through it and got to sing the fight song one last time, it means a ton."
Pierce's 34-yard touchdown catch in the second quarter was the highlight of Carroll's passing attack on Saturday. Facing strong winds for much of the evening, Carroll kept things on the ground, completing just three passes for 46 yards.
"With the wind, it was kind of a ground-and-pound day...I like to think that we play real football here at Carroll and us receivers enjoy getting to block on screens and on run plays," Pierce said. "Coach Pfanny dialed up the play-action and the DB was looking in the back-field. Prka let it rip.
"The best part was that I came off the sideline and Brigham Baker and Swaggy Gordon [Jordan Martin] were the first two to congratulate me. To have those two guys just be there and congratulate me — just their excitement for the game is so cool. It speaks so much to this team. It's not about any one of us, it's about all of us and it's about winning."
Carroll's lone passing score came one play after senior TJ Abraham punched the ball out of Nick Calzaretta's hands — one of five turnovers the Saints forced in the win. Carroll's first two touchdowns came on drives started from College of Idaho turnovers.
Micah Ans, Colin Sassano and senior Dawson Zebarth picked off Ryan Hibbs in the win. Two of those interceptions came on back-to-back Yotes drives in the third quarter.
"It's just a collective effort. Each person on our team was doing their job," Ans said. "Today was a day where we were playing for our seniors. We came out here and we dedicated this game to the seniors. Having everyone play as one, it really helped us to get that win today."
Carroll limited the Frontier Conference's leading rusher to just 79 yards on Saturday. Calzaretta's longest rush was an eight-yard carry and he failed to average 3.5 yards per rush on 24 attempts. The Yotes did rack up 164 yards on the ground, but Carroll held them without a rush over 28 yards while limiting Hibbs to just 175 yards through the air.
Up 21-6 at halftime, the Saints pitched a shutout in the second half. On College of Idaho's final six offensive possessions of the game, Carroll forced two turnovers (interceptions) and four turnovers on downs to hold that 15-point advantage.
"A win for the seniors, for sure. Interceptions and great plays [by the defense]," Purcell said. "Those guys can play, man, they like flying around and making things happen. Sometimes they get down there a little close and we stiffen up and make it happen. A good team win. Found a way to get enough offense going...Good things happen when you've got good guys believing in the culture and what we've got going on around here. Hard work pays off."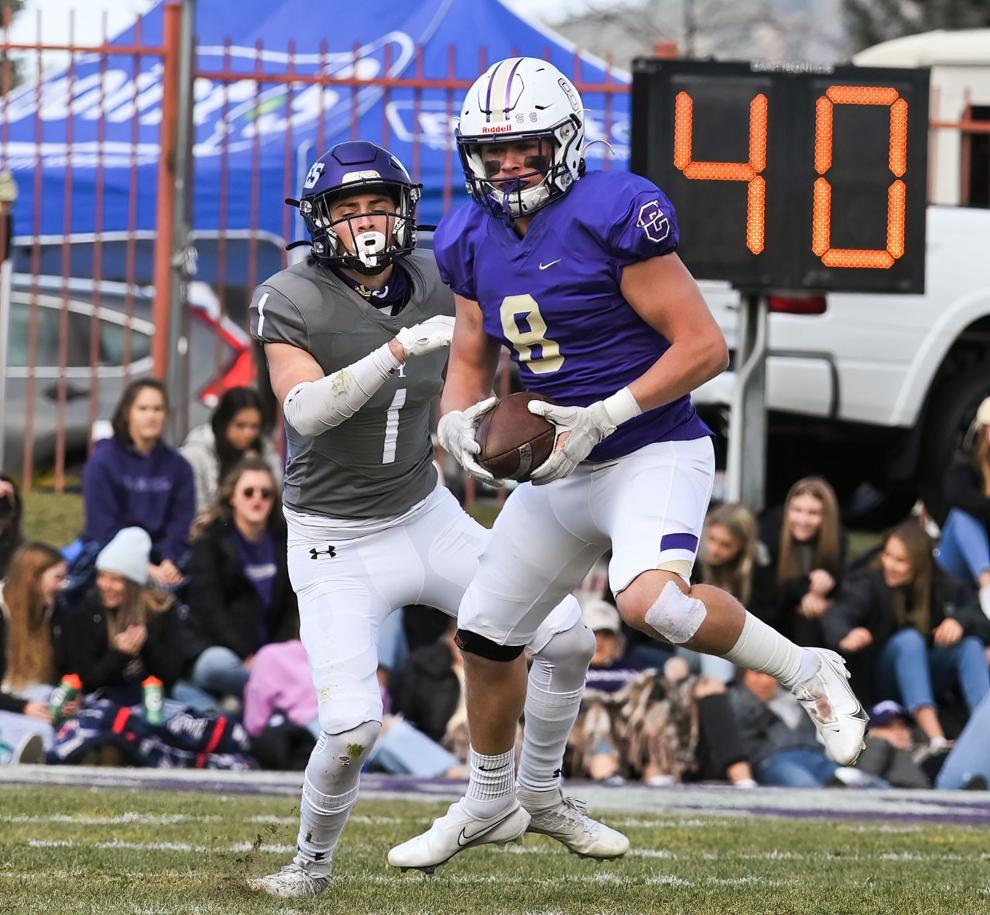 Over 82 percent of Carroll's offensive yards came on the ground Saturday. Baxter Tuggle and Duncan Kraft were the center of that effort, carrying the ball a combined 30 times for 237 yards and two touchdowns. Tuggle out-paced Kraft 123-114 on eight less carries, helped along by an 80-yard touchdown run that opened the scoring in the first quarter.
"We knew coming into it that it was going to be a windy day. We knew we were going to have to make a lot of our yards on the ground," Tuggle said. "It was a good day. We kinda lulled a little bit in the third quarter, but our offensive line did great. That 80-yard run is all them. I wasn't even touched until — I don't think I was touched the whole time."
Tuggle said the only thought going through his head during that long run was 'don't get caught' as he rumbled up the far sideline for six points. He followed that score with a 4-yard touchdown in the second quarter to cap a 10-play, 86-yard Carroll drive.
"He says he's fast and so I believe him now," Purcell said of Tuggle, laughing. "It was pretty cool seeing that big ol' long run for him. Duncan ran hard. Offensive line blocked well. All these guys love each other. The opportunity to go out and perform and take the challenges on is — they respond. They respond to adversity and persevere."
Carroll's adversity this season had much to do with close contests. Four losses came by a combined 13 points and included defeats of one point, three points, four points and five points. Three times the Saints won by seven points or less.
With Saturday's victory Carroll ended its season on a three-game winning streak and won five of its last six contests to end the regular-season at 6-4.
"It was a while that they didn't have [a winning season] here, but what a legacy left by Mike Van Diest. It's fun. Winning seasons are fun," Purcell said. "The punch in the gut is 13 points decided 10-0 compared to [6-4]. You've gotta win those close games. Good teams win them and we've just gotta continue to build the program. The next step is winning the close games and that'll get us to that next level."