HELENA — The last three games between Carroll and Southern Oregon have been decided by a combined five points. The Saints finally found themselves on the winning side of one of those tight contests after a 20-17 overtime victory on Saturday that required a gutsy fourth down play and walk-off touchdown.
A week after snapping a seven-game losing streak to Eastern Oregon, Carroll ended a six-game slide against Southern Oregon. It was the Saints' first win over the Raiders in more than six calendar years.
"I keep telling people that we always keep the fans sweating," senior wide receiver Kyle Pierce said. "We always keep them holding their breath. It's fun to play those close games and it's always the most fun to pull them out. I think we can finally say we've beaten every team at least once. It means a lot to look back and be able to say that and not have those regrets."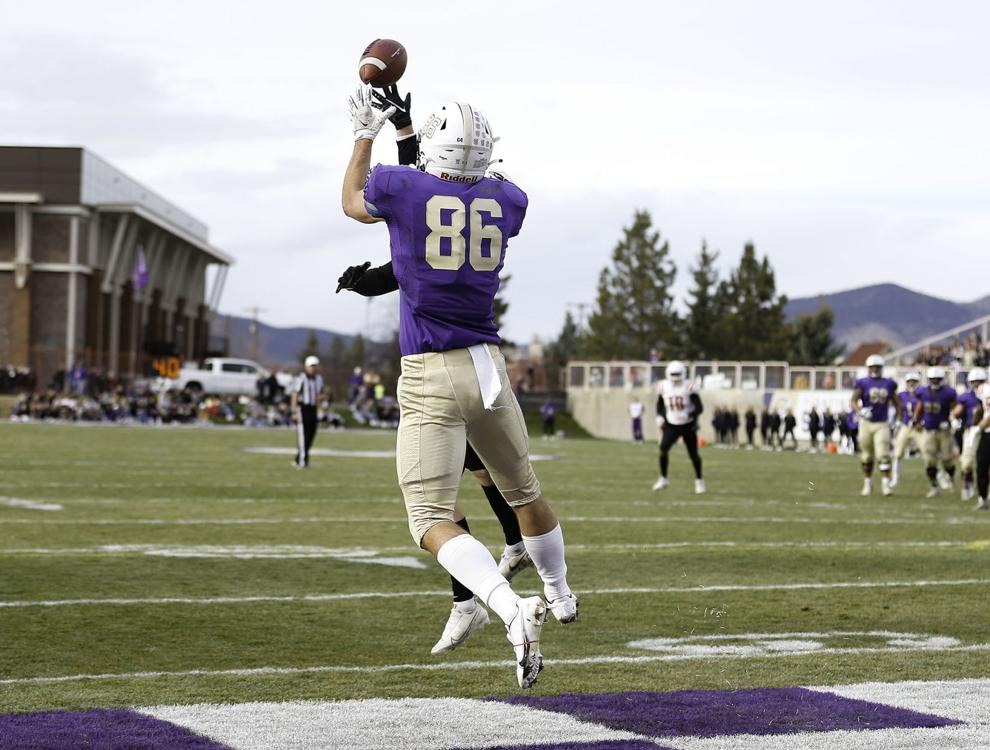 If it was possible to be sweating in the chilly conditions at Nelson Stadium Saturday, then Carroll fans were doing just that. There was a collective relief among those in attendance, however, and then lots and lots of cheering, when tight end Tony Collins hauled in a nine-yard touchdown that ended the game.
"I wouldn't be able to do this if it wasn't for my team," Collins said after the catch. "I want to thank the coaches for trusting me to be able to make the plays. Coach always talks about us being at our best when the best is needed. I had to step up despite how I feel or anything else. I wanna give a shoutout to my coaches and teammates because if the offensive line doesn't block, if the quarterback doesn't make the throw, if the wide outs don't sell their routes as well as they did, then none of this is even possible."
The Saints and Raiders entered overtime tied at 14-14. Neither team succeeded much in moving the football in regulation's final five minutes. SOU punched through a field goal on its overtime possession, meaning that if the Saints wanted to stay alive, they needed to respond.
"We knew that we had to score, but we always knew that we had to take it one play at a time," Collins said. "If we went out there and tried to win the game on the first play, we would have done something to shoot ourselves in the foot...We stuck to the stuff we've been running all week in practice. This is one for the books, man. This is for the seniors. This is for the guys who have been here since 2018 that have never won against Southern Oregon. We did this for you guys."
Collins, playing in the first overtime game of his career, said he knew the ball was coming to him as Carroll broke the hurdle on 3rd and 7 from SOU's nine-yard line. He motioned out of the back field, slipped into the flat and scampered across the goal line for six points and the first game-winning score of his career.
"I didn't fold, I didn't bend or break," Collins said. "I work hard for these moments. I really appreciate the coaches trusting me in situations like this because I want the ball if the game is on the line. They trust me a lot and I can't let anybody down."
Even before Jack Prka had the opportunity to find Collins for that game-winner, Carroll's game boiled down to one play. Trailing by a field goal in overtime, and having been stuffed on back-to-back runs, the Saints lined up to kick what would have been a game-tying field goal on 4th down and 1 from the 16.
Carroll called a timeout, put its offense back on the field, then SOU called time as the Saints came to the line in their jumbo package.
"It's a gutsy call," Purcell said. "If you don't make it, then everybody in the stands is going, 'what in the heck is wrong with you? Why didn't you put it to [another] overtime?' In the nature of the game, in the situation, it is what it is. You believe. You believe in your guys, believe in the program, believe they'll execute, you go out and execute it and find a way to win it, and they did that. Just really proud of our team and our coaches."
With defensive lineman Michael Maafu and a running back in the back field, Carroll snapped the ball. Maafu already has a rushing touchdown this season off a similar formation, but this time, Carroll slipped Maafu out in space and Prka found him for four yards and a first down to keep things alive.
"We were talking about that and joking around because I missed him in last week's game," Prka said. "I missed him on the same exact play. He was like, 'you better get it to me if we run it.' I was like, 'I'll get it to you.' We were just kinda joking around about that the entire week. When we went into the huddle right there, he was like, 'give me the ball.' And so I gave him the ball."
Maafu said he worked a lot with his dad catching passes growing up. He also has a background in rugby, so for a defensive lineman, he has soft hands. It was the second pass Maafu has hauled in this year, with the first coming against SOU in September. Each time it has been the same result, a four-yard completion and first down.
"I would actually prefer to take the ball and run," Maafu said, smiling. "He called it — I didn't even realize that it was my play until he called it. It was a really long play [call], and I listened for one word and he said it at the last second. I turned back to Jack Prka and I was like, 'are we really running it?' We ran the play and we got it. Thank God. Thank God we got it."
Three plays after that conversion, Collins was celebrating the game-winning score with his teammates in the end zone.
"It's kind of a rub concept," Prka said of the touchdown to Collins. "If they're playing zone and sitting outside on Tony, I'm off of it, but there was no one out there. He ran with Kyle Pierce and I threw it right to Tony. Touchdown."
For Prka — a true freshman — Saturday's overtime possession was the third game-winning drive he has overseen in six career starts. It took two fourth-quarter drives to slip past College of Idaho, but Carroll scored with 56 seconds remaining to win that contest earlier this season. Last week against EOU, the Saints scored 17 unanswered points, including a go-ahead touchdown with 3:33 left to play, to down the Mountaineers.
On Saturday against SOU, Prka quarterbacked a nine-play, 71-yard drive with less than 10 minutes to the clock to tie the game at 14-14. Prka either passed or rushed on six of those plays, ultimately hitting Pierce for an 18-yard score with under six minutes on the clock.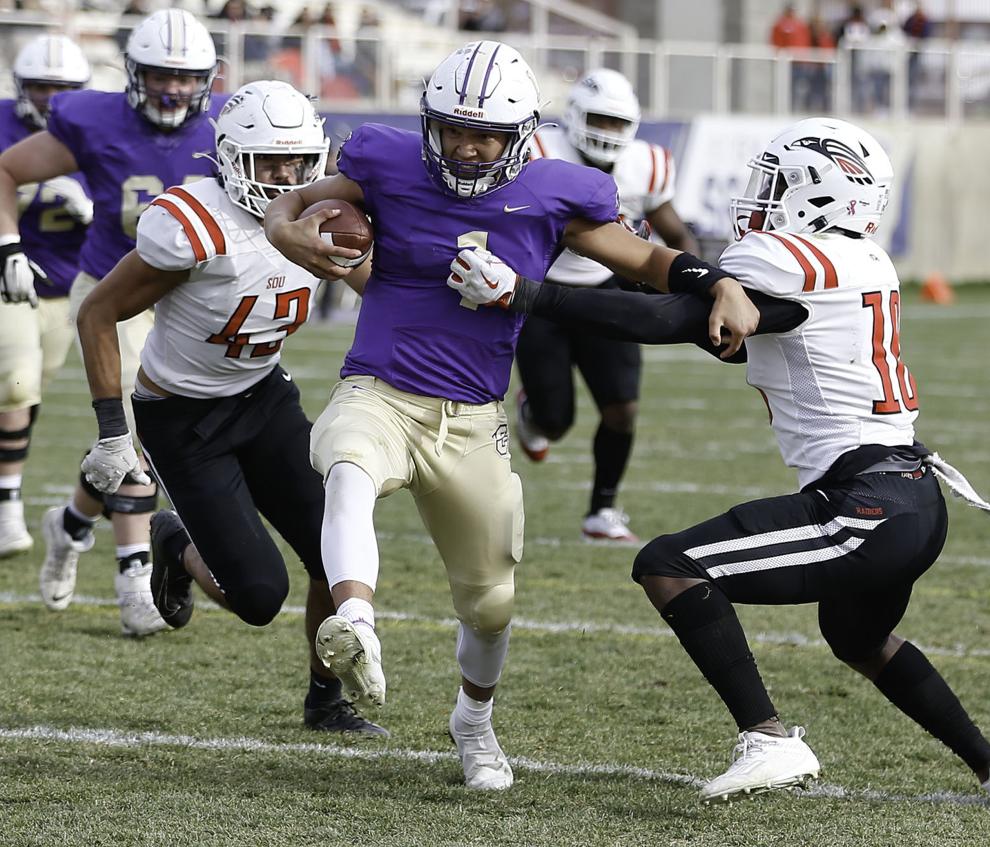 Prka picked up positive yardage with his legs four times in the fourth quarter on Saturday, mostly out of necessity to keep drives alive.
"He came through. He doesn't get flustered," Purcell said of Prka. "There's some growing pains with a young quarterback. We've gotta protect him up a little more...Pierce had a big game. Jack found a way. Jack's legs are kinda what got us to where we needed to be. It wasn't his arm, as much, but his legs with being able to extend some plays. That put us in a position to continue driving and continue moving."
Prka finished the game 20-for-30 passing, for 184 yards and two touchdowns. He threw two interceptions in the win and fumbled, but Carroll still outgained SOU 338-230 and picked up 10 more first downs.
Duncan Kraft and Baxter Tuggle rushed for a combined 137 yards. Tuggle scored on a one-yard rush in the third quarter, a touchdown that opened the scoring after both teams were shut out in the first half.
SOU rushed for just 33 yards in the loss and averaged less than four yards per offensive play. Carroll's defense limited the Raiders to 14 percent (2-for-14) on third down and picked up a pair of sacks.
Garrett Kocab, Garrett Worden, Jake Walk and Colton Ball combined to have five tackles for loss and those two sacks in the win.
"Our guys are starting to figure it out, especially pass rush-wise...Garrett Worden uses his long arms, long legs to get around tackles. [Garrett] Kocab, he's explosive," Maafu said. "He's coming off the ball, striking hard. You always gotta double him. If you don't double him, he's always going to get in the back field...We're just deep. We have good defensive linemen and we're deep right now."
"I think our defensive line played exceptional," Purcell said. "Those creatures in there — we call them 'the creatures.' They're an unbelievable group of guys that really create total havoc for an offense. Sure glad they play for us."
Carroll improves to 5-4 on the season with the win. It is the first time all year the Saints have been over the .500 mark. Even so, with wins by Rocky Mountain College and College of Idaho on Saturday, Carroll is officially eliminated from a shot at the Frontier Conference title.
Still, the Saints have an opportunity next week, at home, against C of I to put the finishing touches on what could be a winning season, potentially the third-straight under Purcell.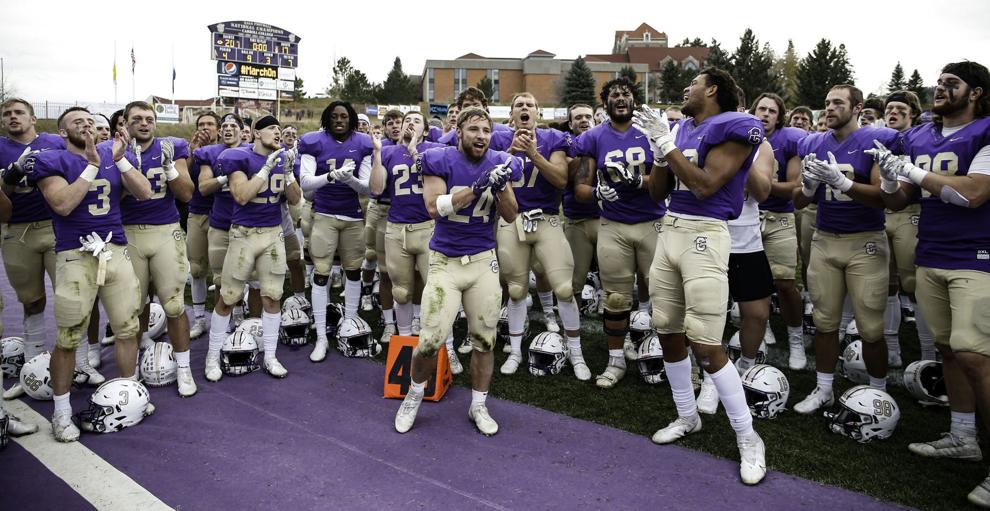 With Saturday's win, Carroll has also won four of its last five games overall.