HELENA — Two women's teams with undefeated Frontier Conference records remain. On Saturday afternoon, Carroll and Rocky Mountain College will face each other looking to improve to 4-0 and earn a one-game lead in the standings.
After Saturday night, 11 scheduled conference games remain, but as far as early-season matchups go, the one between the Saints and Battlin' Bears feels pretty big. It is Carroll's one chance to play Rocky Mountain at home before the Saints have to face what is, right now, a one-loss and potentially soon-to-be nationally ranked Rocky Mountain squad.
"I definitely think it's too early to say we're in a must-win situation, but knowing that we're gonna have to turn around and play them two times on the road, it is really important that we do a good job [on Saturday]," Saints head coach Rachelle Sayers said. "Really come out aggressive…Obviously we have some plans for what we want to do [Saturday] and probably the next two times we're gonna have to adjust those to whatever they adjust to. We are looking forward to [Saturday]. It's going to be an exciting game and a battle."
The Battlin' Bears turned a one-win season last year into a 14-1 record at the mid-way point of this season. Rocky Mountain has won 12-straight games, four games longer than Carroll's current eight-game streak.
No player on Rocky Mountain's roster is carrying a bigger offensive load than N'Dea Flye. A transfer from NCAA Division I Butler, Flye was a McDonald's All-American nominee in high school and has made two different stops at Division I institutions, New Mexico being the other.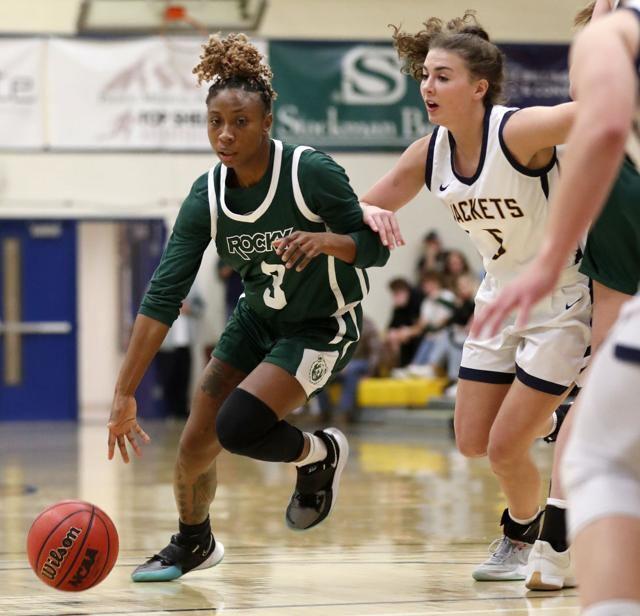 Through 14 games for the Battlin' Bears, Flye is averaging 19.6 points and 9.9 rebounds per game. She has eight double-doubles to her credit and paces the conference in scoring. On Thursday against Montana State Northern, Flye dropped 34 points on 15-for-25 shooting, her second 30-point game in the last three contests.
Around Flye, Rocky Mountain features two players in Shauna Bribiescas and Kloie Thatcher who each average 13.7 points per game and have made more than 70 combined 3-pointers this season.
"I think Rocky is a really good team," Sayers said. "Everybody wants to talk about N'Dea Flye, and she's really good. She's leading the league in scoring. I think what makes them so dangerous is she's got four players around her that can really score as well. If you get to Flye-watching and worrying about her and everybody is trying to help on the ball and get the ball out of her hands, then she'll find the right people."
Striking a balance between stopping Flye and making sure her supporting cast does not have a big game will be the game-within-a-game to watch on Saturday.
As far as Flye goes, Carroll has a plan. Sienna Swannack, who the Saints' coaching staff believes is the team's best defender, will likely be the primary defender on Flye.
"I'm excited to guard her, I think it's a big challenge," Swannack said. "Obviously coach puts me in this position for a reason and I take that role pretty well. I like my role on the team. [Flye] is a good scorer in transition, she's a good scorer in various ways, but I think I know how to guard her and how to stop what she wants."
Flye is averaging nearly 17 attempted field goals per game, of which she is converting about 45 percent. She has made just five 3-pointers (on 29 attempts) in 14 games. Thursday's game against Northern was the first time this season Flye has made multiple 3-pointers in a single game.
Flye will score some points off turnovers. She is averaging 3.3 steals per game and likes to find easy opportunities for herself or a teammate in transition.
"She's a volume shooter, so she's gonna shoot a lot regardless of how we defend her or what we do," Swannack said of Flye. "I think we know she's not a great 3-point shooter. Then she loves getting out in transition. We have ways that we know we're gonna be able to stop that."
Sayers plans to give Swannack some help on Saturday. There will be instances where Kamden Hilborn, Dani Wagner or Jaidyn Lyman might find themselves guarding Flye. Against a player of Flye's caliber, mixing and matching could slow her down. Sayers said she has tried multiple ways in the past of slowing down opposing team's best players, to varying degrees of success. Most importantly, Saturday will be about limiting Flye's play-making ability.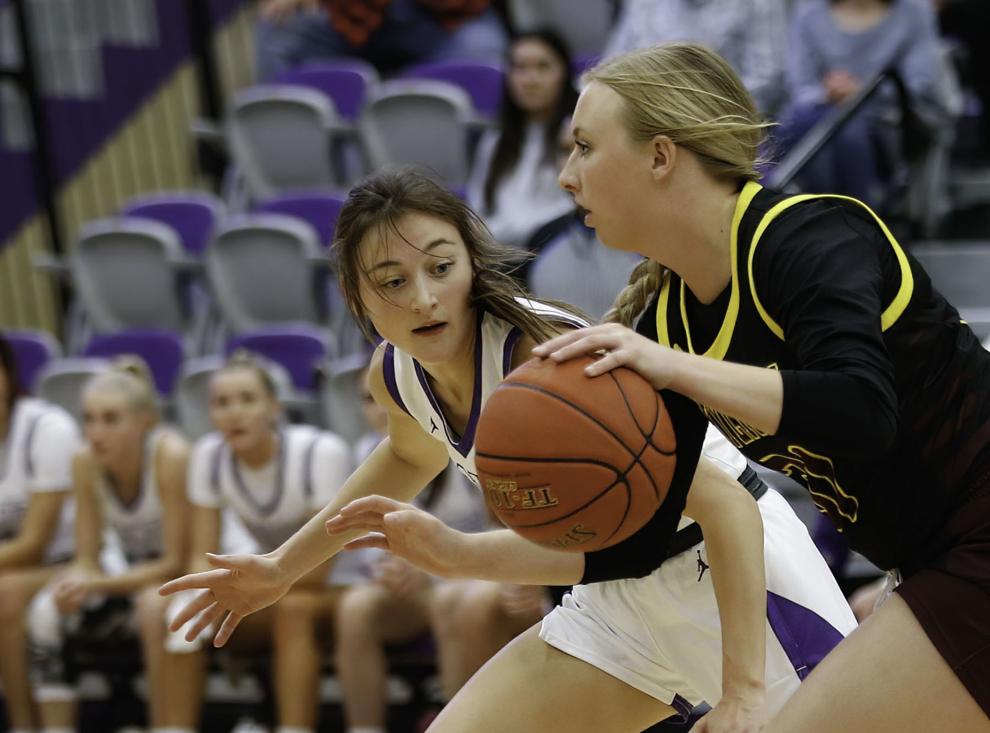 "I've been beaten as a coach doing both where you're really trying to do a good job with your team defense and get the ball out of someone's hands. Then all of a sudden, two or three players have big nights that maybe they wouldn't have had if you just played a team straight up. Or, you can say, 'well we're gonna put our best defender on her and she's going to do the best she can and we're gonna really guard the other four players on the floor...'
"I think there's gotta be a good combination of the two. I do think Sienna is a great defender, but she's going to need some help. My biggest concern is that we start worrying about helping on Flye [so much] that others get away from us."
Carroll was picked to win the Frontier this season. Rocky Mountain was picked fifth in the preseason. Obviously it is still very early in league play, but with the way things are trending, Saturday's game could be a potential preview of the Frontier Conference Tournament Championship game.
"The Frontier is good year in and year out," Swannack said. "This [Carroll] team has a lot bigger goals, I think, than everybody else in the conference. We're here to win a national championship. Obviously the conference is good…Rocky is going to be a good competitor, but I think we have a bigger goal in mind and we know that we're supposed to be the best team in the conference."
Carroll will enter Saturday's contest with four players averaging at least 9.6 points per game. Dani Wagner eclipsed the 1,500-point mark for her career on Thursday and is scoring 16.7 points per game on 52.9 percent shooting. Jamie Pickens and Christine Denny are each posting north of 11 points and six rebounds per game, while Swannack averages 9.6 points, four rebounds and 1.1 steals per game.
The Saints are a top-15 team in the NAIA, allowing just 52.6 points per game while at the same time scoring 76.7. Carroll's 48.4 percent team effort shooting the basketball is the third-best in the NAIA.
Tip off between Carroll and Rocky Mountain is scheduled for Saturday at 2 p.m. from the PE Center. The men's game will follow at 4 p.m.