HELENA — Landon Humphrey is bringing his dunking skills to the PE Center beginning this fall. Humphrey, a 6-foot-5 forward from Clovis North High School in Fresno, California, was announced on Friday as the seventh recruit in Carroll's 2021 class.
"Landon is our type of kid, he's a really academic kid," Saints head basketball coach Kurt Paulson said. "He's going to bring some good athleticism…[Assistant coach] Ronn [See], with his California connections, found Landon and went to watch him a couple weeks ago."
Already in the state on a recruiting trip, See attended an open gym Humphrey was participating in, and less than a month later, the newly minted Saint visited campus and made things official.
"What stuck out to me was the initiative the coaches took to pursue me, get me on a visit and to make sure that me and my family are taken care of," Humphrey said. "The coaching staff is really what helped make my decision a lot easier."
Humphrey said he enjoyed Carroll's "beautiful and spacious" campus and liked the basketball facilities. After fielding some interest from a handful of schools in California and considering the prep school route, Humphrey was happy that Carrol came calling.
"My goal for playing after high school was to play at the highest level possible," Humphrey said. "So Carroll is giving me that opportunity."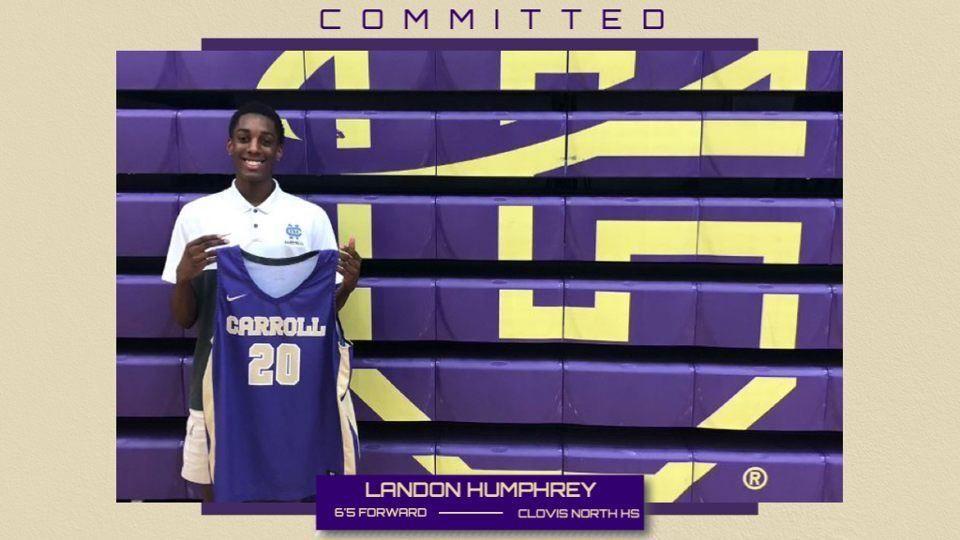 Humphrey's athleticism makes exceptional plays look routine on the basketball court. You can not watch film on him without seeing a dunk or a nifty pass to a teammate for an open shot.
Defensively, Humphrey uses his length to get in the passing lane and tip the ball or get steals that he more often than not turns into points on the other end.
"He's really athletic and dynamic in the open court," Paulson said. "He's definitely a guy that can have a unique skill set, especially on the defensive end by creating offense from the defense. That's kinda what we see in him. Kinda that spark plug and [he's] gonna cause some havoc on defense and get out and run the floor. He's really athletic, he'll get up and put it down on the rim. We like that."
An All-Conference Honorable Mention his senior season, Humphrey likes to get out and run and said he is at his best when he is making plays for his team.
"My favorite part of basketball is transition," Humphrey said. "I'm an athletic player, so I love to dunk. I like to make plays, and I thrive in transition. I'm pretty quick and I distribute the ball pretty well. I can finish the ball around the rim, too."
Over the last year and a half, Humphrey said some aspects of his game have blossomed. He attributes that to increased individual skill work during the time COVID-19 forced the postponement of high school basketball games.
"I started taking my athleticism way more seriously because I noticed that was what my high school team was missing," Humphrey said. "I focused on that, focused on making my first step faster, focused on jumping higher. COVID is what really helped me bloom without a lot of distractions in my way."
Listed in the 150-160 pound range, Humphrey realizes the need for some long hours in the weight room. Still relatively young for his class, he said one of his goals moving forward is to add size so he can be more versatile and physical on the court. Accomplishing will help Humphrey continue to excel at getting to the rim and finishing and playing stout defense in the Frontier Conference.
Humphrey is the second commitment from the state of California for Carroll's men's basketball team during this cycle, joining Servite High School guard Andrew Cook. Junior Ifeanyi Okeke is also from the state, hailing from Rancho Cucamonga and Damien High School.
Humphrey said he intends to study Business Administration at Carroll with the hopes of entering the field of agricultural business sometime after graduation.