HELENA — Baxter Tuggle, a day after sharing a post-practice singalong with fellow birthday boy Troy Purcell, was tabbed for a fourth and one carry with Carroll leading by six and two minutes left in Saturday's game against Southern Oregon.
Get a first down and there's a chance the game is over as Carroll would have continued to bleed clock.
Instead, Tuggle supplied the immediate kill shot, a 41-yard touchdown carry, in the Saints' 26-14 homecoming victory over the Raiders.
"Me and Baxter have the same birthday and he got a touchdown there at the end and said, 'hey, happy birthday, coach,'" Purcell said. "It ended up being pretty cool. Just excited for the guys – found a way to win."
"[SOU] loaded the front side – we were just running inside zone,' Tuggle said. "The linemen did a really good job washing them down, I made a cut-back and I was gone after that. Just split the safeties and was gone."
In front of 4,000 fans and on a day when the athletics department inducted the best of the best, both at individual and team levels, into its Hall of Fame, Carroll improved to 3-1 on the season.
"It was fantastic," Carroll safety Tug Smith said of the atmosphere. "People were out tailgating like three hours before the game – you'd walk through and they would cheer for you. It was just unreal – the community around here is just unreal."
Southern Oregon outgained Carroll on Saturday, but the Saints won the turnover battle.
Two of Carroll's three first-half forced fumbles turned into points, and paired with a Cormac Benn one-yard touchdown plunge, had the Saints leading 13-0 at the break.
Carroll's defense kept SOU off the field, holding the Raiders to under 10 minutes of possession in the first half.
Twice in that first half Carroll cashed in drives of less than 40 yards.
"Defense really stepped up, created a lot of short-field situations," Purcell said. "Offensively, I think we need to come away with a few more touchdowns instead of field goals, but everybody stepped up and it was a great team effort."
Trailing 20-7 early in the fourth, SOU ran seven plays in a goal-to-go situation – including two plays at Carroll's one-yard line – just to eventually miss a 33-yard field goal.
Ahead of a third and goal play from the one, the Raiders were flagged for unsportsmanlike conduct, pushing them back to the 16, the spot where the field goal would be missed.
"The referees told me that one of our players, in the separation of players, tried to head butt [somebody]," Raiders head coach Charlie Hall said.
"That's a pretty critical call at a time – we came away with no points. That's not a sign of a smart team, a mature team, so we gotta get better in that area."
Had that drive turned into points, Blake Asciutto's nine-yard touchdown pass to Bryce Goggin one drive later could have given SOU the lead. It certainly would have given the Raiders one final chance for a game-winning drive following Tuggle's scamper.
"You'd like to think that your team is going to embrace the opportunity and compete better than we did," Hall said. "Not that we didn't compete, but we had so many self-inflicted wounds early that we found ourselves behind the chains on offense."
"Pretty proud of the effort of our defense in the first half, offense showed some spark in the second half, but it's a four quarter game. We gotta be able to put all those things together."
Carroll racked up 171 yards on the ground in victory, leaning on three running backs not named Matthew Burgess.
Redshirt freshman Cormac Benn put Carroll up 10-0 with his first career touchdown in the second quarter, while a Jack Prka three-yard quarterback keeper capped a six-play, 80-yard drive and gave the Saints a two-score edge at the end of three quarters.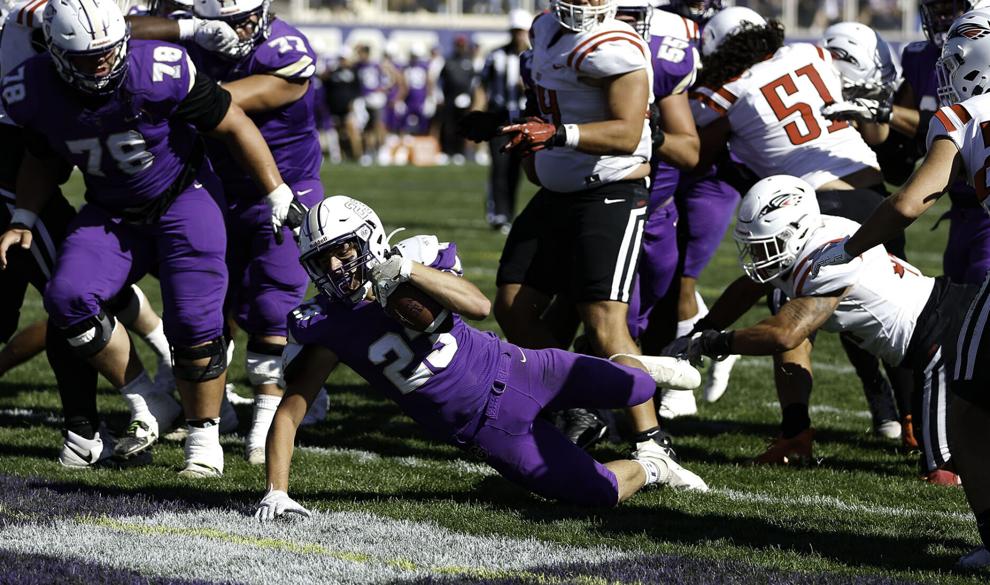 It was just enough production to counteract two SOU touchdowns and 219 yards of second-half offense.
"I think we did a pretty good job controlling [the game] in the second half," Tuggle said. "We need to do a little bit better job running the ball, but overall, I think we did a great job of sustaining drives and giving our defense a little break."
Duncan Kraft saw the most action of Carroll's three running backs on Saturday. In relief of Burgess, Kraft totaled 92 yards on 13 carries.
It was Kraft's 49-yard run that set up Prka's score late in the third quarter.
Tuggle racked up 70 yards on the ground and a touchdown, while Benn carried eight times for 18 yards and a score. He also caught a 17-yard pass to set up his touchdown.
Prka finished 18-for-25 through the air for 137 yards. He also threw a first-quarter interception.
Chris Akulschin hauled in six passes for 60 yards and Tony Collins added five receptions for 31 yards.
SOU's Asciutto totaled 263 yards and a touchdown, while running back Gunner Yates finished with 86 yards on the ground and a third-quarter score.
With the win, Carroll remains deadlocked in a three-way tie for second in the Frontier Conference standings behind undefeated College of Idaho.
It will be the 4-0 Yotes who travel next to Nelson Stadium to face the Saints.
"It feels really good," Carroll linebacker Rex Irby said of the win. "We've got a big one coming up next week – we're already thinking about that one. This one feels really good for right now, but we've got a conference championship-level game coming up next week at our place."
"3-1 feels good, but 4-1 would feel better."