HELENA — Carroll will -- rankings-wise -- face its most challenging opponent of the season thus far on Saturday. Eastern Oregon will roll into Nelson Stadium as the 13th-best team in the NAIA having started the season 2-0. The Mountaineers were also picked to win the Frontier Conference in the preseason.
"Very, very good ball club," Saints head coach Troy Purcell said. "There's a reason why, right now, they're ranked No. 1 in the Frontier Conference. They've proven it week in and week out and the kids are well-coached and they play hard. They're a very sound, veteran football club. They do things right and it's pretty impressive to watch."
Saturday will represent the first time Eastern Oregon has visited Nelson Stadium since Purcell took over Carroll's program ahead of the 2019 season. It will also be the first time the Saints have faced Eastern Oregon since falling 28-0 on the road against the Mountaineers in the spring in a game that almost seemed doomed from the start considering the adversity Carroll faced on that road trip to La Grande.
"We just didn't play as well as we could have," Purcell said. "We had a couple blocked punts for touchdowns, and any time you have that in any game at any time anywhere, it's hard to overcome that. We just gotta be able to come together and I think we have during this spring and fall camp of really putting it together and playing for each other. That game, it started off bad in the morning at practice -- that whole trip was a nightmare. Mature teams can rally through that stuff...It's a pretty veteran group back [for us], young, but a veteran group."
Carroll lost just three starters from the spring, but Eastern Oregon returned the conference's offensive and defensive players of the year in quarterback Kai Quinn and linebacker Chase Van Wyck. In total, the Mountaineers feature 10 redshirt seniors on their two-deep.
Van Wyck -- as well as linebackers Solo Taylor and Zak Donato -- anchor a defense that is a bit different than Carroll has seen in its first two fall opponents.
"Montana Western and Montana Tech are base four-man fronts, two-high coverage," Saints offensive coordinator Alex Pfannenstiel said. "What Eastern Oregon is doing is more three-man front base and one-high coverage, a little bit more aggressive from a blitz perspective than we've seen the last two weeks. We've certainly had a week of practice [to prepare] for it, we get another week. It's nothing we haven't seen before but it certainly is different prep."
Taylor is a Boise State transfer that has been in the program for a handful of years. Both he and Donato pace Eastern Oregon's defense with 18 tackles and three combined tackles for loss.
"They're fast, they're physical on defense," Carroll quarterback Devan Bridgewater said. "Their defense is a little different from Tech and Western. We're going to see variations of things instead of just man coverage and cover one or cover three. We're going to see a little bit of everything. Just being mentality prepared because we know how to run our plays, we know what they're going to do, but now it's taking that mental preparation onto the field for Saturday."
The Mountaineers' defense is far from impenetrable and is coming off a game in which it allowed 408 yards of offense -- including 295 passing -- to Western. The difference in that contest was a 29-yard interception return from Donato right before halftime and a forced fumble by Taylor that helped stall Western's initial drive out of the break.
"Their front seven play hard. I told our guys that this is going to be two physical football teams matching up and we certainly expect those guys to come in and they know how to hit and how to tackle," Pfannenstiel said. "They find a way to make clutch plays...They're opportunistic and coach [Tim] Camp gets those guys playing hard and they create a lot of problems for you."
Through two games, Eastern Oregon's defense is allowing better than 220 yards through the air per contest. That bodes well for a Carroll passing attack that has looked solid in the early-going but leans on a rushing game to help loosen up opposing defenses.
Bridgewater has turned the ball over once through the air so far this fall and is hooking his passes up at a 63 percent clip. Running back Duncan Kraft has already found the end zone four times -- including on three occasions against Montana Tech -- and has emerged as Carroll's top back after an injury to Matt Burgess.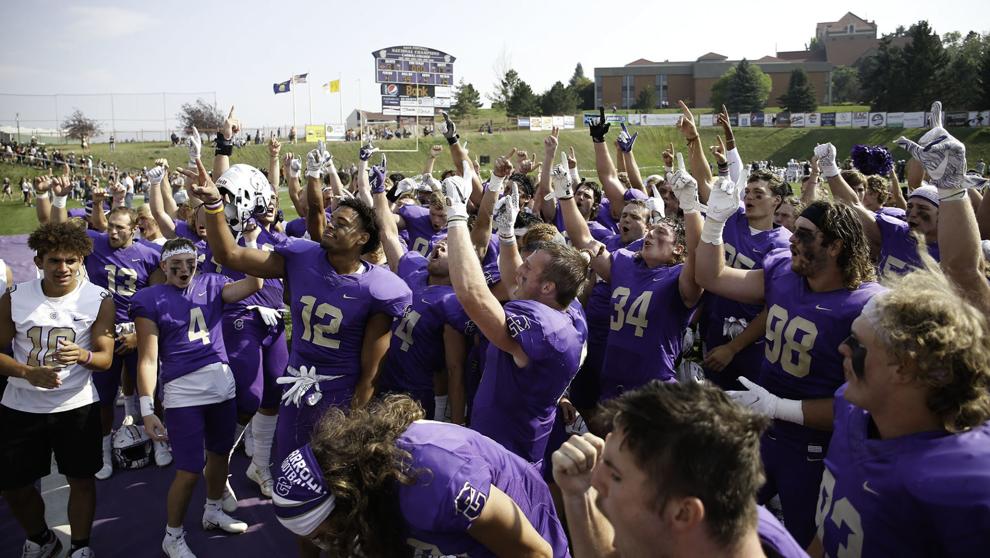 "We gotta move the ball efficiently. Stay on schedule and we have to secure the football. We can't give Eastern Oregon any opportunities to create momentum-changing plays by what we do," Pfannenstiel said. "They're a good defense, they're going to create a couple of those plays on their own. If we eliminate pre-snap penalties, we secure the football in terms of catching it and where we throw it, and at that point either we'll be good enough or we won't."
Defensively, Carroll will be tasked with slowing down a quarterback that can sling it all over the field. Quinn racked up over 800 yards and eight passing touchdowns in just four spring games. His top target from a season ago -- Tyler Brown -- is back for the fall, as is Saige Wilkerson.
That duo has combined for 15 receptions for 159 yards and two touchdowns through two games.
"They're a very veteran group, their quarterback is a really good player, they've got a couple good wide receivers," Saints linebacker Rex Irby said. "They're overall just a very veteran team that knows what they're tendencies are and they stick to it. They should be a good challenge for us on Saturday."
Twelve different receivers have caught a pass for Eastern Oregon this season, and four different pass-catchers have hauled in a touchdown. Quinn has completed 63 percent of his throws this fall for 363 yards and four touchdowns.
"We've gotta make sure we stay on top of routes and make sure we attach to guys in the zones properly," Saints defensive coordinator Wes Nurse said. "Up front, we've gotta make sure we keep [Quinn] in the pocket and not let him outside the pocket to extend plays."
Quinn has added another 119 yards with his legs, but it is Jordan Eggers who paces the team with 167 yards and two touchdowns on the ground. Eastern Oregon ball-carriers have lost two fumbles in as many games, but average a healthy 4.6 yards per carry.
"First and foremost we've gotta stop the run, make sure we're doing our jobs," Irby said. "Just try to come down with the ball when they're throwing it up. I think our main focus is stopping the run and getting off the field on third down."
Carroll has not been victorious against Eastern Oregon since 2014, having lost the last six games against the Mountaineers. The Saints' last home win with EOU as the opponent came in 2012. Four of the last six contests between these two programs -- all Eastern Oregon wins -- have been decided by seven points or less, including an 8-7 Mountaineer victory in 2018.
"There's nothing better than playing in a big game in Nelson Stadium," Irby said. "This is our biggest game of the year. The last three or four years they've gotten the best of us, but I think that just adds fuel to our fire. I think we're ready to go on Saturday."
Kick off from Nelson Stadium is scheduled for 1 p.m.