HELENA — Beating Eastern Oregon was Carroll's white whale last year, a one-score victory in La Grande that snapped a seven-game losing streak against the Mountaineers and put the Saints on the right side of a few close decisions over the years.
The monkey removed from their collective backs, the Saints are hoping this season's initial road trip to Oregon rids the taste of a disappointing loss two Saturdays ago in Butte from their mouths.
"Just to get back on track, we kinda sputtered last week," Carroll linebacker Rex Irby said. "We didn't play our best. La Grande is a tough place to play, they're always well coached. We just gotta go down there and try to execute a little bit better."
"I think that's what we've been doing the last two weeks, just kinda get back on track and get back to playing Carroll-style football."
Defensively, according to the senior captain, that means tackling better and no mistakes or "dumb" penalties on third down.
Through two games, Carroll's defense is ranked in the back-half of the Frontier Conference in points (18) and yards (321) allowed per game. The Saints face an offense this week that has struggled, averaging only eight points through a trio of early-season losses.
Four different quarterbacks have attempted a pass for EOU as the program looks to replace former league offensive player of the year Kai Quinn, but Luke Ross and Andrew James appear to be the Mountaineers' top two options.
James, a redshirt junior out of Hermiston High School, started the season-opener and again last week against NCAA Division III Whitworth. Both times he was replaced by Ross in the second half.
Ross, a Valley City State University transfer, is in his second season with EOU and has been the most efficient under center, passing for 266 yards and two touchdowns.
It is James, though, that brings a running element to EOU's quarterback position as he'll enter Saturday as the team's second-leading rusher.
"Every quarterback that they've put in is a really good athlete," Irby said. "[Andrew James] is really elusive, he can break a lot of tackles. He's one of the best athletes that we'll face at the quarterback position."
At least on paper, this game looks like a break-out opportunity for Carroll's offense, a group that has "sputtered" in its own right through two games.
"I hope every game is a breakout opportunity, but yeah I think [it can be]," Saints center Andrew Carter said. "If we go and do our stuff and are physical up front, I think that we can have ourselves a good game this week."
Struggles with consistency has the Saints averaging just 13 points and 202.5 yards of offense.
What was billed as a stout running game has been held in check to the tune of 61 yards per game as Carroll ranks sixth in the Frontier with 12.5 first downs per contest.
"I want to see us be consistent…We have to find our rhythm," Saints offensive coordinator Alex Pfannenstiel said. "Good offenses are like heartbeats, they beat the same every time."
"We have to find that in what we're doing because there's so much talent in this offense across the board."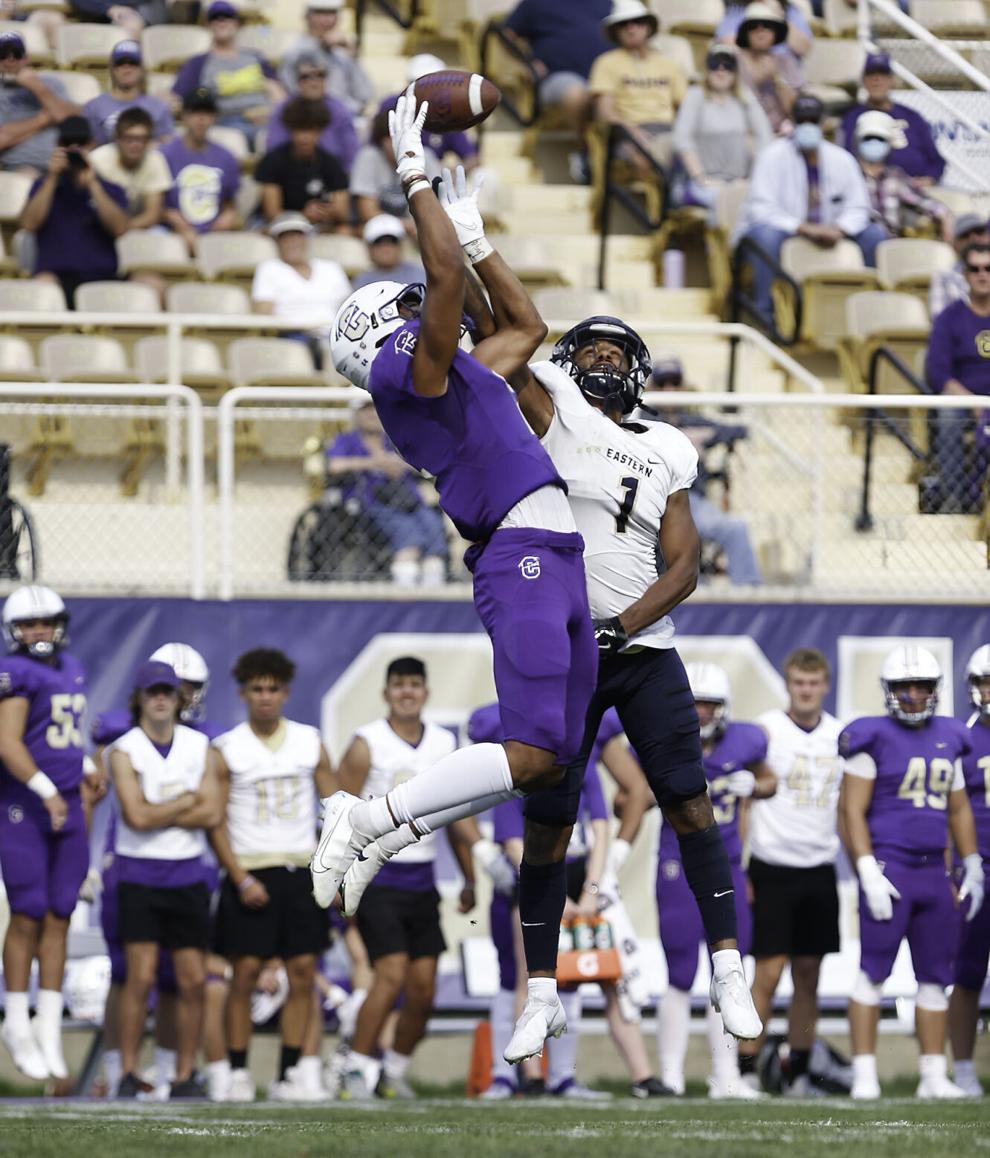 It's a coaching cliché, but it's one head coach Troy Purcell and the Saints believe in – having 11 guys on a positive consistently enough for good things to happen and for the offense's potential to be realized.
Right now, even though Carroll already sports a top-25 win, that just hasn't been the case, something the Saints hope to change, beginning in La Grande.
"Eastern Oregon is certainly going to be a challenging opponent for us," Pfannenstiel said. "Coach [Tim] Camp has been there a long time."
"Defensive coordinator [Bryan Mills] does a great job in terms of presenting multiple looks to us, but I'm more concerned about how we play and finding that consistency and letting the talent that we have on offense show."
EOU's defense, at this point in the season, is among the worst in the conference.
All-Americans Sage DeLong and Chase Van Wyck both graduated, as did two other of the team's top-10 tacklers from 2021.
EOU has allowed at least 33 points and 415 yards of offense in all three games.
"I think we all just need to stick together and execute to the best of our potential every play," Carter said. "You can't be too high or too low – coach always says to stay the course."
Linebackers Hayden Brandon and Solo Taylor (Boise State transfer) are both back after pacing the team in tackles a season ago, but it is the play of redshirt senior Zak Donato that has stood out.
He is the team's leading tackler (28) through three games and is coming off a 12-tackle effort against Whitworth.
Donato, a 6-foot-3, 210-pound linebacker, has recorded at least a half-TFL in all three games. He forced and recovered a fumble against Montana Western and picked off Whitworth quarterback Ryan Blair last weekend.
Carroll feels like it has found a routine that works on its road trips to La Grande, now it's about handling business for 60 minutes between the white lines.
A win Saturday would not only put the Saints back above .500 at 2-1, it would set them up favorably for a stretch that features four out of the next five games at home during which Carroll will host the likes of College of Idaho and Rocky Mountain College.
"[We need to] just play four complete quarters," Irby said. "I think we did a pretty good job of it in the Western game. Against [Montana] Tech, we didn't do that and we didn't get the result we wanted."
"I think that was the focus this week – just trying to put play-by-play, drive-by-drive, quarter-by-quarter together and play a complete game."
Kick off is scheduled for 2 p.m. MT.
The game, for a fee, can be streamed here. Fans can listen to the radio broadcast here.