HELENA — Eight days after eclipsing the 200-win mark, Carroll head women's basketball coach Rachelle Sayers added another accolade to her ledger. With Sunday's 78-51 win over Corban University, Sayers became the all-time winningest head coach in Saints women's basketball program history with 202, passing Shawn Nelson.
"I think it means I've coached some really good players and worked with some very good coaches," Sayers said of the accomplishment. "It says a lot about the commitment by our staff ... To have former players that want to stick around and be a huge part of that is really exciting. Not only that, but you have four of the five seniors that are back. It says a lot about the tradition and what we've built here. It means a lot to me to have these people still around to share this with me because they've been a huge part of it."
Just like her 200th win, No. 202 came in convincing fashion. Carroll shot just 29.4 in the first quarter and led by five points after 10 minutes of play. Corban tied the game at 17-17, but the Saints ripped off a 9-0 run as part of a larger 18-3 push to build a 15-point edge.
By halftime, and after shooting 45% in the second quarter, Carroll led by 12 points. It grew that lead to 23 with an 11-0 run out of the halftime break.
"We were able to up-tempo it a little bit. We wanted to keep the tempo at our tempo," Sayers said. "Obviously Corban wanted to slow it down and pound that thing in the post. When they do that, they have great success, and we just didn't want that to happen. I think we fouled a little bit too much, but 27 points off turnovers is always going to be a good thing. We've just got to keep getting better every game."
Carroll forced 21 turnovers on Sunday and outpaced Corban by 19 in the points-off-turnovers department. Some of the reason for that was Carroll's switch to a zone defense that featured a corner trap. The Saints picked up a handful of their 11 steals off that look throughout the game, and held Corban to 26% (6-for-23) shooting in the second and third quarters combined.
"We've been wanting to play a little bit more zone and that's kind of part of our zone package. We're able to trap that ball in the corner," Sayers said. "With [Corban's] height, it made it a little hard because they were able to kick it out of there. I thought the players did a good job of getting that trap set and getting the cut-off there. We were able to pick a couple off and get some easy twos at the other end."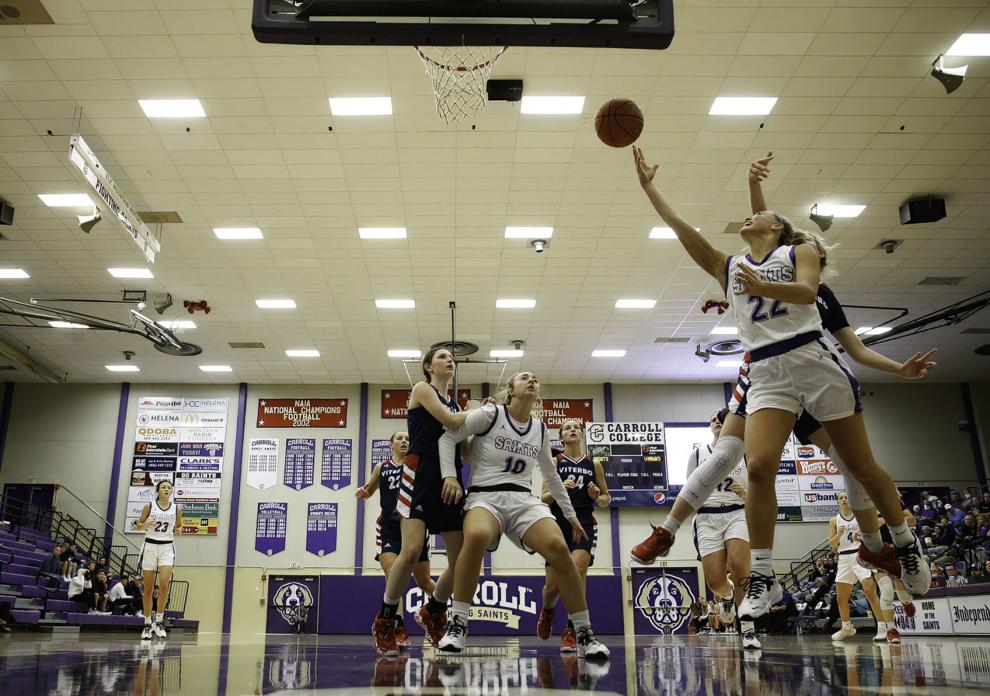 Christine Denny finished with a game-high 20 points in the win, while Dani Wagner and Sienna Swannack joined her in double figures with 15 and 11. Kamden Hilborn chipped in nine points in 25 minutes, but also added six assists, four steals and three rebounds.
Carroll buried 11 3-pointers on Sunday, including seven in the first half, and shot 45.8% from long range for the game.
"I think we have really good shooters," Sayers said. "The other thing that, I think, sometimes goes unnoticed is people making plays for other people. Hitting the shooter at the right time, in the right spot, and giving them a good pass. We talk a lot about that and we talk about delivering the ball in the right spot. We have a lot of players doing a great job and setting their teammates up."
Corban — a team coached by Saints men's all-time leading scorer Bill Pilgeram — saw three players break into double digits. Halle Wright (13), Shaelie Burgess (10) and Holly Golenor (10) led the way for the Warriors, while Gemma LaVergne added nine points. Four Warriors pulled down at least six rebounds in the loss as Corban totaled Carroll's 10 offensive boards.
Corban shot just 32.7% from the field for the game, and 23.1% from 3-point range.
The win on Sunday was Carroll's third straight and moves the Saints to 3-1 on the young season. Up next for the Saints is an exhibition against Montana State University on Tuesday. Tipoff from Bozeman is scheduled for noon.