HELENA — For Carroll's women's basketball team, and really the entire Saints athletic department, academic accolades stack up nearly as fast as conference championships.
Earlier this week, Rachelle Sayers' squad was tabbed as the 15th-ranked program at the NAIA level on the Women's Basketball Coaches Association's 2020-21 academic top-25 team honor roll. The ranking encompasses programs with the highest combined GPAs of all student-athletes on a roster for an entire season. Carroll's cumulative GPA was 3.589.
"Obviously extremely proud of our players," Sayers said. "Going through a year like this year where they were in and out of classes a lot, in and out of quarantine and online and on Zoom. I think it says a lot about what they're here to do. They're here as student-athletes and the student part comes first. To be ranked that high and to have had the success we had on the court is quite an accomplishment."
That honor is the latest in a long line of off-the-court accomplishments from a team that has won three regular-season and tournament championships in the last four years. Nine of Sayers' players were selected as academic all-conference picks after the season, honors handed out to those who are at least sophomores with a 3.2 GPA.
"These kids come here to graduate from Carroll College and to go on and start their careers or go to grad school or med school," Sayers said. "What they do here is extremely important. There's many times that they miss practice because of a class or because of a study session or they have a chance to meet with a professor. There's rarely a day when we're at practice when somebody doesn't come late or leave early for a class."
Sayers said her team is required to attend Sunday night study halls during the school year with more potentially added if a player drops below a 3.0 GPA. The goal for the program is to maintain a GPA of at least 3.5, something the players accomplished through the rigors of the COVID-19 pandemic.
The Saints athletic department as a whole is coming off a year in which it saw all 15 of its varsity programs given the distinction of NAIA Scholar Teams. To accomplish that, the programs had to maintain a combined GPA of 3.0 or better.
"Athletics, sometimes, does get a tough rep for not always putting academics first," Sayers said. "That's not the case at Carroll. Traditionally, the student-athletes have had a higher GPA than our general student body here at Carroll. That's something that we're really proud of."
More so than pure athletic ability, Sayers and her fellow Carroll coaches are looking for the entire package in a potential recruit. That includes the student component, being a good teammate, hard worker, and of course possessing skill at basketball or another sport.
"I think kids that are driven and want to be successful and want to get the best grade possible are typically the same kids that are driven on the basketball court," Sayers said. "They want to win, they want to do their best, they want to reach their goals...We want somebody that comes in here and understands that it's hard to go to Carroll. It's a prestigious college, classes are hard, the professors know who you are and you have to work for every grade you get."
In addition to some lofty academic goals, Sayers' team sets a standard of 350 community service hours a year. That effort in recent years has been spearheaded by the program's Student-Athlete Advisory Council representative Maddie Geritz.
Geritz was just named the Frontier Conference's nominee for the NAIA's Dr. LeRoy Walker Champions of Character Award. Sayers was also nominated for the NAIA Coach of Character Award.
Geritz was also Carroll's recipient of Montana's Athletes in Service Award in 2020.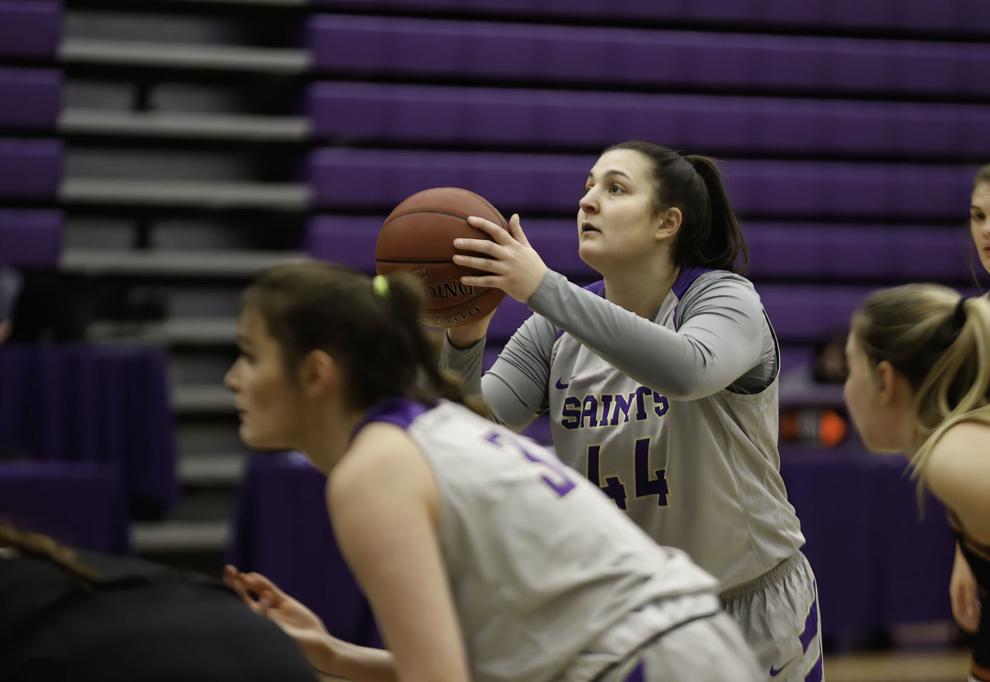 "[Maddie] is always the first to volunteer to be involved with the community service that we try to do with our team," Sayers said. "She's one of our best teammates, she's kinda our hype guy. She's a great friend to all of her teammates. Comes in, works hard, has a positive attitude. She's just one of those players that people like to be around."
Geritz is entering her junior year on the basketball court for a team that returns all of its starters from last season and swept the conference championships. With the season inching closer, Sayers' team has been close to full strength this summer lifting weights, completing workouts and competing in open gyms.
"I think it's been one of our most productive summers," Sayers said. "It's been nice to get back to some normalcy, last summer was tough. This summer we've been able to stay on a schedule, the kids are getting better, they're having fun."