HELENA — It was a typical Thursday night in Billings.
The Carroll College football team stepped onto Herb Klindt Field to kickoff the 2018 season against Rocky Mountain College.
Sophomore quarterback Reese Hiibel called out the cadence and received the snap, just as he had the whole game.
He sprinted out to the right and, before he knew it, the defense drove him into the ground and his head hit the turf.
After the game, all he remembers is that he knew he wasn't all there and the headache he was feeling wasn't little.
He suffered a concussion. It was his ninth in eight years.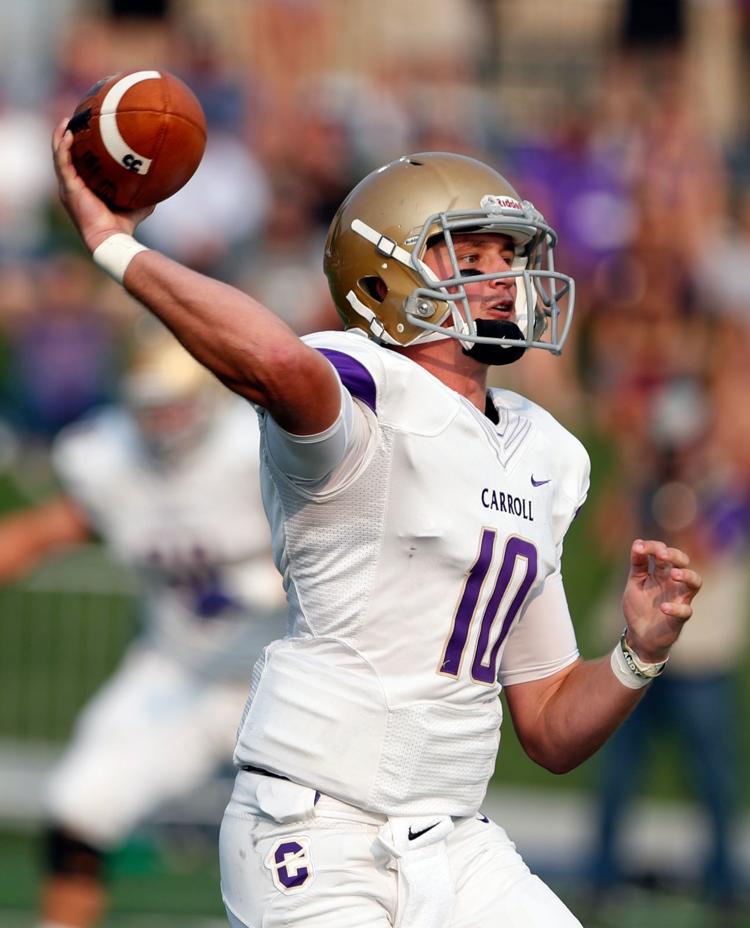 "I was having bad symptoms," Hiibel recalled. "Even a week or two after the game, I could hardly talk to people."
According to the Centers for Disease Control and Prevention, short-term effects of a concussion include headaches, dizziness, delayed response, fatigue, blurred vision and even nausea and vomiting. Long-term risks from concussions can include memory problems, sleep disturbances, depression and other psychological problems.
Over the next few weeks, Hiibel couldn't concentrate and was forced to drop classes. There were points where all he could do was lay down because his head was throbbing.
"I knew it was serious when he said he couldn't remember what he read," said Hiibel's mother, Barney Keeman. "That first semester, I just prayed he got through it and we would go from there. I didn't want him to drop out."
Hiibel knew he didn't want that life, so he talked with his family, doctors and even talked to his cousin Marc Paul, who is the head athletic trainer for the Boise State athletics department.
"His overall heath was the most important factor to me," Paul said. "He's family. The fact that I had more knowledge in that specific area was a bonus."
Paul has spent 25 years working as a college athletic trainer. Before Boise State he was at the University of Nevada and has seen concussions in nearly every sport.
"As an athletic trainer, I take concussions very seriously," Paul said. "These kids have worked their whole lives to get to this point and have this opportunity. These injuries should never be taken lightly. You have to be aware of the long-term ramifications."
Hiibel had all the information he needed. A few weeks later, he walked into the football office and made the toughest decision of his life.
He told his coach, Mike Van Diest, he didn't think playing football was in his best interest any longer.
He sat there as the tears ran down his cheeks, but little did he know that as he watched one door shut, another would open.
FINDING A LOVE FOR COACHING
Hiibel grew up in Afton, Wyoming, a town of 2,000 people, 10 miles east of the Idaho-Wyoming border.
He played football, basketball and even skied.
But when Hiibel wasn't playing, he loved teaching others the game of football.
He thought back to his time at Star Valley High School, where he would help out at the young kids camps.
There were even a few kids that he developed a friendship with.
"I love helping these kids," Hiibel said. "It's a sense of excitement. When you see them use things that you taught them, there is no better feeling."
From that point on, he knew he wanted to be a coach.
But he still loved playing the game. He couldn't give that up, could he?
INTRODUCTION WITH CONCUSSIONS
According to Ohio State University's College of Public Health in 2017, 57 percent of sports related concussions happen in football.
Hiibel's first concussion came while skiing.
"I was knocked out cold completely," Hiibel sad. "Some guy came down and woke me up."
As his years playing sports racked up, so, too, did the number of concussions he experienced, particularly in football.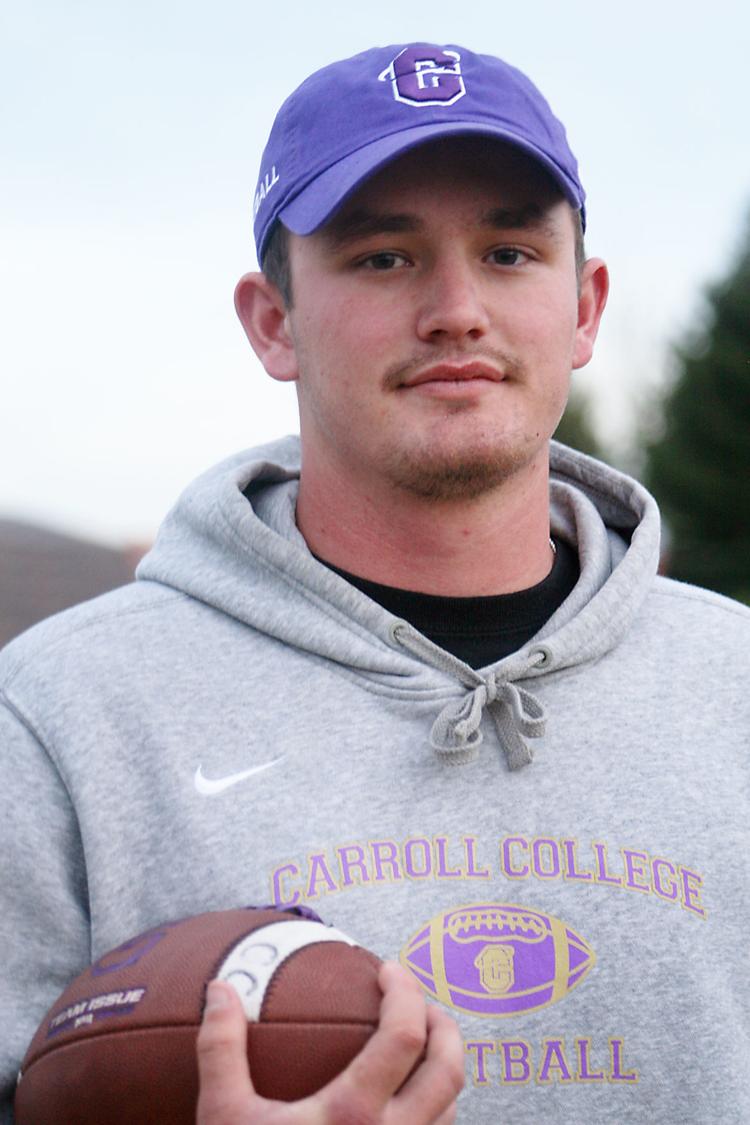 He suffered two his freshman season, two more his sophomore season and by the time he graduated, he had experienced eight concussions over a five year span.
"It's scary," Kleeman said. "I just always hope he is going to be okay."
When Hiibel started looking to play quarterback at the next level, he gained some interest from schools such as Montana Western, NCAA Division III Willamette, and NCAA FCS schools Idaho State and Weber.
He wanted to go to Carroll, but there were no quarterback spots available, until one day he got a message from Van Diest that a spot just opened up.
The coaches, of course, asked about his medical history. Hiibel didn't share everything. 
"You have to do a little bit of salesmanship for yourself," Hiibel said. "I had to play football. I'll do anything for this game. I had no regrets."
TRANSITIONING INTO COACHING
Hiibel spent his first year at Carroll as a redshirt.
One year later, he received experience because of an injury to senior quarterback Tanner Gustavsen.
By his redshirt sophomore year, he was finally named the starting quarterback mere days before the Rocky Mountain game.
"Tanner had been so supportive that (second year)," Hiibel said. "He did everything he could to help me and he didn't necessarily have to be. He was a fifth year senior and I was just a redshirt freshman."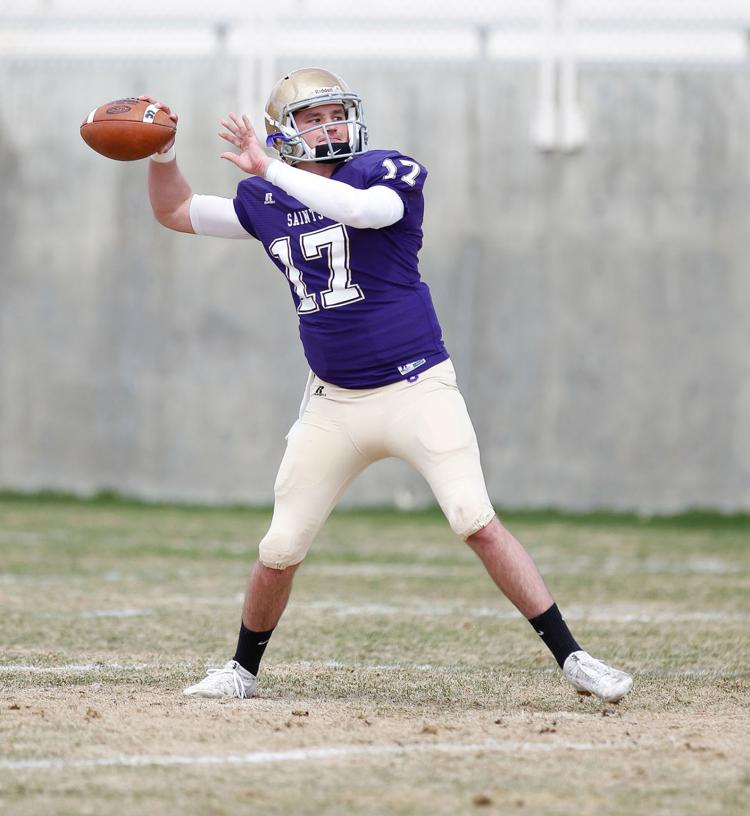 Hiibel's career as a starter was short lived following the concussion, and it didn't only impact him. It impacted the entire team.
"Reese was a leader," said former teammate Eric Dawson. "When that happened, we lost a lot. Seeing him lose that opportunity to play football all together definitely takes a toll on you."
It didn't take long before Hiibel found himself helping out.
He assisted with the equipment, he did the laundry, recorded practice, and did anything he could to remain a part of the team.
"I think there was a little selfishness in me that I didn't want to let go completely," Hiibel said. "I didn't want to give up. I had never quit anything in my life. I didn't want to feel like I was quitting."
By the end of week nine, Van Diest came up to Hiibel and asked if he wanted to coach the wide receivers the next season.
"I had no clue what went into being a wide receivers coach, but they were just good friends of mine," Hiibel said. "I had thrown passes to them for three years."
One week later, Van Diest announced his retirement.
A few weeks after that, Troy Purcell was announced as Carroll's new head coach.
Hiibel had to think. He wasn't a player anymore, and he was a nobody to this new coach. What was his future going to be like?
NEW CHAPTER IN HIS LIFE
When Purcell took the job, Hiibel spoke with him about what had happened the previous year.
It didn't take long before Purcell followed through with Van Diest's promise.
Hiibel was going to help Alex Pfannenstiel coach the wide receivers and he would remain on scholarship.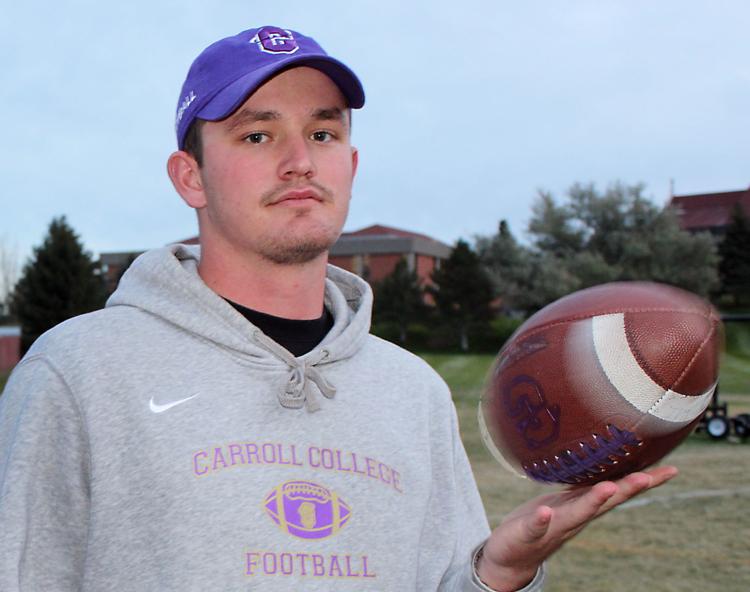 "Honestly, we couldn't afford for him to be at Carroll if he wasn't on scholarship," Kleeman said. "That was such a concern. We didn't know if he could stay."
Now, more one year removed from his last concussion, Hiibel said he still has some cognitive issues, but he is smiling. He is still around the game he loves and is set to graduate with a degree in business communication.
As he sits on the sidelines this season and watches his former teammates battle their way though their schedule, he reflects on his journey.
"Head injuries are not something to be messed with," Hiibel said. "I always wanted to tough things out and play through everything."
Hiibel might not be able to throw a football competitively anymore, but that part of his life is over. Now he wants to show he is an image of perseverance.
"Things don't always go like you envisioned them," Hiibel said. "It's how you respond to things. If there was an easy way out, that would just have been quitting football and dropping out of school."