HELENA — In many ways, Carroll's Taelyr Krantz and Elizabeth Heuiser are similar. Both were standouts at Helena High as volleyball players, earning all-state honors and being selected first team all-conference during their respective junior and senior seasons. Both chose to become a Saint after their careers as Bengals were done, and just a couple of weeks ago, both were recognized as Frontier Conference players of the week.
"She doesn't need a lot of mentoring, she's a stud," Krantz said of Heuiser. "One of the best things about Liz is just her work ethic. She's going to do whatever you ask her to do, so if I holler at her to try something new, she's gonna go out there and do it, and nine times out of 10 she's gonna be successful at it. Liz is the ultimate teammate. You don't have to work very hard to get along with her."
Krantz and Heuiser are just far enough apart in age to not have been teammates as Bengals. Krantz, being older and now in her senior year at Carroll, said she spent plenty of time cheering Heuiser on and has even shared several meals at her house. For Heuiser, she had someone older to look up to.
"I remember watching her in high school," Heuiser said. "I definitely looked up to her when I was in middle school watching her at the high school, and then again when I was in high school with her playing at Carroll. She's been super helpful. I love getting to play with her. She's pushing me to do better every single day in practice."
An honorable mention All-American as a junior, Krantz is well on her way to posting better numbers this season. Through 12 matches, she is averaging 3.5 kills per set with a .329 hitting percentage. Her 1.58 blocks per set currently pace the NAIA, while her 4.7 points per set rank 11th in the country.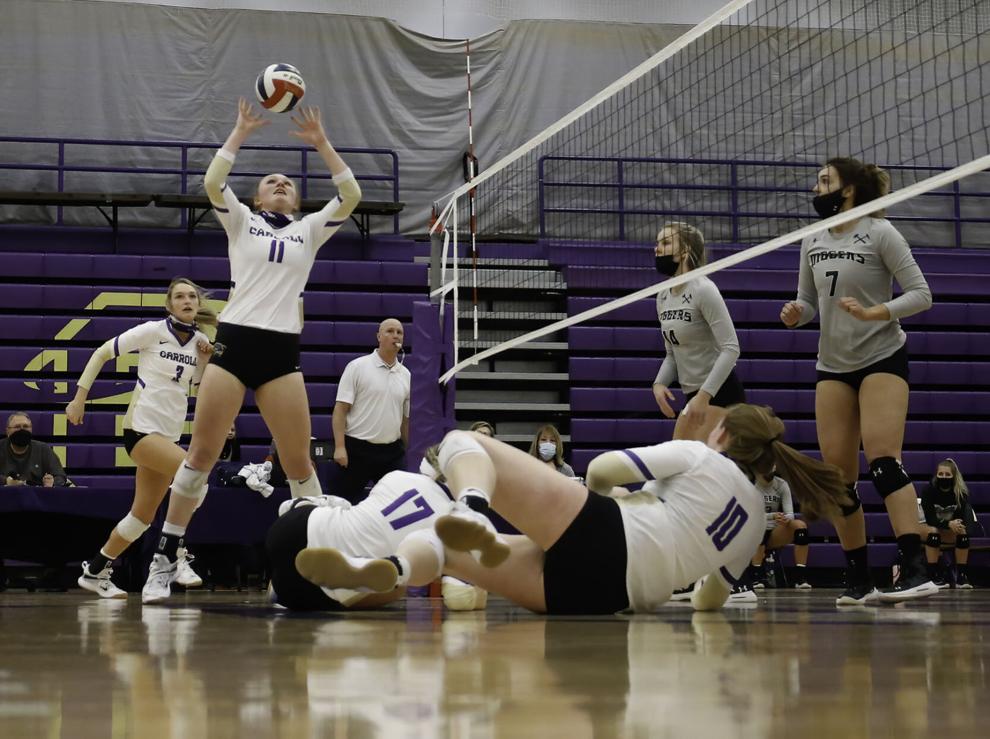 "I have to give so much credit to my teammates," Krantz said. "All three of my setters, they find a way to get me the ball and I just appreciate their trust in me. I love that they want to get me the ball and I love putting it away for them. It's just a team effort, especially in volleyball, you can't just have one person touching the ball. I just give it all to my team."
Heuiser was part of a good-sized freshman class for the Saints and is one of three freshmen seeing substantial court time. In 14 sets, she is second on the roster averaging 3.2 points per set to go along with her 2.43 kills, which is also second to Krantz. Heuiser's performance comes off back-to-back seasons in which she garnered All-State honors at Helena High.
"She was capable of playing at a high level in high school and I think she has upped her game even more," Saints head coach Moe Boyle said. "She's that solid player, consistent, extremely humble. She never gets too high or too low and she'll do absolutely anything you ask her to do. I had her playing in almost any position that we've got. She's going to be great."
Both Krantz and Heuiser each stand about 6-foot tall and, according to their coach, share the same drive that it takes to be successful at the collegiate level. That is perhaps where the similarities stop for the pair as their personalities diverge, according to Boyle.
Playing the same position, practices often get competitive between the two former Bengals, but that has not kept Krantz from attempting to pass down knowledge and experience to her teammate.
"I think that it's, for sure, maturity on Taelyr's part," Boyle said. "When you play the same position, sometimes in practice it gets a little heated, and yet, they demand the best from each other. They can hold each other accountable to play the way they're capable of. You can't ask for a better pair.
"I don't think Taelyr is solely coaching Liz, I think she's coaching everybody. She just wants to win and she's gonna do everything she can to win, and if that means helping somebody with where they need to be at a certain point in time or where they need to hit, she's not afraid to say it."
Heuiser said Krantz is always helping her with hitting and finding open spaces on the court. Besides that, it is mostly little things in practice that the veteran helps the rookie with.
"It's crazy," Heuiser said of her time as a Saint thus far. "It kinda feels unreal, but it's been super fun and super exciting...Every single one of [my teammates] definitely made the transition easier. Having someone from Helena obviously made it a little bit easier just because you went to the same school and kinda went through the same stuff."
Still very early in her career and with Krantz's winding down, Heuiser can be seen as someone to take the torch and carry it for Carroll after this season.
There is probably no one better that Krantz — who has accomplished her fair share as a Saint — could pass that torch to than someone with a similar background and athletic ability. It all begins with the experience Heuiser is picking up as a freshman.
"She's going to get experience right off the bat that's really irreplaceable," Krantz said. "She's going to learn and grow so much faster because of the time she's getting. It's a testament to how hard she's worked. It's hard to come in and be successful right off the bat. Liz is one of those people who you can tell just did the work."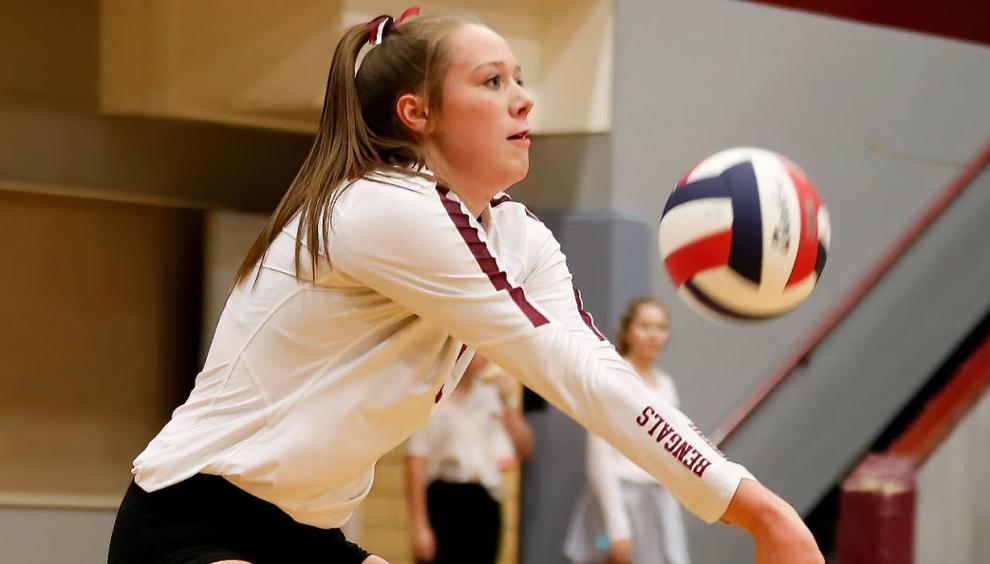 Through 12 matches and with conference play coming up, the Saints sit at 7-5 and have yet to play a home game. All five of the Saints' losses have come against teams ranked in the NAIA top-25, including defeats at the hands of Dordt and Viterbo who are top-5 teams nationally.
"I'm really proud of everybody's versatility," Krantz said. "We'd had to do some lineup changes. We have so many tools and different places we can put people and that's going to make us hard to beat. We can change things up if something is not working and we really have threats all over the court. I'm just proud of how we're adapting to our changes. It's going to be the same thing this weekend. We're gonna try a couple different rotations and I think we're going to make it hard for people to beat us."
Carroll will participate in a Frontier Conference Tune Up this weekend against Montana State Northern, Montana Tech, Providence and Rocky Mountain College. They will be non-conference matches but will present a good test for the Saints to judge where they stack up.
"I want to think that we're gonna be truly competitive and our girls will be able to perform well," Boyle said. "I'm optimistic and I think that we have a good shot to be one of the top-two teams in the conference, but we have to prove that on the court. We can say all we want, but we really have to prove it on the court. This weekend is the first test of that."