WHITEFISH — Montana Western quarterback Jon Jund and Carroll defensive lineman Garrett Kocab earned Frontier Conference Player of the Year honors on Monday after sterling senior campaigns.
Jund, who repeated as the conference's top offensive player, led the Bulldogs to a 7-4 overall record and 6-4 showing in league play.
Jund threw for 2,401 yards and 22 touchdowns in 11 games. He was Western's second-leading rusher with 502 yards and an additional nine scores.
He paced the conference in passing yards, yards per game (218.3), passing touchdowns and was second in efficiency (142.9).
In his final game as a Bulldog, Jund eclipsed 100 career passing touchdowns, and according to Western records, finished his career just five short of a program record.
Jund was also tabbed the conference's nominee for NAIA Player of the Year.
Kocab, as the man in the middle, anchored Carroll's stout run defense this season on his way to Defensive Player of the Year honors.
The sixth-year senior booked 58 tackles in 11 games and recorded 3.5 sacks. Nine tackles were for a loss of yardage and Kocab was credited with three pass break-ups and a blocked extra-point attempt.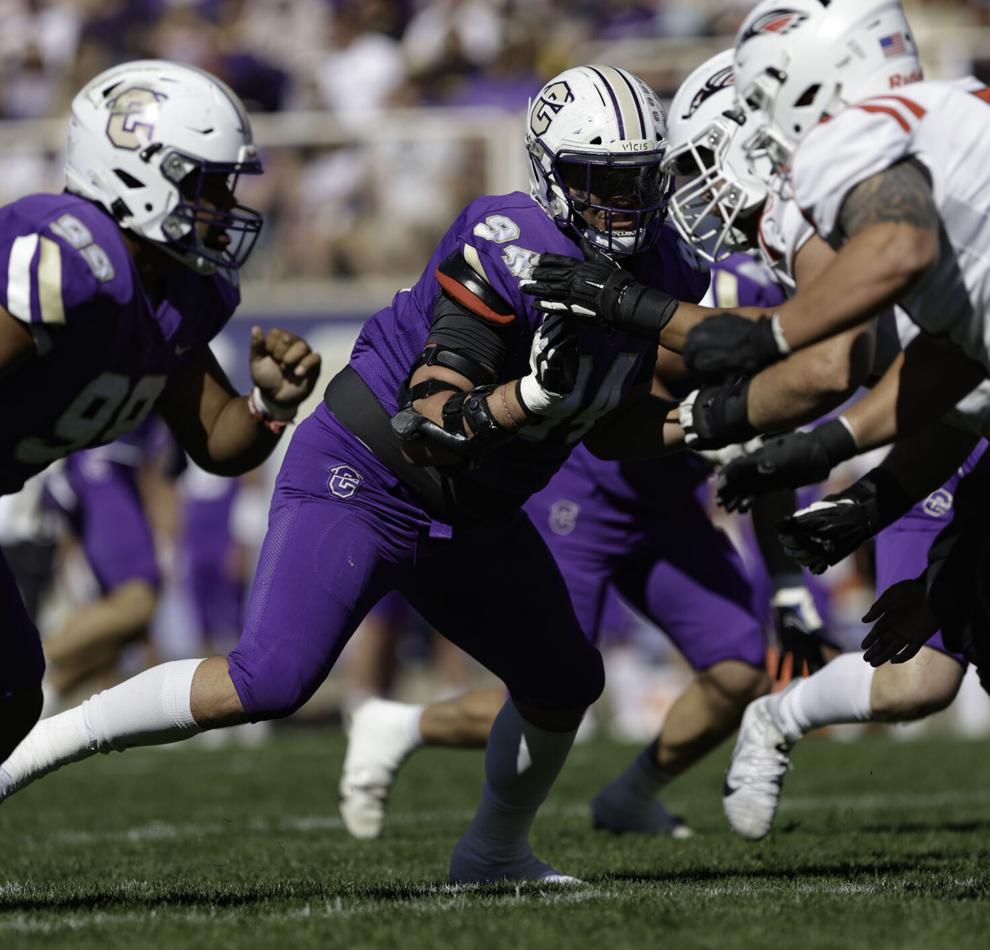 Kocab was a team captain in his final season and finished the year tied for eighth in the Frontier in TFL.
Carroll's rush defense paced the league in rush yards allowed per game (77), scoring defense (13.6 PPG), yards allowed per game (236.9), and was second in pass defense (159.9).
For the second time in his four-year tenure as head football coach at Carroll College, Troy Purcell was tabbed Frontier Coach of the Year.
Purcell led the Saints to their fourth consecutive winning season, and for the second time in three seasons, a berth in the NAIA Football Championship Series. Carroll took No. 2-ranked Grand View to the wire in the opening round of the playoffs, losing by a field goal margin.
Still, Carroll finished its season with an 8-3 record, as Frontier co-Champions, and with its most single-season victories since 2014.
Carroll is 23-13 (.639) in four seasons under Purcell.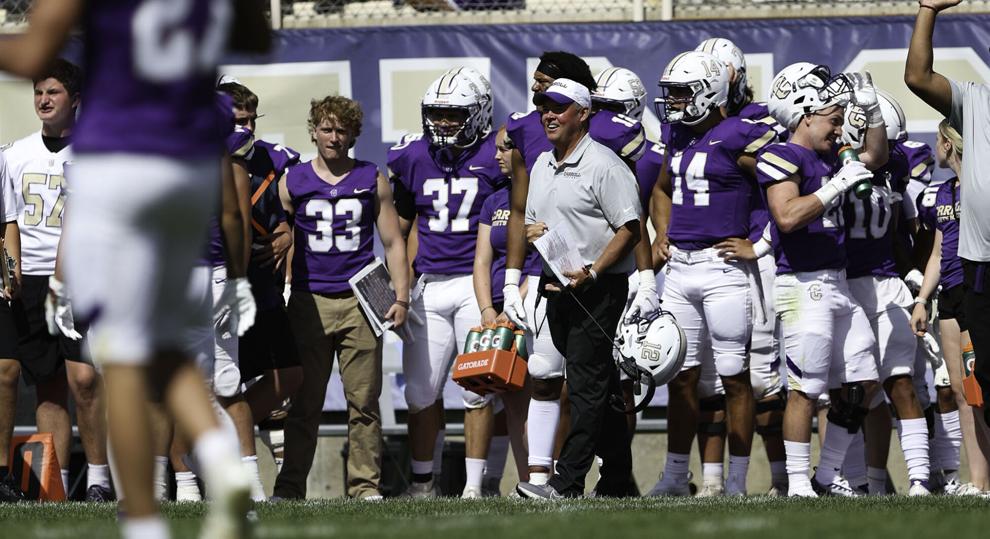 All-Conference selections
First-team Offense
Jon Jund, QB, Montana Western – 189-for-313 passing, 2,401 yards, 22 TD, 8 INT – 502 rushing yards, 9 TDs
Blake Counts, RB, Montana Tech – 803 rushing yards, 6 TDs
Reese Neville, RB, Montana Western – 1,065 rushing yards, 9 TDs
Andrew Simon, TE, Rocky Mountain College – 37 receptions, 351 yards, 0 TDs
Trevor Hoffman, WR, Montana Tech – 50 receptions, 757 yards, 6 TDs
Bryce Goggin, WR, Southern Oregon – 43 receptions, 551 yards, 4 TDs
Christian Graney, WR, Southern Oregon – 48 receptions, 695 yards, 5 TDs
Andrew Carter, OL, Carroll – 2-time First-team selection
Ryan Halford, OL, College of Idaho – 3-time All-Conference selection
Garrett Rehberg, OL, College of Idaho – 2-time All-Conference selection
Jack Hiller, OL, Montana Tech – First All-Conference selection
Noah Danielson, OL, Montana Western – 3-time All-Conference selection
First-team Defense
Garrett Kocab, DL, Carroll – 58 tackles, 3.5 sacks, 9 TFL
Keagan McCoy, DL, College of Idaho – 42 tackles, 8 sacks, 10 TFL, 1 forced fumble
Keyshawn James-Newby, DL, Montana Tech – 61 tackles, 9 sacks, 14.5 TFL, 1 forced fumble, 2 fumble recoveries
Wes Moeai, DL, Rocky Mountain College – 52 tackles, 2 sacks, 7 TFL, 1 forced fumble
Dylan Martinez, LB, College of Idaho – 63 tackles, 2.5 sacks, 7 TFL, 2 forced fumbles
Solo Taylor, LB, Eastern Oregon – 69 tackles, 2.5 sacks, 4 TFL, 1 forced fumble, 1 INT
Dylan Wampler, LB, MSU-Northern – 91 tackles, 4.5 sacks, 9 TFL, 2 forced fumbles, 1 fumble recovery, 1 INT
Nolan McCafferty, LB, Rocky Mountain College – 68 tackles, 1 sack, 9 TFL, 1 fumble recovery
Jake Regino, LB, Southern Oregon – 113 tackles, 2.5 sacks, 9.5 TFL, 1 forced fumble, 2 INTs
Dorian Hardin, DB, College of Idaho – 45 tackles, 1 forced fumble, 3 INTs, 14 pass break-ups
Naoki Harmer, DB, Montana Tech – 75 tackles, 0.5 sack, 6 TFL, 2 forced fumbles, 1 fumble recovery, 1 INT, 8 pass break-ups
Jordan Washington, DB, Montana Tech – 43 tackles, 0.5 sack, 2 TFL, 1 forced fumble, 9 pass break-ups
Kaysan Barnett, DB, Rocky Mountain College – 38 tackles, 0.5 TFL, 5 INTs, 9 pass break-ups
First-team Special Teams
Spencer Berger, K, Carroll – 8-for-11 FG, 26-for-30 XPT
Ryan Lowry, K, Montana Tech – 11-for-16 FG, 44-for-45 XPT
Andrew Almos, P, Montana Tech – 42.3-yard punt average, long 64, 21 punts inside 20-yard line
Stokes Botelho, KR/PR, Southern Oregon – 23.9-yard KR average, 1 TD, 10.3-yard PR average
Second-team Offense
Blake Thelen, QB, Montana Tech – 86-for-161 passing, 1,375 yards, 12 TDs, 4 INTs –
Matthew Burgess, RB, Carroll – 576 rushing yards, 5 TDs
Allamar Alexander, RB, College of Idaho – 804 rushing yards, 5 TDs
Tony Collins, TE, Carroll – 43 receptions, 646 yards, 4 TDs
Brock Richardson, WR, College of Idaho – 44 receptions, 612 yards, 5 TDs
Kyle Torgerson, WR, Montana Tech – 45 receptions, 709 yards, 3 TDs
Trey Mounts, WR, Montana Western – 43 receptions, 599 yards, 7 TDs
Hunter Mecham, OL, Carroll – 3-time All-Conference selection
Conor Quick, OL, Carroll – First All-Conference selection
Carson Shuman, OL, Montana Tech – First All-Conference selection
Stason Makaila, OL, Rocky Mountain College – First All-Conference selection
Hunter Geissler, OL, Southern Oregon – First All-Conference selection
Second-team Defense
Garrett Worden, DL, Carroll – 39 tackles, 6 sacks, 13.5 TFL, 1 forced fumble, 1 fumble recovery
Alex Ojukwu, DL, College of Idaho – 27 tackles, 3.5 sacks, 6.5 TFL, 2 fumble recoveries
Reese Artz, DL, Montana Western – 58 tackles, 7 sacks, 12.5 TFL, 2 forced fumbles, 1 fumble recovery
Tanner Harrell, DL, Montana Western – 50 tackles, 8.5 sacks, 12.5 TFL, 1 forced fumble
Rex Irby, LB, Carroll – 26 tackles, 1 sack, 1 TFL, 2 INTs
Zak Donato, LB, Eastern Oregon – 80 tackles, 8.5 TFL, 1 forced fumble, 1 fumble recovery, 2 INTs
Ben Windauer, LB, Montana Tech – 55 tackles, 1.5 sacks, 4.5 TFL, 1 fumble recovery, 1 INT
Zach Spiroff, DB, Carroll – 37 tackles, 1.5 TFL, 1 forced fumble, 1 fumble recovery, 3 INTs
Jacob Batubenga, DB, College of Idaho – 48 tackles, 5 pass break-ups
Keegan Croteau, DB, College of Idaho – 41 tackles, 4 INTs
DeShawn Craig, DB, Southern Oregon – 23 tackles, 1 sack, 1 TFL, 6 pass break-ups
Second-team Special Teams
Wyatt Brusven, P, Rocky Mountain College – 41-yard punt average, long 62, 18 punts inside 20-yard line
Kyle Torgerson, KR, Montana Tech – 27.2-yard average, long 64
Kaysan Barnett, PR, Rocky Mountain College – 13.2-yard average, 1 TD, long 70