HELENA — NAIA football is back in Montana as all eight Frontier Conference teams were in action on Saturday.
That means our weekly roundup is back, providing you with all the information you need from around the conference.
Let's jump in:
No clear favorite
It didn't take long for the preseason conference favorite Montana Western to fall. The league's representative in the NAIA Football Championship Series last fall fell to Carroll College 16-10 in Helena on Saturday.
College of Idaho and Rocky Mountain College – teams that shared the league championship with Western a year ago – both won their season-opening games and are scheduled to go head-to-head this weekend in Billings.
Western, Carroll, Rocky and C of I were all packed tightly into the first four spots in the preseason coaches' poll and week one proved that, once again, the Frontier is wide open and there should be no clear favorite.
Before the 2021 spring season, the Frontier had not seen three football teams tie for the regular-season championship since 2004, according to the league's website.
It happened again last fall, and if week one results are any indication, fans are likely to see it occur again in 2022.
Jet–ting off to a fast start
Montana Tech senior quarterback Jet Campbell accounted for four touchdowns and 267 yards of total offense in a blow-out road victory over Eastern Oregon on Saturday.
Campbell completed 68 percent of his passes and led an offense that racked up 445 yards, 25 first downs and averaged nearly six yards per play.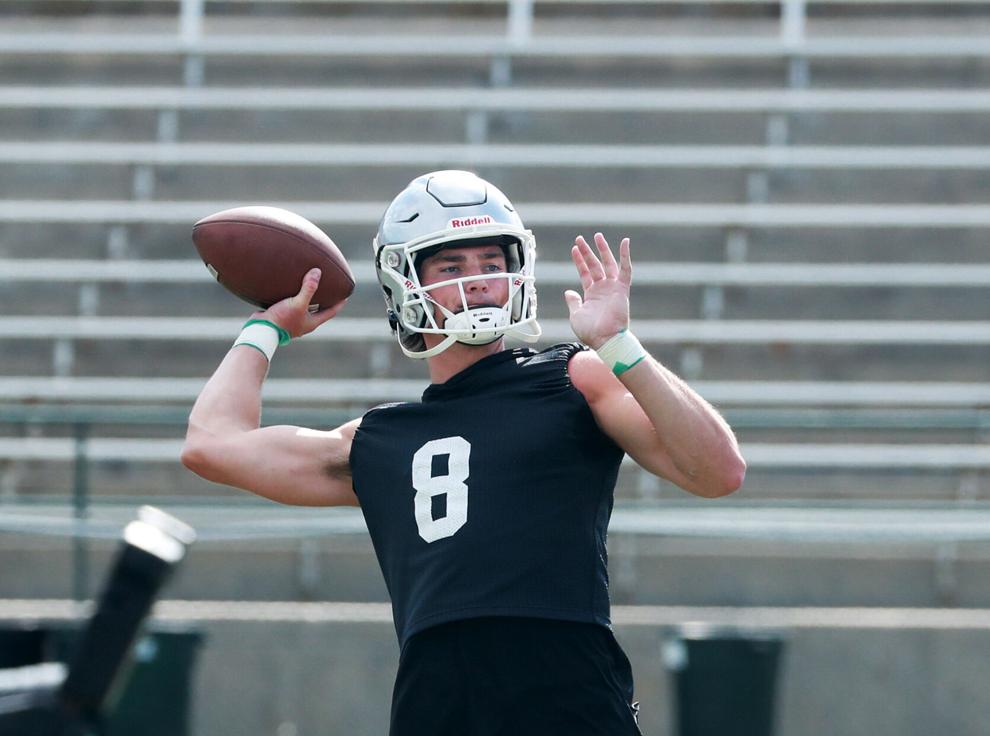 Campbell found Blake Counts and Logan Kennedy for scores in the first quarter, before capping a 4-play, 52-yard drive with a four-yard plunge in the third quarter. Campbell's two-yard touchdown run early in the fourth put Tech up 31-3, all but icing the game in the Orediggers' favor.
Campbell, who posted the best all-around performance by a Frontier quarterback in week one, will attempt to replicate the feat on Saturday, at home, against Carroll.
Nationally-ranked teams beware
After beating the 17th-ranked Bulldogs on Saturday, Carroll has now beaten three of the last four nationally-ranked teams it has played dating back to Oct. 2, 2021.
Western was also the highest-ranked team the Saints have beaten since Carroll toppled No. 6 College of Idaho on April 10, 2021 to claim a share of the conference title and earn an automatic bid in the NAIA playoffs.
Carroll beat the Yotes twice last fall, both times when they were ranked inside the top-25. Carroll's last loss to a ranked team came on Oct. 23, 2021, a 39-34 road loss to No. 16 Rocky.
The Saints are 4-3 in their last seven games against ranked opponents.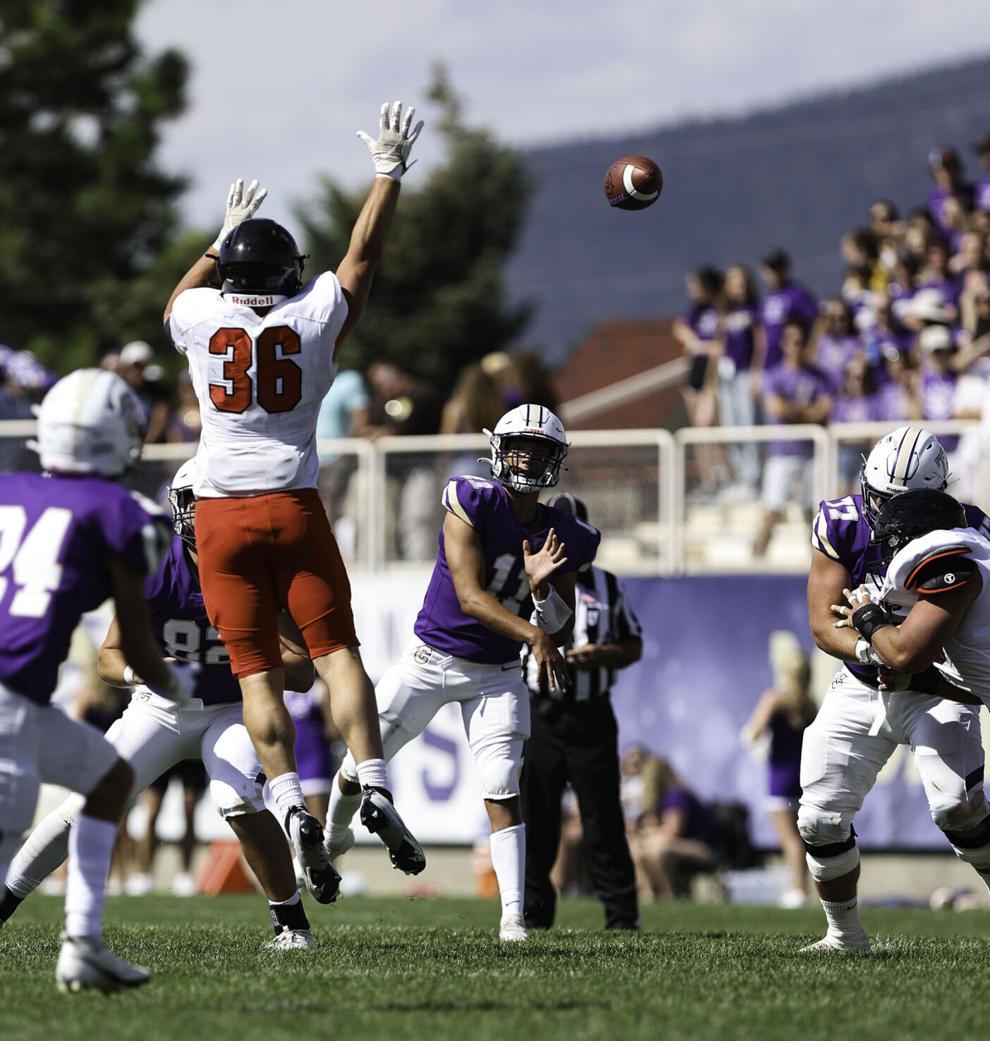 Week 1 game results
College of Idaho 31, Montana State Northern 3
Carroll 16, Montana Western 10
Rocky Mountain College 27, Southern Oregon 10
Montana Tech 38, Eastern Oregon 3
Conference Players of the Week
Offense: Quarterback Jet Campbell, Montana Tech
Defense: Linebacker Tucker Jones, Carroll
Special teams: Kicker Austin Drake, Rocky Mountain College
Week 1 top performers
Offense
Montana Tech quarterback Jet Campbell: 17-for-25 passing, 235 yards, 2 TDs – 32 rushing yards, 2 TDs
Rocky Mountain College quarterback Nate Dick: 16-for-30 passing, 210 yards, 2 TDs, 2 INTs – 81 rushing yards, 1 TD
Rocky Mountain College running back Zaire Wilcox: 134 rushing yards – 3 receptions, 17 yards, 1 TD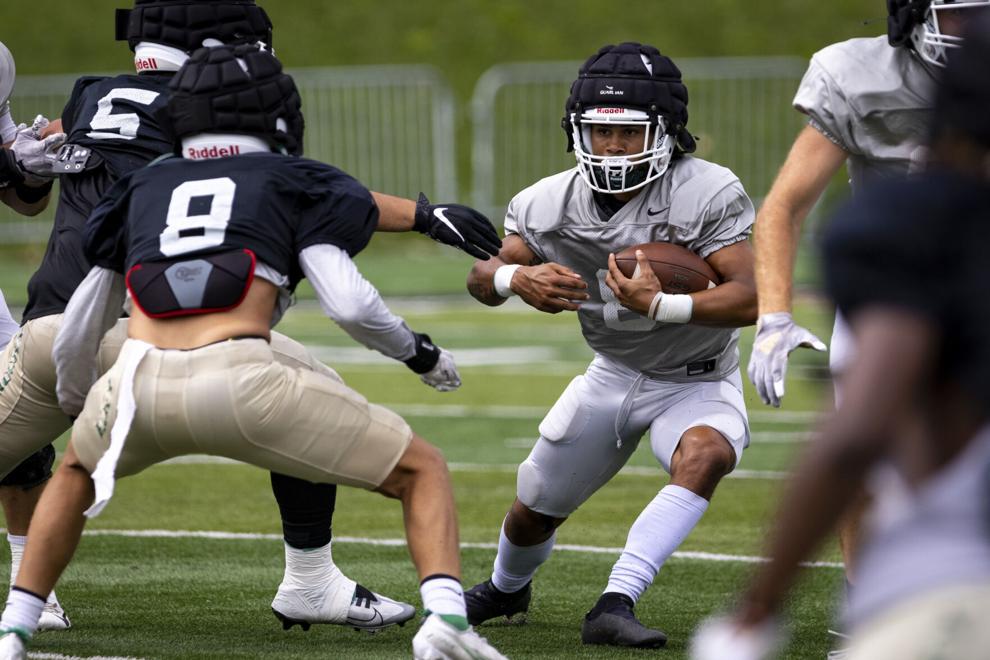 College of Idaho wide receiver Jake Nadley: 7 receptions, 136 yards, 1 TD
Montana Tech wide receiver Trevor Hoffman: 8 receptions, 122 yards
Montana Tech running back Blake Counts: 97 rushing yards, 1 TD
Carroll tight end Tony Collins: 6 receptions, 81 yards, 1 TD
College of Idaho running back Hunter Gilbert: 72 rushing yards, 1 TD
College of Idaho running back Allamar Alexander: 74 rushing yards – 1 reception, 1 yard, 1 TD
Carroll quarterback Jack Prka: 15-for-26 passing, 148 yards, 1 TD
Defense
Southern Oregon linebacker Jake Regino: 12 tackles, 2 TFL
Eastern Oregon defensive back Josh Mendoza: 11 tackles, 2 TFL, 1 pass break-up
Montana State Northern linebacker Dylan Wampler: 8 tackles, 2.5 sacks, 2.5 TFL, 1 INT
Southern Oregon defensive back Nolan Rinefort: 10 tackles
Carroll defensive lineman Garrett Kocab: 9 tackles, 0.5 sack, 0.5 TFL
Montana State Northern defensive back Hunter Riley: 8 tackles, 1 TFL, 1 forced fumble
Carroll linebacker Tucker Jones: 6 tackles, 1 sack, 1 TFL, 1 INT
Montana Western defensive lineman Tanner Harrell: 6 tackles, 1 sack, 2 TFL
Carroll defensive lineman Garrett Worden: 6 tackles, 1 sack, 2 TFL
Montana Tech defensive lineman Zach Trumble: 6 tackles, 0.5 sack, 2.5 TFL
Special teams
Carroll kicker Stephen Powell: 3-for-3 field goal, 1-for-1 extra-point, 10 points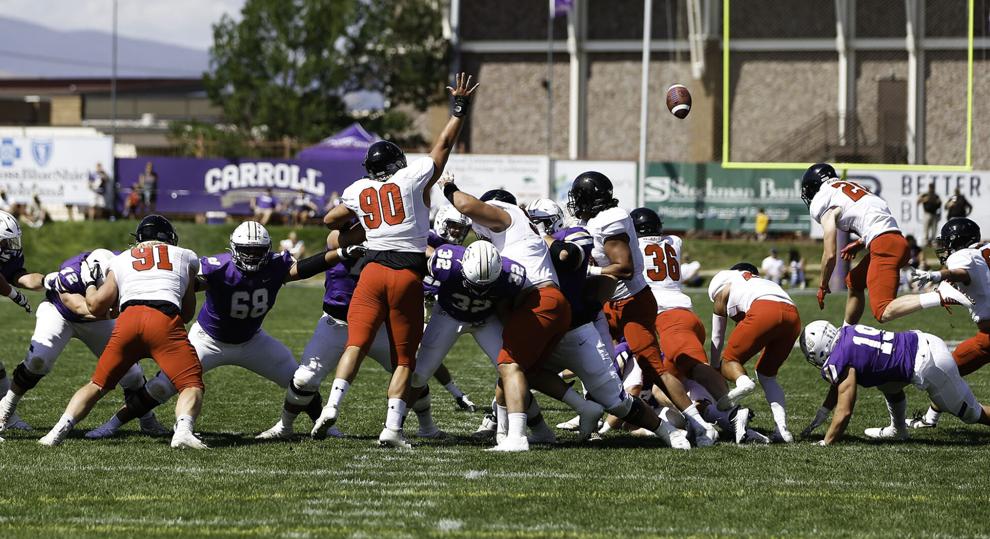 Southern Oregon punter Colton Samis: 6 punts, 255 yards, 42.5 average, long 51, 1 punt inside 20-yard line
Rocky Mountain College kicker Austin Drake: 2-for-2 field goal, 3-for-3 extra-point, 9 points
Montana Tech kicker Ryan Lowry: 1-for-2 field goal, 5-for-5 extra-point, 8 points
Rocky Mountain College punter Wyatt Brusven: 4 punts, 167 yards, 41.8 average, long 50
Week 2 predictions
Montana Western vs. Eastern Oregon: Bulldogs 31, Mountaineers 10
The Bulldogs have won 10 consecutive home games dating back to Sept. 7, 2019.
Jon Jund and Western's offense didn't have the kind of the day Bulldog fans have grown accustomed to last weekend against Carroll, while Eastern Oregon struggled to contain Montana Tech's Jet Campbell without Sage DeLong and Chase Van Wyck.
The Mountaineers appear to still be trying to find their footing offensively after dropping six of their last seven games to end the 2021 campaign.
Expect Western to pick up its first victory of 2022 on Saturday at home.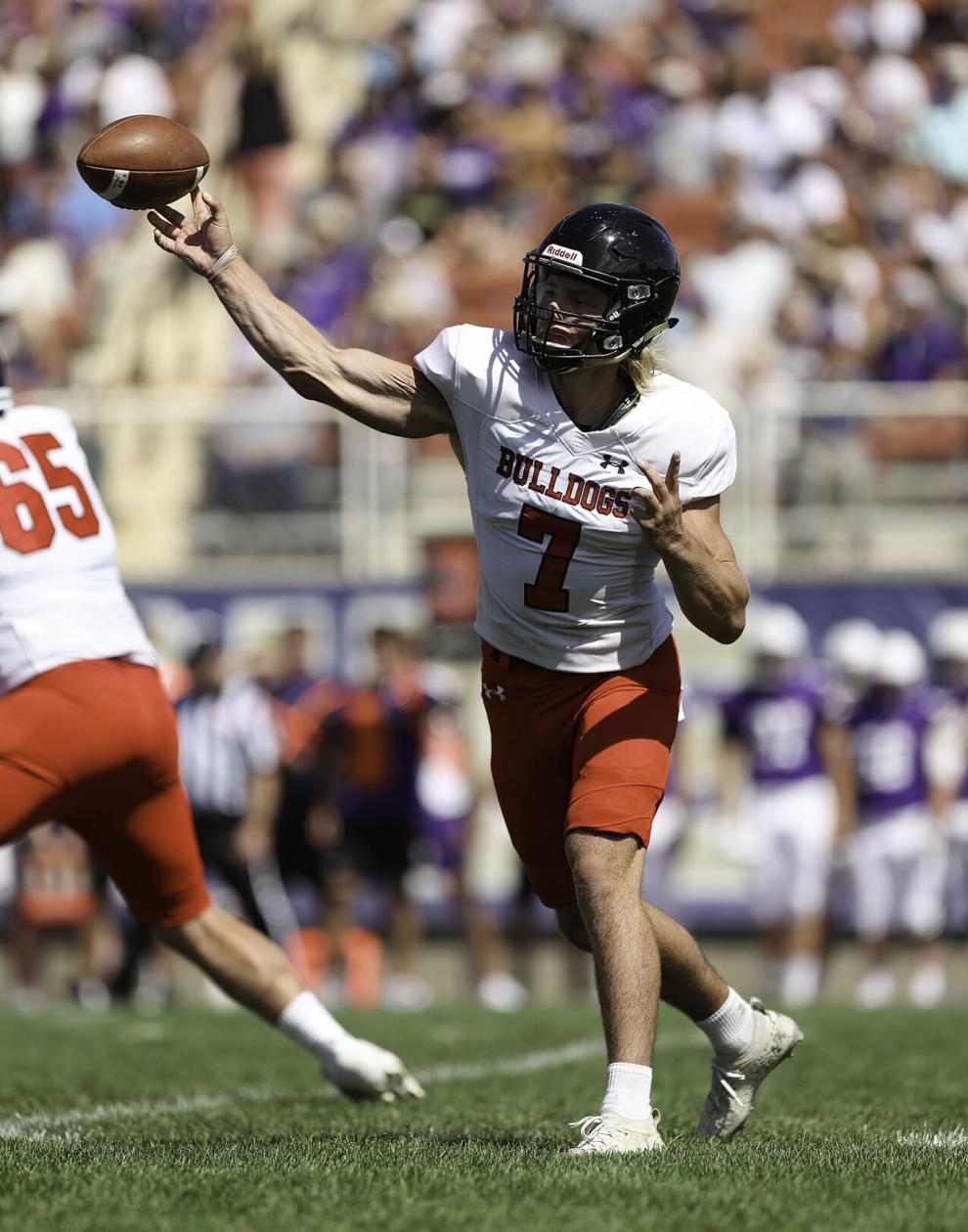 Rocky Mountain College vs. College of Idaho: Battlin' Bears 35, Yotes 24
**The start time of this game has been moved up to 11:30 a.m. on Saturday due to a high heat index forecast for Billings.
Three points was all that separated these two teams last fall in Caldwell as both went on to split – along with Western – the Frontier championship.
Andy Peters and Ryan Hibbs each tossed a touchdown and the Yotes totaled 178 rushing yards in a week one victory, while Nate Dick accounted for three touchdowns and nearly 300 total yards of offense in Rocky's victory over SOU.
Rocky and C of I have split their last four match-ups and the last two have each been decided by one score.
Expect a potent rushing attack from both teams with Zaire Wilcox (Rocky), Hunter Gilbert (C of I) and Allamar Alexander (C of I) as well as some gaudy offensive numbers from two teams that like to sling the football around.
Montana Tech vs. Carroll: Saints 28, Orediggers 13
The atmosphere in Butte for this matchup may be the best of any game in the Frontier this season.
Two storied programs that don't have a whole lot of love for one another on the field of competition going head-to-head in a town that loves its football should produce a great contest.
Carroll's defense flexed its muscle in a win over Western on Saturday and Tech's offense did the same in La Grande. The Saints have owned this series of late, winning the last three, but they'll need to find a way to contain Oredigger quarterback Jet Campbell who totaled four touchdowns in the season-opener.
Carroll's offense needs to, and probably will, play better to improve to 2-0, but the Orediggers will be fired up to get the Saints at their place for the first time since 2018.
Montana State Northern vs. Southern Oregon: Raiders 17, Lights 10
Southern Oregon and Northern each struggled offensively in week one and will meet each searching for win No. 1 of the season.
SOU lost starting quarterback Matt Struck mid-way through the second quarter of Saturday's loss, but Blake Asciutto was solid in relief, passing for 161 yards and a touchdown in a 17-point loss.
MSU-N totaled just 133 yards of offense in a loss to C of I.
Since 2012 when SOU joined the Frontier, the Raiders are 9-0 against Northern, and even if Struck is out, the Raiders should have enough offensive firepower to make it 10 straight victories over the Lights.