HELENA — Two very different types of wins on Thursday night have both Carroll basketball teams sporting 1-0 conference records. The women blew past Montana State Northern 82-40 on the front-end of the doubleheader, while the Saints men staved off a late Lights run to hold on 73-71.
Carroll's women's team improved to 10-2, and the men stayed perfect, advancing to 11-0 on the season.
It is a game freshman Andrew Cook will probably remember for a long time. He will likely recall it someday in the future as his first collegiate game with double-digit points, and also a contest he helped change the trajectory of two different times.
"We all knew that was going to be a tough game," Cook said. "I've been working hard the whole week and my confidence has just been slowly, slowly building up. It felt good to finally make some shots."
Cook made eight shots, on 10 attempts, including a trio of 3-pointers, adding up to a career-best 20 points in 22 minutes.
Trailing by a point with 4:21 left in the second half, Carroll turned to Cook, who promptly knocked down a go-ahead 3-pointer, stole the basketball on the next possession, completed the lay-up and converted the free throw following a foul. It was six-straight points from Cook that built a 5-point Saints cushion and allowed Carroll to keep Northern at arm's length the remainder of the game.
"He's just a gamer and he knows how to make those plays," Saints head coach Kurt Paulson said. "He did it at his high school. We saw that and that's what attracted us to him. He's a talent from the Los Angeles area and we got him up to Helena. It took a lot of trips to LA but we got him here. He's loving it here. He loves the mountains, he loves the Catholic school. Glad he's on our side."
Cook said he could not make a shot during warm-ups, but once he stepped on the court, he couldn't miss, draining mid-range jumpers, getting to the hoop for lay-ups and stepping out and knocking down triples.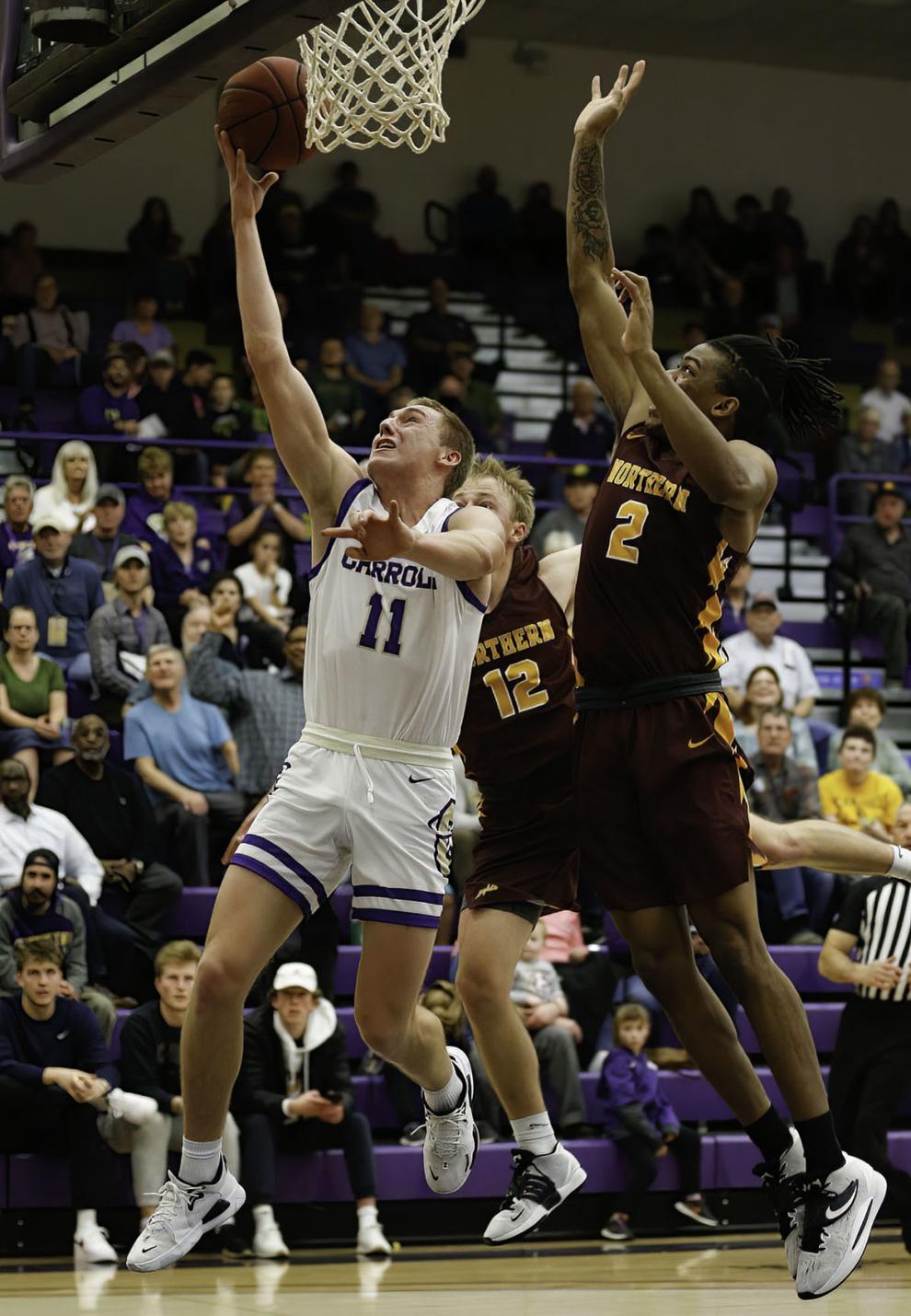 Ten minutes into Thursday's contest, it looked like Northern might run away and hand Carroll its first loss. The Lights jumped out to a 14-4 advantage, triggering changes to Paulson's lineup and defensive strategy.
Carroll turned to a full-court press defense with Cook and fellow freshman Garrett Long as the two guards in the back-court. Northern did not respond well to the pressure, leading to 10 first-half turnovers and a 12-2 Carroll run that propelled the home team back into the contest.
At one point, eight-straight Saints points were scored by either Cook or Long, with the exclamation point coming on a Cook steal and dunk that tied things at 16-16 and sent the PE Center crowd into a frenzy.
"They got a quick lead on us," Cook said. "We wanted to change the momentum of the game, so we pressed. They couldn't really handle it well at first. I think that press is what really changed the game for us...
"[The dunk] was great. When you have a big play and the crowd is going nuts — I just, honestly, went numb. It was one of the best feelings, having everybody cheering like that. That was cool."
Cook notched three steals by halftime and finished with five. He and Long combined for 15 of Carroll's 30 first-half points, making seven shots between them.
"Andrew really came alive off the bench," Paulson said. "We needed a spark because we got down 14-4. We had to substitute and try something new. We went to the press and got some young guys in there. I thought he and Garrett Long, two freshmen guards, they just turned the tide and forced Northern into some turnovers. Andrew got a big dunk to spark the crowd...In the second half, we went to him late, again, and he hit some big shots down the stretch. I was so proud of him."
Northern's David Harris and Mascio McCadney combined for 52 points in the loss. Harris made a 40-foot jumper at the buzzer to put the window-dressing on a two-point loss and push himself up to 31 points on 11-for-18 shooting.
Just one other Lights player broke into double figures — Jesse Keltner with 10 points — as Harris and McCadney attempted 34 of Northern's 53 shots.
Carroll forced 21 Northern turnovers on Thursday and converted those mistakes into 25 points, outpacing its opponent by nine points in that department.
"We tried to turn over those guys [other than Harris and McCadney]," Paulson said. "They had a lot of turnovers — 21 as a team. We were trying to pressure them and make those other guys make some decisions with the ball. Luckily it turned out in our favor."
Northern shot 65.5 percent (19-for-29) in the second half and finished at 54.7 percent from the field. Carroll joined the Lights, clearing 60 percent in the second half, too, with 14 made field goals on 22 attempts. The Saints finished just under 53 percent for the game, including 41.2 percent (7-for-17) from 3-point range.
Northern outrebounded Carroll 28-19 overall and 13-6 on the offensive glass. Northern also held a 32-26 edge on points in the paint and was plus-5 in second-chance points.
"I was just proud of the guys for keeping their poise when Northern got up big in the first half and then they made a late run in the second half," Paulson said. "We didn't lose our cool. We even got down in the second half and we just kept battling back, hitting big shots. I thought Shamrock hit some big ones, and Andrew, too. It was a total team effort."
Jovan Sljivancanin finished a rebound short of his 10th double-double of the season, adding 22 points and nine rebounds to the winning effort. Shamrock Campbell knocked down two 3-pointers and had seven points, while Long chipped in eight points, two rebounds and an assist in 14 minutes.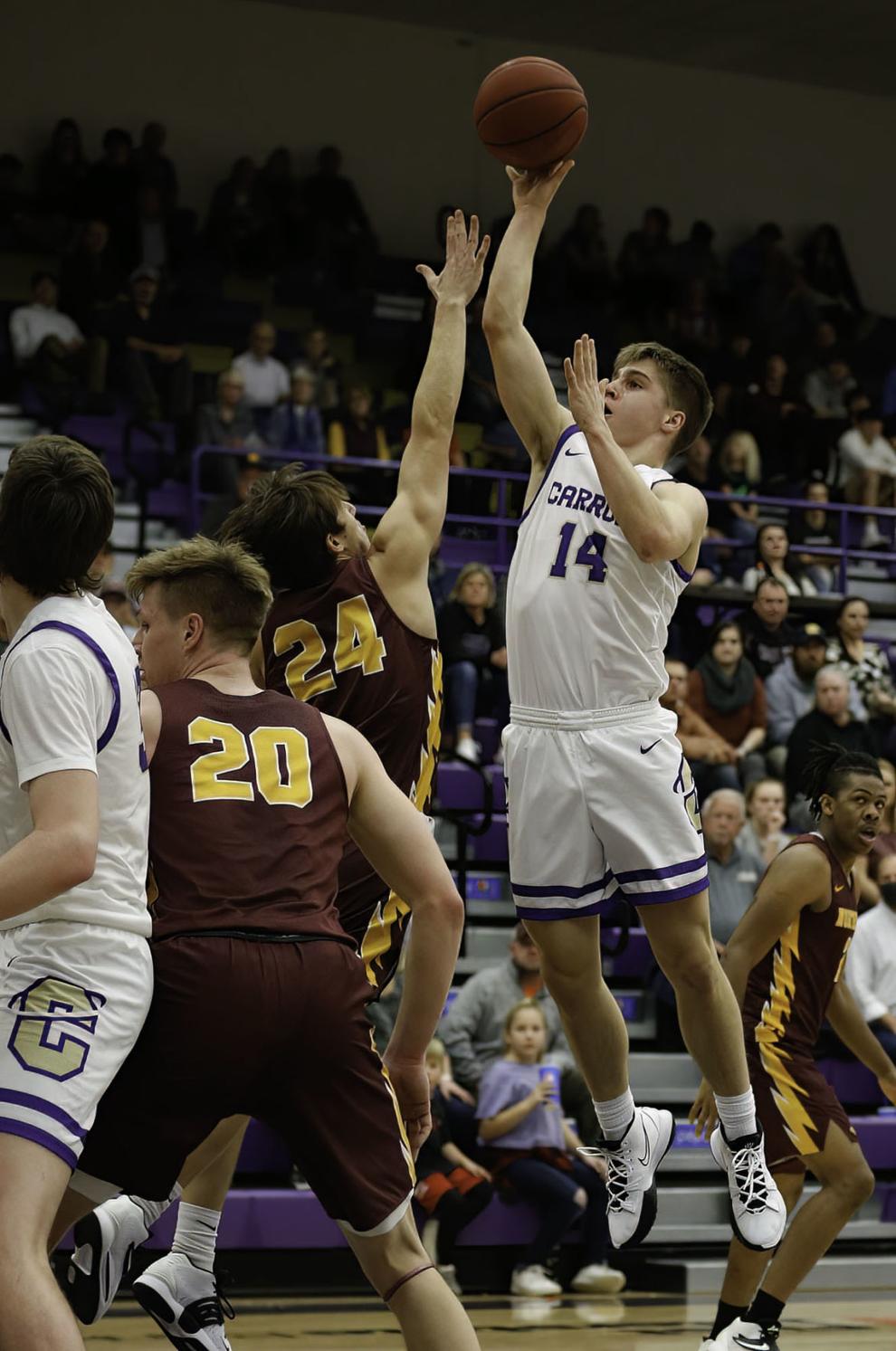 Carroll's bench scored 34 points against just nine from Northern. Twenty-eight of those points were poured in by freshmen, including 20 from Cook who seems to be settling in quite nicely as a Saint.
"I have great teammates that are all my best friends and I have a great group of coaches that are always helping me out," Cook said. "Faith is a huge, huge part of my life. I've been going to Mass every single day and I've been giving all the glory to God and it's been great. That's been keeping me super, super balanced. It's been great. It's been tough, but fun."
Carroll women roll past Skylights
Northern looked like it might pressure the Saints on Thursday in a rematch of last year's Frontier Conference Tournament semifinal game. Just like that game, however, Thursday's conference-opener ended in lopsided fashion with Carroll flexing its muscle.
"It was super important to start out at home and start out with a win and to come out and play really aggressively," Carroll head coach Rachelle Sayers said. "I was a little bit worried if we'd have our legs under us after that trip to Kentucky and the girls getting back and having to catch up on school work. I was really excited about the way we came out and responded tonight."
Carroll held just a seven-point edge after the first quarter. A second stanza in which the Saints outscored Northern 24-7, however, helped Carroll build a 24-point halftime cushion and end the first half on a 26-7 run.
Northern made just four first-half field goals while the Saints shot 64.3 percent from the field (9-for-14) in the second quarter. Carroll ended up turning the Skylights over 13 times in the win and converting them into 14 points. Northern shot just 32.7 percent from the field for the game, and put only 13 points on the board in the first half.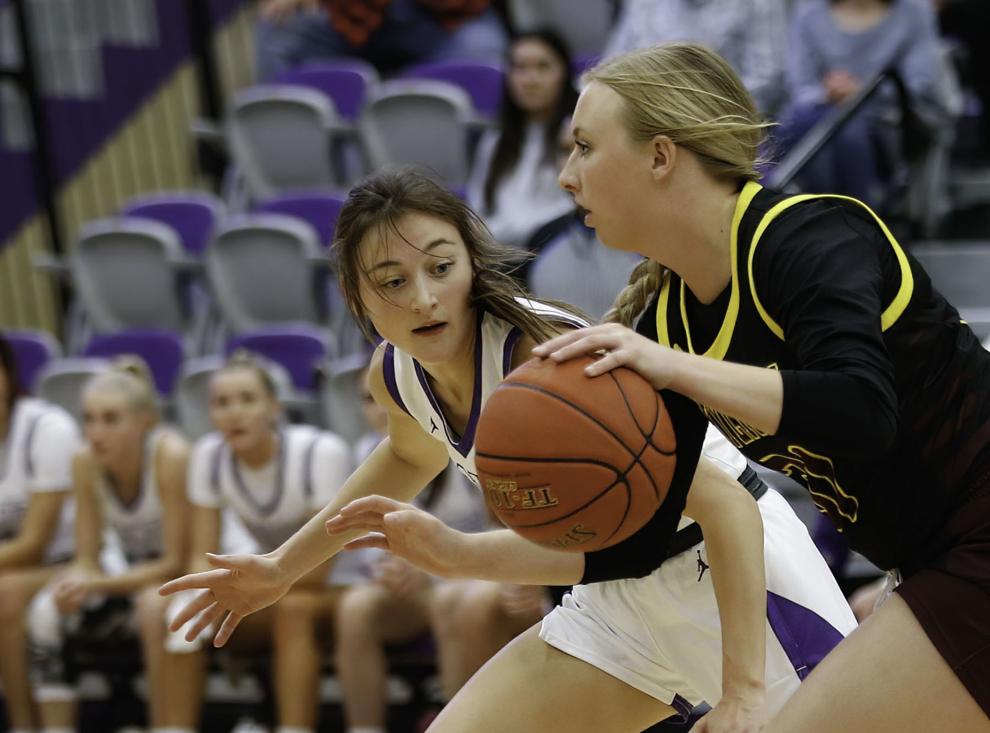 "We just wanted to disrupt them a little bit," Sayers said. "We didn't want them to be able to come down and run what they wanted to run. We rolled the dice a little bit with the zone and didn't like it. These guys love to play defense. They know that their defense leads to a lot of offense and a lot of easy shots. You could see that once we got a couple turnovers that the tide turned on the offense."
Once Carroll was able to get out and run and shots started falling, points came in bunches for the purple and gold. Carroll scored 20-plus points in each of the game's final three quarters and buried 14 total 3-pointers.
Dani Wagner scored a game-high 20 points for Carroll, and Christine Denny (14) and Sienna Swannack (10) joined her in double figures. Kamden Hilborn was just four rebounds and an assist short of a double-double despite scoring just two points.
Hilborn's passing, particularly in the first half, set up Carroll's ability to score quickly off change-of-possession plays. Jamie Pickens (5) and Denny (4) also had good nights passing the basketball, as that trio combined to dish out 18 assists and commit just two turnovers.
As a team, the Saints amassed 28 assists on 32 made field goals.
"Kamden is really learning how to really run this team," Sayers said. "We have great scorers, and Kamden can score herself, but she understands how important it is to get those players going and get us going offensively. She just kinda picks and chooses the moments when she's gonna look to score and be aggressive...Twenty-eight assists on 32 made field goals and that was with 13 players playing a good amount of minutes. That says a lot about what your team takes pride in."
L'Tia Lawrence was the lone Northern player to break into double figures with 12 points. Sydney Hovde chipped in seven and Ryley Kehr added six points in the loss.
Now a combined 21-2 and both ranked inside the top-5 nationally, Carroll's basketball teams will hit the road on Saturday looking to stay perfect in conference play. The Saints are scheduled to play Montana Western, in Dillon, at 2 and 4 p.m.