HELENA — One of the top players in the state last season committed this week to continue his basketball career at Carroll. Capital's Brayden Koch, who was all-state as a junior, became the first commitment of the Saints' 2022 recruiting class.
"It's huge. He's our kinda kid," Carroll head basketball coach Kurt Paulson said. "Obviously a fantastic player, but a great kid, well-liked in the community. For the Helena fans, they're in for a real treat the next five years with his senior year and four at Carroll."
Koch backed up a record-setting 54 3-point field goals as a sophomore with 48 last season. Known for his ability to knock down shots in bunches, Koch finished fifth in Class AA at 42.9 percent behind the arc and made the third-most 3-pointers in the state.
"He's got NBA range at the high school level, which is unheard of," Paulson said. "He's athletic, long, great shooter, but he can do a lot more than just that. He can defend with his quick hands, get out for steals, run the floor. He can handle the ball. Break you down, pull ups. He's a really well-rounded player. He's the best player in the state, hands down."
Koch also wrapped up his junior campaign averaging 18.8 points per game, third-best in Class AA, and added 2.47 steals per contest to rank in the top-six. His 49.6 percent effort shooting the basketball also ranked in the top-10.
The Saints have been recruiting Koch for the better part of two years. With all the interest in Koch from programs around the state, it was not always the case to say Carroll had the inside track despite Koch's attendance at Saints games growing up and Capital head coach Guy Almquist's time as a player at Carroll.
"I had some conversations with my family and coaches," Koch said of his commitment. "I took a visit a couple days ago and toured the campus and went into the locker room and everything. Just felt like the right fit for me. I felt like I was part of the team when I was there and I felt like I was a college student when I was there. I felt like Carroll was the right choice for me."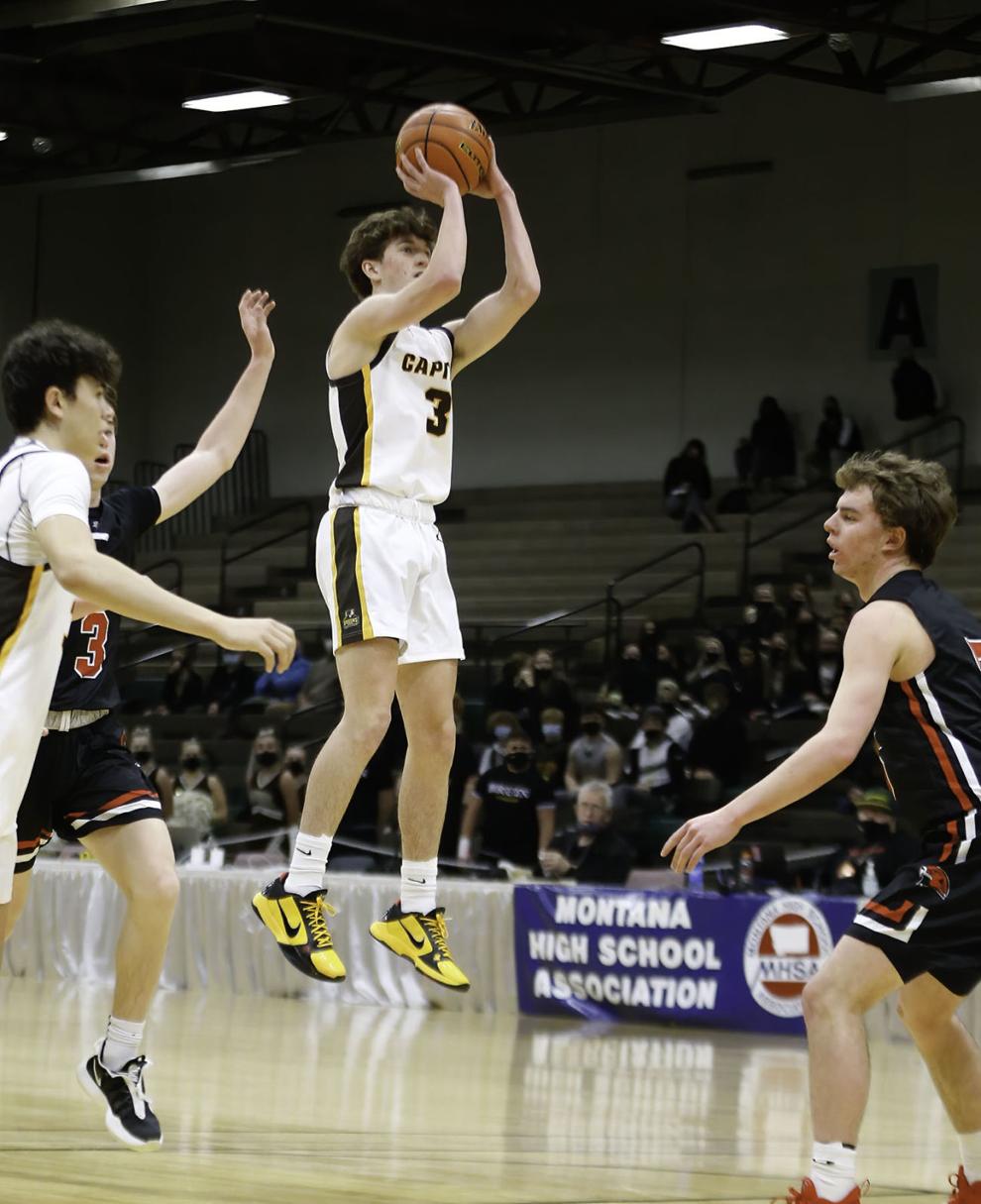 Koch said that, while the decision was ultimately his, Almquist played something of a role in getting him to Carroll.
"He's obviously going to be a little biased toward Carroll, but no matter what I would've chosen he would have been there and supported me through everything," Koch said of Almquist. "He had a big say in my commitment and I think talking it over with him was a great choice. I'm glad I chose Carroll and talked to the man himself about it."
Koch said he had the opportunity to meet many of Carroll's current players and that they welcomed him like he was already a teammate. Staying in the state of Montana to play collegiate basketball was a priority for Koch, and to be able to stay in Helena worked out well.
"Staying in the community and playing around my family, my friends, all the Bruin fans, just to be able to stay here, that'll be great for me," Koch said.
In two years of recruitment, Koch said he has already built a great relationship with Paulson. With his career having included stops at Montana and Oregon State, Paulson has experience coaching big-time players and that stuck out to Koch.
"He came to my house my sophomore year, so I've had a great connection with him over these last years," Koch said. "He's always been great with me with my commitment and the recruiting process. He drove all the way down to Oregon and watched me play. I think we've already formed a great relationship, so I'm excited to play for him."
Koch emerged as one of the best shooters in the state as a sophomore. Since then, and while maintaining his knock-down shooting ability, he has added different aspects to his game that elevates his play. He attributes that to being more aggressive on the court and learning how to play defense properly.
Moving forward, Koch said he wants to continue developing physically and getting in the weight room to improve his athleticism for the next level.
"His body will fill out once he gets 19 or 20 [years old]," Paulson said. "That's kinda the only missing piece right now. He'll get bigger and stronger as he fills out and matures. Once that happens, the athleticism is even going to get better."
By picking up Koch's commitment this early, Paulson said it takes the pressure off moving forward. With all the players the program has signed of late, Paulson feels the future is bright and adding Koch is another step in ensuring Carroll stays competitive into the future.
"He could play anywhere for us really," Paulson said. "He can shoot, he can handle it, he's long, he's athletic. I don't know yet where he would play. He's a basketball player, so there will be a spot somewhere. He's a nice complement. We have some young guards that are just getting here as freshmen. To add another one to that crop, it's going to be exciting."