HELENA — Carroll's Andrew Carter moved closer to achieving a major personal goal this week after being selected to the 2021 AFCA NAIA Coaches' All-America Second-Team.
"It's been my goal to get first-team since I've been at Carroll…It feels good to get," Carter said. "It's one step closer to my goal. I don't like to brag about awards and stuff but everyone loves to get awards. I'm not someone who's out there talking about it all the time."
Carter started all 10 games at center for Carroll this season. He is a three-year starter for the Saints, two at center.
"Andrew is one of those kids that has worked his butt off. He's been a guy that's been super dedicated to do everything he can to make himself a better player…Just really good to see the growth," Carroll offensive line coach Ryan Springer said. "He's a pretty mature young man and does a great job in all aspects of his life. It's really nice to see him be recognized with an honor like that. It's something that I do believe that young man has worked hard to earn."
Carter helped pave the way for an offense that averaged over 130 yards on the ground per game and totaled 16 touchdowns this season. The Saints finished their 10-game slate at 6-4, marking the third-consecutive winning season for the purple and gold.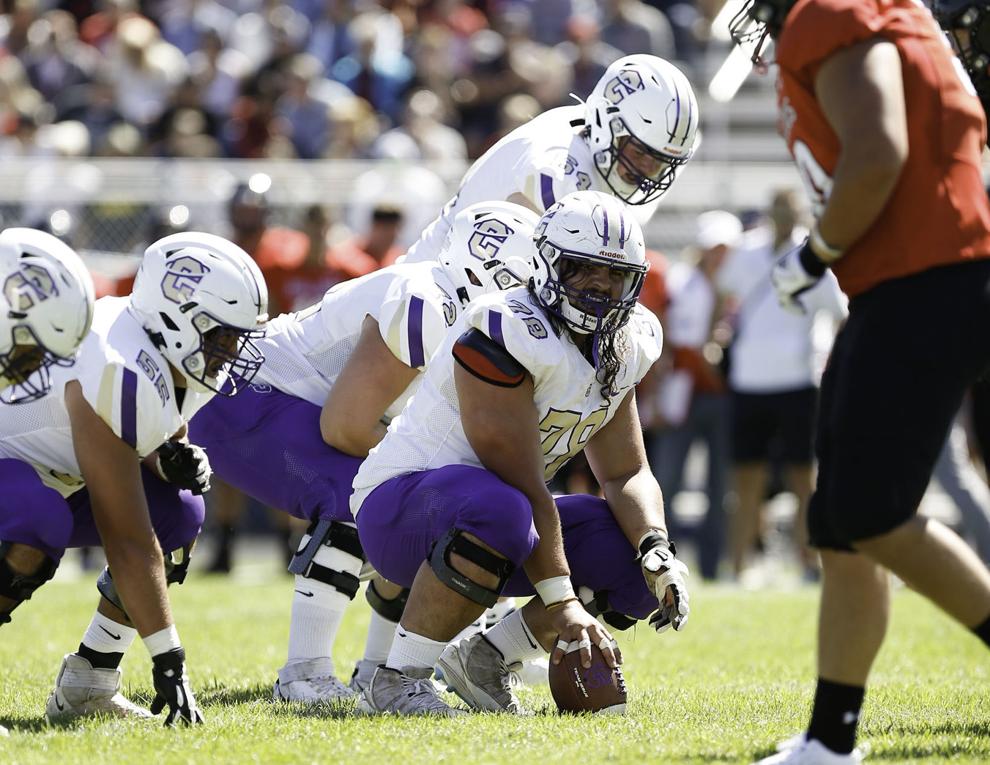 Carter was a team captain this past season and earned a First-Team All-Conference nod as well.
"It just shows well of him and his work ethic and being able to compete at a very high level at a young age…He was a team captain this year. I think that all comes into play where you're performing at a very high level which reinforces your commitment to the team and to the program," Saints head coach Troy Purcell said.
Carter still has two years of eligibility remaining to capture his ultimate goal of becoming a First-Team All-American. It is a goal bigger than Carter himself and something he and his dad talked about before 6-foot-3 offensive lineman got to Carroll.
Carter's father passed away on February 12.
"He would probably tell me he's proud of me," Carter said. "My dad and I talked about it before I got to college. Me and him made the goal together that it was going to be first-team. He was always like, 'you can do it.' If my dad were alive and I could see him, he would probably look at it like it was expected, almost. That's just kinda what our relationship was like. He knew what I was capable of."
Carter has known since age seven that he wanted to play in the NFL. He understands how much work it takes to make that happen, especially for a small-college football player. Still, Carroll has a good tradition of getting players to the league, and most recently, saw All-American offensive tackle Alex Hoffman sign a free agent deal with the New Orleans Saints.
That gave even more motivation to Carter who does not mind putting in the work to reach his goals.
"The biggest thing is having guys around you that make you wanna work that hard," Carter said. "It's not easy to do the morning practices and all the running. I really don't think about the work until after it's over because all I do is think about hanging out with my guys. I guess I like the work, honestly. The extra work, to me, is something I enjoy doing."