HELENA — For the last several years, Forrest Suero has been making plays, doing so on the football field as Helena High's All-State defensive lineman and on the baseball diamond as the Helena Senators' hard-hitting infielder.
Fresh off a semifinal run in the Class AA football playoffs, Suero announced his commitment to continue making those plays, on the football field, for the hometown Carroll Saints.
"I feel good. I feel like it was the perfect fit for me," Suero said of his decision. "I've been thinking about it for a while, just weighing my options and I thought Carroll was the best fit...I [like] to stay close to home, so that's a plus for me. I'm a home-body, so it's just really nice. Then just the atmosphere around it. I went to a couple games this year for the first time and I just loved it."
Suero was All-State as a junior and racked up numbers good enough to repeat that feat this year. In 12 games, the senior amassed 69 tackles, including 17 for a loss of yardage, 12 sacks, 28 quarterback hurries, two interceptions, three forced fumbles and six fumble recoveries.
"Love his motor, love his enthusiasm," Carroll head coach Troy Purcell said. "He's just got a spark to him, he's got some juice to him. High-energy guy, very passionate about the game, very passionate about life. He's definitely an iron sharpens iron type of guy. He's going to help this program move forward in the right direction. Just really excited to have him."
Carroll has been interested in Suero for a number of years, pretty much since he began making an impact at the varsity level as a sophomore. In his career, he has done a little bit of everything for Helena High, including playing some full back. He even moved over to the offensive line this year.
Listed at 5-foot-11 and 245 pounds, the Saints like Suero as a defensive lineman and believe he has impact skills.
"Forrest has an explosive first step for a defensive lineman," Carroll recruiting coordinator Alex Pfannenstiel said. "He's able to get off the football and work into the offensive backfield. He does a very good job with his hands being able to engage offensive linemen. Hands are hard to teach. Sometimes that comes natural for guys and other times it's not...He's not an old-school nose guard, he's an explosive defensive lineman. From my perspective as an offensive coach, I look at defensive linemen and go, 'if I don't want to block that guy, I want him on my team.' He can chase other people's running backs and quarterbacks."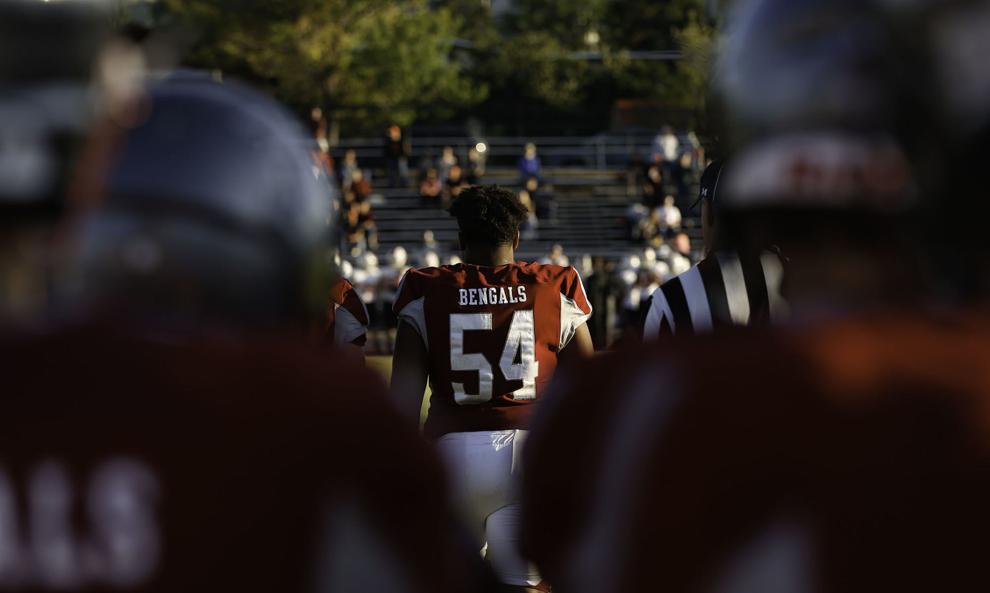 Pfannenstiel described Suero as a "natural athlete" at the defensive line position and said that, for his size, he moves well and plays with good pad level when he engages with offensive linemen.
Suero fielded numerous other offers from Frontier Conference and area schools, but said he loved the family atmosphere Carroll displayed, along with the fact that his family will not have to travel far to watch him play.
"My family was open for wherever I wanted to go. They wanted me to follow my passion," Suero said. "Even here at Carroll they were really excited because I get to stay close to home. They're going to be at all my games. They really liked Carroll from the start."
As the Saints progressed in their recruitment of Suero, Pfannenstiel said they learned more and more about what kind of teammate he is. Pfannenstiel said that not only will Suero fit at Carroll on the football field, but he will embody the culture that has been built within the program.
Suero's addition also keeps one the best defensive players in the 2022 recruiting class local, and adds him to a unit that features Zach Spiroff (Helena High), Colin Sassano (Capital High) and Chayton Winkle (Capital High).
"Our home town is our No. 1 priority in recruiting," Pfannenstiel said. "Not everybody makes the decision to stay in Helena, but we have three, now with East Helena, outstanding football programs here in our home town. We've got an outstanding player from Helena High playing for us right now — Zach Spiroff...The most successful teams that we've had here since I've known Carroll College have featured great players from both [Helena and Capital High Schools] because Helena produces great kids."
Suero said he will bring the same intensity that fans have grown to love about him to Carroll. He has already met some of the Saints' current defensive linemen and likes what he has seen so far regarding how they play.
Purcell said Suero "checks all the boxes" and described being able to keep a talent like Suero's local as "pretty special."
"If he comes in and earns it, he could start," Purcell said. "[The players will] learn from him, he'll learn from them. I never tell a freshman that he's going to redshirt or not. It's up to him on how well he plays and how deep the lines are. I expect him to get on the field fairly quickly. That's just what my gut says."
For the last handful of seasons, Suero has enjoyed the opportunity to play in front of a hometown crowd. With his decision on Monday, that looks like it will continue for at least four more seasons.
"It's awesome because they've been watching me for the last two or three years, so I feel like they get to watch me for another four, maybe even five years," Suero said. "Every game I'll go my hardest so they'll love to come back and watch every week."
Suero said, for now, he plans to study Criminal Justice or a related field at Carroll.