HELENA — Carroll College junior point guard Jaidyn Lyman walked into a tattoo parlor with her mom.
She sat down in the chair and took a big breath.
Before she knew it, the word Ohana was beautifully inked on her arm.
She looked down at it and smiled.
There are many ways to tell a story.
And this is how Lyman tells hers.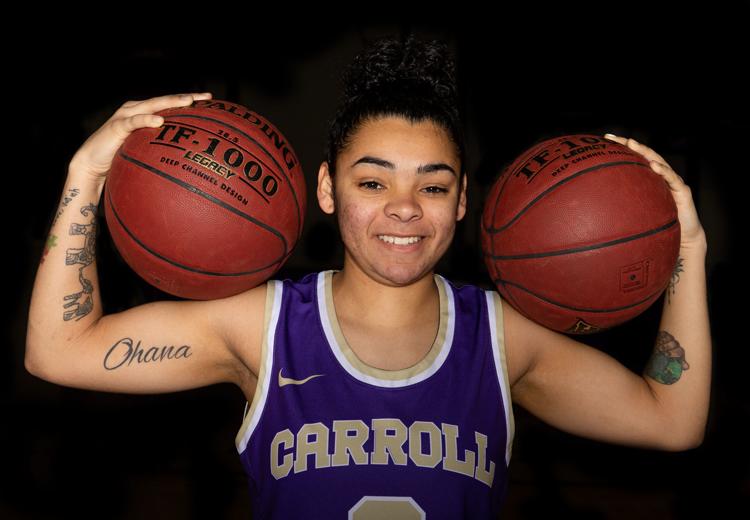 Family means everything
Lyman grew up fond of her mother's tattoos.
By the time she was 15, she wanted one of her own.
"I thought it would be a cool way to express important things about me, who I am and about my life," Lyman said.
Her mother said no.
"She asked me monthly, if not weekly," said Lyman's mother, Amber White. "I wanted her to wait until she was 18."
Her Ohana tattoo, which translates to family in Hawaiian, came on her 18th birthday.
It was a motto her high school basketball team came up with before her junior year. It received some scrutiny, as neither Lyman nor any other member of the team was Hawaiian, but it's special to her on a deeper level.
"Family is the most important thing to me," Lyman said.
Eventually Lyman and her mother decided to cement their bond by getting matching tattoos.
The tattoos, of a mother elephant with her baby, are on the inside of their right forearms.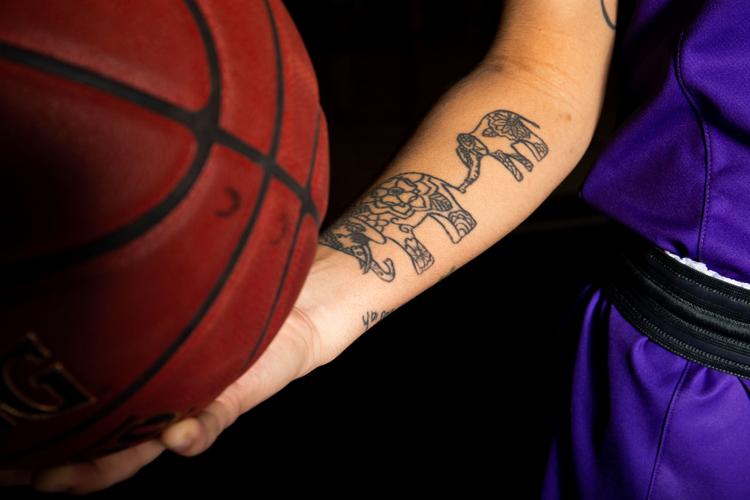 "It is my all-time favorite tattoo," White said. "I love that one over my others."
"I've always been proud of Jaidyn's tattoo choices. She is making good decisions and all of them have meaning to her for the rest of her life."
Lyman grew up in Spokane, Washington with her mother and two younger siblings.
She couldn't be more different than her 19-year old sister Tyra, who is represented by a tattoo of a sun on Jaidyn Lyman's wrist.
"(Tyra) got the moon in the same place," Lyman said. "We are the opposite, but I love her."
Her brother Josiah, who is 10 years younger, is her best friend.
To show her love for him, she got a tattoo that says "Love, Josiah" in his handwriting on her forearm. It was the end of a letter he wrote to her before she left to play in a basketball tournament with her AAU team.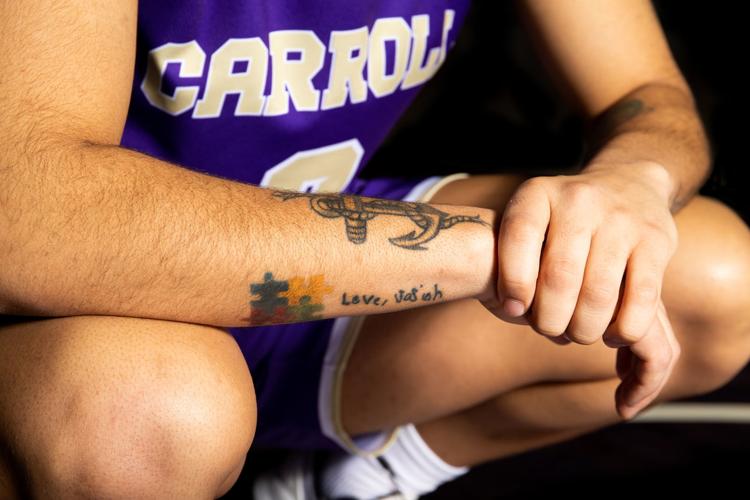 "(The letter) read, 'You are a big, fat weirdo, except you are not big or fat," Lyman said.
While Lyman was in college, Josiah was diagnosed with autism, so she added the multicolor puzzle pieces to the tattoo to raise awareness for autism.
"I went by myself to get it done and when my mom picked me up, she saw it and started crying," Lyman said. "I love when people ask me about it because it is super special to me."
Lyman also tattooed five tally marks behind her ear for her five siblings. While she grew up with Tyra and Josiah, she also had three siblings from her dad.
She said her father isn't really a part of her life, but her grandparents on that side are really loving and supportive.
Love for basketball
There is nothing that Lyman loves more than family.
But basketball is a close second.
And despite her small stature, she was determined to be successful and play in college.
"When she picked up that basketball for the first time, she was in love," White said.
Lyman stands at 5-feet-2-inches, though Carroll's roster gives her an extra inch, but that doesn't bother her. When she is on the court, she doesn't even notice.
"If I love it that much, my height shouldn't matter," she said.
Lyman lives her life by the phrase "heart over height". In fact, that became her second tattoo, on her left forearm.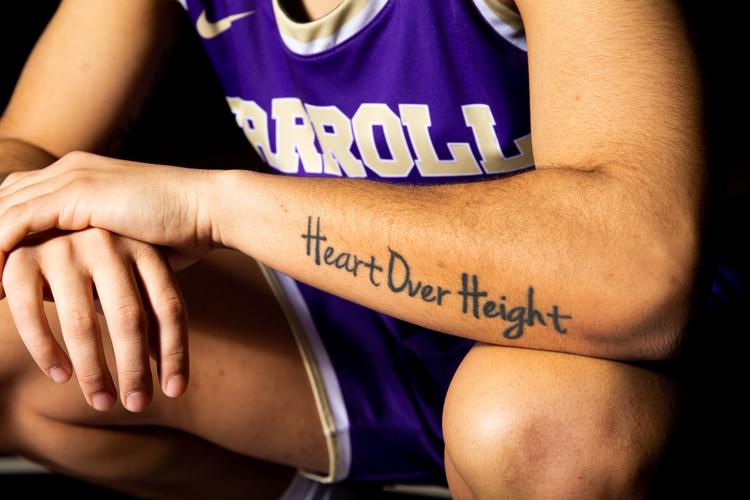 "Heart over Height" is the title of a book written by her basketball hero, Nate Robinson, who stood at just 5-foot-9, but spent 10 quality years in the NBA.
"He made it to the highest level so, if he can do it, anybody can," Lyman said.
Lyman's determination finally shone through by taking Mount Spokane High School to its first ever state tournament appearance.
By the end of her high school career she, had been named first-team all-state and decided to continue playing basketball at the college level.
But would her height pose a problem?
Next step in her career
During the college recruitment process, Lyman sought out some advice from a teammate on her AAU team.
Jessie Loera, who is a senior with Gonzaga women's basketball, told her that, when picking a school, when you know, you know.
That's exactly how Lyman felt when she started to get familiar with Carroll women's basketball.
"It was very clear when we went over to coach's house," Lyman said. "Everyone was just interacting with each other. Everybody was family. It was really cool."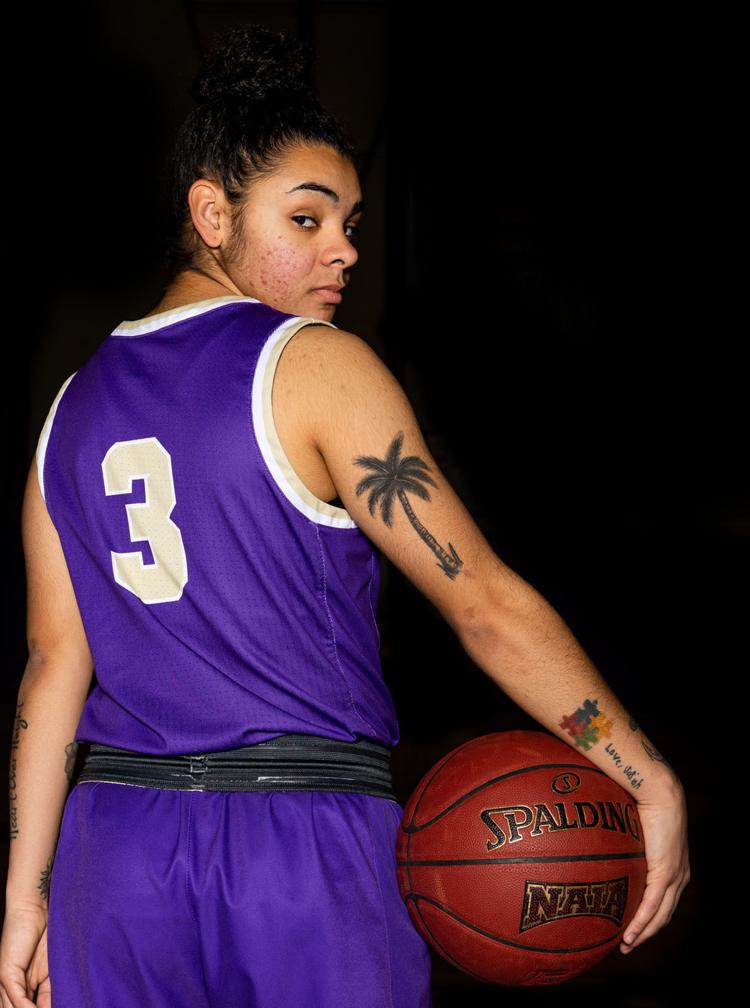 Lyman had some visits lined up with Warner Pacific and Montana Western, but decided Carroll was the best fit.
Saints coach Rachelle Sayers was glad because she felt the same way.
"I don't think there is anyone out there that is physically or mentally tougher than she is," Sayers said. "The amount of hits, cheap shots and charges she takes in a game or practice is unbelievable."
While Carroll gave her another inch on the roster at 5-foot-3, Sayers and her teammates don't mind Lyman's height. She is still one of the top 3-point shooters on the team, and the quickest player on the roster.
She has played in nearly every game since arriving at Carroll, and even started most of last season.
"Everything she has accomplished, she has earned, and that comes with hard work, dedication and patience," Sayers said. "She epitomizes the type of kid you want in your program and your own kids looking up to."
Even when she faced adversity and Sayers asked her to come off the bench after the addition of Montana State transfer Kamden Hilborn, Lyman had complete faith in her coach.
"It was definitely a change, but my goal here is to win a national championship," Lyman said. "I know coach will put us in the best position to be successful, and I will do whatever I'm asked to do."
Maybe that is what the anchor she has tattooed above her wrist symbolizes.
Or the word "unconditional" on her ribs.
Or maybe that is why she wants a tattoo of a heart on her sleeve; the organ, not the symbol.
Her teammates will attest to her ability to keep the team together on and off the court.
"No one works harder than Jaidyn," said freshman center Maddie Geritz. "She has a care for teammates and wants the best for all of us."
Future holds
Everyone tells their story a different way.
Lyman uses her tattoos.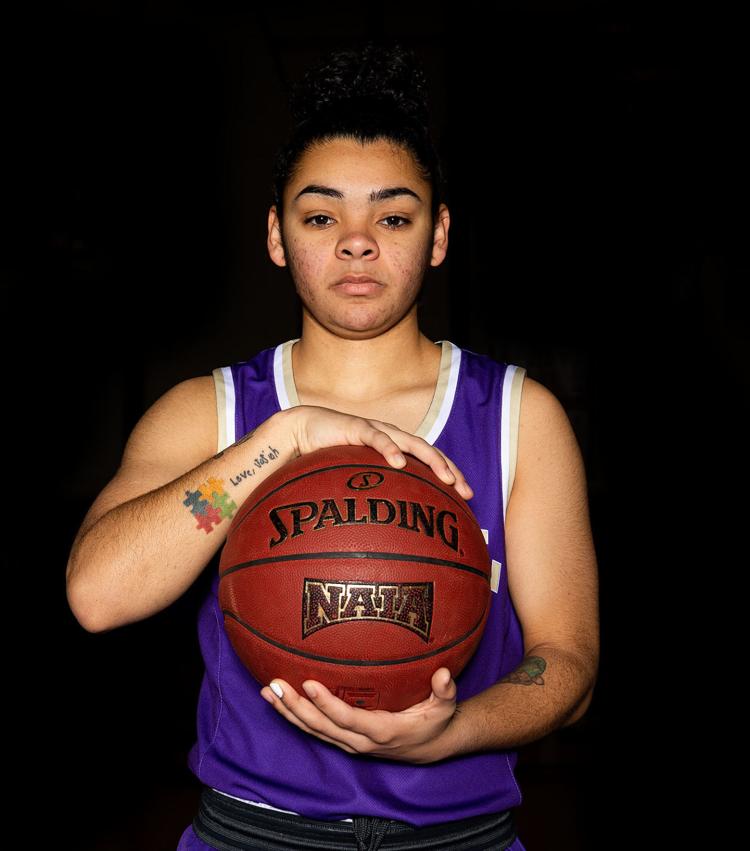 Her love for family and basketball will always be with her but there is still much to the story that hasn't been written yet.
"She does a lot of different things," Sayers said. "She continues to play hard, regardless of the situation. I don't know how many Jaidyns we will find out there."
As for her next tattoo?
Sayers told Lyman they would get matching tattoos if Carroll cut down the nets for a NAIA National Championship.
"I know she will hold me to it," Sayers said.
What a fitting end to Lyman's story.