HELENA — Father Marc Lenneman routinely takes a basketball from the back of his car and walks into the PE Center.
He flips on the gym lights and looks at the empty basketball court.
He takes a few dribbles and then starts just taking jump shots. One after another.
"There are times where you just need to figure some stuff out," Lenneman said. "The rhythm of shooting just frees your mind and I think frees your soul up to listen to God in a different way."
Lenneman has been an ordained priest with the Roman Catholic Church for the last 13 years.
But his love for basketball could never replace his love for God. It has only made it stronger.
"I would always find solace on the basketball court," Lenneman said. "For me, it's like shooting jumpers with Jesus."
Now, as the chaplain for Carroll College, he teaches students about his faith and plays a little basketball along the way.
Growing up Catholic
Catholicism was an important cornerstone in the Lenneman household.
But his parents didn't shy their son away from sports.
By the age of six, Lenneman was already heavily involved in basketball.
By the time he was senior at Billings Central Catholic High School, he was the Rams' starting point guard.
"We got to the state championship and lost to Havre by one point," Lenneman said.
Basketball followed Lenneman to Gonzaga University in Spokane where he studied English literature, but made sure he organized his class schedule so he had time to walk down to the Martin Centre to shoot hoops.
During the summers, he would attend camps and play with members of Gonzaga's first Elite Eight team such as Mike Neilson and Matt Santangelo.
The goal was teach high school english and coach high school basketball.
Those plans changed just a few months before he was set to graduate, when he got a call from his old religion teacher, Mike Martinson, at Billings Central. Martinson told Lenneman that the school was looking to hire another religion teacher and that he was a perfect fit for the job.
"I felt like I should give a year back, but I was ready to teach English, not religion," Lenneman said. "I was into my faith but it was a whole other thing to teach it to sophomores in high school."
Lenneman spent time learning, but he was happy. He was coaching basketball like he wanted to do.
Two years later, he was teaching his students a lesson about what priests do, specially celebrating mass and hearing confessions.
"At that point, I realized the only way I knew if that was going to be my calling was to go and find out," Lenneman said.
Getting ordained
Lenneman was accepted to seminary and traveled to Denver. One year later, he started studying at the Pontifical North American College atop Janiculum Hill overlooking Vatican City and St. Peter's Basilica in Rome.
His new home was 5,372 miles away, but the nearest basketball court was right around the corner.
"The college had a court where, if you stand in the right place, you can see the dome of St. Peter's," Lenneman said. "Seminary is a long process, and you have to really discern if you are called for this life. It wasn't always good for me to sit, so I would just grab a ball and take jump shots."
After seminary, Lenneman was ordained by Bishop George Leo Thomas, Bishop of the Diocese of Helena and was then assigned to Carroll College.
Carroll's chaplain
Since arriving at Carroll, he has been heavily involved with athletics, including delivering pregame prayers, setting up team mass before every home football game and focusing on building relationships with the student athletes and their faith.
"It is helping with everything from talking to (athletes) who have struggles with home sickness to struggles with illnesses in their families to ways to get over injuries that can happen," Lenneman said. "It's all about letting them know they are not alone. They are not fighting these battles by themselves and there is a way to walk back that is spiritually strong and mature."
Carroll senior guard Dane Warp met Lenneman during his freshman year, and it didn't take too long for a relationship to develop between the two.
"I came off the bench my first two years, and when you are the (go-to) player in high school, it's hard to accept a role like that," Warp said. "(Father Marc) can recognize when you are going through stuff and will talk to you about any sort of problems you are having in life. When you sit down and have a cup of coffee with him, your outlook on life is always going to be better."
Warp isn't the only player that Lenneman has helped. He can name countless players that he has had the pleasure of getting to know, most recently seniors Match Burnham, Matt Wyman and Ife Kaliejaye.
"I think I got assigned (to Carroll) because I could relate well with athletes," Lenneman said. "It is life-giving to be around students at this really important time in their lives. Sports are crucial to building character.
"Things like being disciplined, persevering and hardship - all of that can be formed in athletics. If people can learn that with sports, then that's good. If they can take that and apply it to loving God and loving others, that's even better."
Coach Kurt Paulson said Lenneman is not only the best playing priest in the state of Montana, but has also been a father figure to the athletic department.
"He is a good communicator and is always there for you," Paulson said. "We try to include him as much as possible."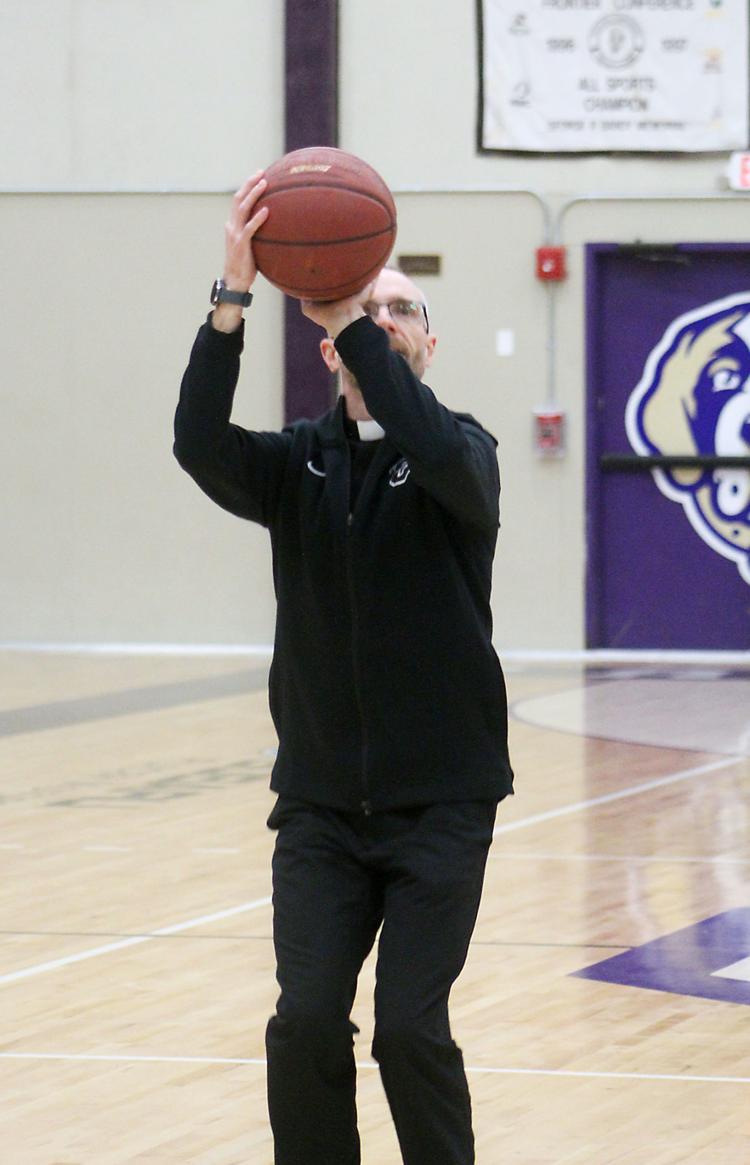 Playing pickup games
With this message and with his passion for playing basketball, Lenneman participated in casual pickup games with the players from the start.
Despite being a priest, there was no way he was going to give up basketball. He's been in the priesthood for 13 years, but he played basketball his whole life.
"It's a great way to relate to the guys," Lenneman said. "It's competitive and I love it. People need to learn how to compete, and one of the ways you learn that is on the court."
The players are usually stunned when they initially see their priest pick up a basketball.
"When I first saw him, I was hoping he had a few more years of eligibility (to play for us)," Warp said. "He's in amazing shape, he's a great competitor and he is nifty. He has the old guy moves."
Freshman center Brendan Temple came on his official visit last spring. He played a pickup game that involved Lenneman and some of the other players.
"I didn't know he was the priest," Temple said. "I thought they were calling him father because of Father Time and his game was timeless."
Temple was raised Catholic, but said he had never seen a priest that in shape. He was like no other priest he had met in his life.
It didn't take long for Temple to get to know Lenneman on a personal and spiritual level.
"I love Father Marc," Temple said. "He makes me want to be a better person and play my best on the court."
Lenneman has watched plenty of basketball from his seat at the end of the team's bench since arriving at Carroll.
Over the years, he has seen three separate coaches take the program to the NAIA National Basketball Tournament in Kansas City, most recently Kurt Paulson, who took team to the National title game last season.
But no matter how they finish or where they finish in the standings, all the teams have one thing in common. It's something personal for Lenneman.
"What really gets people out of their seats and cheering hard is a great pass," Lenneman said. "Yes, you have good shots. Yes, there are good dunks, but a pass is all about setting your teammate up. That, in a lot of ways, says a lot about priesthood. You are setting (people) up for greatness and for the richness of life with a relationship with God."
What more can you say about a priest who used to be a point guard?