HELENA — Carroll's women's basketball team is 4-2 against top-25 competition this season. One of those defeats was an overtime loss to last year's NAIA National Tournament runner-up in Thomas More in Kentucky, the same place where Carroll knocked off two top-15 teams on back-to-back days as part of a nonconference tournament.
On Tuesday, at Mesa Community College in Arizona, the Saints will face their highest-ranked opponent of the season thus far – the team Thomas More lost to in the national championship game last season.
Westmont was ranked No. 2 in the latest NAIA coaches' top-25 poll and has spent time at No. 1 after winning the national title last season. Carroll is currently the No. 5 team in the NAIA, ensuring Tuesday's matchup will be one of the highest-profile contests in each team's nonconference schedule.
"It's a good prep for postseason play," Saints head coach Rachelle Sayers said. "Really good teams with short turnarounds … We always equate these tournaments and things we do like the trip to Kentucky to a national tournament where you've gotta get the first one and then you've gotta turn around and get the next one. With very little prep and tired legs, you've gotta refocus and try to get one more …
"There's always a reason for us playing these tournaments but we really want an opportunity to play Westmont, the defending national champions. Have a chance to see them and play them and see what we can do against them."
Carroll's trip to Arizona to participate in the Cactus Classic is the second of two scheduled nonconference tournaments for the Saints. They were entered into by Carroll's coaching staff to ensure players face national tournament-quality opposition to prepare them for what the Saints hope is a deep playoff run this year.
One of the more competitive nonconference slates in the country, Carroll has made it through its first 13 games with an 11-2 record. Southeastern and Thomas More – the two teams that have beaten the Saints this season – sit just ahead of Carroll in the national rankings. Carroll has also played a pair of road exhibitions against NCAA Division I teams and lost those contests by a combined 12 points.
"The players, I think, agree with me that we want to play the best [teams] that we can play and we want to prepare ourselves the best we can prepare," Sayers said. "I don't want to go into a game and feel like we're gonna stroll through it and win by 20. I want us to learn how to fight through adversity. I want [the players] to know that they've gotta have their best focus and their best effort in order for us to get a win."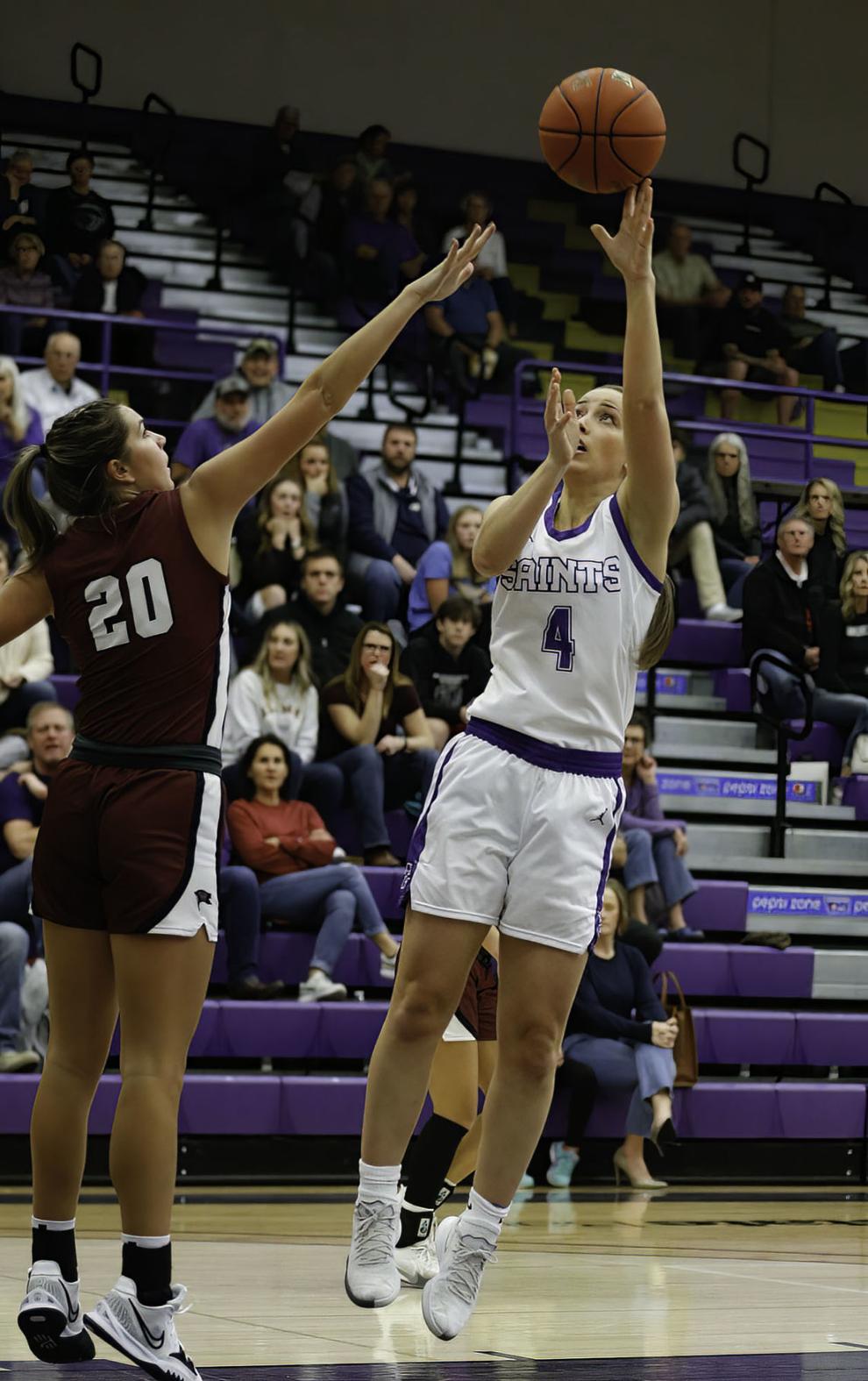 Originally scheduled to play three games in Arizona, the Saints will only get two. Menlo College – Carroll's opponent on Monday – could not make the trip to play because of COVID-19 concerns. That leaves Westmont and Bethel University on Carroll's docket for Tuesday and Wednesday and means the Saints now have to face the defending national champions in what will be Carroll's first competition against another team in 13 days.
Westmont will run a pair of All-Americans at Carroll, as well as last year's NAIA Player and Coach of the Year. A year after leading the Warriors to a national title, Stefanie Berberabe and Iyree Jarrett are averaging better than 34 points per game between them.
Westmont features a rotation of just six or seven players, leaving starters like Jarrett, Berberabe and Laila Saenz on the floor 30 minutes or more per game. That trio, along with Sydney Brown, are all averaging double figures. Saenz and Jarrett have knocked down 65 combined 3-pointers in 11 games. Berberabe (5.6) and Jarrett (4.9) also dish out around five assists per game for a team that averages better than 15 per contest.
"That's really what they had last year and they won a national championship doing it," Sayers said of Westmont's rotation. "They put the ball in the hands of their best players and those players are in the game for 38 or 39 minutes a game. They play extremely hard, they play fast. They can shoot the 3, they can get to the rim. We feel like our depth is a key, we feel like our rebounding is a key, and our post play. Whether that's guards or posts in the paint, we want to have a physical presence against them and try to control the tempo a little bit. We can't give up big runs against them."
On paper, Carroll and Westmont look pretty evenly matched. Both teams are holding opponents to no more than 55 points per game and scoring in the mid-70s on offense. Both teams move the basketball well without turning it over a ton and both teams rebound the basketball and shoot it exceptionally well.
Carroll is ranked inside the top-10 nationally in field goal percentage, 3-point percentage and assists per game. Westmont is No. 3 in the NAIA in fewest points allowed per game. Carroll allows the second-fewest offensive rebounds per contest and the Warriors have four players who have racked up at least 20 in 11 games. Carroll has held opponents to, on average, 24.8 rebounds per game (No. 1 in the NAIA) and Westmont ranks inside the top-15 in rebound margin at plus-11.4.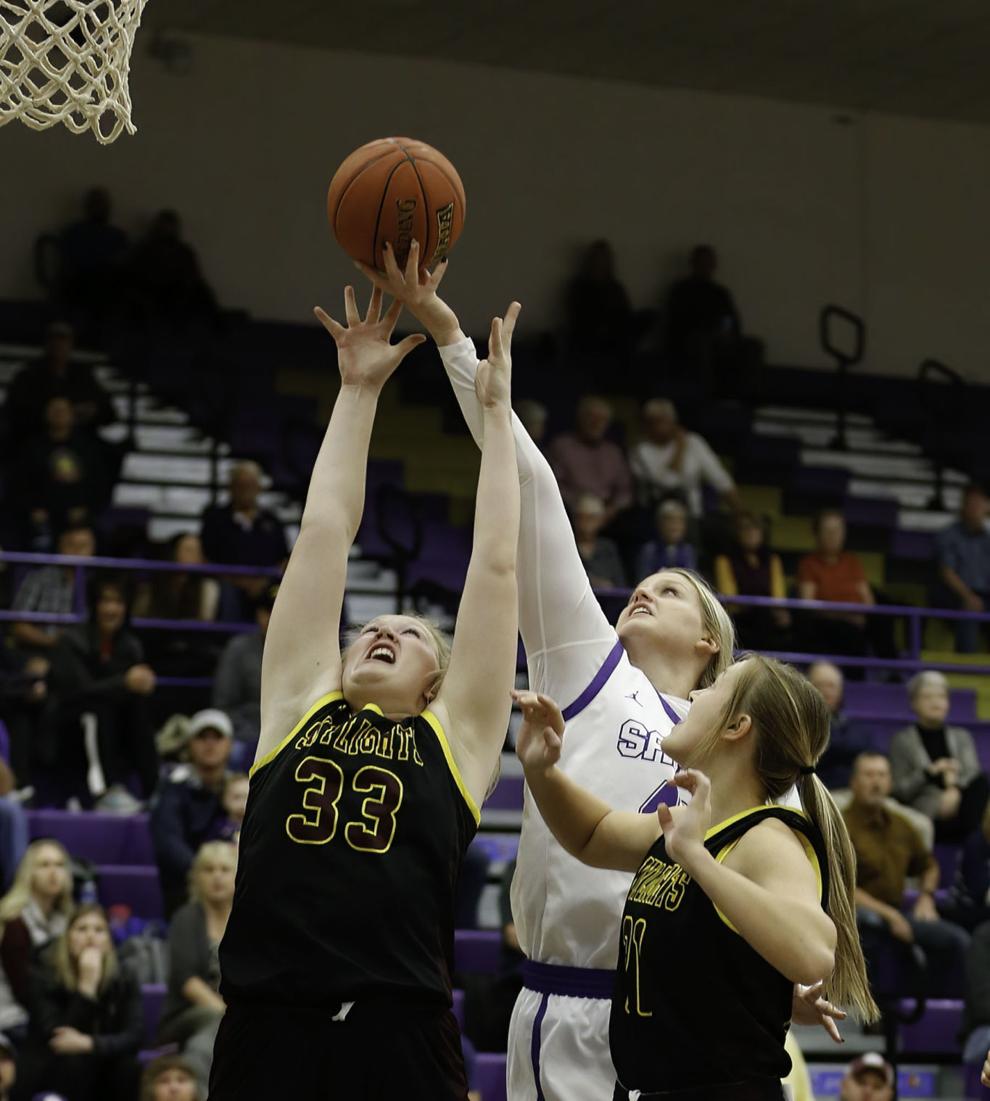 "We've gotta rebound really well, on both ends," Sayers said. "We've gotta limit our opponents to one shot and then we've gotta get second and third opportunities … We've gotta have more effort and more focus than our opponent through 40 minutes of the game. We can't have lapses, we can't have ups and downs. We've gotta be mentally, physically, emotionally locked in for the entire game because these are teams that if you don't do that, they're gonna take advantage of that and you may not recover from an 8- or 10-point spread."
Expect to see Westmont start Jarrett, Berberabe, Saenz, Brown and Destiny Okonkwo on Tuesday. Head coach Kirsten Moore has used that starting lineup in the last two games with Gabriella Stoll out. With Stoll playing, Okonkwo comes off the bench, as does Aleena Cook and Kaitlin Larson.
For the Saints, it has been the same starting five all season. Dani Wagner (16.8), Jamie Pickens (12.8) and Christine Denny (12.5) shoulder the load offensively. All three are shooting better than 51% from the field this season, while Wagner ranks 17th in the country shooting 48.9% from 3-point range. Her 43 made 3-pointers tie Wagner for seventh in the NAIA.
Defensively, Carroll has maintained its place among the best rebounding teams in the nation. More than that, Carroll is holding opponents to just 38% shooting and 24.8% from 3-point distance. The Saints average nearly 10 steals per game and turn teams over more than 16 times per game.
A lot of times that defensive effort comes from a man-to-man look, but at times, Carroll will break out a zone that seems to be steadily getting better.
"There's definitely going to be times we're gonna need to throw that in, especially against these teams this weekend just because they are more drive-oriented, they are more athletic at some positions," Sayers said. "Just something to change the pace of the game, maybe change the way they want to attack, or it's working really well and we stay with it."
Sayers said she wants her players to have physically and mentally experienced big games before conference tournament and postseason play rolls around. Carroll has played two of the top-4 teams in the latest top-25 poll, and on Tuesday, will play a third.
Now without a game on Monday, Carroll will begin its Arizona slate of games on Tuesday. Westmont and the Saints square off at 2 p.m. in Mesa, Arizona, and following a quick turnaround, Carroll plays Bethel (Tennessee) University at 10 a.m. on Wednesday.
The games can be streamed here.