HELENA — Something about Carroll and Eastern Oregon matchups on the gridiron seem to produce tight contests. Five of the last seven games between the two programs have now resulted in one possession outcomes after the Mountaineers outlasted the Saints 10-7 on Saturday.
"Heartbreaker," Carroll head coach Troy Purcell said. "I think our guys played their hearts out. It was never a question of effort out there by the Carroll Saints today and they played their tails off. Hats off to coach [Tim] Camp and that group coming in and finding a way to win...It's a team game and all that, but we've gotta be able to execute on offense and be able to get the ball in the end zone."
For the second time in a calendar year, Carroll's offense was shutout at the hands of Eastern. Trailing 10-0 in the fourth quarter, the Saints' defense had its opponent backed up. Carroll linebacker Tucker Jones came off the edge, and stripped the ball away from Eastern Oregon quarterback Kai Quinn, causing a fumble that Austin Bedke recovered in the end zone for the Saints' only score.
"I had a wide-open lane on that play, actually," Jones said. "Nobody touched me, so that was ideal...It's both sides of the ball working their butts off. Coming out there and putting some points on the board. Our offense was a little down in the dumps, and it gave them some momentum coming out and let them push the ball down the field a little bit. I think that was the main momentum change was giving them a little more confidence that we had their back and believed in them."
The Mountaineers got the ball right back, but after three plays of not being able to move the football, punted back to Carroll. Down a field goal mid-way through the fourth quarter, the Saints picked up a first down on a Devan Bridgewater-Jaden Harrison hook-up, but two plays later, Bridgewater was picked for the second time, once again killing any momentum.
"It changed the whole game," Carroll wide receiver Camron Rothie said of the defensive touchdown. "Defense has been doing a great job all year. When they got that, and then they got a stop right after that, we came out and started driving. Then a few more bad plays and it went downhill from there. We had full confidence we were going to come out and score there, but it just didn't happen."
The momentum killer — for both teams — for much of the contest was penalties. In 60 minutes, the two teams accepted a combined 27 penalties for over 230 yards. Each team also turned the ball over three times, with both quarterbacks being intercepted twice.
Carroll alone was flagged 14 times for 115 yards, with numerous penalties coming on false starts seemingly drawn by a shifting Eastern Oregon defensive line.
"Some of that was when they kinda mimic the sound on their move or their shifts," Purcell said. "If it happens to be right when the quarterback usually makes his cadence then it simulates the cadence. Yeah we shouldn't jump because it's a different person saying it, but when you don't hear that or don't have that happen, then all of a sudden it does happen -- we had a couple of them here."
Eastern Oregon drew three flags on two plays during a drive late in the fourth quarter. The Mountaineers were hit with two unsportsmanlike flags, including one on head coach Tim Camp. One possession later, as EOU was attempting to seal the game, the team was flagged two more times for false starts.
"A wins a win. Our defense played their hearts out. Offensively, I will get us better...
"There's nothing I can do," Camp said of the flags. "I got a penalty on me and I haven't had a penalty in 23 years of college coaching. I was asking a question, but that's on me. I apologized to the team. I don't want to do anything to embarrass Eastern Oregon University."
Tied at 0-0 at halftime, Carroll ripped off a long run on its initial play out of the break, but it was called back on a holding penalty. One play later, Bridgewater was picked off by Wesley McIlwaine, setting Eastern Oregon for its first touchdown of the game, which it got four plays later.
"They're a bend but don't break team," Rothie said of EOU. "They're a great defensive team, obviously. Both spring and fall, the offense didn't play as good as they could. Honestly, mostly on us, we had a lot of penalties. Just couldn't finish...We just didn't execute when we needed to."
Reigning Frontier Conference Defensive Player of the Year Chase Van Wyck helped anchor an Eastern Oregon defensive unit that sacked the quarterback seven times on Saturday. Van Wyck had two of those as part of his seven tackles and Gabriel Shukle paced the team with 2.5 sacks and a forced fumble. Hayden Brandon and Solo Taylor racked up 12 and 11 tackles in the win and combined for a tackle for loss.
"No. 41 [Van Wyck], yeah, really good player for Eastern," Purcell said. "He's a dominator and we knew he would be and we had a plan for him to send two on him and to also run away from him. I thought we did. I thought our run game actually wasn't too bad...It's never one person. It's the quarterback, it's the receivers, it's a holding call, it's not running a drag route, it's getting run over on a pass protection and creating a sack."
Carroll created plenty of pressure itself, sacking Quinn four times and racking up 10 tackles for loss. Rex Irby and Garrett Kocab led the roster with 11 and 10 tackles. Each was credited with 1.5 TFL and a half-sack, while Thomas Robitaille and Jones combined for 2.5 sacks as Carroll limited EOU to less than 200 yards of offense.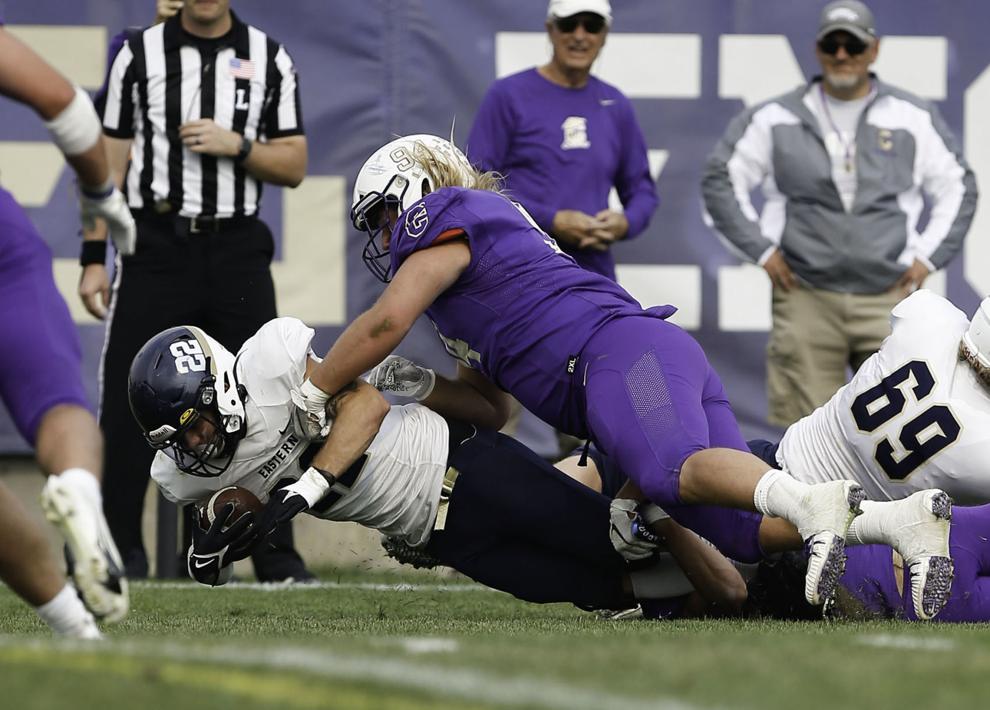 "[Garrett] Kocab and [Garrett] Worden were working today. They went and ate," Jones said. "They got pressure. We were talking at half, and as linebackers, we were not seeing much get to that second level. Those guys were really getting home, getting pressure. That was one of our goals, keeping them in the pocket, get some pressure, let them throw. I think the defensive line did their job well today."
Despite seven punts and their three turnovers, Carroll's offense was credited with 216 yards on Saturday. Duncan Kraft (17 carries, 64 yards) paced a ground attack that could not break the 100-yard seal. Bridgewater finished the game 12-for-27 for 130 yards and two interceptions as Rothie racked up 81 yards receiving on six catches.
"It's a long season. We're at game No. 3," Purcell said. "Fall camp just got over, that's what I tell the guys. We're at game week, first week, we're 0-0. Let's just get better this week and find a way to execute and get better."
Quinn went 12-for-24 for 150 yards through the air for Eastern Oregon. He threw a 13-yard touchdown pass in the third quarter — the game's only offensive touchdown — and was picked off twice. Jordan Eggers rushed 18 times for 40 yards and Tyler Brown hauled in four catches for 73 yards in the win.
"It's another shutout, it's what I expected," Camp said. "At the same time, we've got to be better as a team. Good win. I can make all the excuses in the world, but we've gotta be better bottom line."
Carroll — now 1-2 on the season — has lost its two contests by a combined seven points. Eastern Oregon improves to 3-0 for the first time since 2011 and has now won seven-straight games against the Saints.
"It's a hard one," Purcell said. "That was a hard one because this was an opportunity just like the [Montana] Western game. Shoulda, coulda, woulda don't win you ball games."
Carroll is now scheduled to play Southern Oregon on the road on Saturday.