HELENA — For ten, and perhaps more, Carroll football players, Saturday's game against College of Idaho will be their final home contest in purple and gold. Kyle Pierce, Jordan Martin, Brigham Baker, Dawson Zebarth, TJ Abraham, Cyle Watts, Ryan Olson, Jack Peed, Tyler Smith and Thomas Robitaille will all be honored pregame as part of the Senior Day festivities.
"I think there's a lot of bitter-sweetness," Robitaille said. "Bitter that it's going to be over but sweetness that it's just been so awesome here. I'm really going to cherish these last moments that I get, especially this last [game] here at Nelson Stadium. I just love these guys and will love being out there for the last time."
Robitaille and Pierce are two of the many examples of out-of-state players coming to Carroll, spending four or five years — sometimes longer — and establishing something of a second home.
It may have taken a while to settle into as freshmen, but after being a member of the Helena community and Carroll football family for the last handful of years, it can be tough to see that come to an end.
"The community here is unbelievable," Pierce said. "Not only coming out on Saturdays and seeing Nelson Stadium filled up, but just around town. You go to dinner after a game and professors are saying 'hi' and they're paying for your meal just out of the goodness of their heart. Summer jobs — you need a place to stay during the summer and you need to work because you're here for workouts. There's connections with people. People love Carroll football. It's awesome to have this community and have been part of it."
Pierce said one of the best parts of his time at Carroll has been getting to spend time with and work with his teammates. Part of that grind is getting up before the sun most mornings and preparing for that weekend's opponent or going through the off-season workouts, whatever form they may take.
Ask any Carroll football player, though, and they would refuse to trade those moments for the world. Ask any Carroll senior his best or favorite memory as a Saint and it may take him a minute to come up with an answer. Not because there is a lack of them, but because there are too many to boil down to a single one or two.
For Pierce, he recalls a game-winning touchdown grab during his junior year as a favorite on-field memory, while a certain game sticks out for Robitaille, not for his personal accomplishments, but for those of a teammate.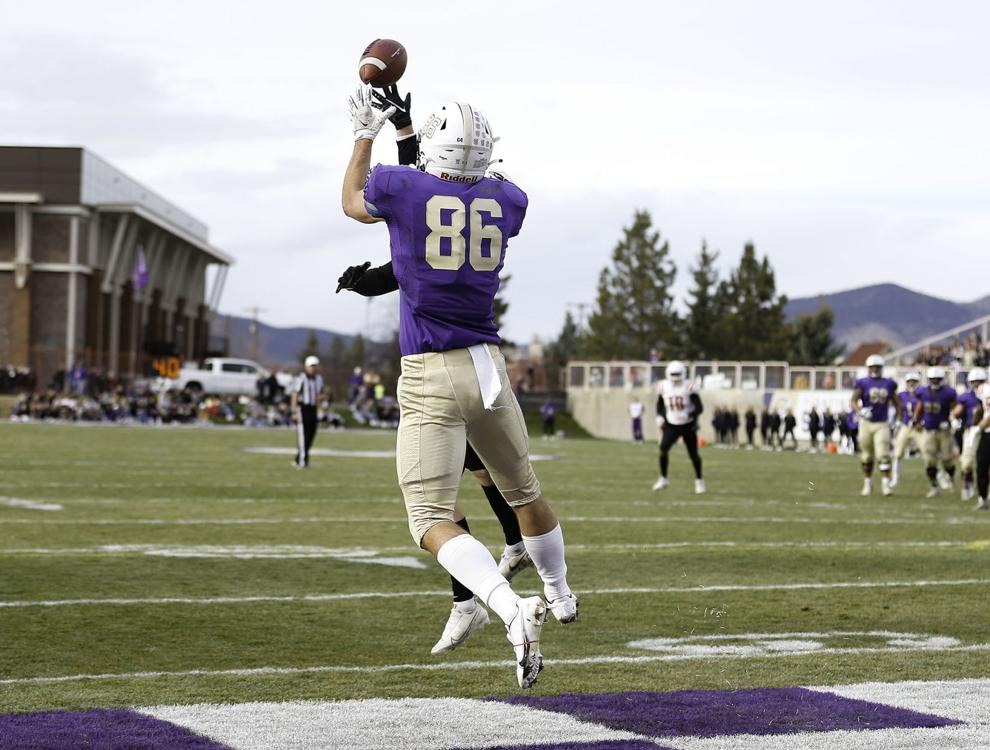 "My junior year, here against [Montana] Western, that was a lot of fun," Pierce said. "That year we had Shane Sipes and Joe Farris, so I was kinda more of a role guy, I was blocking a lot. That week before the game, I came up to coach and was like, 'hey can we throw a goal line fade one time?' We ended up calling it for the game winner. That was a lot of fun."
"I love when my buddy TJ [Abraham] does cool things," Robitaille said. "I think one of my favorite games is going to end up being that College of Idaho game in the spring that got us the conference championship. He had some awesome plays in that game. I think it was just a great team win, too. That might be one of the best memories."
Senior Day means the week preceding Saturday was the final moments this crop of graduating players got to spend on the practice field with their teammates. Pierce said it is still not likely to hit him that his collegiate career is over until preparations for next season go uncompleted.
Still, both he and Robitaille tried to slow down the week and savor everything that was left to enjoy.
"The mindset is to kinda soak in everything that you can," Robitaille said earlier in the week. "Like our beautiful sunrise this morning. I kinda had a moment there where I was like, 'I don't have a whole lot of these left with these guys.' I think you kinda see the younger guys a little different going through the last time. I'm gonna miss kinda looking over them and seeing them develop. A lot of pride in them, as well."
Pierce said one of the first things that comes to his mind when he recalls his playing days is family. All the guys he has played with and for and all the special little moments they have shared together. Playing in front of the Carroll fans "means a lot" to Pierce, and to get to do it one more time on Saturday means a lot, too.
"It's meant the world to me," Robitaille said of his time at Carroll. "I came here because I thought it would be a great fit for me, and that was absolutely right. This place has meant the world to me these last four years. It's going to be really hard to leave, but I think the relationships that I've made here are ones that are going to last a lifetime. That's really the coolest part."
Robitaille plans to attend medical school in the fall. He said he has already been accepted to Creighton and a few other schools, and that he is waiting to hear back from the University of Washington. Robitaille said he has been working in an emergency room in Helena and is still deciding about what discipline he wants to enter in the field.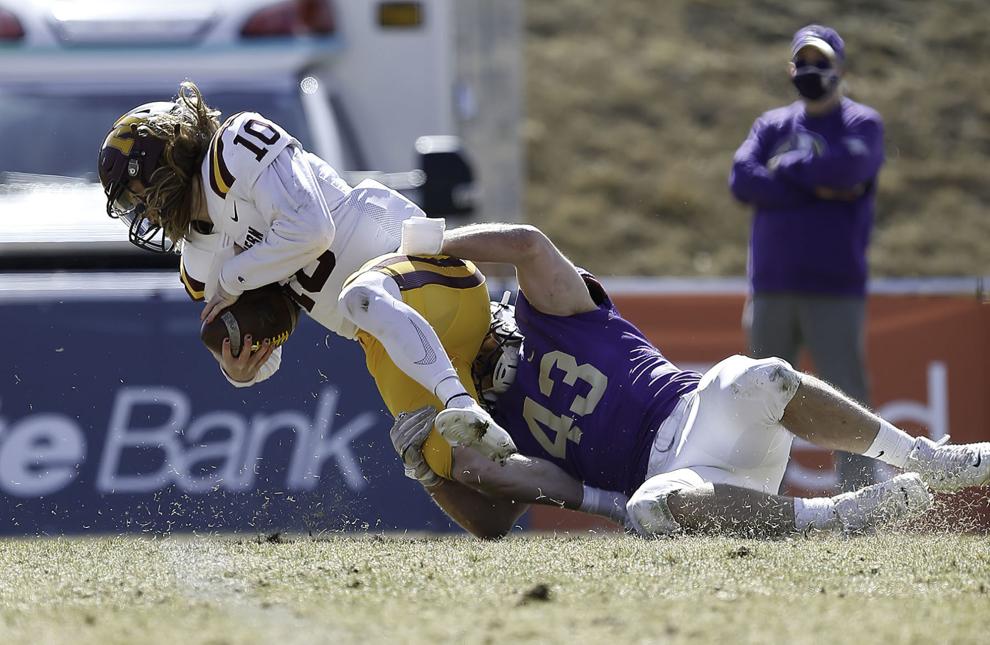 Pierce is getting a Math Education degree from Carroll and hopes to put that to use in the near future. In the meantime, he said, Pierce plans to stay on campus and do ministry work to help spread the gospel and bring people closer to Jesus.
"Just unbelievable people of character," Saints head coach Troy Purcell said of the senior group. "Really bought into the culture here, and really excelled during their senior year. Their leadership has just been outstanding. Setting the tempo and setting the bar for the underclassmen, on and off the field. It's hard. It always ends for everybody, at some time...You just gotta enjoy those moments. It's tough to know when you're done. What a great group of guys and [they're] the definite leaders of our team…
"This [game] will be played for them. This one will be played a little more for them because it is their last time, their last opportunity to be a part of it. Be able to look them in the eyes at the end of the game — give a little bit more effort for them."
Below are some career stats* and accolades for the seniors that will be honored on Saturday:
*stats prior to Saturday's game
Kyle Pierce: 42 receptions, 682 yards, 7 TDs
Brigham Baker: 2020-21 Academic All-Conference (Biology)
Dawson Zebarth: 70 tackles, 2.5 TFL, 4 pass break-ups — Second-Team All-Conference (spring 2021)
TJ Abraham: 115 tackles, 3 TFL, 14 pass break-ups, 7 INTs — First-Team All-Conference (spring 2021)
Cyle Watts: 14 tackles, 0.5 sack, 2 TFLs, 2 pass break-ups
Ryan Olson: 9 tackles, 2 pass break-ups, 0.5 TFL, 1 kick return for 16 yards — 2020-21 Academic All-Conference (Chemistry)
Jack Peed: 6 tackles, 1 TFL — 2020-21 Academic All-Conference (History)
Tyler Smith: 2020-21 Academic All-Conference (Nursing)
Thomas Robitaille: 43 tackles, 5 sacks, 6.5 TFL, 2 pass break-ups, 1 INT, 1 forced fumble