DILLON — Saturday's battle between Montana Western and Carroll College was all about haymakers.
Both the Saints and the Bulldogs delivered knockout punches to each other, momentum swinging erratically, but the last strike landed to Western as they won 31-24 at Vigilante Field.
Carroll makes good on their huge screen, Matthew Burgess striking from the 4-yd line. 7-0 Saints, 10:02 in the 1st. #mtscores pic.twitter.com/mnrXDEiyRJ

— Evan Reier (@evanreier) September 7, 2019
The game had already seen five lead changes, a fumbled field goal and a goal-line stop, both by Carroll. With just over a minute on the clock, the game rested on a fourth-and-two. Western was at the Saints' 37, and Bulldogs head coach Ryan Nourse put the game in the hands of Western quarterback, Jon Jund.
Jund creates time for himself, and finds Nate Simkins in a tight window at the back of the end zone.

11-yd score, Kharchenko kick is good, and it's 7-7 in Dillon. 37 seconds in the first remaining. #mtscores pic.twitter.com/LicjIPAgEq

— Evan Reier (@evanreier) September 7, 2019
"My plan was to take the speed out," Jund said. "And it wasn't open. I started thinking, 'Oh, crap.' It's fourth-and-two, we need this. But then the corner fell down and [Walker] McKitrick was wide open. It worked out perfect."
McKitrick was able to jog into the end zone untouched for a late, game-winning touchdown to earn an opening win for Western, and deliver Saints head coach Troy Purcell a loss in his Carroll coaching debut.
The Bulldogs quickly score as Jund finds Jamison Hermanson in the end zone.

14-7 after Kharchenko's kick is good. #mtscores pic.twitter.com/igvdoQTC47

— Evan Reier (@evanreier) September 7, 2019
"Thought we had a good plan, but we had mistakes," Purcell said. "There were calls that we missed, and those kind of calls haunt you, but you have to move on to the next one. We started fast, and responded well, but, 'shoulda, coulda, woulda.' We've got to find a way to finish going forward."
Carroll put out an encouraging display for the first game under the new coach, but fell just short to the No. 25 preseason-ranked Bulldogs. Jund was able to deliver the game-winning touchdown, one of four on the day, but not before he had a captivating duel with Carroll sophomore QB Devan Bridgewater.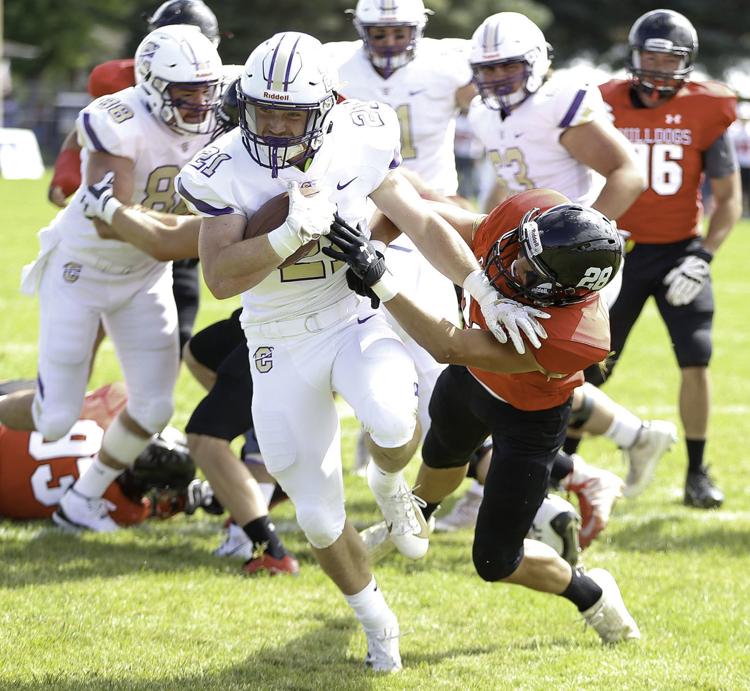 However, as Jund points out, Bridgewater kept Carroll in the game on several occasions, converting a staggering 10 third downs, as well as one of Carroll's fourth down attempts. Carroll converted 12 of 21 third downs in total.
On the ensuing play, Trey Mounts lined up in the slot, is found on a 46-yd go route for a touchdown!

Jund has his third of the day, and Western leads 21-17 after a successful Kharchenko kick. 9:37 left in the third. #mtscores

— Evan Reier (@evanreier) September 7, 2019
"[Bridgewater] played great," Jund said. "He's athletic, got out of the pocket and made a lot of plays. We both play similarly, I think. We both like to get out of the pocket, try to make stuff happen. Intense, great game, back and forth. He did a great job."
However, what was an impressive display for Carroll was the sign that Western will need to work on their defense going forward if they want to compete for the Frontier Conference title, according to Nourse.
"We've got a lot to do on defense," Nourse said. "We have six or so guys that haven't played college football in a long time, and we have things to clean up in every area. But they have great pride and will take care of business."
Purcell and Carroll won't be pleased with giving up a halftime lead and allowing a crucial late touchdown, but the head coach was relatively happy with the performance as a first volley into the college football fray.
Bridgewater goes deep and finds TE Tony Collins down the middle for a 37-yard TD.

Carroll ties it up at 24. 12:58 remaining in the game. #mtscores

— Evan Reier (@evanreier) September 7, 2019
"We have to watch film, we'll evaluate then," Purcell said. "But more importantly, the kids played hard. They played well, wanted to win and wanted to be here. It came down to the very end of the game, but we have to move on from 'ifs' and 'buts.'"
While the Saints can take positives out of a loss, Nourse felt mixed on his team's opener. The fifth-year coach expected a tough matchup, but also expects more of the Bulldogs heading into next week.
JUND COMPLETES HIS PASS TO MCKITRICK AT THE 25, AND HE BREAKS HIS TACKLER TO REACH THE ENDZONE!

Kharchenko's kick is good, and Western lead 31-24 with just 58 seconds on the clock. Wow. #mtscores

— Evan Reier (@evanreier) September 7, 2019
"It wasn't pretty," Nourse said. "I was worried about this game. Earlier in the week, I kept telling people that this was a trap game and that we didn't really know what they we're going to do [under Purcell]. I don't think we gave it our best shot, but kudos to our players, and Purcell and his team."
Evan Reier is a sports reporter with the Montana Standard and 406mtsports.com. Hit him up with info @evanreier on Twitter or via email at Evan.Reier@mtstandard.com.