Editor's Note: "Marching On" is a series about former Carroll College athletes, where are they now, and the impact the school and Helena community had on them.
HELENA — Cassidy Kosena resides in Lincoln, Nebraska.
The chapter of being an all-American center for the Carroll College women's basketball team has passed.
"Life is crazy," she reminisced during a phone interview. "But it's how you respond to it. Is it going to affect you positively or is it going to affect you negatively?"
It's been a year and a half since she left competitive basketball.
Now, instead of scoring double-doubles, she watches her 2-year old son Brett.
She watches him play with some of the toys he received from his recent birthday and smiles as his face lights up when he makes a basket on the little hoop she put together for him.
"You might have a plan where you put one foot in front of the other, but life is going to happen," Kosena said. "Your dreams and goals are going to be taken off track."
Kosena wanted a child. She didn't care if it was a boy or a girl.
He just arrived when she was not expecting it.
An unexpected surprise
Kosena was coming off her junior year at Carroll during the spring of 2017.
It was her best season, as she led the Saints in scoring and averaged a near double-double.
She was ready to bring her team back to the NAIA National Tournament after missing out on the opportunity that season.
She was determined. Basketball was in her blood. Her father, Doug Hashley, was a standout post for Montana State.
Her choice to play basketball for Carroll, following successful seasons at Kalispell Glacier High School, quickly paid off.
Kosena received individual accolades, such as the Frontier Conference's Freshman of the Year and all-conference selections, in each of her previous seasons.
"We got to watch her quite a bit, but Montana and Montana State were also showing interest," Carroll women's basketball coach Rachelle Sayers said. "By the second year, she was dominant. She was on pace to probably be the second all-time leading scorer in the program's history."
But during the summer before the 2018-19 season, something felt off.
Her studies were going great and she was extremely happy with her boyfriend, Patrick Kosena, a Carroll football player, who she met the summer before their first semester in college.
She just couldn't figure it out.
"I would start running with coach and I would have to pull over and throw up a bit," Cassidy said.
A few weeks later, Kosena headed to the doctor to see if everything was all right. She had some tests done and received some unexpected news.
"Sweetheart, you are pregnant," the doctor told her.
Kosena left the doctor's office with so many emotions darting through her head.
She jumped in her car and drove to Patrick's house.
"What am I going to do? What are we going to do?" Cassidy thought. "What are people gong to think? Oh my God, what is coach going to think?"
Cassidy was well on her way to becoming one of the the school's all-time scorers and rebounders, plus the team was counting on her for another successful campaign.
"I wish I could go back and talk to myself back then and say, 'It's going to be OK,'" Cassidy said, thinking about the time leading up to telling Patrick and their immediate family.
Patrick, upon hearing the news that he was going to be a father, admitted he didn't think he was ready to have a child.
He was going to have to figure out how to support a girlfriend and child, while also playing college football and finishing his degree. But he was reassured by family and friends that this was going to be the best thing that had ever happened to him.
Cassidy and Patrick also gave both sets of their parents with the news. They were shocked, but also supportive.
"I was going to be a grandfather," Doug Hashley exclaimed.
Over the next few weeks, the expectant parents had conversations, and even arguments, about how they were feeling. No matter what their future looked like, they realized they needed to be a cohesive unit. They were having a child together.
"There is more to life than basketball," Cassidy said. "It's more than just one season, it's the rest of our lives."
She now knew what she was going to do with her life. But, what was she going to do with basketball?
Taking a year off
Cassidy didn't tell Sayers about her pregnancy right away. She just told her she had to go to Great Falls and she'd be back soon.
"I finally got to the point where I told her she had to come in and talk to me or I was going to go to Great Falls," Sayers said.
The two sat down in the women's basketball office and Cassidy broke the news.
"Obviously, it changed all of our lives," Sayers said. "At that point, basketball was out of the equation. I just wanted to be able to support her and Patrick through this any way I could. I wanted to let her know everything was going to be OK."
After Sayers and Cassidy talked, they planned to tell the team that Cassidy would redshirt during the 2017-18 season.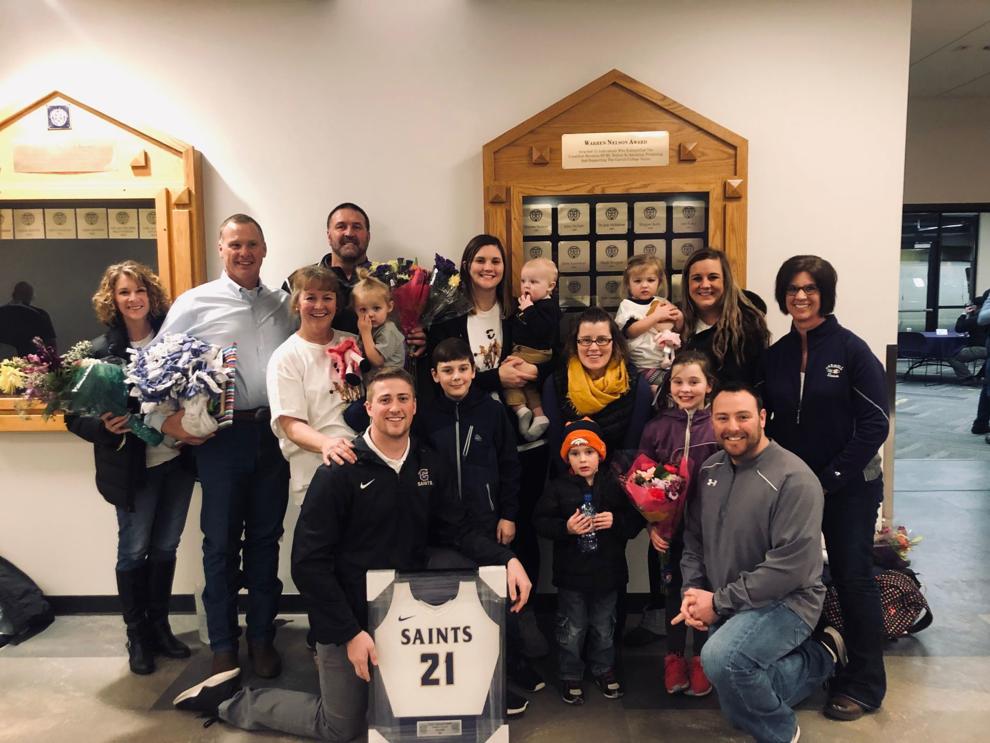 Both the NAIA and NCAA allow for a special redshirt season for athletes who are pregnant. In what is called a "pink shirt", the athlete is covered under Title IX, which guarantees that they cannot be discriminated against in the event of pregnancy, childbirth or conditions related to a pregnancy.
Title IX also states that if the athlete is still in good academic standing and she does not voluntarily withdraw from the team, the school cannot reduce any financial aid the student receives.
While the NCAA allows female student-athletes to apply for an additional year of eligibility if her career is interrupted by a pregnancy, the NAIA does not.
Sayers also put Cassidy in contact with Mya Hood, a women's basketball player at the University of San Diego who had a similar situation.
"She kept telling me that this baby would be the best thing that will ever happen to me," Cassidy said. "She also said that, if I wanted to come back and play basketball, that's definitely an option.
"We really found it helpful to talk to people who have been in our shoes."
The decision was made. Cassidy was going to return for her senior season. She just had to wait until after Brett was born.
It's a boy
Just over a week following the Saints' return to the NAIA Tournament where they lost in the second round to Vanguard University, Cassidy knew it was time to head to the hospital.
She was supported by Patrick, her parents, his parents, Sayers and her closest friends, all of whom stood ready to welcome Brett James Kosena when he arrived at 3:21 p.m. on March 28.
Her teammate Sarah Chalich, who was studying to be a delivery nurse, helped deliver him.
"We were a team," Chalich said. "I just wanted to be there for her, because I told her that this was going to be the most pain she would endure during her whole life."
As Cassidy held him for the first time, she knew everything was going to be OK.
She was a mom and Brett was her life, but she still wanted to finish school and her basketball career.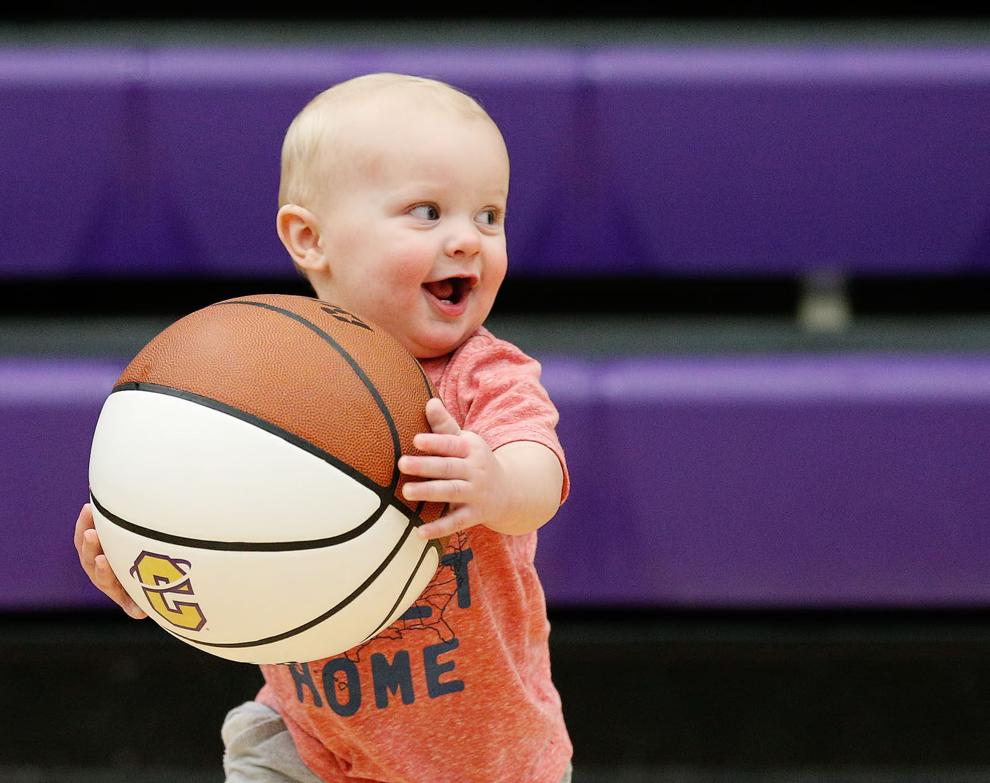 An unexpected ending
It was a busy summer for the new family. Cassidy and Patrick were married in Missoula. Their teammates, of course, were invited.
"The funny thing was that Patrick asked my dad's permission three days before we found out we were pregnant," Cassidy said. "Marriage was already on the table, it was just a matter of the timeline."
After a honeymoon to Nashville, Tennessee, it was time to get back into the gym with coaches and teammates to prepare for the upcoming season.
"Everybody was there to help," Cassidy said. "My teammates were all aunts to him. Everybody wanted to love on Brett, and that was OK with me."
Even Sayers coordinated practices with baby Brett in her arms.
She had four kids of her own back home but she couldn't put him down.
"The girls would encourage Cassidy to bring him more, because they knew how much happier I was when he was around," Sayers said. "I think they thought I was going to take it easier on them when I was walking around holding him."
Sayers knew when she became a head coach that it would be more than just strategizing a gameplay. It was about being a mother figure to her players.
"Every year, these kids go through trials that shake them daily," Sayers said. "Being able to provide support or provide a pathway to get there is most of the battle. Cassidy's was just apparent to everyone, but every kid has something, and they need way more from me than just being taught how to improve their jump shots."
The Saints were ready to defend a Frontier Conference championship. They were picked to contend again, and Cassidy wanted to write her comeback like a storybook ending.
But during the team's first home game in the second half against Calumet St. Joseph, she felt a pop.
She was helped back to the locker room where she immediately broke down in front of her family and teammates.
Cassidy had torn her ACL. Without any redshirt options left, her season, and career, had come to an end.
"It was a tough year in general," Cassidy said. "I was more upset and distraught than when I could not play the year previous, when I was pregnant. Something awesome came out of the year before, but I was sitting there all out of options (to play)."
Cassidy tried to salvage her season by rehabbing her knee over the next few weeks but, once she heard another pop in practice, she knew she had to stop.
"I just knew I couldn't take care of a baby with a torn ACL if I tried to keep playing on it," Cassidy said.
It was time to retire.
Cassidy finished her three-year career with 1,185 points and 776 rebounds.
She sits among the best women's basketball players to ever play for Carroll, ranked third all-time in school history in rebounding and 14th all-time in scoring.
Cassidy was recognized during senior night. She didn't dress like her teammates Hannah Dean or Brittney Johnson, but she was there with her family. She was there with her husband and she was there with Brett.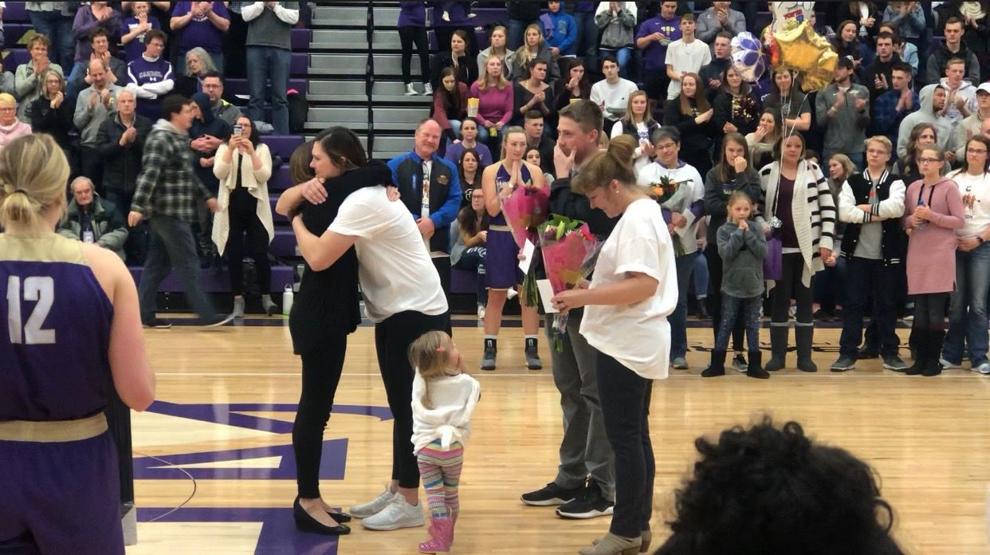 "She was a big role model for our younger players," Sayers said of Cassidy. "They looked up to her, seeing what she did every day by walking into that gym with Brett and putting on a uniform. It put a lot of things into prospective. As hard as we think each day is, here was someone finding themselves as a mother, a wife, getting a master's degree and then playing basketball. (Cassidy's and Patrick's) lives changed in the blink of an eye as they had to figure out everything as quickly as they could to provide a good environment for Brett."
No regrets
The Kosena's moved to Lincoln while Patrick pursues a master's degree in athletic administration from the University of Nebraska and Cassidy finishes a master's degree in accounting.
She works at the university processing grants for the college of engineering and wants to continue working within the education system, whether at another university or high school.
Cassidy looks back fondly on her time at Carroll.
She understands that her journey took her through many peaks and valleys and might someday again, but she has no regrets.
"We are so fortunate with how everything worked out and the support we received," Kosena said. "Carroll athletics has given be everything: my husband, my son and my best friends. It's absolutely unreal."
Cassidy might have ended her basketball career earlier than she would have liked, but she knows she received something so much more important than the accolades and satisfaction of a finished final season.
She got Brett.
"Having a baby was life changing," Cassidy said. "I had to step back and remind myself that my goals and dreams are still there, but I knew I had to take a different path. I was on that path with someone that I love."