Editor's Note: "Marching On" is a series about former Carroll College athletes, where are they now, and the impact the school and Helena community had on them.
HELENA — Jolene Fuzesy-Lloyd always returned to Carroll College for football's homecoming weekend.
She made sure to lace up her sneakers and participated in the annual women's basketball alumni game inside the PE Center.
Fuzesy-Lloyd hits a shot, typically from behind the 3-point line.
The Saints' 3-point line extends almost 21 feet from the top of the arc to basket.
But Fuzesy-Lloyd, who spent 2004-2008, with Carroll had to travel so much further to become the program's all-time leading scorer and 3-point shooter.
Does she regret it?
"No way," she responds. "Never."
Loving basketball
Fuzesy-Lloyd grew up in small-town Montana.
She moved from Harlem to Malta, the town's population increasing from less than 1,000 people to just under 2,000.
Her family loved sports.
"I played it all from volleyball to track to swimming," Fuzesy-Lloyd said.
Her dad was a basketball coach, so she was always in the gym. Once she got older, putting up shots became an outlet for her, and as she watched her idols, like the University of Montana's Linda Cummings and Loree Payne, she knew she wanted to continue to play basketball at the college level.
"Who doesn't love basketball?" Fuzesy-Lloyd said. "It's a team working together to accomplish a common goal. Everyone has their own role, and then it all comes together."
Fuzesy-Lloyd's love for basketball grew even more when she started playing competitively. Unlike bigger cities that feature travel teams for youths like AAU, that wasn't an option for her, living in a town like Malta.
Looking back, she didn't mind. She felt like she didn't want that.
"Other things come along with (leagues like that)," Fuzesy-Lloyd said. "Burnout is one. Sometimes with travel leagues, people get tunnel vision. I was able to play other sports and I have no regrets."
By her junior season, she was averaging 25 points per game but, on the inside, she started to lose the fire that basketball had ignited within her.
Her parents could tell and knew it was a time for a change.
From Malta to Havre
Fuzesy-Lloyd transferred to Havre for her senior season.
She had previously butted up against conflicting personalities that she eventually reconciled with, but they had caused her to fall out of love with the game.
"It was the hardest time of my life, but I have no regrets," Fuzesy-Lloyd said. "I grew my confidence back as a person and a player and learned so much in the four months I played in Havre. I wish I could have gone there sooner. I met a lot of great people and learned so much."
One such person was her new coach, Dennis Murphy.
Murphy spent 23 years coaching basketball and the last 18 years as Havre High School's athletic director before retiring in 2020.
"He was really big on team chemistry and everyone having a role and everyone being happy for one another," Fuzesy-Lloyd said.
Murphy's only wished he could have coached her for longer.
"She has an incredible passion for the game," Murphy said. "When she arrived, she was down in the dumps and ready to be done with basketball. For me, as a coach, that was something I hated to see be wasted. More than anything, showing that I cared about her was the biggest thing. "
Havre was also the place that she developed her 3-point shot.
Fuzesy-Lloyd was one of the taller girls in her younger years playing in Malta. By the time she was a senior, everyone had passed her up.
"Dennis was one of those coaches who wanted me to shoot whenever I could," Fuzesy-Lloyd said. "I basically had free range because he knew I could do them."
Her signature jump shot took some work, though. She spent hours putting up shots, and even joked that she was the player who annoyed her parents by waking them up at 5 a.m. to take her to the gym.
She finished her senior career connecting on 53 percent of her 3-point shots.
Little did she know that she would eventually be setting the bar for NAIA college women's basketball players all across the nation.
Heading to Helena
Fuzesy-Lloyd's dream wasn't necessarily to play for Robin Selvig in Missoula or even for Montana State. She just wanted to play basketball.
So, she signed with Carroll and, before she knew it, she had fallen in love with the city of Helena.
"It's not too big, but big enough," Fuzesy-Lloyd said.
Inside the PE Center, she was also enjoying her time playing with the Saints.
By the third game, she was starting as a true freshman.
By the fourth game, she had scored 23 points, including a 5-for-7 performance from behind the 3-point arc against the College of Idaho.
"I was passing up threes, and I learned very quickly to keep shooting," Fuzesy-Lloyd said. "I feel like that's why they recruited me. It wasn't for my defense, that's for sure."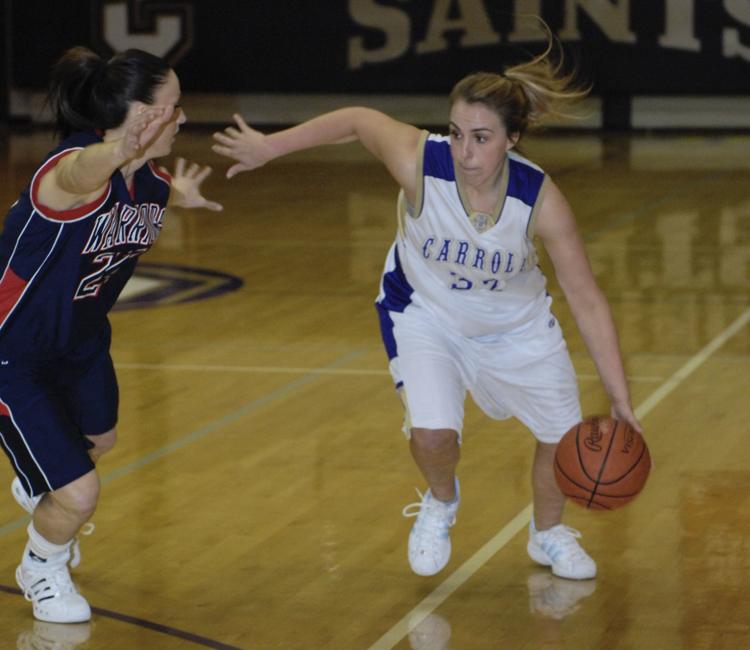 She finished her first season averaging 12.2 points per game and hit 48 percent of her 3-point shots.
Having a good year is one thing, but could she keep it up?
Setting records
As Fuzesy-Lloyd's college career continued, she just kept shooting.
And her shots kept going in.
"She was the best 3-point shooter I had ever seen," said Fuzesy-Lloyd's former teammate Amy Brooks.
Fuzesy-Lloyd finished her career with plenty of individual accomplishments.
She helped defeated South Dakota School of Mines with a career-high 30-points during her sophomore season.
She scored a career-high nine 3-pointers just weeks later against Grand View College.
And she became the program's all-time leading scorer, making her the only player in Carroll history with more than 2,000 points. She finished her career with 2,067 points in 139 career games.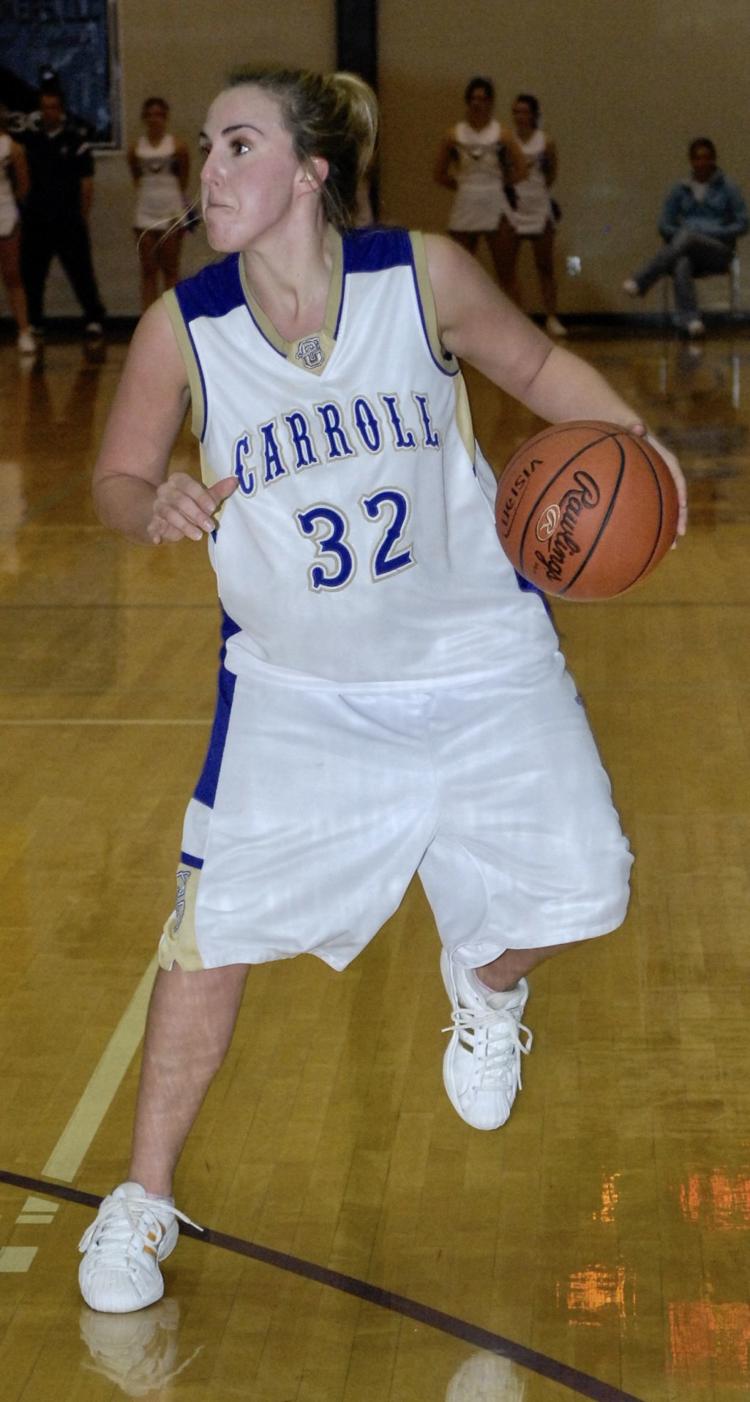 "You have to credit your team and all they do," Fuzesy-Lloyd said. "It goes back to every screen I got, every hour I was in the gym, every pass I caught and everyone running the offense correctly. It was just a perfect combination."
Not only is Fuzesy-Lloyd Carroll's top scorer, but she was also one of the nation's most consistent scorers.
She finished her career making 51.4 percent out of her 903 3-point attempts, an NAIA record that was just shy of Northwestern's Iowa's Deb Remmerde's 54.2 percent 3-point shooting during those same years.
Still, her percentage is higher than any NCAA Division I, Division II or Division III men's or women's basketball player in history.
Even the NBA's Steph Curry only has a 43.5 3-point percentage, but that's not who she emulates her game after.
"I'd say I'm more like Ray Allen," Fuzesy-Lloyd said. "I'm going to stay out on the perimeter, and if I have to create a little, I will."
During her tenure, Fuzesy-Lloyd helped the Saints win an average of 28 games per season but never got past the second round of the NAIA Tournament.
It was her only regret.
"I wanted a National Championship," Fuzesy-Lloyd said. "If only I could perform at nationals, then we would have had a chance."
Planting roots
Fuzesy-Lloyd spent a few years in Lewistown and obtained her Master's degree from Missoula, but it wasn't long before she returned to Helena and became a real estate agent.
She has also been an assistant coach for the Helena High School girls varsity basketball team on and off for six years.
She had interviewed to be the freshman girls basketball coach at Helena Capital, but was passed up. Then, after a phone call from Helena High girls varsity head coach Eric Peterson, she had found another passion as the junior varsity coach.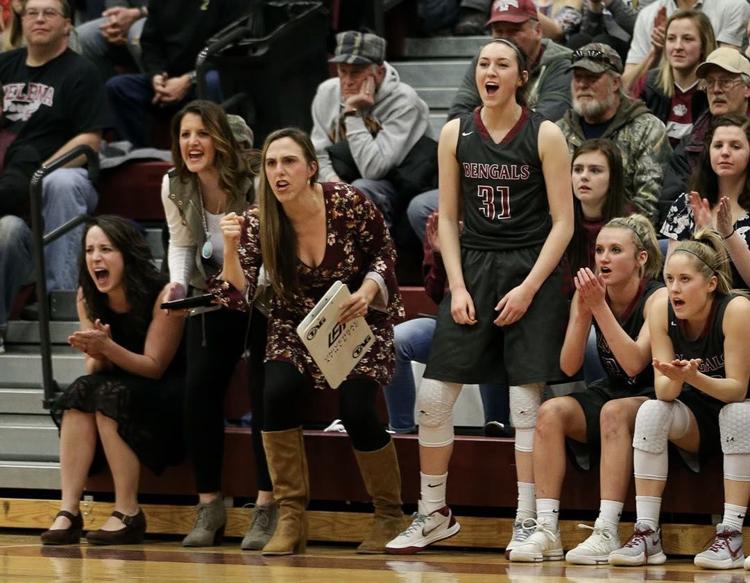 "If you would have asked me if I was going to be a coach during my years playing, I would have said absolutely no way," Fuzesy-Lloyd said. "It's not easy and it's more about molding the players into good individuals with character."
College basketball is still a focus of Fuzesy-Lloyd's life. Even when she is chasing her three kids around or working hard as a realtor, she still supports Carroll's women's basketball because it will always be a home to her.
And if there is another alumni game, she won't pass up an opportunity to knock down a three.
She even will tell you herself, "It's still pretty good."