HELENA — It will be a top-10 match-up. Wednesday's NAIA coaches' top-25 poll ensured Friday's contest between No. 2 Carroll and No. 10 Arizona Christian would be a highly-ranked game among teams with recent playoff experience.
"They're a top team in the country," Carroll's leading-scorer Jovan Sljivancanin said. "They're deep, athletic, big. We beat them last year, we beat them two years ago, too, but both of those games were super close. No doubt that it's going to be a super tough game for us. If we play our game and we follow the game plan, we should be fine."
Carroll knocked off ACU 83-79 little more than nine months ago in the NAIA Opening Site games in Lewiston, Idaho. The win propelled Carroll into the NAIA National Tournament Round of 16, jump-starting the Saints' quarterfinal run a season ago.
Four starters and even more major contributors from that team are back for the Firestorm. Point guard Angelo Johnson was an Honorable Mention All-American a year ago and is averaging 11.1 points, 3.5 rebounds and 3.2 assists per game as ACU's leading scorer this season.
Robby Wilson started last year's playoff game against Carroll and has gotten that same call all 13 times this year. He is one of five ACU players averaging 8.2 points per game or better with his 9.7 (third on the roster). Wilson also paces the Firestorm in made 3-pointers (20) and offensive rebounds (30) while shooting better than 46 percent from the field and 40 percent from 3-point distance.
"They have a lot of the same guys back from last year," Saints head coach Kurt Paulson said of ACU. "We played them in the NAIA Regional down in Idaho. They did lose a wing in De'Ron Kyle…Five-out offense. They've got some really good bigs that can pass and shoot and score. They have a nice, balanced team, very athletic. They play anywhere from 10-12 guys…
"They'll race it down and he'll trail the play and fill in at the top – [Wilson] loves [3-pointers] from the top. He's a really skilled passer. He's a big body. He's gotta be 225 [pounds] or more but he's skilled on offense."
Bryce Davis – standing at 6-foot-7 – joins Wilson in the paint as a starting forward. He is the other half of the two players that average double figures for ACU, putting up 10.2 points and 4.9 rebounds per game. Davis is second on the roster in offensive rebounds (24) and has 10 blocks to his credit.
Dominic Gonzalez, KeyVaughn Williams and Marcus Green all fill roles off the bench for a team averaging 82.1 points per game on 45.3 percent shooting.
Carroll – sitting at 12-0 and off to its best start since 2017-18 – will face its highest-ranked opponent of the season thus far in ACU. It will be a de facto home game for the Firestorm, providing, at least on paper, a challenge for the Saints.
Carroll has already played its fair share of tight road games. It took an overtime period for the Saints to get past Bushnell in mid-November, and then they followed that up with a 53-50 win over Corban on a short turnaround. Just two weeks ago, Carroll needed to outscore Montana Western 39-22 in the second half to earn a 10-point road conference win.
"It just takes togetherness," Sljivancanin said in regards to winning close road games. "Staying together throughout the whole game, trusting each other. I think when we play together we are at our best, when we play for each other we are at our best. Both of the [previous] games where we beat ACU, we were together throughout the whole game. I think that will be the key."
Friday's game will be the first meeting between these two programs since guard Dennis Flowers III announced his transfer from Carroll to ACU back in April. Flowers was a two-year starter for the Saints, earning Frontier Conference Freshman-of-the-Year for the 2019-20 season and an Honorable Mention All-Conference nod last season.
Flowers scored nearly 600 points with Carroll and has started all 13 games for the Firestorm this season. Flowers is ACU's fourth-leading scorer, averaging 9.2 points per game on 39.4 percent shooting.
"It's going to be weird, I feel like, when I see him in a different jersey," Sljivancanin said. "For two years I played with him and we shared spots on the floor. I think it's an advantage for us because we know what he does and we know him super well. We know his tendencies and what he's gonna try to do. I don't doubt that he's going to be super motivated to play even better against us."
Carroll will enter Friday's match-up after taking nearly two weeks off from games. The Saints participated in 14 contests (including exhibitions) from Oct. 15 to Dec. 4, necessitating a pause to rest up and allow players to focus on finals and finishing the semester strong in the classroom.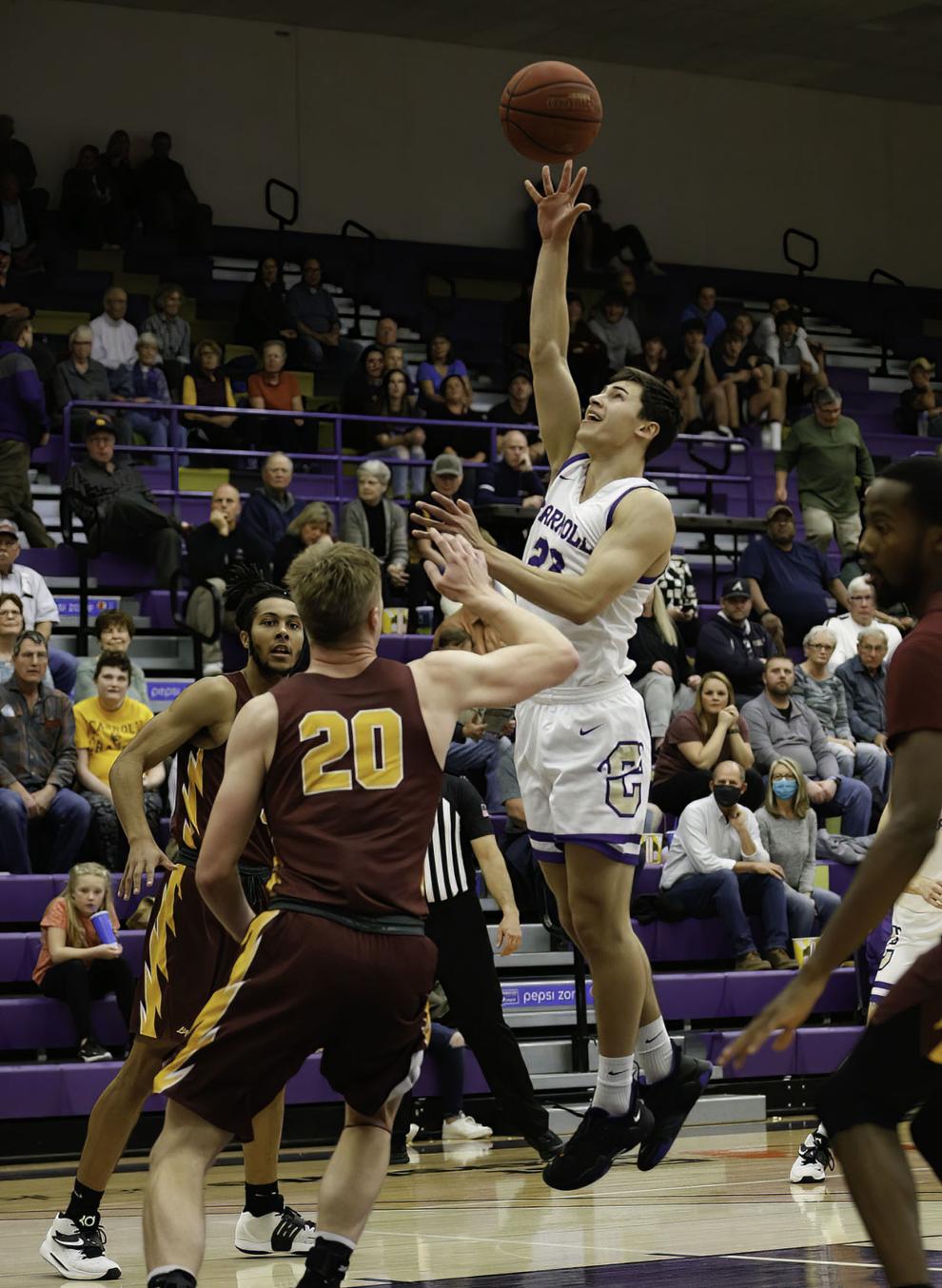 "We've been doing a combination of rest, lots of shooting in the practices, strength and conditioning, kinda getting some pop back in our legs," Paulson said. "We had a long stretch from about Oct. 15 when we first started playing games all the way through the Western game. That was a long stretch."
Carroll is scheduled to fly out to Arizona Thursday for a four-day stretch that includes three games as part of the Cactus Classic. Three wins would mean a 15-0 start to the season, matching 2017-18's start and the Saints' longest undefeated run to begin a season since at least 2003-04.
The Saints hit the road sporting one of the best defenses in the NAIA. Entering Friday, Carroll is ranked inside the top-6 nationally in fewest points allowed per game (59.8) and opponent rebounds allowed per game (27). Carroll holds a plus-11.3 rebounding margin, a top-10 mark in the NAIA and is turning the basketball over the fourth-fewest times per contest (9).
Sljivancanin is coming off a 26-point, 16-rebound performance against Western. It was his 10th double-double in 12 games to start the season and he will roll into Friday's contest averaging 19.8 points and 12.6 rebounds per game. Shamrock Campbell (12.8), Ifeanyi Okeke (10) and Brendan Temple (10) are all averaging double digit points per game for Carroll.
"We've had a lot of games recently with limited amounts of breaks," Sljivancanin said. "This was definitely needed, especially for this tough road trip. Definitely much-needed two weeks off. It helped us refresh our legs and get back on track. We're ready to go."
Tip off from Chandler, Arizona, is scheduled for 4 p.m. on Friday. The game can be streamed here.