HELENA — Isaiah Claunch has a tall task in front of him. Yes, the Billings West standout quarterback and recent Carroll football commit will likely face challenges while doing things like learning the playbook and adjusting to the speed of collegiate action, but his biggest obstacle may reside in getting his father to commit to a specific wardrobe choice.
"When my dad first found out that I was getting recruited by Carroll, he told me, 'Isaiah, if you ever end up at Carroll, I'm never going to wear purple,'" the younger Claunch said. "'The most I'll do is wear a purple shirt that says Tech on it.' Now that I've fully committed, he keeps messing around with me and saying he's never going to wear purple. I know he'll give in."
Just like his father, Claunch will play his collegiate football in the Frontier Conference. Kane etched his name in Montana Tech's record books in the late-1990s and early 2000s, and Isaiah will attempt to do the same at Carroll.
"He's a great kid and part of an outstanding program at Billings West," Saints head coach Troy Purcell said. "Led his team to the state playoffs each year. There hasn't been anybody that has said a bad word about that young man. He's a high-character young man. He's a great fit with our creed 'C4' and the culture here at Carroll. His athletic ability – he throws the ball really, really well, especially his deep and intermediate ball. Just excited to get him in the room here."
Claunch was All-State in each of his two seasons as West's starter, leading the Golden Bears to back-to-back Class AA state title game appearances. He lost just three games as a starter, two of which were championship games.
At Carroll, Claunch enters an offensive system that shares traits with the one he was so comfortable in at West.
"I just felt the most, almost, appreciation from Carroll," Claunch said of his commitment. "I went for a visit this past weekend. I loved how the team interacted with each other, I loved the coaching staff. We went over a bunch of offensive stuff. Their offense is fairly similar to ours [at Billings West]...Just how they call the plays. The systems they use and different tags they use are actually very similar to the same offensive tags and they way we call stuff at West High."
Claunch pulled the trigger on his commitment Tuesday night, becoming the 14th member of Carroll's 2022 recruiting class, a group that now features 15 high school players. Claunch was the seventh in-state 2022 commitment for Purcell and his staff, and one of the highest ranked, as the No. 15 overall recruit in the state of Montana, as ranked by 247Sports.
"He has some familiarity with some of our pass concepts," Purcell said. "Gotta change the terminology a little bit for him, but other than that, I think he's a great fit. One of the top quarterbacks, if not the top quarterback, in the state. That's a really good get for Carroll College and this program."
Claunch, who is listed at 6-foot-3 and 195 pounds, threw for over 2,500 yards during his senior season. He completed nearly 65 percent of his passes and averaged better than four touchdowns for every interception. In just 27 games, the southpaw quarterback racked up over 4,600 yards through the air and 54 passing touchdowns.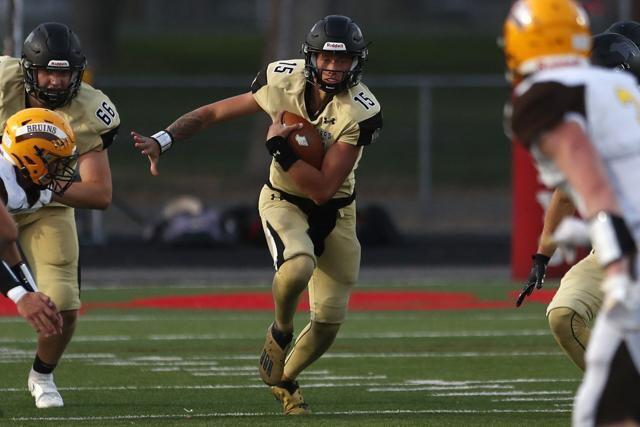 Claunch said he hopes to bring more of a pro-style look at quarterback to Carroll. He said he has been watching Kansas City Chiefs quarterback Patrick Mahomes the last several years and that is someone at the next level Claunch looks up to and might pattern his game after.
When Claunch gets to campus and begins his collegiate journey, he will have a familiar face close by. Billings West kicker and punter Spencer Berger signed with Carroll in early-November and is someone who has known the newest Saint for a long time.
"I love Spencer," Claunch said. "Me and him have been friends for a long time. We grew up together playing travel basketball and baseball. He started playing football our eighth grade year, he started kicking. Eighth grade through my sophomore year, I was always Spencer's holder, so me and him were always really close when it came to PATs and field goals."
For the past five weeks, Claunch said Berger has been in his ear about Carroll and the prospect of spending four or five more years together on the same football team.
"Almost everyday, Spencer was asking, 'So when are you coming to Carroll, when are you gonna sign with Carroll?'" Claunch said. "He said Pfanny was messing around with him and told Spencer that his job was to get me and make sure I come, too."
Claunch turned down offers from two other Frontier Conference schools in Tech and Rocky Mountain College to don the purple and gold. He steps into a quarterback situation at Carroll that saw true freshman Jack Prka replace veteran Devan Bridgewater as the starter mid-season. Claunch's addition – given that he learns the playbook rapidly – could add some immediate depth to a Saints position group that is relatively young.
"Competition, competition, competition," Purcell said. "That's what we strive for around here. Iron sharpens iron. The more talent you get in this room, and in every room, is going to help increase your competition. When you increase your competition, you get better. You gotta strive to get better each day and it helps reinforce that."
Purcell does not make a habit out of deciding whether or not players will redshirt early in the preseason. He leaves that decision, in large part, up to the players themselves in how well they pick up what is being shown to them. At any position, if a freshman comes into camp and is the best player, he will likely get the lion's share of the playing time on a team coached by Purcell.
"Purcell told me that it's going to be a competition," Claunch said. "He said that nothing is given to you, it's always earned. I took that to heart with the realization that, yeah, Jack Prka started last year, but I want to come in and battle for the spot, as well."
Purcell said Claunch will be the first left-handed quarterback he has ever coached. He said the coaching staff liked Claunch's leadership ability and athleticism at the quarterback position, as well as his ability to extend plays with his legs, if needed.
Claunch said he plans to study Civil Engineering at Carroll.