HELENA — Winning on the road in the Frontier Conference is tough. Pulling off the doubleheader (men's and women's) sweep against two top-5 Carroll teams is even tougher. That is, however, what Rocky Mountain College accomplished on Saturday afternoon. The Battlin' Bears women knocked off No. 5 Carroll 66-62 and the men followed with an 81-76 upset of the No. 2 Saints hours later.
N'Dea Flye's free throw with less than 10 seconds on the clock pushed her to the 30-point plateau, ensuring a second-straight such game for the senior. It also added the proverbial icing on the cake of Rocky Mountain's 15th victory in 16 attempts this season.
"It's amazing," Flye said post game. "We were picked to finish last in the conference, nobody even thought we could be 14 or 15-1. Getting this win against the fifth-ranked team is just amazing. We showed a lot of pride. We've been working hard and prepped for moments like this."
It was not long ago that Rocky Mountain went 1-11 and faced all kinds of adversity just to piece together a season. It was even more recent that the Battlin' Bears were picked to finish fifth in the preseason coaches poll. Now, Wes Keller's team is all alone atop the Frontier standings at 4-0.
"All wins on the road are great wins," Keller said. "We came out of the gate fast and built six- or seven-point leads and they closed the gap at half. They took control in the third quarter. Our kids – I give them a lot of credit – they stuck with what we do and found a way. Kloie, those were two huge shots. Those were big. N'Dea Flye is a great player and can do a lot of things but she also has several people around her that can help the cause."
Flye finished with 30 points, 12 rebounds and five assists. She played all 40 minutes of the win, sank 13 field goals and chipped in three steals. While she hit some key free throws late, it is Kloie Thatcher that should be credited with the biggest shots of the night for Rocky Mountain.
Trailing 58-55 with 3:05 left in the fourth quarter, Thatcher buried a 3-pointer, tying the game. One possession and 45 seconds later, Thatcher did it again, giving the Battlin' Bears a three-point edge they would not relinquish.
Rocky Mountain trailed by as many as five points in the fourth quarter after building and maintaining a three-point first quarter cushion. The Battlin' Bears led by a point at halftime, but a 16-12 Carroll third quarter flipped that script. Still, Rocky Mountain never backed down, held Carroll to just 10 points in the final 10 minutes and earned the victory.
"We don't give up, we don't even think about it…We'll never give up," Flye said. "That's the fight in us. When you're picked to finish last [in the conference] and you're an underdog, you have nothing to lose. So you always give it your all no matter what."
Flye's collegiate journey has taken her to a pair of different NCAA Division I schools as well as a junior college. She redshirted with Rocky last season, saw the adversity first-hand that the team experienced, but also the pieces that Keller had pulled together. At that time, Flye felt like Rocky was one or two players away from competing.
"For me, I just thought that when I come back this next season, it's time to take over," Flye said. "All we needed was one facilitator for our team because we have playmakers all around our team…I've been on three different teams and this is my first time having this big of a leadership role. They've given it to me and I make sure I prove it to them all the time. I love playing with them, they're all great."
Mid-way through the season, Flye is averaging 20.3 points and 10 rebounds per game. She has scored at least 30 points in three of her last four games. Most importantly, Rocky Mountain is 4-0 in those games and is soon-to-be nationally ranked.
"N'Dea is an elite player in our league, at our level," Keller said. "She had 12 boards and five assists. She's done a nice job of picking and choosing when she can go get her's and then when she can set-up teammates for easy ones."
Carroll struggled shooting the basketball in the fourth quarter. Holding a three-point lead going into the stanza, the Saints shot just 5-for-16 down the stretch and committed five fourth-quarter turnovers.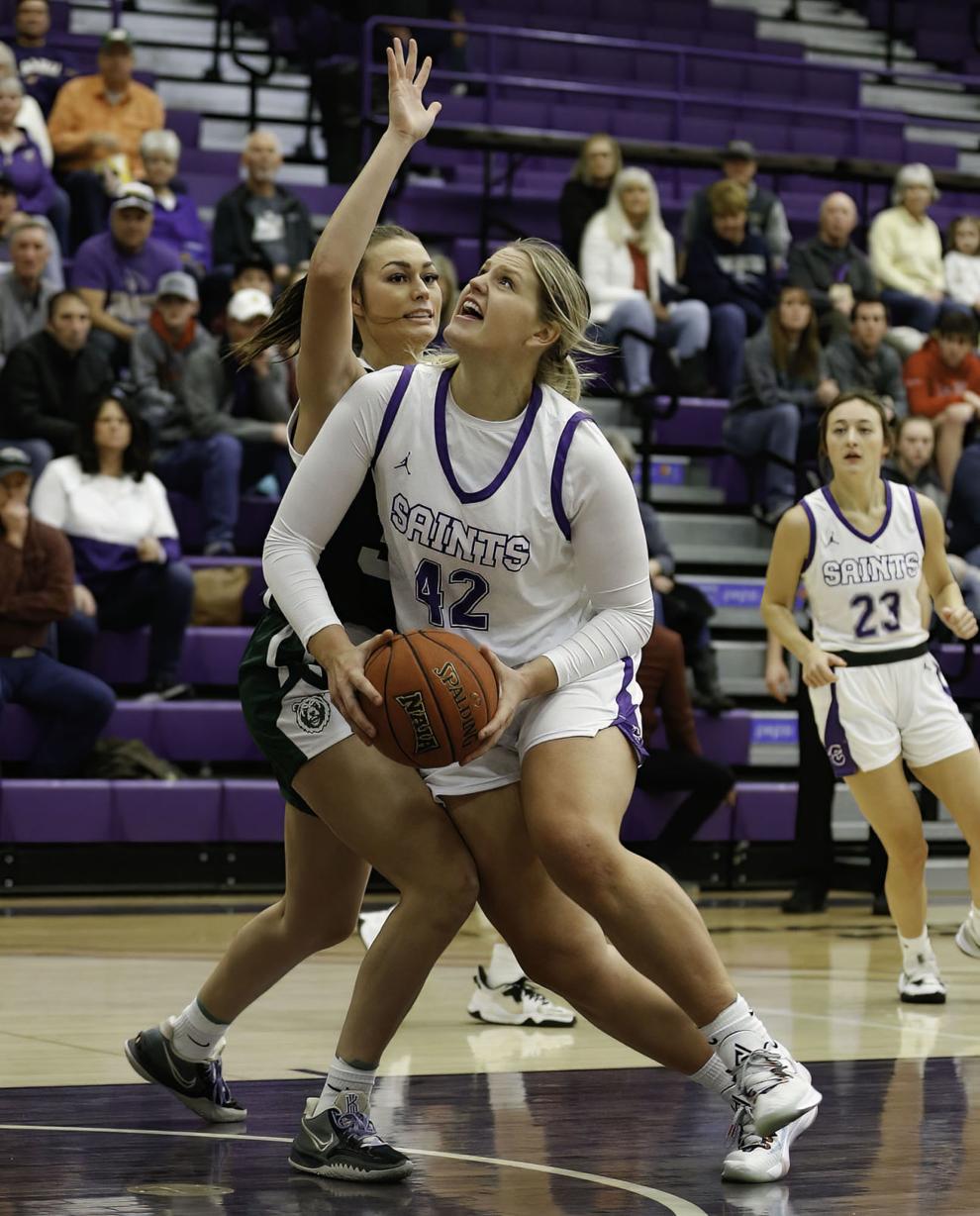 Jamie Pickens and Sienna Swannack helped put the Saints up five points around the four-minute mark, but Rocky Mountain reeled off an 11-0 run to seize control.
"I thought we came out a little flat early," Saints head coach Rachelle Sayers said. "I think the kids felt the pressure a little bit, we didn't come out with the same edge we've been coming out with…We had to battle our way back in the game. Got the lead in the fourth and just had some untimely turnovers and a little bit of indecisiveness. We gave it back to them and put the ball back in Flye's hands. I thought Sienna did a really nice job on her, but she's their closer, and when you turn it over and give them extra opportunities, she's gonna make you pay."
Carroll turned to a 2-3 zone in the second half and saw decent results from it in the third quarter. Rocky Mountain shot just 38.5 percent in that quarter and turned the ball over four times. The Battlin' Bears adjusted, however, and clawed just enough offense together to slide past the Saints.
Dani Wagner, Carroll's leading scorer, was just 1-for-7 from the field for three points on Saturday. Swannack paced the Saints with 19 points on 7-for-11 shooting, while Jamie Pickens poured in 16 points and eight rebounds in 24 minutes. Christine Denny scored 14 points, pulled down six rebounds and dished out five assists in the loss.
"They were chasing Dani all over, we had a tough time getting her some open shots so other people had to step up," Sayers said. "We felt like we did have an advantage in the paint. I thought all of our posts took advantage of that. Sienna is a great player and we need her to be able to score and do that."
Two Saints achieved career milestones on Saturday. Denny and Jaidyn Lyman each played in their 140th career game at Carroll, collectively passing Jolene Fuzesy for the most in program history. Denny and Lyman are 108-32 (.771) in those games and have not missed a countable contest in the last five seasons.
For Rocky Mountain, Thatcher joined Flye in double figures with 10 points. Shauna Bribiescas and Mackenzie Dethman each scored eight points in the win.
The Battlin' Bears extend their win streak to 13 games and sit at 15-1 on the season.
"It was crazy," Flye said of the post game locker room. "Felt like we just won the whole thing. We were really cheering, but at the same time, we still remembered that we've gotta play [Carroll] two more times. We're gonna take advantage of what this feels like right now."
Carroll falls to 15-3 on the season, 3-1 in league play and 8-2 at home.
"You can't get too high and you can't get too low," Sayers said. "This is a long season…A lot of things can happen. It's a long season. I told [the players] that we've gotta keep getting better and we've gotta keep staying together and that we've gotta come out ready every game because everybody is going to give us their best."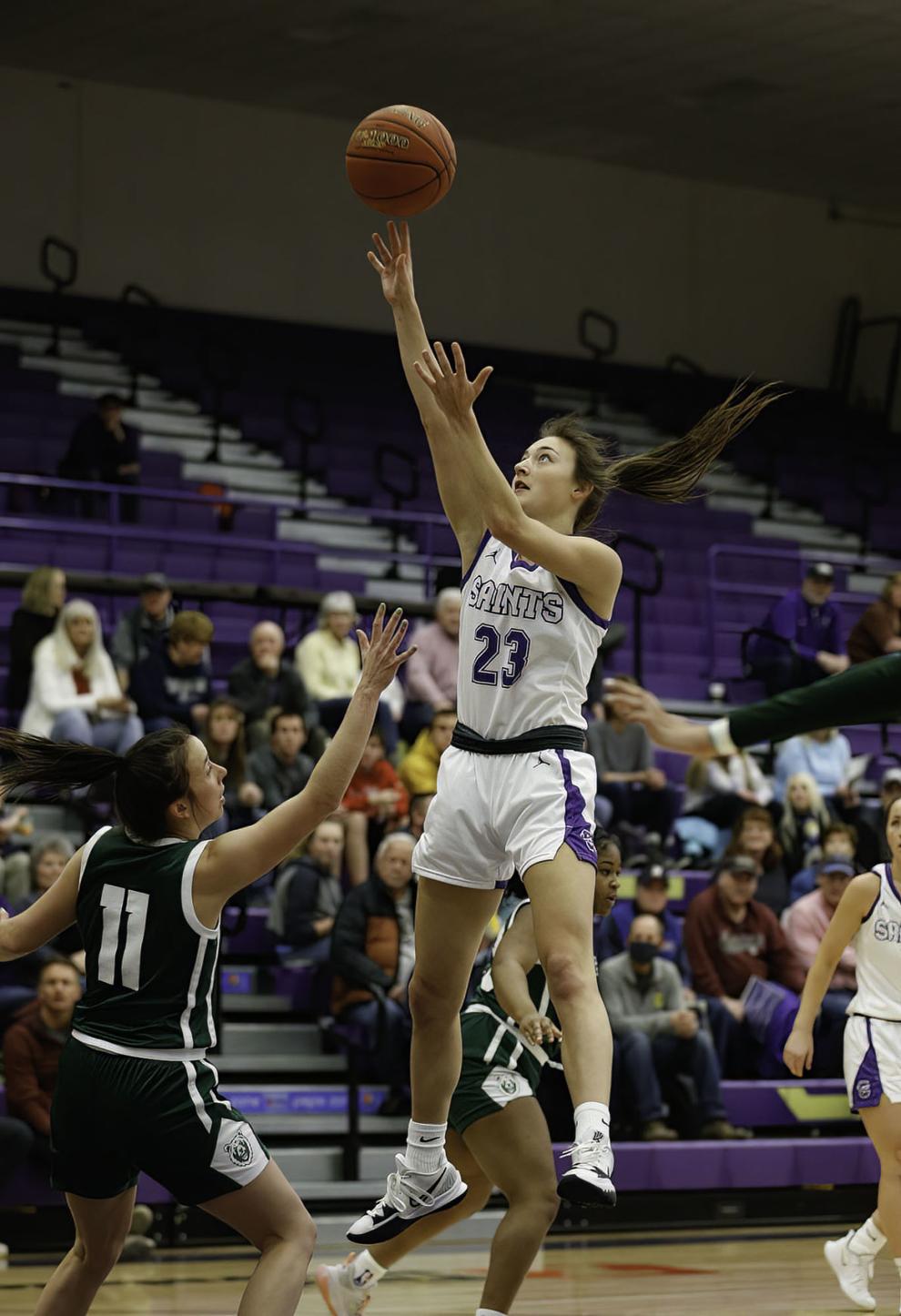 Rocky Mountain men snap conference losing streak with win over Carroll
Entering Saturday, it had been more than a calendar year since the Rocky Mountain College men's basketball team won a conference contest. Maybe that is why the cheers from Battlin' Bears players and coaches could be heard through the visiting locker room doors after a gutsy road victory over the Saints.
"We were definitely celebrating as soon as we got back in the locker room," Kael Robinson said. "Jumping around, giving the coach the ole water on the head."
Bill Dreikosen's travel roster consisted of just nine players on Saturday. Leading scorer Maxim Stephens did not play and neither did Tayshawun Bradford. Cade Tyson, Rocky Mountain's starting point guard, played just four minutes before exiting with an injury.
Still, the Battlin' Bears persisted, receiving a game-high 20 points from Robinson, 19 from Abdul Bah and 10 from Jesse Owens to get the win.
"It doesn't matter with that, eight or nine guys, you gotta go out there and bust butt," Dreikosen said. "Carroll is a great team. They're just tough, tough in every facet of the game. Just proud of our guys. I thought our defensive effort for 40 minutes was very, very good. Especially late in the second half we held up defensively. They made some plays but we were able to shut their shooting percentage down in the second half."
Carroll led by six points at halftime. After shooting 68 percent in the game's opening 20 minutes, the Saints dropped off to 40 percent, including a 3-for-11 (27.3 percent) effort from 3-point range.
Rocky Mountain capitalized on defensive stops, turning them into high-quality looks on the other end. The Battlin' Bears out-scored Carroll 32-28 in the paint, with many of those coming on driving lay-ups or drop-off passes to open guys around the rim.
"Their ball screens were really hurting us," Saints head coach Kurt Paulson said. "I thought Jesse Owens did a nice job for them at the point. The other kid that really hurt us was Kael Robinson, he had a couple scoop shots and head fakes and we were going for his fakes. He got some lay-ups and some tough ones in the second half. We just didn't guard like we normally do. I felt like we were a step behind on their ball screens."
Rocky Mountain pressed Carroll in the second half. After cutting the Saints' lead to three points early in the second half, the visitors finally went ahead at the 6:22-mark on a Bah lay-up. Robinson knocked down a big 3-pointer with four minutes to play.
Carroll responded. Gui Pedra buried a game-tying 3-pointer with 95 seconds to play. Pedra came up with a steal one possession later, but Carroll missed two lay-ups in transition and could not capitalize on an inbounds play.
"Rocky deserves a lot of credit because they were down players," Paulson said. "The kids that were available played super hard and made the plays when it mattered. Obviously disappointing [for us]. That's a game that, on paper, we thought we should've won. We just didn't make the plays and I didn't put our guys in a good position. I felt like I didn't coach a good game overall."
Owens connected on the go-ahead lay-up with 40 seconds remaining. The Battlin' Bears, a team that brought plenty of energy on the road with them Saturday afternoon, shot nearly 52 percent from the field in the win, including 56.3 percent from long-range.
"You know if you do bring energy there's no guarantees, but if you don't, there's plenty of guarantees," Dreikosen said. "That was one thing, we need excitement and energy. You've gotta create the excitement and every guy who was out there for us was playing their role and doing what they needed to do. I thought we took care of the ball extremely well in the second half against a good defensive team."
Owens paced the Battlin' Bears with six assists and Bah recorded five. Nick Hart scored 10 points off the bench and Beau Santistevan chipped in 14 points on 4-for-7 shooting, and four rebounds.
Jovan Sljivancanin paced Carroll with 19 points. Pedra scored 16 points off the bench and Shamrock Campbell contributed 15 on 6-for-9 shooting. Brendan Temple chipped in 10 points, seven rebounds and four assists for the Saints.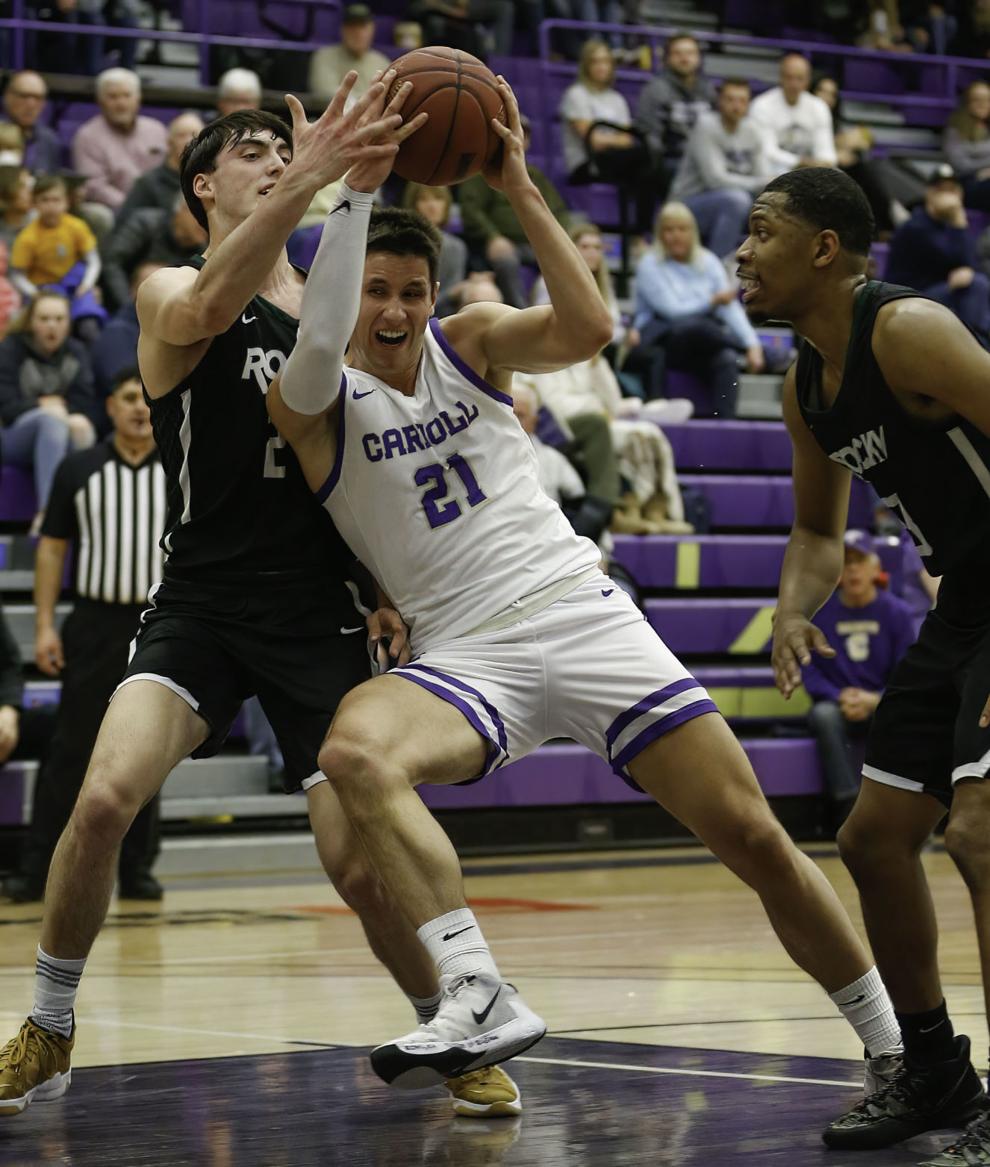 Rocky Mountain improves to 8-8 on the season, but perhaps most importantly, finally earns that elusive conference victory.
"It's all credit to the guys," Dreikosen said. "I have a great staff…These guys, that's who the credit goes to. It's fun to see them be excited. If you can't be excited after a good, quality win like that, what can you be [excited] for?"
Carroll falls to 16-2 overall, 3-1 in league play and 8-1 at home.
"We just kinda need to mature as a group and learn from this loss," Paulson said. "I can do a much better job coaching the team than I did today."
Rocky Mountain is scheduled to be back in action on Thursday, at home, against Montana Western. Carroll hits the road to face Providence next week as Frontier play continues.