HELENA — After one of the more decorated high school football careers you will find in the state of Montana, Gavin Vandenacre is a Saint. The Townsend wideout and defensive back announced his commitment to Carroll College on Saturday morning, becoming the fifth in-state recruit in the Saints' 2022 recruiting class.
"I'm really excited," Vandenacre said. "It was a big decision for me. I made my decision a little bit later than most people but I was taking everything into account and figuring out where I would be the happiest and where I felt like I'd fit in the best. Carroll just ended up being that place."
Vandenacre said that, in addition to Carroll, he had offers from Frontier Conference teams Montana Western and Montana Tech, as well as preferred walk-on opportunities with Montana and Montana State.
Some of Vandenacre's relatives reside in Helena, meaning they have just a short drive to Nelson Stadium to watch the next stage of his career. Vandenacre said that factored a little bit into his decision, but ultimately, he just felt better about the football culture Carroll has in place and the experience it offers.
"They're all very professional and classy with everything they do," Vandenacre said of Carroll's players and coaches. "The coaches there don't just pick good football players, they pick people who have good character. That's kinda the environment I wanted to be around. I wanted to be around people who cared about not just how good you are as a football player, but also cared about who you are as a person."
Vandenacre was a three-time All-State selection on the football field. He capped off his high school career at Townsend with a quarterfinal appearance in the Class B state playoffs and was All-Conference on both sides of the football — wide receiver and defensive back.
He established new Townsend program records with 49 receptions, 1,130 yards and 16 touchdowns last season. His 210 receiving yards against Big Timber this season also set a new record.
"Gavin is a guy that we at Carroll have had our eye on for quite a while," Carroll recruiting coordinator Alex Pfannenstiel said. "He had a great high school career out in Townsend. Having coach [Travis] Rauh out there. Joe Horne is the defensive coordinator — former Carroll Saint, Carroll Hall of Famer. He was a guy that they kinda let us know that he was pretty talented. He had a very successful career out there playing both sides of the ball."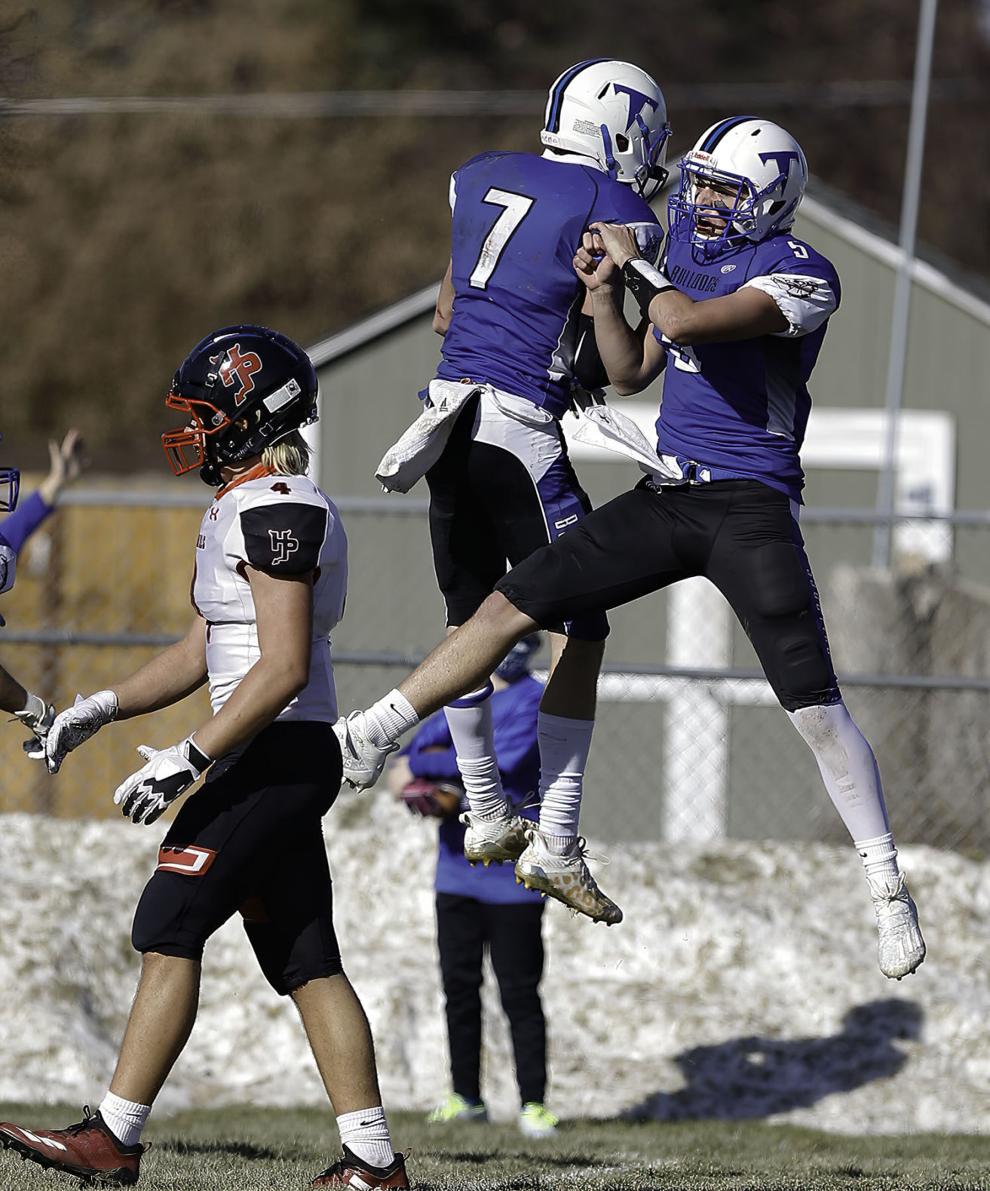 For his career, Vandenacre caught 140 passes for 2,738 yards, both Townsend football records.
"Gavin is a versatile, explosive athlete," Pfannenstiel said. "Obviously he's tall. He can run. He's great at playing the football in the air and tracking it. When you watched Townsend play this year it was evident that he was kinda the pivot point of what they did offensively. Everything was featured on either getting Gavin the ball or using Gavin to get other people opportunities."
Vandenacre, like many of Carroll's recruits, got to experience a Saints game day this season. He was on campus for the Tech game in early September and witnessed a 31-17 Carroll victory. Vandenacre said it was great to see all the fans in the stands for a rivalry game, and, to him, that showed how invested the community is in the football program.
Vandenacre also fielded a home visit from Saints head coach Troy Purcell, a visit that helped Vandenacre see just how committed Carroll was to getting him in purple and gold.
"He came here and he told me very clearly what his plans were for me and what Carroll had planned for me," Vandenacre said. "It was really special just knowing that he took the time out of his day to come and find out more about who I am as a person and find out more about who I am as a football player, as well. That made a huge, huge impact on me."
The 6-foot-3, 180-pound future Saint joins Spencer Berger (Billings West), Forrest Suero (Helena), Kade Schlepp (Helena) and Jacob Sweatland (Missoula Hellgate) as Carroll's current in-state commits for the class of 2022.
Jack Foster (Idaho), Dylan Pullen (Utah), Zack Schlottmann (Oregon) and Johnny Amezcua (Washington) are the four known out-of-state commits for the Saints, bringing the program's total number of known commitments thus far to nine.
"I wanna bring work ethic," Vandenacre said. "I wanna learn the playbook inside and out, I wanna be on the same page with everybody who's on my team. I wanna go there and make an impact and make sure that I help my team win. I've never been somebody who wants — individual stats are cool and all — but at the end of the day the only stat I think matters is what the scoreboard says at the end of the day. I come there not to work just for myself, but to work for my team and everybody who has counted on me so far."
Vandenacre said he plans to study business finance and accounting at Carroll.