HELENA — Carroll has been looking for a spark. Something to get its football team over the hump of tight games the Saints have found themselves on the wrong side of too many times. Six times in eight games Carroll and its opponent have played one-score games. Four of those times the Saints have lost.
Last Saturday, trailing by 10 points mid-way through the third quarter, Carroll seemingly found its spark.
"I was super excited when they called it," true freshman quarterback Marcus Wittman said. "We've been working on that since the very beginning of the season. We run it every week. You just pray that you get to run it in a game. The chance finally came and we executed it."
The play? A fake punt on 4th and 2 from Carroll's own 45-yard line. Wittman, who is deep on the Saints' quarterback depth chart but serves as the team's back-up punter, found defensive back Tug Smith for a 16-yard pitch and catch. Wittman was blown up on the play, adding a 15-yard roughing the passer penalty that moved the ball all the way to Eastern Oregon's 24.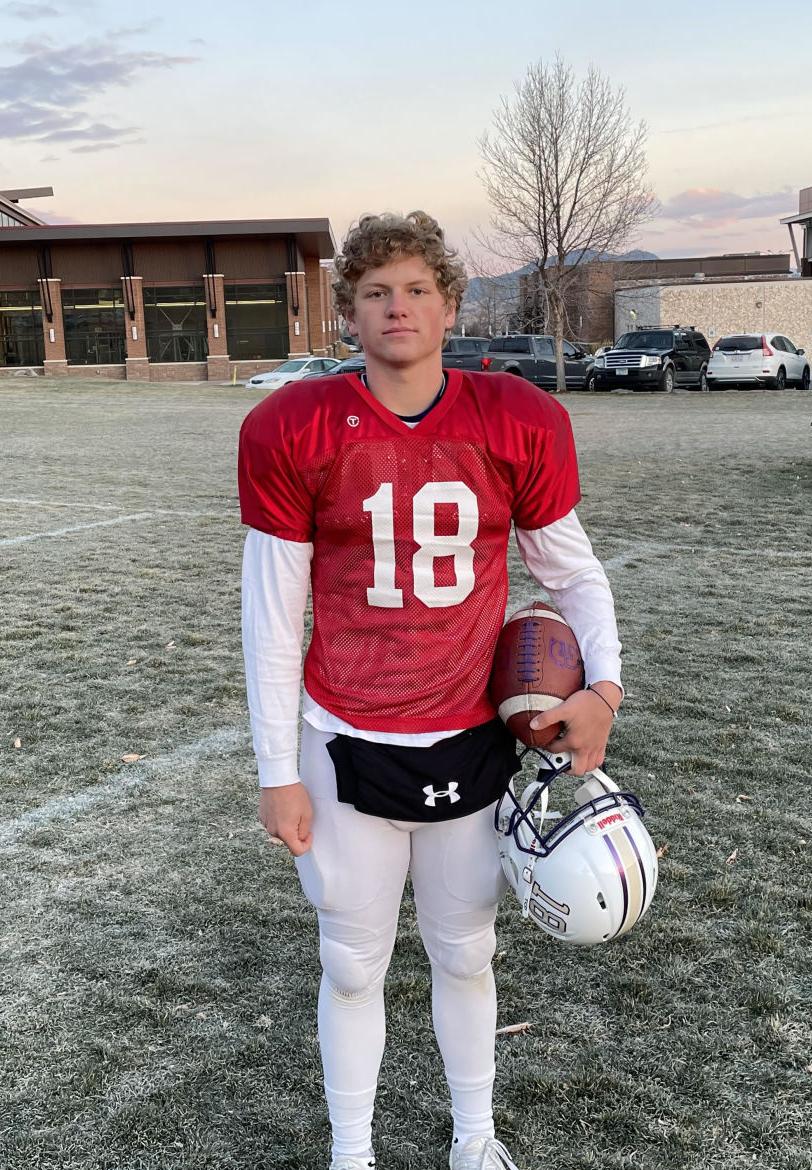 "He got whacked on that fake punt we ran," Carroll head coach Troy Purcell said. "He's a very, very athletic kid. Great quarterback at Billings Central. He's been in big moments before and he understands that. He's a multi-sport athlete and he's been in critical situations. They were in kind of a punt safe scenario at Eastern, so he was waiting for the receiver to clear. We're all saying 'throw the dang ball' and he held in there, and sure enough, he made a nice throw and got the first down."
Carroll scored a touchdown on the very next play, kicking off a 17-0 run that propelled the Saints past EOU.
As essentially the fourth quarterback on Carroll's roster, Wittman has had to make the most of his playing time. He punted during his senior season at Billings Central High School, and after a bit of an open tryout for the Saints' back-up punter role, earned that spot in the early part of the season. From there, the fake punt idea came naturally with his skills as a quarterback.
What was even more special for Wittman on Saturday, however, came as a product of the other half of his rather unique role.
Carroll has developed what it calls a "joker" package that puts two quarterbacks in the game at the same time. Wittman is typically inserted at the "traditional" quarterback position while the other is split wide.
The Saints have pulled that package out a few times and view it as a variation of the "wildcat" package other teams around the country use.
"It's an opportunity to run a quarterback," Purcell said. "He's a little bit better built for that. Bigger, thicker, heavier body and very, very athletic. He gets downhill well. We've seen it at practice...It takes the hits off our other quarterback. If you run a quarterback for 10 or 15 games during the year, there's a chance he's going to get beat up a little bit. In crucial games we'll do it, but if we can have a package — and Marcus can throw the ball, too. You've gotta be really careful as a defense just not loading the box when he's in there."
A quarter before his fake punt heroics, Wittman found himself on the field in that package with a chance to score. Two plays after Carroll recovered a fumble in plus territory, the Saints pulled out that personnel on the 7-yard line and watched as Wittman rumbled into the end zone for his first career touchdown.
"That was awesome. That was a great feeling," Wittman said. "Coming here, I didn't really have expectations of playing or even scoring, so this last week when I heard I was gonna get the opportunity to run the ball, I was super excited. Obviously punched it in with the help of our offensive line and wide receivers blocking. It was just a great feeling."
Wittman ended up throwing the ball once, running it three times and punting it another three times. He had the Saints' longest punt (45 yards) on Saturday, scored a touchdown and helped set up another.
"I'm all about winning," Wittman said. "I'll do whatever it takes, whatever the coaches ask. I'll step in and do it to the best of my ability."
Purcell talks all the time about being at your best when that is needed from you. It is one of his cornerstone sayings and beliefs and a mentality he wants his players to buy into and show on Saturdays.
Needing a defensive stop up seven points with 90 seconds left to play last Saturday, a glaring example of that mindset came speeding around the end of EOU's offensive line.
It was a similar situation to the one Carroll found itself in two weeks ago against Rocky Mountain College. The Saints were unable to hold their advantage in that game, but more recently, stepped up to the challenge against EOU.
"There's a perfect example. Let's end this thing now, let's not give them a chance," Purcell said. "It just showed well for him and for an individual to step up, and for a unit to step up. Without the other 10 guys, you're not making that sack because everybody else needs to do their job."
True freshman Hunter Peck, a hybrid defensive end/linebacker who had not yet recorded his first collegiate sack, picked up two on back-to-back plays to help ice the contest.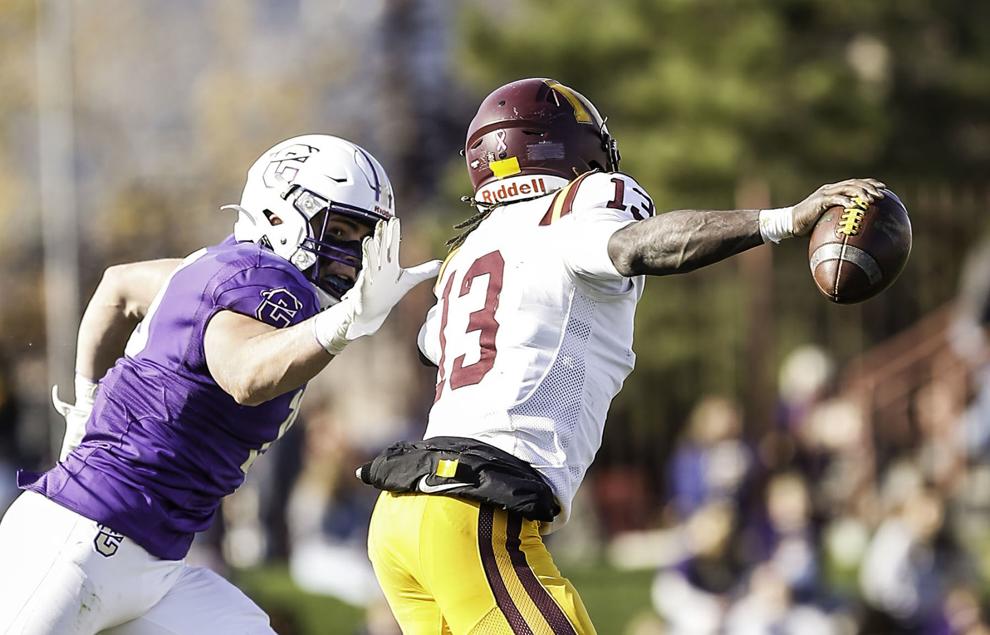 "We've been in a lot of close games. I think going to Oregon and [having] not won there in a while, I think we just knew we had to finish and we had to put that thing away," Peck said. "If we got off the field, the offense would finish it off for us...I honestly really didn't have any thoughts [after the first sack]. I was just really excited and really pumped up. Celebrated with the teammates, then got back on the line to do it again."
Trailing by seven points and needing a score, Eastern Oregon faced 3rd and 8 from their own 27-yard line. With how much time was left on the clock, if Carroll got the ball back, the Saints would have been able to enter victory formation.
Peck, a 6-foot-2 linebacker from Windsor, Colorado, speed rushed off the edge and took down EOU's quarterback. Then, he did it again — essentially ending the game with less than 60 seconds left in the fourth quarter.
"Sacks are so hard to get, it's unbelievable. To get two of them, it's just outstanding," Purcell said. "His work ethic [is good] and he's a very intelligent kid. He's going to get into the medical field coming in here from Colorado. He's really shown well and he's really grown as a player. In each game he gets better. Coach [Wes] Nurse and the defense have put him in good spots to be successful and he's performed."
Like Wittman, Carroll picked up Peck in its most recent recruiting class. Peck's dad attended Montana Tech and Peck said he has family members that live in Montana. They all spoke highly of Carroll and after entering fall camp without many expectations of playing time, Peck slowly worked himself into the lineup before ultimately making his game-altering plays on Saturday.
"No better feeling than that," Peck said of that final sack. "Especially because we have a few seniors on the team that got their first win in Oregon. I was super proud of that and super happy for them."