CALDWELL, Idaho — A blocked 38-yard field goal with 42 seconds left kept Rocky Mountain College unbeaten early in the Frontier Conference football season with a 33-30 win at the College of Idaho on Saturday.
College of Idaho had driven from its own 2-yard line to Rocky's 21 and was threatening to score the tying or go-ahead points with time winding down. Consecutive incomplete passes set up the field goal attempt by Yotes kicker Cameron Simons, but Rocky blocked it to keep the lead.
Freshman defensive back Brail Lipford was credited with the block. The Battlin' Bears took over and were able to kneel on the ball, run out the clock and improve their record to 2-0.
"We got down 10-0 within the first 2½ minutes," Rocky coach Chris Stutzriem said during a phone interview afterward. "Our team stayed the course. I really thought our guys did a great job of staying in it. It's good to see our guys stay together and trust each other and trust the process."
Rocky quarterback Nate Dick threw for 294 yards with two touchdowns and an interception, and also rushed for 56 yards and another score. Dick connected with receiver Donavan Sellgren for an 85-yard touchdown pass in the third quarter to put the Bears ahead 23-22, a play Stutzriem said was made possible by a downfield block by freshman DeNiro Killian Jr.
"What a great play," Stutzriem said. "Our guys are getting the ball on the edge and we're making people miss. We're doing a good job with that."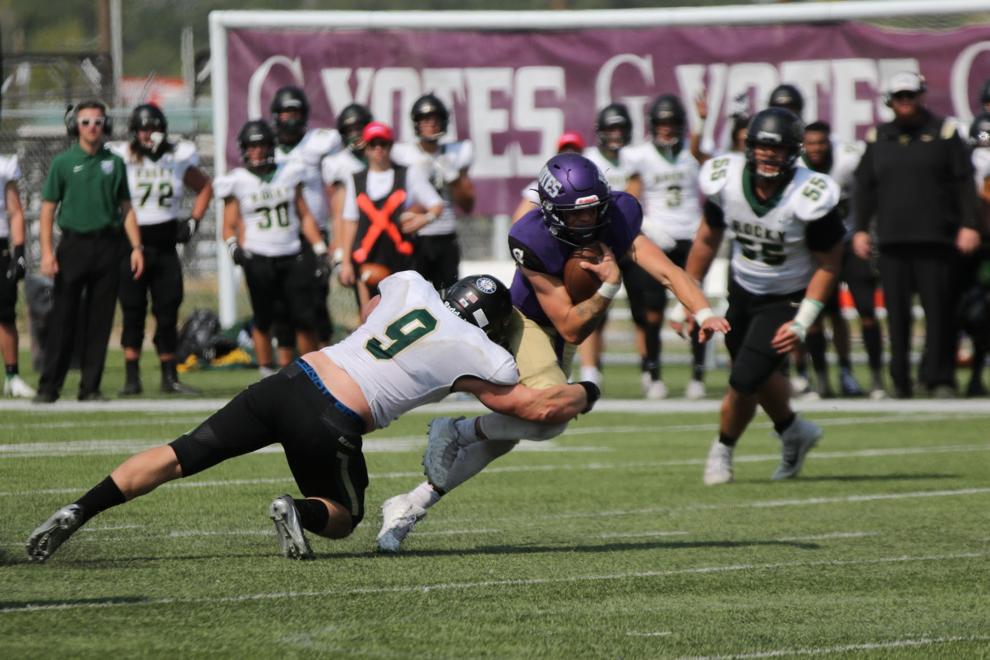 Victor Ngalamulume's 3-yard touchdown run with 13:19 remaining gave Rocky a 33-22 lead. The Yotes pulled back within three points when quarterback Ryan Hibbs hit Connor Gagain with a 9-yard scoring pass with 7:42 left, capping an 11-play, 92-yard drive. Hibbs and Gagain subsequently connected for a successful two-point conversion pass.
College of Idaho took a 10-0 first-quarter lead as QB Jack Rice, who later left with an injury, scored on an 82-yard run and Simons made a 23-yard field goal. Rocky got on the board when Dick found Trae Henry for a 42-yard score.
Yotes running back Nick Calzaretta got in the end zone on a 21-yard run in the second quarter, which was answered by an 8-yard Dick run. But Rocky's ensuing extra-point attempt was blocked, and C of I's Taeson Hardin returned it the other way for two points.
Rocky kicker Riley Garrett made field goals of 35 and 33 yards in the second half. Simons made a 29-yarder in the third quarter, but that was followed Dick's long hookup with Sellgren and the Bears never trailed again.
Ty Reynolds had 11 tackles and an interception for the Bears' defense, while defensive lineman Ethan Hurst was credited with three quarterback sacks and 5.5 tackles for loss.
Both Rocky and College of Idaho, which dropped to 1-1, have byes this coming week.
Stutzriem said Rocky "will practice a couple days this week but also take some time off to heal some guys and get ready for a big homecoming" against Montana Tech on Sept. 18.