A Montana State Junior Championship champion and Mining City native has joined the Orediggers.
Butte's Kaven Noctor officially signed with Montana Tech on Wednesday, committing his future to head coach Sean Ryan, just a few months after the senior helped the Bulldogs to a sixth place finish at the snowy Class AA State Championships in October.
Ryan said that Noctor's hard work and love for the game was a major factor, but also the senior's finish in Billings last summer.
"[Noctor] was always on the radar," Ryan said. "Especially after he played so well at the state junior tournament over in Billings. I was on hand to see him close out that tournament, finish at even-par. You go, 'Okay, now that opens a lot of eyes."
"He's a kid you always see at the golf course, didn't matter where I was going, you'd run into Kaven."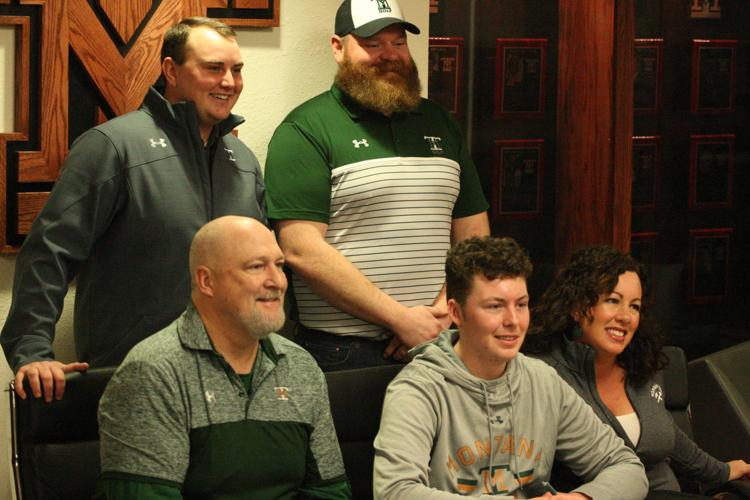 Noctor shot 144 in the 16-17 age bracket of the state tournament, which caught Ryan's eyes, but also attracted attention from MSU Billings and out-of-state schools, according to Noctor.
The Bulldog's enjoyment of practice is why Ryan and other Butte golfers see Noctor around, and the future Oredigger says that he's had a love affair with practicing since elementary school.
"I've been golfing my whole life," Noctor said. "I think probably sixth grade was when I started to play a lot, like every day… I love to practice golf, I was pretty much in love with practicing every day and trying to get better every day."
While Noctor's desire to play golf made it likely that he would play at the college level, the senior said that Ryan helped sell him on the benefits of going to Tech from an academic perspective.
"[Ryan] was saying about how it's a great option and great school," Noctor said. "Education was the main reason I came here. I just know him from my cousins, uncles, we're all friends with him and he's a great guy."
Noctor links up with Helena Capital's Gabe Witham, who he competed with often throughout individual and school tournaments. Witham signed with the Orediggers last December.
Ryan mentioned that other signings are in the works, but specified that the adding of a Butte native like Noctor was positive for the golf program, athletic department and is something that they'll continue to work towards.
"It's important for Montana Tech," Ryan said. "As a university and athletic department to get the top tier talent, especially when that top talent is here in town. You've got to get the Butte kids, especially kids of Kaven's caliber. It'll breed a lot of success for our program."
While Noctor isn't leaving the Mining City, he does take another step to moving on from being a Bulldog.
The senior said that he had a great time over his four years with the Bulldogs, and that he'll miss the golf and everything in between.
"It was a great experience," Noctor said. "It was a quick four years, but it was a lot of fun. Great coaches and the bus trips and hotel rooms, that was the most fun. When I was golfing I was serious."