BUTTE — A week ago, No. 15 College of Idaho amassed nearly 400 yards on the ground in a win over rival Eastern Oregon in each team's Frontier Conference opener.
As the Yotes travel to the Mining City this week, Montana Tech knows exactly what's coming.
"They've got some incredibly gifted athletes … I think if you make little, technical mistakes, you can get into big trouble in a hurry," Oredigger head coach Chuck Morrell said. "So you got to be sound across the board in your decision making, with everything from the front to the back half."
Stopping a talented rushing defense is a hard ask. Tech has experienced linebackers and a sound defensive backfield, but the line is still a bit of a question marks.
On the two deep ahead of the opener, Jesse Simms, Chase Barta and Arthur Flynn are all listed as starters. Flynn had the most experience of the three, but all will be backed up by underclassmen. Simms himself is just a sophomore.
They might need to lean on the experience of the rest of their defense. For those seasoned players, the task is simple.
"We just need to play our own game and just stick to our keys and stick to our rules and not go and play their game," senior safety Tucker Rauthe said. "That's when they put up 400 yards rushing."
The Yotes are led by dual-threat senior quarterback Darius-James Peterson as well as talented running back Nick Calzaretta. Those two combined to accumulate 249 yards and three total touchdowns against the Mountaineers.
Peterson was also efficient through the air as well, completing 9 of 13 passes for 100 yards.
"(They've got) fantastic receivers, great running backs, a very strong offensive line, we're gonna have our hands full," Morrell said. "A big thing I always talk to our guys about is that we make sure we're in the game in the fourth quarter and give ourselves an opportunity to go down and win it at the end."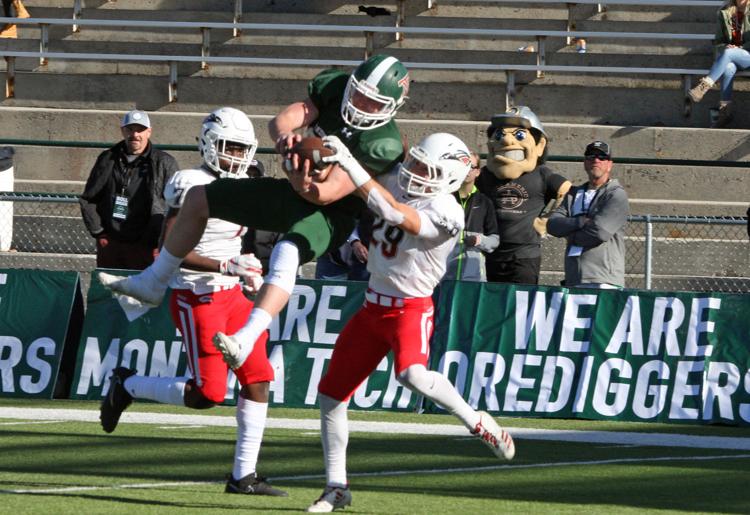 THREE KEYS
Drive the ball
Possession time will be key in this game, especially if the Yotes try to establish the pace off the bat. COI ran 69 plays in their first game, so it will be interesting to see if that trend continues.
Despite the face-paced nature of Tech's offense over the past few seasons, expect to try and run the ball a little more this year. There still will be tempo in the offense, but it might just a little different than Tech fans are used to.
"I really think back to the day we started and I'm talking about this fall, I'm talking about last spring. Where we've come from that day to now, we've made tremendous strides," Morrell said. Sky's the limit for our offense. We have a long ways to go in some certain areas, but from the same standpoint, to see the efficiently and execution rate of where they're at in a new system, I'm very pleased."
Having quarterback Jet Campbell complete timely passes and have the running backs gobble up first downs will be huge.
And, speaking of the backs, that brings us to our next key.
Feed Fike
Montana Tech running back Jed Fike enters his senior year with 2592 rushing yards in his career as well as 485 yards on 21 receptions. He has 28 total touchdowns in just 19 games.
A NAIA all-American each of the past two seasons, he is perhaps the Orediggers most important offensive weapon. While his carries might dip a little this year as more backs are rotated in, he has been the bell cow for Tech each of the past few seasons.
He just has one more goal before he finishes his Tech career — something that has eluded him since he transferred in from Dickinson State.
"I'm hungry for a ring, I want a ring this year," Fike said. "My last year, time to come out here and get a conference championship … I'll never settle, I'm never satisfied. Especially with the record we've had in the past couple years."
A good time to be home
Montana Tech will be hosting its annual Copper Game on Saturday, sponsored by Rocky Mountain Credit Union.
The first 300 Oredigger students will receive a free t-shirt and gates open at noon. Tailgating in the new parking lot at the Student Success Center will have its first trial run this week and the lots open at 10:30 a.m.
It should make for a loud and entertaining game.
"The Copper game is a special game for us. We're going to have a great crowd and a good environment," Morrell said. "From our team perspective our guys are chomping at the bit to get out there, kinda in that mode where everyone else in America has a game under their belt and our guys are truly anxious to get out there and show what we have."