This is the most emotionally taxing story I have ever written. Watching Tanner suffer his final concussion, walk over to the sideline and put a towel over his head is burned into my memory forever. It reminded me of my playing days and watching a teammate of mine do nearly the exact same thing. Like Tanner, I love football to my very bones. But concussions are terrifying and for a young man to be so forthcoming about his story in an effort to get people to open up more about mental health should be applauded. Once again, a thank you to Tanner, Kari and Mike for their patience and time -- Jordan Hansen
---
BUTTE — Dizzy and disorientated after taking a blow to the head -- the fourth such trauma in his football career -- Tanner Kump knew immediately.
His career was over.
As his teammates helped him up and slowly guided him to the Montana Tech sideline, that thought was sinking into the redshirt freshman quarterback's concussed brain even as he desperately tried to repel it.
Kump wrapped a towel over his head. He sat quietly during the final eight minutes of the Orediggers' early October loss to Montana Western on the freezing and mucky field in Dillon.
The symptoms were already setting in.
Nausea, Headache. Spinning, Aversion to light.
This was concussion No. 4 for the former Butte Central standout -- the first against Dillon in eighth grade, the second against Corvallis as a high school sophomore and the third just a few weeks earlier at Southern Oregon.
This one was worse and Kump knew it.
He remembered his conversations with his parents, Mike and Kari, after concussion No. 3. He had already decided a fourth would be enough.
The final decision would not come for another two months or so, but Kump had just played his final down of football. It ended with an incompletion as two Bulldog players smashed him into the rock-solid turf.
Incomplete.
Even now, nearly 10 months after hanging up his cleats, that's how his career feels too. Kump was the first quarterback in at least four decades from the Mining City to start a game for the Orediggers.
He showed plenty of promise in preseason camp. Through his first games he looked like a great signal caller in the making.
Then, in a quarter of a second, it was all over.
"When I stood up the first thing I thought of was when I started football," Kump said. "Knowing that it was over, that was pretty tough."
***
Ten months later, Kump, 20, is sitting in a Butte Starbucks reliving his career and injuries. He says he is sharing his story because he wants to talk about mental health.
According to a 2014 study published in the medical journal Injury Epidemiology, former college athletes with three or more diagnosed concussions are 2.4 times more likely to develop moderate to severe depression than college athletes with no concussions.
Kump -- who has not been formally diagnosed with any sort of mental disorder -- said he suffered from depression and anxiety during his initial recovery from his fourth concussion, and still does. It took him a long period of time to speak to anyone about the problems going on in his head and now wants to fight the stigma that surrounds mental health.
"I feel like as much as you think people are going to look down on you, they're not," Kump said. "You definitely should open up to people about what's going on in your life and how you're feeling and I feel like if you don't, you'll regret it, they'll regret it, you're just better off if more people understand your issues."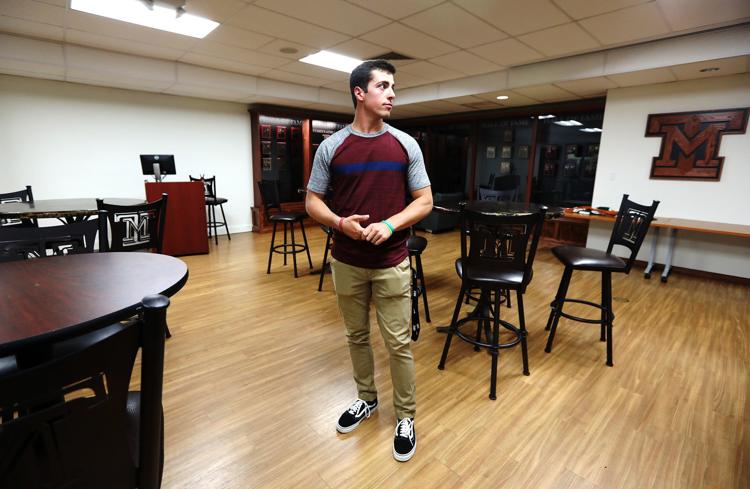 The depression and anxiety, along with a host of others, including loss of appetite -- he lost nearly eight pounds from his already slim build during his recovery -- headaches, memory problems, trouble concentrating and fatigue are symptoms of post-concussion syndrome.
A complex and hard to study ailment, post-concussion syndrome is a broad name given to a variety of symptoms from a traumatic brain injury, according the Mayo Clinic. Kump said the days following were difficult. He spent nearly a month and a half in bed, making at most three of his seven classes a week.
"There would be days where I would stay up until 5 just because I didn't want to sleep," he said. "I mean, like, especially when I could do nothing but stay in bed, I'd stay up as late as I could because it would just get the day by faster. I mean, sometimes you just wish like, it would just be easier if you could just get that day over with."
As the fall became winter, Kump would both improve and decline. Physical symptoms such as the headaches subsided, but the mental issues still persist. He still has trouble studying and turns off most of his electronic devices to concentrate.
The winter also brought bursts of depression, rushing in and back out like the ocean tides.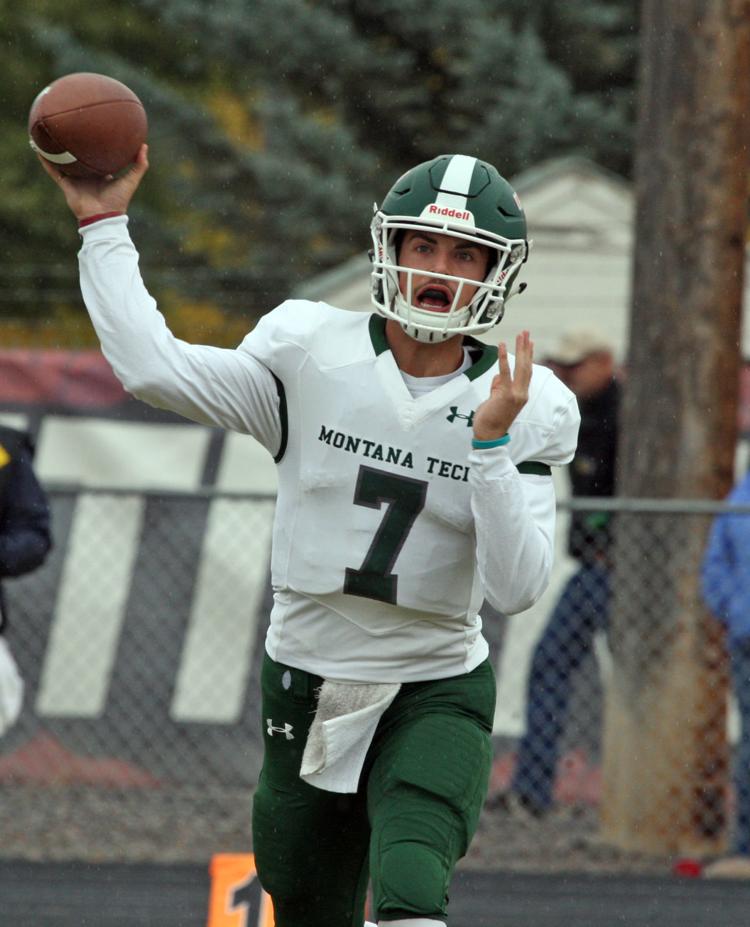 Those continue on occasion even now.
Having decided to quit football, a major part of Kump's life was gone. Without the workouts and practices, he did not see many of the friends he had made playing football nearly as often, though he was overwhelmed with messages and calls of support and love.
Kump was out with friends only occasionally, stopped working out and became mostly a homebody in the house he shares with several other Tech football players. It was not a pleasant time.
He still felt as if he had let his team down, a feeling he hated.
"I didn't really have any motivation to do anything," he said. "Finally I got to the point where I was like, I need to start working out again, I need to start going out again, I need to start hanging out with my friends more.
"Once I did that it felt like a big change. I started feeling like myself and feeling a lot better."
His parents nevertheless worried. Kari often texted her son in late-night chats so he knew support was close.
Even then, it was months before he told her about the anxiety and depression. It was even longer before he mentioned the sleepless nights.
But she knew about the severity.
Her son was kept at home the first week after the hit against Western. This concussion was nothing like the previous three.
"I prayed daily, 'Oh my gosh please let him get through another day. If he needs help, please make sure that he can come to us'," Kari said. "And it was every single day I was constantly checking in on him."
***
Kump was a last-second addition to Montana Tech's roster.
On the final day he could sign as a walk-on, he texted his father that he was going to head up the hill to HPER Complex and join the Orediggers.
He remembers it as one of the best days of his life.
It made his father happy, too.
Mike, a talented athlete in high school himself, had a chance to play for the Oredigger basketball team as a walk-on. Slightly frustrated that he would not be receiving any scholarship money, he decided to forgo the chance. He still wonders what could have been.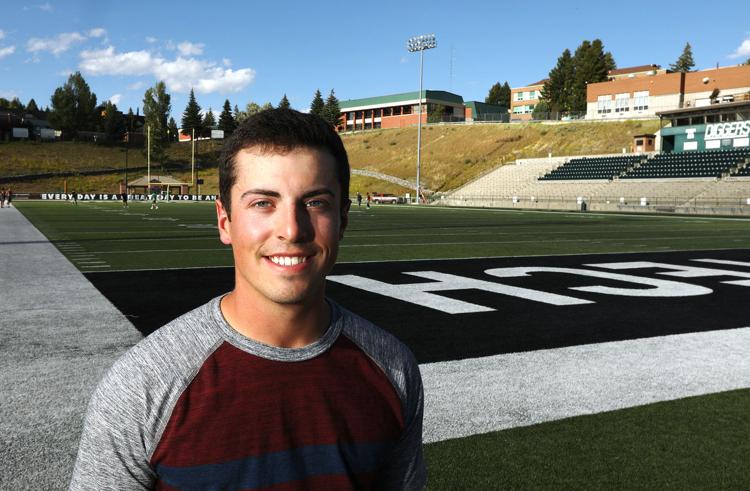 "(When Tanner was trying to decide) I said to him, "I never did it and I always regretted it.' I always wondered if could have made the team, could I have maybe started one year or something," Mike said. "I'll never know and I think about it all the time. I said if you go out for it and like it you like it, and if you don't you don't. You can always not play the next year and at least you'll know what it's like, know if you could have played, known if you could have started."
It was obvious to the coaching staff that Kump could be a special player during his redshirt year. Kump's first year coincided with former standout signal caller Quinn McQueary's final season on Bob Green Field.
After McQueary's graduation, a quarterback competition began in earnest. Kump learned the spot was his just days before the 2018 season opener against College of Idaho.
"At the time we didn't have an heir apparent laid out," head coach Chuck Morrell said. "It was an opportunity for him to come in win the spot and battle and that's what he did."
Put on a full athletic scholarship before the fall of 2018, Kump was on his way to establishing himself as another great talent in a long line of Oredigger quarterbacking standouts.
Though shorter and smaller than an average QB, Kump could dance around in the pocket and had a strong, accurate arm.
As his parents watched from the stands in Caldwell, Idaho, he completed 24 of 39 passes for 248 yards and a touchdown in a 36-16 win. Tech won its next game against Eastern Oregon at home as well.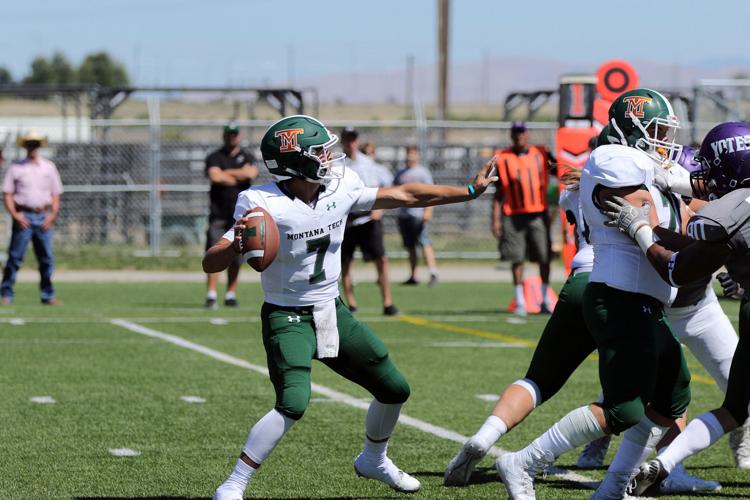 Just like that, Kump was 2-0 as starting quarterback.
It was a great source of pride for the Kumps that their son was playing for the Orediggers.
Mike and Kari met at Montana Tech and are Butte born and raised. Numerous family members on each parent's side are Tech alums.
It also harkened back to a popular Kump family motto.
"No regrets," Kari said. "You do whatever you do, you make your decisions based on the fact you don't want to regret it later. We all have regrets in life so all you can do is try something. If you fail, well that's OK, because at least you tried and then you know. But after, when he got the scholarship, I said to him, 'No regrets, right?' And he said, 'No regrets at all.'"
Kari paused and then laughed with a tinge of sarcasm.
"And now look at where we're at."
***
Despite every precaution being taken, injuries happen.
And though football receives the most attention for head injuries in part because of concerns raised in the NFL, it isn't the sport with the highest rate of concussions. A 2015 study by the American Physical Therapy Association concluded men's wrestling is actually the college sport reporting the most head injuries.
At Montana Tech, student-athlete safety is a priority.
During spring and fall football camps, contact is limited. Many players wear padded covers on their helmets to help reduce risk of head injury.
The team doctor, Butte physician Nick DiGiovine, comes to practice each week to check on Tech athletes.
As a rule, DiGiovine merely advises injured players and their parents about available options and treatments for whatever aliment they are currently dealing with.
After Kump's concussion against Southern Oregon, which was relatively minor, he and his parents met with DiGiovine and head athletic trainer Erin Butori. Kump already felt better after the long bus ride home, but he was held out of the next game against Montana State-Northern as a precaution.
With a bye week following that game, Kump had plenty of time to recover from the blow.
"There was no influence from the coaches," Mike said. "It was totally up to (the medical staff) if he was healthy enough to come back and play. Which, in college, you'd think there was a little more pressure to get this kid back, but I didn't see any of that."
Concussions are not new to the family.
Kari and Mike knew much more than they did with their son's first in eighth grade. They readily concede they had no formal concussion protocol training until he reached high school and thus they said they did everything wrong.
They let him study on the bus home (he was worried about a test the next day) when he should not have been staring at tiny words. They kept him awake when he should have slept and gave him ibuprofen instead of Tylenol, which contains acetaminophen and is better for treating head injuries. Though concerned, they sent him to school the next day.
It was not long before Kari heard the phone ring.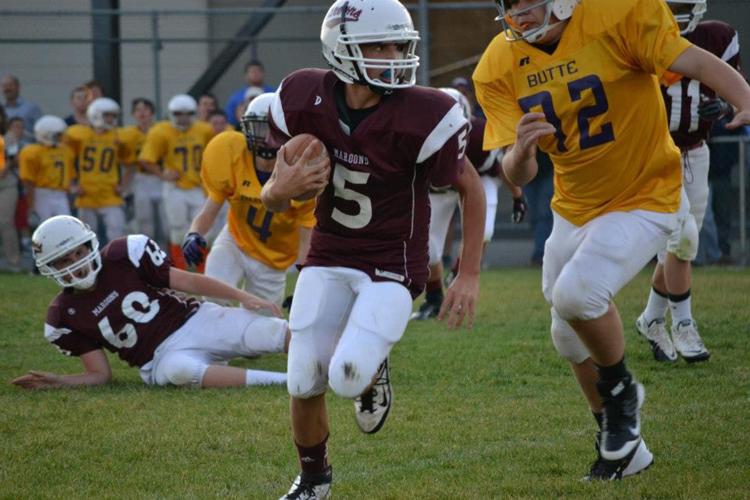 "I remember getting a call from one of his teachers that said he's crying uncontrollably for no reason," she said. "There was nothing that had happened, nothing that instigated it at all. He just couldn't quit crying."
Emotional distress is another symptom of post-concussion syndrome and Kump had a similar reaction after his fourth against Western.
He said he could go from laughing at something on television to tears for no reason in minutes. He remembers being frustrated because he didn't understand why.
After his third concussion he began researching the long-term effects.
That scared him.
Serious concussion and head-injury research is still a fairly new field of study, though connections between traumatic head injuries and an increased chance of "neurodegenerative dementing disorders, including Alzheimer's disease and Parkinson's syndrome," according to a 2005 study in the medical journal Neurosurgery.
Though head-injury research on college athletes is still inconclusive, Kump has long since accepted that there is a chance he could still have issues down the road.
"I had to accept the fact that I may not remember what's going to be going on 60 years from now and I'm just going to have to live with that," he said. "And that's a horrible thing to accept, but it's something I knew could be a possibility."
***
Kump says he has no regrets about playing the sport he loved. The camaraderie and especially the friends he made playing were experiences he would have found nowhere else. The lessons he learned and the adversity he faced are things he will never forget
He loved it all and even knowing what he does now, the life-long Green Bay Packers fan insists he would do everything the same.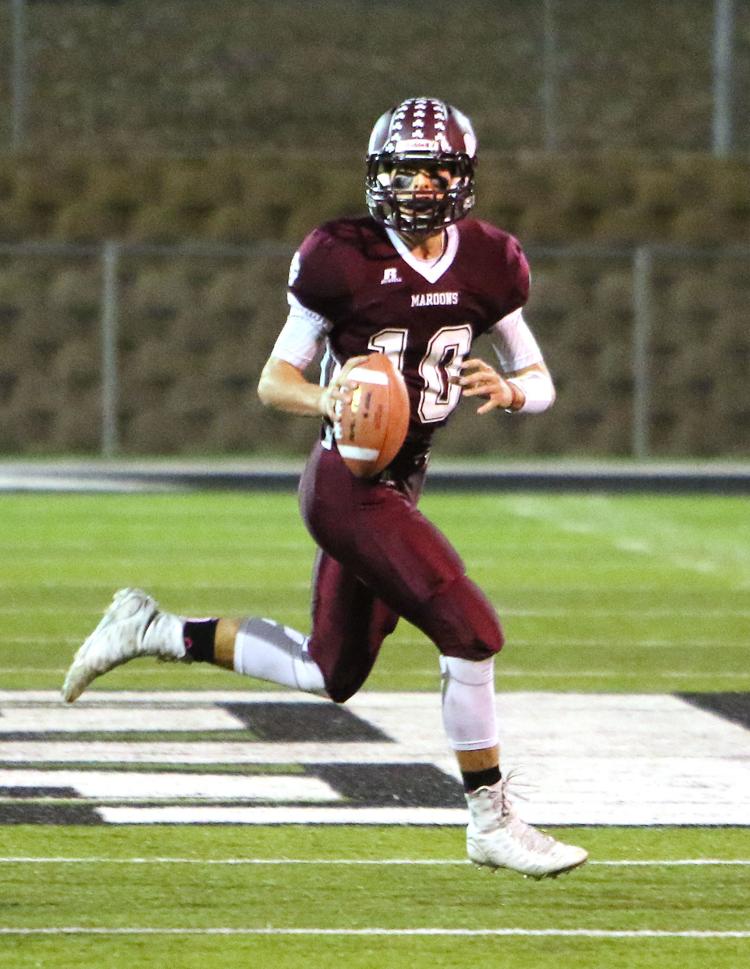 In fact, he said, his only regret is not working harder with his training in high school. He has always felt he could have played at an even higher level.
His parents are of two minds on the subject.
If Tanner's worst days involving anything relating to his head injuries are over, they would not change a thing. If he does pay a later price, their opinion on whether they would will do something different will change.
"I love the memories of him playing, you don't want to give those up," Mike said. "I wouldn't necessarily go back and tell him to stop, to not play, but if I knew what the future holds that would make the decision for me."
More than anything, Kump wishes he could still play for Montana Tech. But he said he believes the concussions happened for a reason and is blessed with the opportunities football gave him.
Knowing he will never play again was a psychological body blow. And he is still working to recover from it.
"The whole football thing, knowing that you can't, that you physically can't play the sport again, is what killed me," he said. "It's the worst thing you could have ever told me."