BUTTE — Senior Montana Tech running back Jed Fike is done for the season, Oredigger head coach Chuck Morrell said on Wednesday afternoon.
Fike, an honorable mention All-American last year by the NAIA, was injured in the first half of Montana Tech's 17-14 win over Southern Oregon on Sept. 21 and did not suit up in the team's following game against MSU-Northern.
The injury looked to be on his left leg, but the severity or specifics were not disclosed. He returned to the sidelines during the game against the Raiders with a medical boot on his left ankle.
"It's just a very unfortunate injury that he caught a couple weeks ago," Morrell said. "I know the guys are going to pull together … Jed's such an incredible young man and part of our program and he's definitely going to be a part of everything we do, in cheering us on.
"We're going to have to get a little extra out of the guys on the field on Saturday to make up for his play."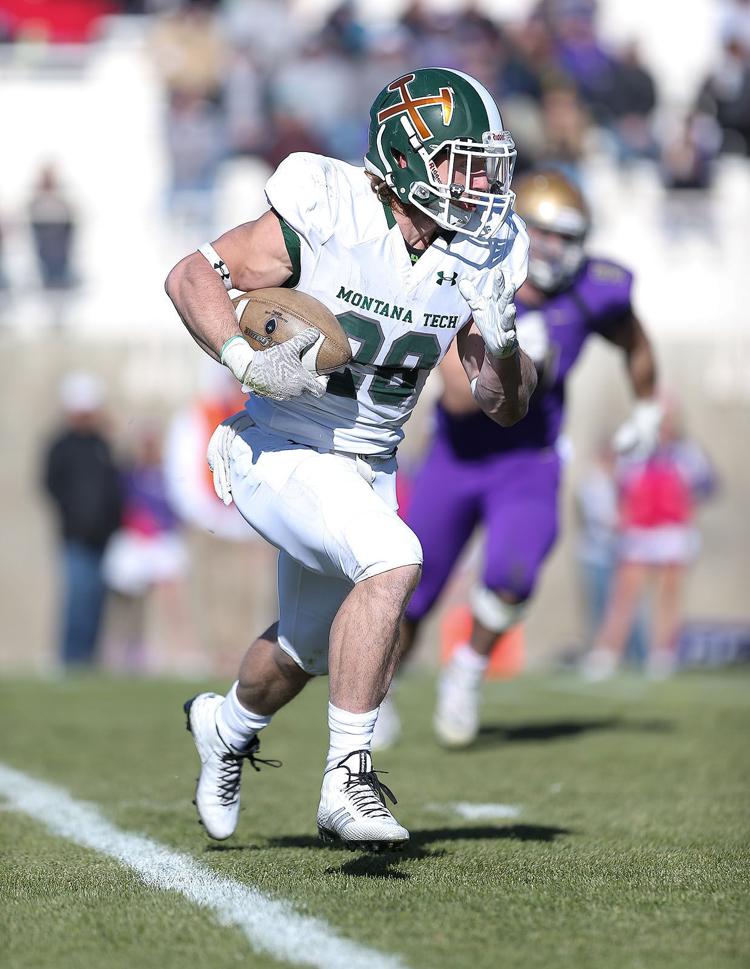 Fike has rushed for 2901 yards during his Oredigger career and totaled 3430 all-purpose yards. His rushing total currently ranks fifth all-time at Montana Tech, while his all-purpose mark is sixth all time.
Fike is a two-time first-team all-Frontier Conference performer and led the league in rushing during the 2017 and 2018 seasons. He also finished with a per-game rushing average each of those years that put him in the top-four players of the entire NAIA.
Fike, a Whitehall graduate and originally from Harrison, started his career at Dickinson State, where he rushed for 898 yards and caught five passes for 80 yards in 2016. Currently sitting at 3799 yards on the ground between the two schools, there was an outside shot he could have cracked the NAIA top-10 all-time list for career rushing yards.
Derek Besgrove currently is the leading rusher in NAIA history with 5,738 yards on the ground.
There is a chance that Fike's career at Montana Tech might not be done. While he has already exhausted his first redshirt year in 2015, he may be able to apply for a medical redshirt.
According to the NAIA's official site, the medical hardship waiver limit is two games played. Fike has played in 2.5 this year.
"It's something we're definitely going to look into," Morrell said. "There's a definitive set of rules and structure that go along with that and so we've got an appeal process that we've got to follow through on."
With Fike out, Montana Tech has turned to true freshman Blake Counts and redshirt sophomore Tyler Folkes to be the Orediggers rushing attack. Counts is second on the team in rushing with 54 carries for 243 yards while Folkes is third with 43 carries for 171 yards.
Fike, Counts, and Folkes all ranked in the top-10 of the Frontier Conference in rushing yardage this season.
"Running back is our deepest position on our football squad," Morrell said. "Tyler Folkes has had a great year for us, Blake Counts is doing some tremendous things and then we go down the list of some guys that are really good players … obviously Jed's got special playmaking ability that we're not imagine up out of another guy there, but we do have quality football players at the position."
Montana Tech, currently ranked No. 22 in the latest NAIA football poll, hosts No. 15 Montana Western at 6 p.m. on Saturday.