Kyle Samson's opening press conference as Montana Tech football's head coach focused on two things: family and accountability.
The newest head coach of the Orediggers welcomed the public for a press conference at the Copper Lounge of Montana Tech's Student Union Building, talking alongside director of athletics Matt Stepan as the Orediggers' third coach in 33 years began his tenure.
Stepan opened the statements by discussing the process of moving on from former head coach Chuck Morrell, and explaining how the hiring committee decided to make Samson the permanent head coach after naming him as the interim HC on Jan. 6.
"This diverse and dedicated group," Stepan said. "Put their personal and professional lives on hold. They challenged me, they stayed objective, even through their own personal opinions. They always kept the good of the institution and the health of the program at the forefront."
"It was an aggressive timeline that they were able to make up time along the way and always kept the mission on their minds. They really made me proud to be an Oredigger, because these people were true, true Orediggers."
Samson was hired as Tech's offensive coordinator just over a year ago, when Morrell brought in the former MSU-Northern offensive coordinator and Flathead head coach to Butte after Samson led the Braves to the Class AA 2018 state championship game where they lost to Billings West.
Samson thanked Morrell for bringing him to Montana Tech, and also thanked Morrell's predecessor Bob Green for giving him guidance and the setup to take over for the Orediggers.
"I am so excited to be able to continue to build on the traditions that have been built by coach Green and coach Morrell at this school," Samson said. "I am walking into a tremendous situation because of those two men. I couldn't imagine a better situation in my first opportunity to be a head coach in the Frontier Conference, and it's because of the great people that have come before me."
A repeated talking point of Samson's press conference was the importance of family in his life, as well as how the values of family and community have influenced his style of coaching and plans in Butte.
Samson played football at Helena Capital, then at MSU-Northern under his father Mark Samson, who was head coach at both programs during his son's playing days. Mark Samson is currently the head coach at Great Falls High.
Samson explained that his close relationship with his father through the sport taught him the importance of community outreach, and pledged to continue Montana Tech's involvement with the Butte community.
"Community service and outreach is going to be a huge part of what we do and what we stand for," Samson said. "I'm extremely passionate about getting out and supporting the great community of Butte in any way that we can. I think it's an absolute vital requirement for me and our staff, if we're going to [coach] this team, is getting out and being great in the community. We must be a great representation of this campus and this great institution. "
Stepan also talked about the importance of family, and said that a key part of moving forward with Samson was the new head coach's emphasis on those values.
"We wanted someone that wanted to be a part of this family," Stepan said. "That was more than just a good job opportunity. Someone that wanted to be a part of the Montana Tech family, someone that wanted to be part of the Butte family. I don't know if there's a better way to describe our next head coach than family."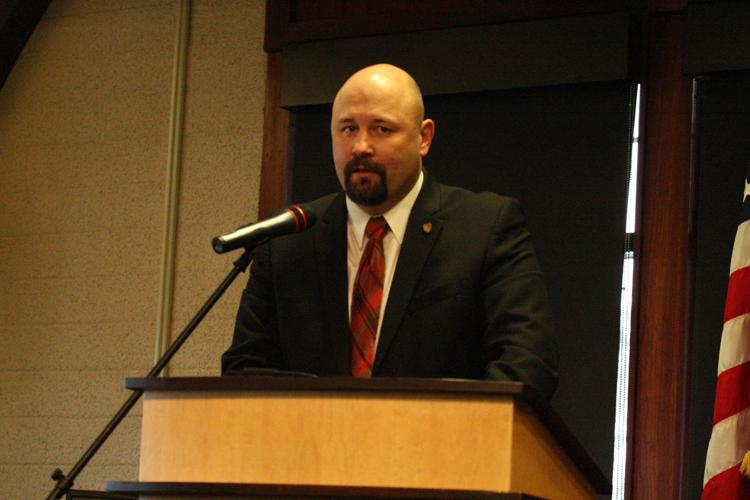 "It's something he talks a lot about, but when coach Samson showed up a year ago, it was clear right from the jump, they fit. He fits what we do here, his family fits with [what] this community stands for… I'm extremely excited to work hand in hand with our newest family member, coach Kyle Samson."
However, the importance of closeness between players, staff and the Butte community isn't the only focus of Tech's latest HC.
Samson explained that a key motto for his program is "Count on me," saying that keeping his players and staff accountable will help create the closeness and success seen under Morrell and Green.
"Our motto, 'count on me,'" Samson said. "To me, is all about accountability. The kids have got to know they can count on me and our football staff to do the best for them every single day. I've got to count on them that they're going to meet me halfway. They've got to count on each other, and [we] in the Tech community have to count on each other that we're doing the right thing for this campus every single day."
In terms of staffing, players and schedules, Samson explained that much was still in progress, but that his top priorities are setting up a coaching staff will give the Orediggers the best chance to succeed while maintaining the identity of the program.
Samson's coaching tree, which features ties to Flathead and MSU-Northern may mean that new faces come into the locker room for Tech, but Samson also explained that the key will be making sure people have the right fit with the program, no matter their background.
"One of my top priorities right now is putting together the best group of people first that fit Montana Tech," Samson said. "Fit the same beliefs and values that I have. There's some people in my coaching tree and people I know that I've reached out to, but I also believe we have a great group of people that are already here at Montana Tech."
One of the new head coach's other priorities is to continue his recruiting success.
Samson was a cog in the Tech recruiting machine since his arrival, and during his time as interim head coach, the Orediggers received commitments from Butte standouts Kameron and Kobe Moreno, who announced their decision to join Montana Tech a day before the press conference on Tuesday.
Samson mentioned the Moreno twins and said that he expects to continue to recruit Butte as heavily as possible, and to expect more local signings this week.
"I'm very excited to recruit and to bring great student-athletes to this school," Samson said. "My first goal, though, as a head coach, and it's been said before me with the previous two head coaches, is that we're going to win Butte. My number one goal is that we're going to get the best kids out of this community, and we're going to get them to Montana Tech. I'm excited about signing a couple studs from this community already, and I hope to sign a couple more in the next couple days."
After about a half-hour of coaching, a final round of applause was given to Samson as the coach moves forward from his public debut and into the early processes of making the Montana Tech program his own.
"We were so proud to be welcomed into this community a year ago," Samson said. "It has been absolutely an honor to be here in Butte, and to be a part of this school and this great town."
Evan Reier is a sports reporter for the Montana Standard and 406mtsports.com. You can follow him on Twitter and Instagram, his handle is @evanreier.