Montana Tech put together a season of defensive work to beat the No. 3-ranked Lewis-Clark State.
The Orediggers defeated the Warriors 67-64, handing L-C State their second loss of the year and Frontier Conference play as Tech forced 17 turnovers to clinch a major NAIA upset.
Montana Tech head coach Adam Hiatt praised the Warriors for a great game and a terrific season, but that his team knew they could be dangerous.
"[L-C State] is an outstanding team," Hiatt said. "We just felt like they had the league wrapped up, they're going to win the regular-season championship. We felt like we were playing well and this was a good chance to shock them, and we really did."
The first 20 minutes could best be described as tight and foul-heavy, as neither side broke into scoring runs and the largest lead coming in the first few minutes as L-C State went up 9-3.
The usual suspects drove the Tech offense, as juniors Sindou Diallo and Taylor England worked to keep pace with the 25-2 Warriors in a first-half that saw both sides struggle offensively.
32 points was enough for L-C State to enter the break with a three-point lead. Warriors head coach Austin Johnson talked about his squad's first-half performance and the nature of the physical contest.
"Tech is a really good defensive team," Johnson said. "We took some tough shots early and struggled to get into the rhythm. Got into a rhythm late, but it was too-little, too-late and a lot of that had to do with Tech."
The Orediggers may not have made the most of a slow first-half from the top-ranked Warriors, but a three from sophomore Drew Huse and a pair of baskets from England saw the Orediggers jump out to a 43-36 lead six minutes into the second half.
An already physical contest turned tenser as the Warriors earned a technical early in the second half, which was followed by double technical fouls by L-C States senior Josiah Westbrook and Montana Tech senior Troy Owens Jr.
Hiatt discussed the physical battle between the Warriors and Tech, specifically complimenting England for rolling with the punches.
"This was a defensive slugfest tonight," Hiatt said. "[L-C State] is one of the premier defensive teams... Everybody plays England physical, he's the best big in the league. It's hard for teams to guard him one-on-one, and for him to have the stamina to finish late in the game is a testament to how hard he works."
The Orediggers made it into the bonus within eight minutes of the second half, and L-C State was not far behind, entering the bonus before the 10-minute mark of the final 20 minutes.
Tech made 16 free throws in the second half, going to the line 10 times versus the Warriors' four trips.
Free throws, along with three scoop-and-score steals saw Tech consistently match the Warriors' efforts to get back into the contest, as L-C-State junior forward Trystan Bradley hit a couple of important three-point attempts to keep the Warriors in-range.
A contested trey from LCSC junior Hodges Bailey brought the game to four points with just two minutes to play, as Johnson's team plied to get back into it. An off-the-ball offensive foul from England gave the ball back to the Warriors, and Westbrook buried a three to make it a one-point game.
However, the senior fouled out of the contest less than 10 seconds later, allowing England to redeem himself by knocking down his two free throw attempts to make it a three-point game.
Diallo, who's steals had become a problem all second-half, earned another steal in the final seconds to block out the Warriors and earn the Orediggers a major upset victory.
The transfer junior from Tacoma, Wash. opened up about his and Tech's efforts in practice, which he says made the difference.
"Our whole goal going into practice was defensive mentality," Diallo said. "I felt like I needed to step up my defense so the whole team could step up their defense, and we were just a unit on D."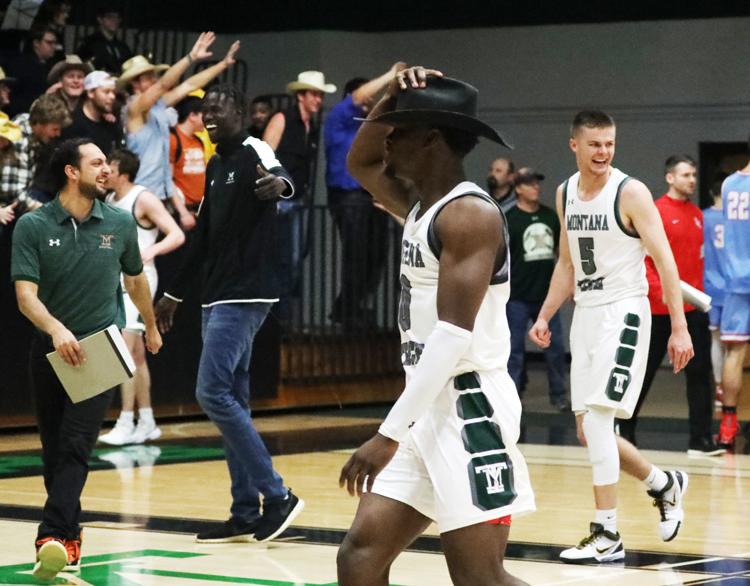 Diallo's 13 points was only eclipsed by England's 14. Sophomore Drew Huse continues to pick up his offensive play, ending the evening with 12 points. Seniors Dylan Pannabecker and Owens Jr. ended with eight and seven respectively on their senior night.
For the Warriors, junior Jake Albright came off the bench to lead in scoring with 15, going perfect from the field. Bradley concluded with 14 points, while Westbrook added nine points before fouling out.
Johnson says that a loss is never ideal, but that Thursday's upset could be something L-C State uses going forward.
"It all depends on how our guys respond," Johnson said. "That's what we talked about after the game. It could be great for us, re-center us, but it all depends on how the 10 guys in the locker room and us coaches handle it."
The Warriors return home to take on Carroll Saturday, while Montana Tech hits the road for their last two games of the season, starting with Montana Western on Feb. 27.
Evan Reier is a sports reporter for the Montana Standard and 406mtsports.com. Follow him on Twitter @evanreier for tweets about Butte's sports scene and more.