BUTTE — Within three months of being Montana Tech's first-ever cross country coach, Zack Kughn already had to shift his plans for the Orediggers.
The implications that COVID-19's spread asserted became a reality for Kughn at the same time it did for many Montanans: in mid-March, when the MHSA cancelled the state basketball tournaments after the end of the semifinal matchups.
Kughn was in the Butte Civic Center for the Class B state tournament to watch Brook Luly, a Shelby basketball player and distance runner who has committed to the Orediggers.
"I was actually at the state tournament because one of my girls was playing in the tournament," Kughn said. "Your first reaction is always kind of selfish. 'How is this going to affect me? How is this going to affect what I do?'"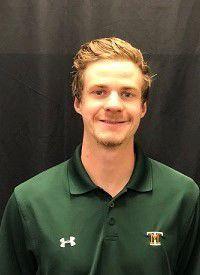 Kughn may say it's a selfish thought, but it's a valid question for a coach tasked with starting a whole new athletics program. This is not to mention that Kughn had only properly arrived in Butte on Jan. 7.
Montana Tech AD Matt Stepan's words from early February on starting the cross country program have new context.
"Anytime you start a new program," Stepan said. "There's challenges to getting things off the ground."
The obstacles Kughn now faces are added to those initial challenges. Unable to visit high schools or track meets or welcome potential recruits to the Orediggers' campus, convincing recruits to join a first-year program gains an added level of difficulty.
Coming a sizable distance from Grand Blanc, Mich. to become a four-year letterman at Montana State, Kughn understands that recruiting is a two-way street and sympathizes with aspiring high school runners, especially those who have lost important upperclassman seasons.
"Junior year of track is kind of the biggest season to look at," Kughn said. "And those kids aren't going to get that chance, and we're not going to get to watch them… It's a weird time to be in athletics in general, what we're used to doing we can't do."
The lack of in-person communication and eye tests is affecting all types of athletic programs across the country, but for an NAIA school like Montana Tech, the need for that type of analysis and interaction is imperative.
But, in the space left open by COVID-19's impact, there is room for growth.
Kughn says that while the recruiting landscape has changed, it provides a chance for a budding program like Montana Tech's.
"The important thing to remember is that we're all in the same boat," Kughn said. "Virtual is something we can do, I've seen other coaches walking around the HPER on Facetime. Every school is in the same boat, but as long as you're willing to put in the effort, you can get ahead. When we like to work is during the school day, and normally the kids are in school, but I think you're seeing a lot faster response rate because they're all at home."
The signing of Averi Parker from West Yellowstone is a testament to this, although the future Oredigger did squeak in a visit before the window to do so had closed.
But while Kughn endeavors to ensure Tech's first cross-country season is a successful one, he balances his individual duty to promote safety and unity in the Mining City.
He hasn't wasted much time in doing so, joining fellow Tech athletics staff in producing videos, cleaning the Orediggers' facilities and finding ways to help in a brand-new community.
"Things like that have to be a two-way street, we can't expect the community to support us if we don't give back," Kughn said. "I think that started in the interview process, even over the phone it was clear that Butte and Tech were what I was looking for. You want to start a successful program, but you also want to be more than that.
"You want everyone to be excited about cross country, and they were more than I could have imagined. I wanted to give back in the same way and help out anyway we can."