With a historic winter storm bearing down on much of the Treasure State, Montana Tech and MSU-Northern still had a football game to play.
As the snow piled up and Northern crews — as well as student-athletes — helped clear the yard lines at Blue Pony Stadium in Havre, the Orediggers were able to grind out a 42-0 shutout victory.
Montana Tech rushed on 47 of its 65 total plays, rolling up 237 yards on the ground.
"I've coached in a lot of snow games in November and December, but never one in September, I can tell you that," Montana Tech head coach Chuck Morrell said with a bit of a laugh over the phone following the game. "Really proud of our guys for adapting to the conditions that were out there and sticking too our identity."
True freshman running back Blake Counts played the role of snowplow for the Orediggers, as he toted the ball 23 times for 125 yards and found the end zone for the first time in his college career early in the fourth quarter.
With star running back Jed Fike sidelined, Tyler Folkes also had plenty of snaps, carrying the ball 13 times for 57 yards.
"I think obviously the conditions set up that we were going to run the football today," Morrell said. "Just happy with and proud of our offensive lineman opening up some lanes. Blake (Counts) grounded out some tough yards in less than ideal conditions."
Defensively, Montana Tech could not have asked for a better game. The Orediggers limited Northern to 124 yards on 61 plays — 58 of those yards came on 32 rushes.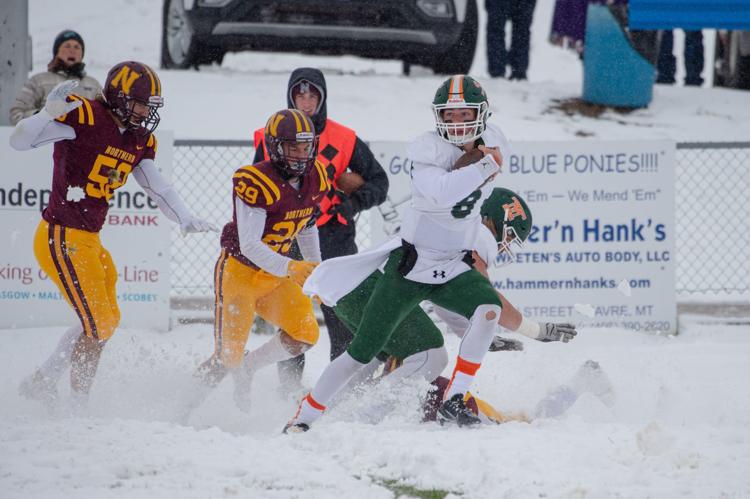 Linebacker Carter Myers and Ike Schweikert each had seven tackles to lead the team. Myers also had a sack and the second touchdown of the game, a 48-yard interception returned for a touchdown.
Lights quarterback Brenden Medina threw two picks on the day — the other was nabbed by cornerback Matthew Drake — and was sacked four times. Medina was just 11-of-29 for 66 yards on the afternoon.
"We talked to our guys a lot about the conditions leading into the day, that we needed to establish our physicality and be aggressive," Morrell said. "There's no doubt we're an attack defense and just asked the guys to come out and play super aggressive and I think they did a great job of that."
Montana Tech, meanwhile, was able to get effective play out of its quarterback, redshirt sophomore Jet Campbell. In just his eighth start at signal caller, Campbell completed 9-of-18 passes for three touchdowns and also rushed twice for 36 yards and added another score on the ground.
Trevor Hoffman had three catches for 61 yards and a pair of touchdowns, including a 47-yard strike that was the first score of the game.
True freshman Anthony Jones also recorded the first two catches on his young career, with one going for a 21-yard score early in the second quarter.
The Orediggers are now 3-1 both on the season and in Frontier Conference play, while MSU-Northern drops to 1-4 (0-4 Frontier) through the early portion of the year. Montana Tech will have a bye next week as they prepare for an important home game against an undefeated Montana Western squad.
"Northern is certainly an improved team," Morrell said. "We didn't want to take them lightly. Really important for us to go into the bye week at 3-1 and the guys really did a good job executing."