BELGRADE — Gabby Weber is excited to start the next chapter of her life.
The senior was always a standout on Belgrade's basketball squad, and even before her final two seasons, she was considered one of the Treasure State's top prospects in the class of 2020.
Just ask her new coach, Montana Western's Lindsay Woolley.
"When we first evaluated her for the first time between her sophomore and junior year, my assistant and I thought that she was the best guard in the state at her age," Woolley said. "There are guards that have signed with Montana and what not, but from a skill perspective, we thought she was the best one.
"Usually when you determine that, you have no shot of getting her."
This month the 2019 NAIA national champion Bulldogs signed a player they wanted intensely, and Weber has the outline set for the aforementioned next chapter. But the manner in which the two have met is rooted in challenge and difficulty.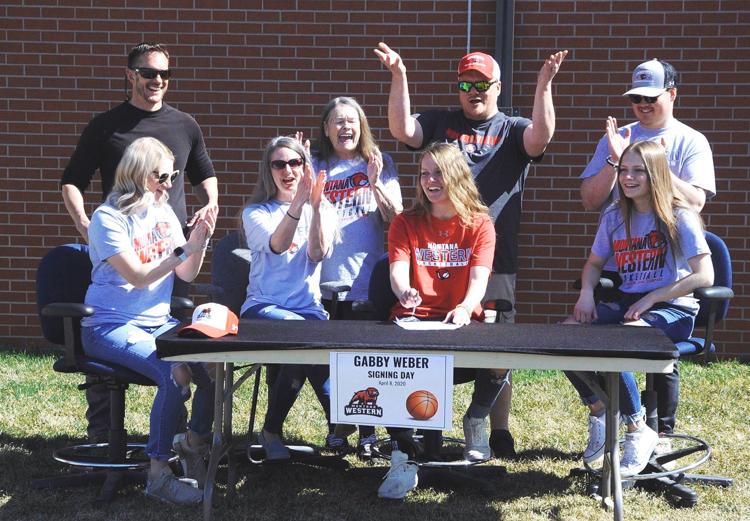 In Weber's junior year, arguably the most important for prospective college athletes, her season was cut short by a calf issue that turned out to be a vascular disease, popliteal artery entrapment. It's an issue in which the popliteal artery is constricted and restricts blood flow through the affected area.
With the threat of amputation and permanent nerve damage, Weber and her family searched in and out of Montana for a solution before having successful surgery in Billings in February 2019, ending her junior season but a victory for her health and chances of recovery.
After an offseason of physical therapy with Big Sky's Lone Peak Performance and therapist Cole Schram, Weber was ready to return for her senior year and help the Panthers in their first season as a Class AA team.
However, a new challenge arose in October 2019, eight months after the first surgery: reflex sympathetic dystrophy.
RSD occurs after injury or body malfunction, and sends painful nerve signals from the affected area to the brain, typically with greater intensity than the original injury or issue.
"It was tough," Weber said. "Last summer, coming into my senior year, we were hopeful that I might get to play the whole season, until I was diagnosed with RSD. They are a young team, so I really wanted to be a leader on the court and help them. I had to learn to be a vocal leader and lead off the court."
Weber had surgery in November. She was determined to return, doing so in February. She earned her first start in more than a year, two surgeries and countless hours of physical therapy later.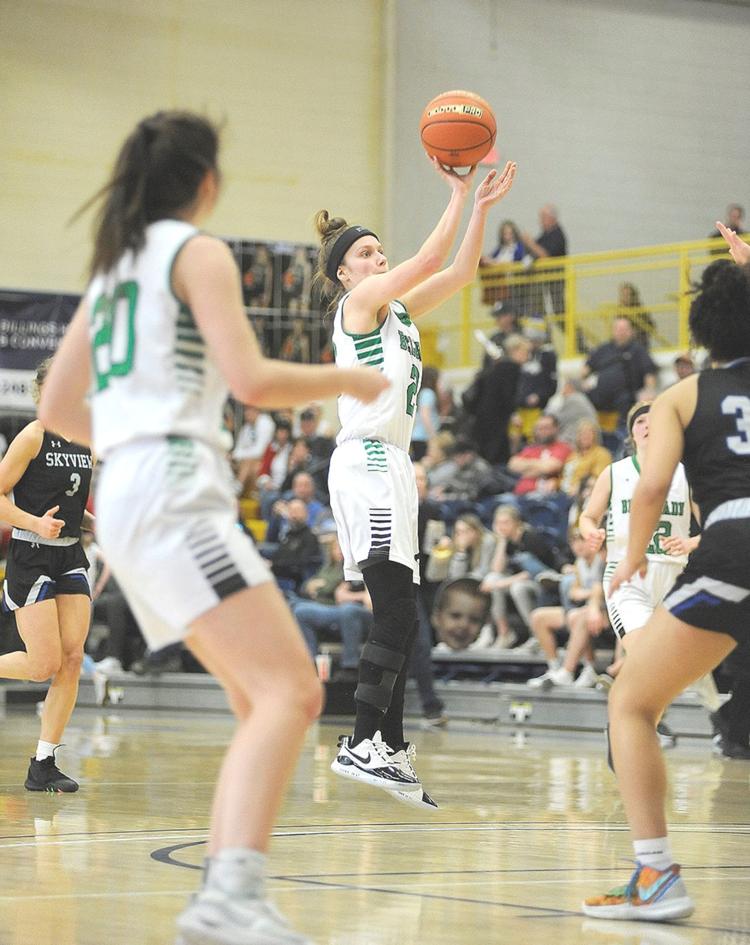 Weber averaged 8.2 points in Belgrade's last eight games of the season but said just getting to hit the floor with her teammates mattered most.
"It took a few games to get used to being back on the court," she said. "But it felt natural and so good to be back with them. I got to play some teams I've never gotten to play, and it was just a great to be able to do that."
Now, Weber's next chapter is beginning in earnest, although even this transition has been full of unexpected challenges due to the spread of COVID-19.
"It was definitely difficult not having the entire experience of visiting campus, meeting players and everyone face to face," she said. "It was hard, but I think it was cool too. Hearing Woolley talk about his program and facilities and the school really helped me make my decision… It played a role in my decision because of being unable to go on visits."
With gyms and school shut down, Weber executes the workouts given to her by Western at Belgrade's Divine Mercy Academy, which allows her to use their facility as long as she diligently cleans the equipment after her sessions.
Coaches preach offseason work and physical maintenance as the difference makers in competition, and Weber agrees, although the work she currently puts in is for her as much as it for her freshman season in Dillon.
"Over the last year of this experience, I learned a lot about what it means to advocate for yourself and keeping your body healthy," she said. "I really don't use things being closed down as an excuse to not work out and to get healthier and healthier. I still see my physical therapist twice a week and it helps keep me on track. It's taught me a lot about life in general."
Previous hurdles and the new restrictions and challenges that COVID-19 has wrought have not dampened Weber's desire to be a college basketball player.
For Woolley, this is what he expects out of his players. He said that while interest from other schools might have waned due to Weber's potential injury risk, her work ethic was the selling point, rather than the eye-catching talent seen on the court.
"The well-documented health history is probably what allowed us to get her," Woolley said. "If she's healthy her whole high school career, we probably wouldn't have gotten her… She's got a passion for working hard and a passion for the game that a lot of kids don't. We have some extremely passionate kids already, and I think she'll just add to that."
In many ways, the match between Western and Weber just seems to make sense.
Dillon is just under two hours down Interstate 90 and Interstate 15 southwest of Belgrade, which allows for Weber to experience somewhere different while also keeping her family, friends and her current medical team a short drive away.
The prospect of playing under the coach of the most recent NAIA champions helps.
Besides the accolades, Weber highlights Woolley's style of play, saying it seems like the perfect system to begin the next phase of her playing career.
"He's guard-heavy and that made me look at Western closer," she said. "He loves to let the girls play, and that was intriguing to me too. Just get on the court and make play for ourselves. It's fun in basketball when you're not always calling a play, so I'm really excited to get started."
On Western's end, the upside of Weber's talent is helpful, but Woolley says it's that she isn't a specialist and could play either guard spot, which is vital to the way the Bulldogs' play.
"She's a really refined, highly skilled guard," Woolley said. "She can play both guard spots, which is really intriguing to us… That's something we look for, we're always looking for kids that can do a multitude of things well. We want kids that are highly-skilled offensively, we don't want to be worried about where they go."
For Weber, that sounds just right.
After a painstaking journey filled with uncertainty, the future is simple and clear: Weber is a Bulldog, and has the chance to continue her career and keep improving.
"It feels like I'm turning the page," Weber said. "Woolley doesn't look down on the situation and knows I'm ready to move on and keep making history with their program. (My health) is something I have to manage through college, but with the strides that I've made in the last four months, sometimes the body just starts kicking into gear and you get healthier and I'm ready to move on in the process.
"The story has made me the person and player I am. I'm excited to use it to become even better."