DILLON — Blue Montana skies and rays of sunshine graced the practice field for the Montana Western Bulldogs for the opening day of fall practice.
The picturesque setting was perfect for an enjoyable day out for any athlete, until head coach Ryan Nourse blew his first whistle of the day.
"What are you doing? We've got a championship to win and we don't have any time to waste."
Nourse's words set the tone for a focused, albeit positive first day of fall camp. "Speed" was a constant of the Bulldogs' efforts and discussion, which the fifth-year coach says is to do more with preparation than tactics.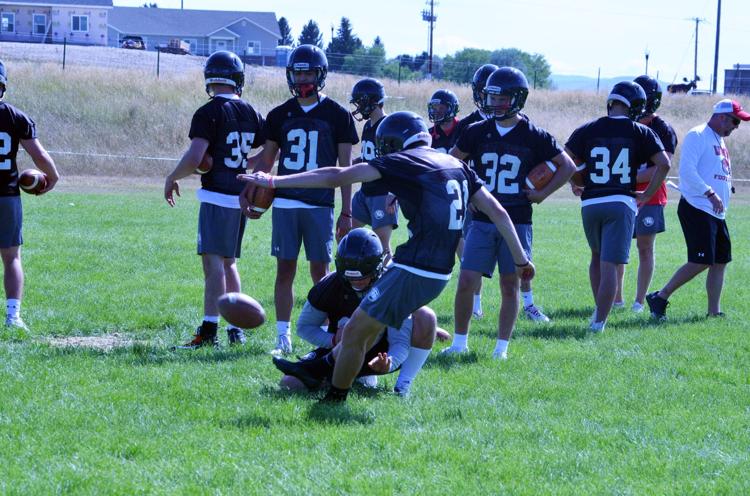 "It's how we operate and what we do," Nourse said. "We want everything we do to be up-tempo, we want to be hustling. We want to be able to execute at the highest rate of speed, whether it's the tempo on offense, the techniques or the fundamentals, it's your assignment and we started that from day one."
The near 80-degree weather was great for a high-tempo, no-pads practice. All sides of the football worked through drills that emphasized conditioning as much as execution, which starting quarterback Jon Jund stressed was vital this early in the season.
"Proud to see everyone coming out here working hard on the first day," Jund said. "Everyone was busting their butts, sprinting everywhere. But it's our first day and we've looked a little sloppy. Some of it was catching of the ball, but also us quarterbacks weren't looking as good as we could have been, but I know it'll get better as we go."
While Jund recognizes how early it is in camp and the season as a whole, there were obviously high expectations from within and outside the team for this upcoming season, after a mildly impressive but bitter 2018.
Western had entered a road matchup against Rocky Mountain College last October with its record at 6-1 and leading the Frontier Conference heading into the final stretch of the season. However, the Bulldogs dropped the final three games of the regular season to finish 6-4, which Jund says is something the team has not forgotten.
"It's fresh in our minds," Jund said. "We know that if we win in any of those [four games] last season, we're sharing the co-conference championship, we play decent one of those games, we have a ring on our finger. Starting 6-1 and losing the last few games was pretty frustrating, and I think that's bothered the whole team all offseason and it's driving us now too."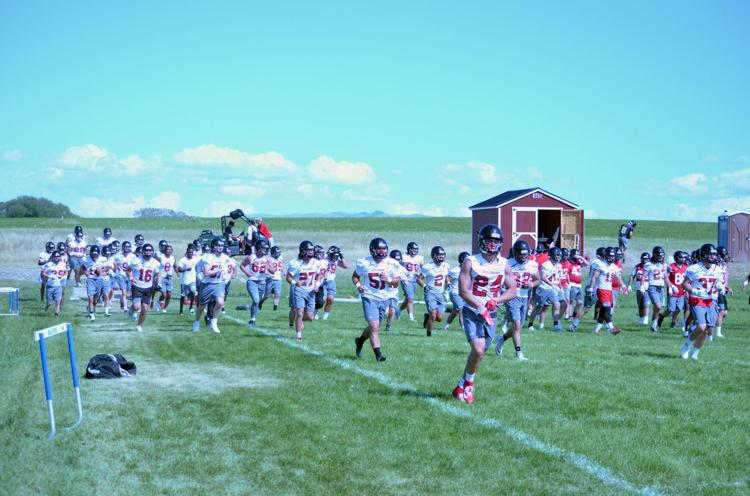 On the defensive side of the ball, the Bulldogs are pleased to have several players return with significant experience returning. Namely the linebacker group, which Nourse pointed out as the deepest group on the Bulldogs roster.
"We think we have six or seven guys that can start and play on our roster," Nourse said. "They have a lot of diversity in their game. That's going to be the heart of where we're at, they have the most experience and I think their athleticism and diversity is going to help us a lot."
The group is led by Jason Ferris, who led Western last season with 125 tackles en route to being named the Frontier Conference defensive player of the year. Ferris, like his coach, stressed the need for intensity this early in the year if they wanted to improve upon the 2018 season.
"The expectations are high for us," Ferris said. "Not just from the coaches, but from the community. Even in the conference, there is high expectations for us, so we needed to come in and earn our respect and go continue working hard every day so we can show up to every game this season."