Montana Western volleyball got their season up and running Thursday night as they completed a 3-0 sweep over Valley City State University. The victory marks the first of the season for the Bulldogs, and also the first win of head coach Katie Lovett's tenure at Western.
The match was tightly contested for the first set, seeing the Bulldogs trade leads with the Vikings en route to a 25-21 finish. Western would only improve from there, winning the next two sets by a score of 25-19 and 25-14 respectively.
For Lovett, getting a win was expected, but she's also thankful that her players have followed her process and got over any possible early-season nerves.
"My process has been to get these girls to work together and to buy into my system," Lovett said. "They've done a really good job of that so far, but I can't take too much credit for them being out on the floor and winning tonight, but they've put forth so much effort and that's what we're all about. They had to get over that first-game hump last night, and they came out a lot more relaxed and more comfortable."
Western dropped their season opener against Northwestern University, 1-3, on Wednesday, but have now got off the starting block in their first match of the Big Sky Volleyball Challenge. Now, it's time to figure out what to work on next for Lovett and her team.
"I think there is some defensive play we can clean up," Lovett said. "Also, doing different shots offensively. They did a better job tonight of not being so one-dimensional on offense, but I think we can do better."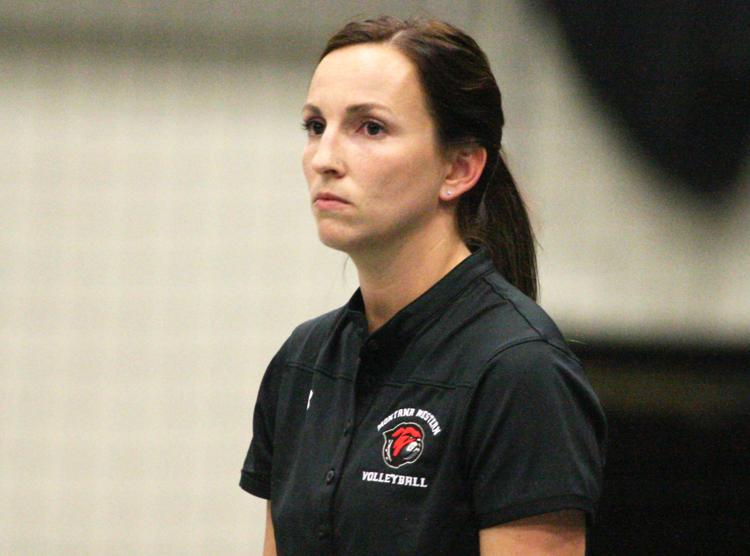 Redshirt freshman Morgan Stenger is in agreement with Lovett, citing that there was definitely process but that the Bulldogs expect to get more diverse offensively, and have been working on it.
"We've been focusing on switching up sets," Stenger said. "Trying to get different people getting different angles. We're working the ball both ways to get their defense on their toes a little more so we can take advantage when we're on offense."
Stenger, who plays as a middle blocker for Western, is coming off a two-year injury that saw her miss the 2017 and 2018 seasons, but her nine kills led the Bulldogs in their victory. She credits her team, and says that Lovett has gotten her teammates and herself in the right mindset as the season is beginning.
"Our biggest focus is to communicate, communicate, communicate," Stenger said. "Keep the energy on our side, we really want to focus on the things we can control, because we know we are the underdog in the conference, so if we just focus on our side and react to what the other teams are giving us, we can improve from there."
Western is likely considered underdogs due to the fact that they have not posted a winning record in the past seven seasons. Lovett is also taking on the position with a wealth of youth. The Bulldogs have nine freshman on their roster, which is fitting considering this is also Lovett's first head coaching position.
Lovett believes that a lack of experience is not a lack of talent, and that Western's wealth of youth also means a wealth of potential. The former assistant at St. Andrews University is focused on developing her players, and that people may be surprised at what Western volleyball has in store for 2019.
"I think we're capable of a lot more than people think we're capable of," Lovett said. "I might be a little biased. As long as we get better on the court every single day, that's the real goal. Tonight, I think we got better. If we keep moving forward, then we'll be successful."