Montana Western's 88th season kicks off Saturday as the Bulldogs host Carroll College in Dillon, with hopes to start the season and Frontier Conference play on a winning note.
While the Saints were unranked in the NAIA preseason coaches poll, Western was voted to the No. 25 spot, and were also predicted by both the media and coaches poll to finish third in Frontier play.
Western head coach Ryan Nourse has opened all five of his previous seasons with a win, including the Bulldogs' opener against Carroll last season. Western claimed a close 16-10 victory in 2018, thanks to two touchdown runs from redshirt sophomore Jon Jund and redshirt junior Kylar Prante.
A year later, Western's offensive duo will look to better their 2018 seasons with a strong start against Carroll, but that will depend on a team effort from other offensive weapons, but more importantly, the offensive line.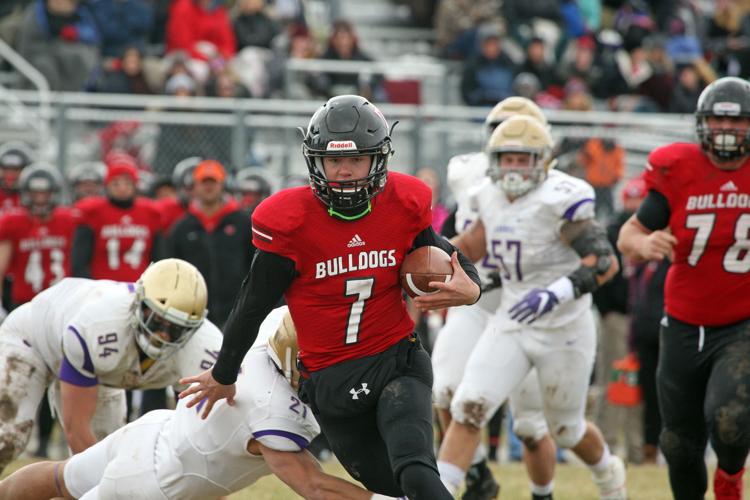 With that said, let's look at some keys to Saturday's game at Vigilante Field:
THREE KEYS 
Protect Jon Jund
Western's first scrimmage on August 23 didn't see much of Jund, but the short time he was on the field, he showed exactly why there are high expectations for the Bulldogs offense. However, the situation at offensive line had not been nailed down, and both the first- and second-team offensive lines struggled in the scrimmage.
"We have a really solid first four," said Nourse, after Western's scrimmage. "We're trying to find a guy who wants to play guard. Guys are competing hard, but it's still sloppy. Mental errors mostly, not physical stuff. We've got three guys who are challenging for that one spot."
Redshirt sophomores Ethan Toguchi-Tani and Noah Pritchett are battling redshirt senior Ty Lahue for the last starting spot at guard, while the remainder of the line is filled out by redshirt junior Hunter Severson, redshirt senior Jesus Paramo, redshirt sophomore Noah Danielson and senior Jed Heffernan.
Carroll return junior linebacker Nate McGree and redshirt sophomore defensive lineman Garret Kocab, who combined for six sacks and nine tackles for loss in 2018. Whichever five lineman start the game Saturday will need to win against McGree, Kocab and the rest of the Saints pass rush to find offensive success.
In many ways, Jund's performance will determine how far Western can go this season. Keeping him healthy and confident is crucial, and that starts with the Bulldogs' offensive line.
Stop Ali, Suffocate the QB
Carroll lost their standout running back, Ryan Arntson, this past offseason when he decided to walk-on at the University of Montana, but return senior Major Ali. Ali put up respectable numbers in 2018, totaling 733 yards and 4.1 yards per carry, but will expect to improve on those as Carroll's lead back.
Western's deepest position group is at linebacker, which makes this a favorable matchup for the Bulldogs. Senior Jason Ferris, who led the Frontier Conference in tackles in 2018 with 125, will be the heartbeat of the defense, but Nourse has high praise and expectations for his LBs in 2019.
"We think we have 6 or 7 guys that can start and play on our roster," said Nourse during the Bulldogs' opening practice. "They have a lot of diversity in their game. That's going to be the heart of where we're at, they have the most experience and I think their athleticism and diversity is going to help us a lot."
Carroll head coach Troy Purcell has not announced his starting QB yet, saying that the race between sophomore Devan Bridgewater and junior Kolby Killoy is still tight. No matter who the Saints start, shutting down the running game and putting Carroll's chances on either quarterback will get Western one step closer to victory.
Start Strong
Western was outscored 91-30 in the first half of the Bulldogs' four losses in 2018, and in the cases of the game against Eastern Oregon and the second matchup against Rocky Mountain, Western was down by three scores before the second half began.
With Jund, the Bulldogs do have the means to score quickly and a lot, but the game has to be in striking  distance. Getting down early was a factor last season, and Western will be looking to keep more games tight in the first half this season.
That starts with ensuring that Prante and the rushing game builds momentum early, while also keeping Carroll's offense at least somewhat limited. If the Bulldogs are successful, the game will open up for Jund. If not, the Bulldogs could find themselves in a tight contest heading late into Saturday's game.