GREAT FALLS — Having played quarterback in the NFL for eight seasons after getting drafted out of UC Davis, College of Idaho head coach Mike Moroski knows a thing or two about playing the position at the highest level.
So when he heaps praise on Yotes senior quarterback Darius-James Peterson, it probably is a pretty good idea to take his words at face value. A second-team all-Frontier Conference player last season, Peterson had career highs in completions (140), completion percentage (58.3), touchdowns (18), and passing yards (1998).
Closing in on 3000 rushing yards in his career, he's very obviously a threat on the ground as well.
"I think he's a unique talent," Moroski said during Frontier Conference Media Day. "I think he's a great competitor and a physical specimen. He's 5-10, but he's fast, he's strong, he's instinctive, he can throw, he can run."
After seeing limited action as a freshman, Peterson has started 20 games over the last two years for the Yotes. Over that span College of Idaho has gone 12-8 in Frontier Conference play as the program is entering year six of a return from a 36-year hiatus.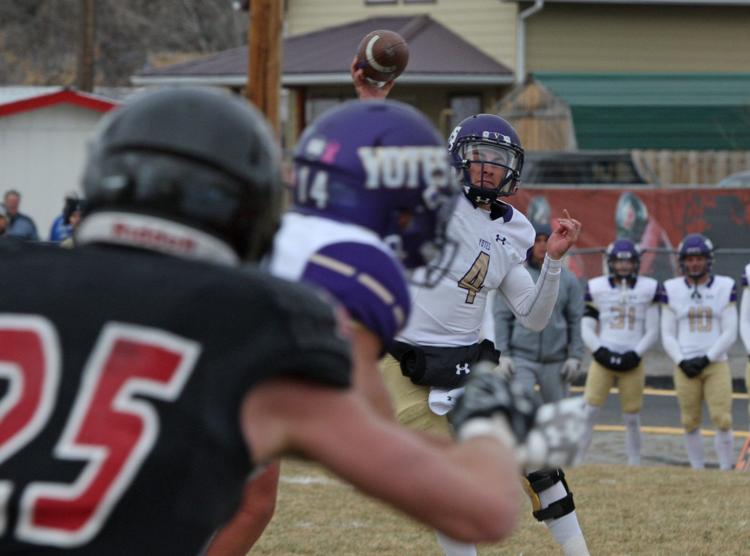 Picked by both the coaches and media to win the Frontier Conference championship this season, expectations have not been higher for the program since at least the Ford Administration. Peterson, of course, is the center of a lot of those hopes.
"Our team revolved around our quarterback … we can't find enough ways to do what he does best," Moroski said. "He loves to compete and he's improved so much in his decision making and we're excited about where we are with him and what we're doing with him. It's a lot of fun."
Outside of having arguably the best returning quarterback in the Frontier, the Yotes coaching staff has surrounded him with a variety of talented offensive pieces.
College of Idaho returns it tops three wide receivers — Connor Richardson, Keegan Crafton, Hunter Juarez — who combined for 96 catches, 1628 yards and 17 touchdowns. Richardson serves as more of a possession wideout, leading the team with 47 grabs and accounted for eight receiving scores.
Juarez, a sophomore, is the team's resident speedster and averaged an astounding 25.5 yards per catch on 22 receptions.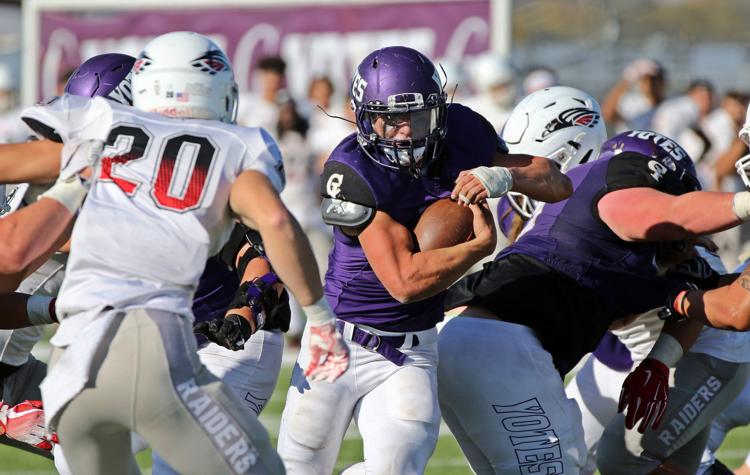 An offensive line with quite a bit of experience will be on the field this fall, as does 5-foot-11, 205-pound running back Nick Calzaretta. The junior rushed for 522 yards and a pair of touchdowns last season and should be a larger bit of the offense this year.
Overall, the group is an exciting one for the coaching staff.
"I think (the offense) is our best all-around team when you consider experience and play-making ability," Moroski said. "The line is the wild card but we kinda have everybody returning and they were the most improved group last year. So they're trending the right way."
After starting the season 0-5 last season, a six-game win streak to end the year gave plenty of reason for Yotes faithful to be optimistic about the 2019 campaign.
Especially so with Peterson behind center and an offense built to make huge plays.
"I was proud of our guys," Moroski said of the end to the 2018 season. "I think they're smart enough to know now that we weren't as prepared as we needed to be at the beginning of the year and we need to remedy that."