BILLINGS — Perhaps Rocky Mountain College tight end Andrew Simon made the most fitting assertion after his team's 41-31 victory over Montana Western last week.
"The goal isn't to be in first place after five games," Simon said, "the goal is to be in first place at the end of the season."
Yes, at 4-1 the No. 23-ranked Battlin' Bears are off to their best start in years. And yes, they enter Saturday's 2 p.m. game at unranked Eastern Oregon (3-2) alone atop the Frontier Conference standings.
But no, it does not mean Rocky, which was ranked seventh out of eight teams in the league's preseason coaches poll, has "arrived." At least not if you ask Simon — or third-year coach Chris Stutzriem.
"That's not how we're taking it," Stutzriem said this week. "We were picked seventh. I don't think we're there yet, and we've been preaching to the guys that hey, we're still the underdog."
There are four teams tied in second place behind the Bears with 3-2 records, which makes the trip to EOU another key game in the race for the league title.
Rocky has certainly turned heads as the Frontier season reaches its midway point, and is probably the surprise team in the league so far. If not for a 31-29 home loss to Montana Tech on Sept. 18 — a game in which they fell into a 31-7 hole in the third quarter — the Bears would be undefeated.
Rocky has won every which way: An offensive uprising in a two-touchdown victory over Southern Oregon; a block of a late field goal attempt to preserve a three-point win at the College of Idaho; a Nate Dick touchdown run and a Kaysan Barnett interception in the final moments of a three-point triumph at MSU-Northern; and then last week's win in which the Bears staved off Western's second-half comeback with opportune defense late and a clock-eating drive.
Still, Rocky is keeping its first-place position in perspective. The Bears, Stutzriem said, know the stakes.
"We can't coast," Stutzriem said. "We've got to prove everybody wrong each and every week, and we know it's a battle each and every week. We've got to continue to do what we need to do to get wins."
On the road again, Rocky will play an Eastern Oregon team looking to get back in the win column after dropping two in a row. EOU is the defending Frontier champion, and was picked to repeat in the preseason.
Veteran quarterback Kai Quinn is the heart and soul of the Mountaineers' offense. Quinn is the reigning offensive MVP in the Frontier, but he has gone two games without throwing a touchdown pass, and EOU was held to just three points last week in a loss at Southern Oregon, which snapped a 154-game touchdown streak.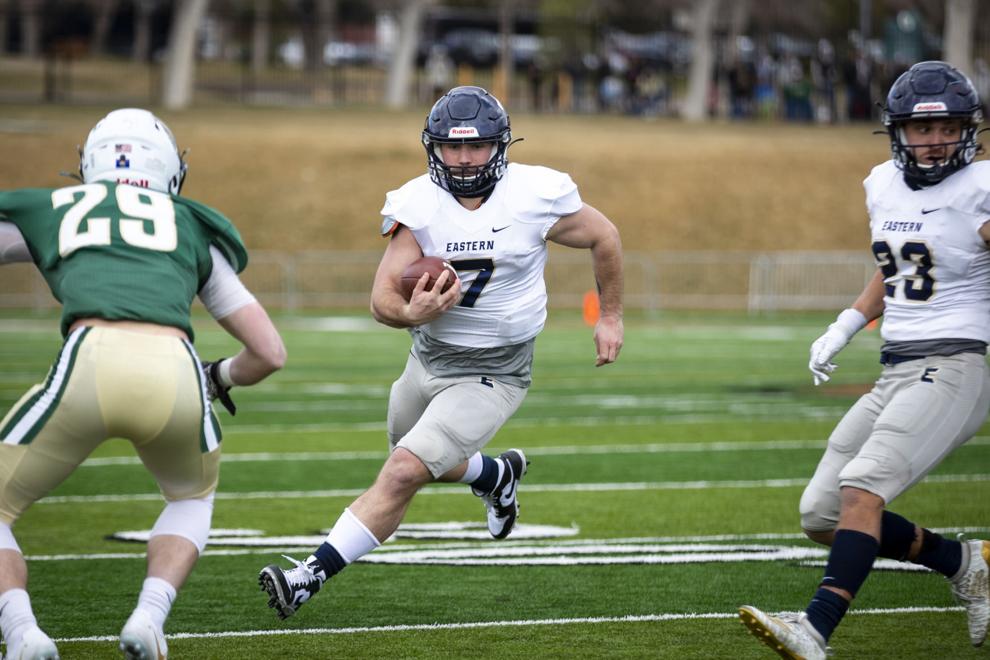 Rocky's offense, quarterbacked by Billings Senior alum Nate Dick, averages 35 points per contest. The Bears rushed for a season-high 215 yards and possessed the ball for more than 40 minutes last week despite missing top running backs Dawson Schick and Victor Ngalamulume.
Stutzriem indicated the Bears could rely on Zaire Wilcox and Tommy Corcoran in the backfield again this week.
The Mountaineers' defense has stood tall, and has yet to allow more than 28 points in any game. Linebacker Chase Van Wyck is the reigning defensive MVP in the Frontier.
EOU is coached by Tim Camp, who is in his 14th season leading the program in La Grande, Oregon.
"It's homecoming for them. They'll be amped up. I know they've lost the last two weeks but they'll for sure be ready to play," Stutzriem said.
"It's an opportunity for them to get back into first place and to knock us off. It's a big opportunity for us to keep going in the right direction. There's a lot of different things. It's another Frontier game — it's another battle. We've got our work cut out for us. We'll continue to do what we're doing."
NOTES: This will be the 25th meeting between Rocky and EOU. The Mountaineers lead the series 16-8. … EOU beat the Bears 36-33 in an OT thriller as part of the Frontier's abbreviated schedule last spring. … Rocky is 5-6 all-time on the road against the Mountaineers at Community Stadium.